4 Best Alcohol-Free Dandruff Shampoos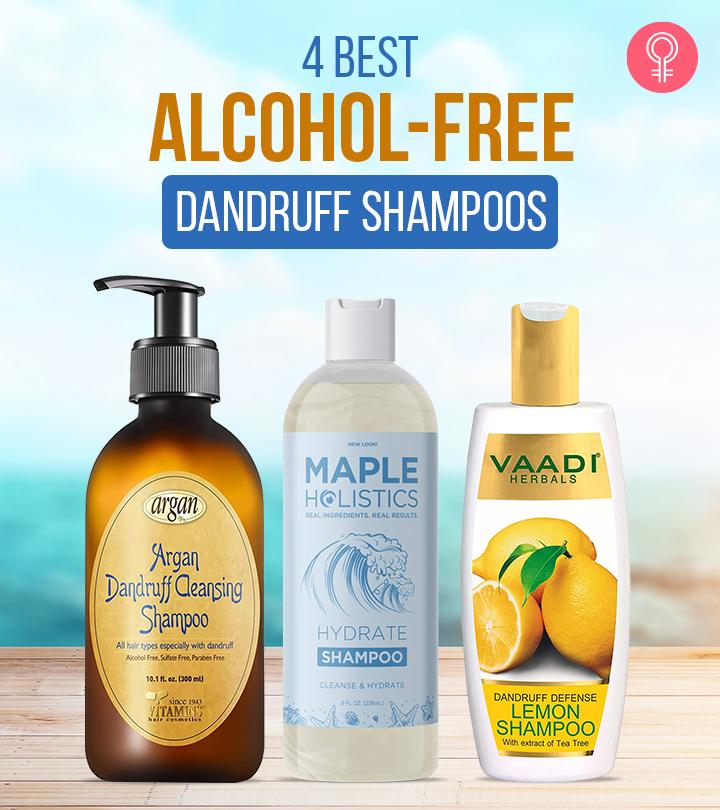 The wrong shampoo can make your hair look rough and frizzy. Alcohol is a common ingredient used in most shampoos, but not alcohols are hair-friendly. Some can deteriorate the hair quality by stripping moisture and natural oils from the strands and scalp, while others can trigger dandruff and make your hair brittle and dry. This is where alcohol-free dandruff shampoos can help.
These shampoos cleanse your hair and scalp and get rid of dandruff without stripping the natural oils. In this article, we have put together a list of the best 4 best alcohol-free dandruff shampoos. Scroll down to check them out!
4 Best Alcohol-Free Dandruff Shampoos Of 2021
The Argan Dandruff Cleansing Shampoo from Vitamins Hair Cosmetics can help you achieve dandruff-free hair and scalp with ease. This argan oil-based product is enriched with essential oils that nourish the hair and keep it healthy.
Apart from argan oil, the formula includes linseed oil, rosemary leaf oil, wheat germ oil, jojoba seed oil, sea buckthorn oil, sage leaf extracts, tea tree oil, sunflower seed oil, sweet almond oil, and vitamin E. The product is completely free of sulfates and parabens, thus making it safe for use. This intense hair treatment shampoo treats itchy, dry scalp by locking in moisture. It cleanses the hair and makes it soft, silky, and smooth. This shampoo is suitable for all hair types, including thick, blonde, colored, and chemically treated types.
Key Ingredients: Argan oil, Sea buckthorn oil, Sage leaf extracts, Tea tree oil, Jojoba seed oil, Wheat germ oil, and Tea tree leaf oil
Pros
Color-safe
Gentle
Pleasant scent
Cruelty-free
Paraben-free
Sulfate-free
Cons
Does not rinse off easily.
Can make the hair limp.
The Dandruff Defense Lemon Shampoo by Vaadi Herbals acts as a health tonic for your hair. It contains steam-distilled lemon peel extracts and tea tree oil that treat and prevent dandruff and nourish the hair.
The acidic nature of lemon helps treat dandruff, maintain the scalp's pH balance, and fight infections. It eliminates excess oil and strengthens the hair follicles. Tea tree oil penetrates the scalp to regulate sebum production. It also gently exfoliates dirt and gunk from the scalp, moisturizes dry hair, and imparts shine and softness. Other ingredients in the formula include coconut oil derivatives, olive oil derivatives, raspberry leaf extract, soy protein, and neem leaf extracts. This chemical-free dandruff shampoo is suitable for all hair types, especially oily, dry, curly, and normal hair textures.
Key Ingredients: Tea tree oil, Lemon peel extracts, Coconut oil derivatives, Raspberry leaf extract, Soy protein, and Neem leaf extracts
Pros
Gentle
Paraben-free
Sulfate-free
No animal testing
Suitable for all hair types
Cons
Strong fragrance
Not color-safe
May dry the hair out.
The Cherioll Anti-Dandruff Shampoo contains dandruff-fighting agents that help combat flakes and dandruff. The formula contains citric acid, rosemary leaf oil, orange peel oil, and mugwort extract. While citric acid and orange peel oil eliminate flakes and buildup and balance the scalp's pH, rosemary leaf oil relieves itching and dandruff. The mugwort extract removes excess oil from the hair and scalp and clears dandruff. This shampoo works best for people with dry hair.
Key Ingredients: Citric acid, Rosemary leaf oil, Orange peel oil, and Mugwort extract
Pros
Citrusy fragrance
Gentle
Makes the hair soft
Cons
Contain sulfates
May leave the hair greasy.
This shampoo from Maple Holistics helps restore the lost vigor and freshness of your hair. It penetrates the scalp and reduces dandruff and flakes. The shampoo nourishes and hydrates the hair to improve its elasticity and strengthen it. The formula includes parsley seed oil, lavender oil, almond oil, silk peptide, jojoba oil, and carrot oil as the primary components.
Parsley seed oil is loaded with vitamin C and can help treat dandruff, reduce hair loss, and retain the natural color of your hair. Silk peptide, made from purifying silk powder, keeps the scalp hydrated and smoothens the hair. Jojoba oil makes the hair soft and shiny, while carrot oil strengthens the hair follicles and promotes hair growth. This gentle shampoo washes away dirt, impurities, dandruff, and buildup to detox the scalp and revitalizes the hair.
Key Ingredients: Parsley seed oil, Silk peptides, Jojoba oil, and Carrot oil
Pros
Natural ingredients
Gentle
Smells good
Paraben-free
Cruelty-free
Silicone-free
Sulfate-free
Cons
Alcohol can dry out your hair and make it look like a frizz ball. If you want to get rid of dandruff without affecting your hair or scalp, pick any of the shampoos mentioned above.
Recommended Articles