4 Best Alcohol-free Dandruff Shampoos Of 2022
Get rid of your itchy scalp and make your otherwise dull tresses look and feel healthy.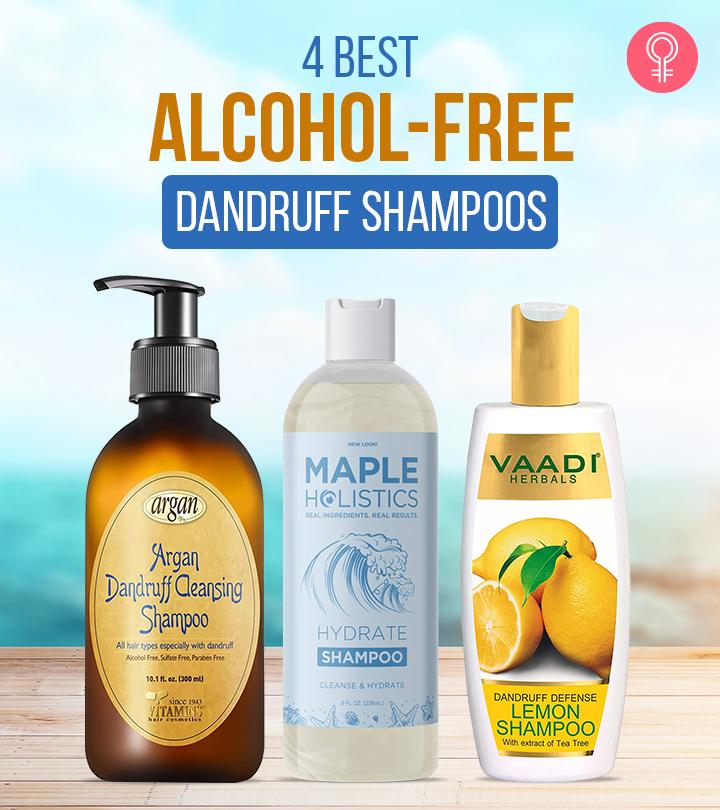 With more people choosing issue-specific products, it comes as no surprise that so many of us are out there looking for the best alcohol-free dandruff shampoo. While some types of alcohol are suitable for your hair, others strip your hair of its moisture and leave it filled with more dandruff than ever! Our list of the top alcohol-free dandruff shampoos will help get rid of itchy scalp and give you healthy and glowing hair!
4 Best Alcohol-Free Dandruff Shampoos Of 2022
The Era Organics Natural hair + scalp Therapy Shampoo has a plant-based formula that suits all hair types. It works on dry, damaged hair and sensitive scalp to give you healthy and lustrous hair.
The nutrient-rich formula is infused with aloe vera, manuka honey, and argan oil that moisturizes dry and itchy scalp. The pH-balanced shampoo soothes and repairs the scalp, treats dandruff, psoriasis, eczema, etc. Moreover, it also helps in collagen and keratin production that are necessary for hair growth. Your hair is hydrated and nourished with regular usage of this shampoo. Before buying, have a look at this video for more details.
Key Ingredients: Argan Oil, Aloe Vera, Manuka Honey, Orange Oil
Pros
Natural
pH-balanced
Cruelty-free
Fragrance-free
Suitable for all hair types
Cons
Price at the time of publication: $21.45
The Dandruff Defense Lemon Shampoo by Vaadi Herbals acts as a health tonic for your hair. It contains steam-distilled lemon peel extracts and tea tree oil that treat and prevent dandruff and nourish the hair.
The acidic nature of lemon helps treat dandruff, maintain the scalp's pH balance, and fight infections. It eliminates excess oil and strengthens the hair follicles. Tea tree oil penetrates the scalp to regulate sebum production. It also gently exfoliates dirt and gunk from the scalp, moisturizes dry hair, and imparts shine and softness. Other ingredients in the formula include coconut oil derivatives, olive oil derivatives, raspberry leaf extract, soy protein, and neem leaf extracts. This chemical-free dandruff shampoo is suitable for all hair types, especially oily, dry, curly, and normal hair textures.
Key Ingredients: Tea tree oil, Lemon peel extracts, Coconut oil derivatives, Raspberry leaf extract, Soy protein, and Neem leaf extracts
Pros
Gentle
Paraben-free
Sulfate-free
No animal testing
Suitable for all hair types
Cons
Strong fragrance
Not color-safe
May dry the hair out.
Price at the time of publication: $7.99
The Cherioll Anti-Dandruff Shampoo contains dandruff-fighting agents that help combat flakes and dandruff. The formula contains citric acid, rosemary leaf oil, orange peel oil, and mugwort extract. While citric acid and orange peel oil eliminate flakes and buildup and balance the scalp's pH, rosemary leaf oil relieves itching and dandruff. The mugwort extract removes excess oil from the hair and scalp and clears dandruff. This shampoo works best for people with dry hair.
Key Ingredients: Citric acid, Rosemary leaf oil, Orange peel oil, and Mugwort extract
Pros
Citrusy fragrance
Gentle
Makes the hair soft
Cons
Contain sulfates
May leave the hair greasy.
Price at the time of publication: $20.59
This shampoo from Maple Holistics helps restore the lost vigor and freshness of your hair. It penetrates the scalp and reduces dandruff and flakes. The shampoo nourishes and hydrates the hair to improve its elasticity and strengthen it. The formula includes parsley seed oil, lavender oil, almond oil, silk peptide, jojoba oil, and carrot oil as the primary components.
Parsley seed oil is loaded with vitamin C and can help treat dandruff, reduce hair loss, and retain the natural color of your hair. Silk peptide, made from purifying silk powder, keeps the scalp hydrated and smoothens the hair. Jojoba oil makes the hair soft and shiny, while carrot oil strengthens the hair follicles and promotes hair growth. This gentle shampoo washes away dirt, impurities, dandruff, and buildup to detox the scalp and revitalizes the hair.
Key Ingredients: Parsley seed oil, Silk peptides, Jojoba oil, and Carrot oil
Pros
Natural ingredients
Gentle
Smells good
Paraben-free
Cruelty-free
Silicone-free
Sulfate-free
Cons
Price at the time of publication: $11.95
Alcohol-free dandruff shampoos can eliminate scalp itchiness and dryness while removing white flakes from your strands. The organic formula in these shampoos controls dandruff while offering the scalp nourishment and moisturization. Alcohol-free dandruff shampoos keep your strands hydrated and completely remove dirt, dandruff, and impurities. They also treat skin conditions like psoriasis and eczema. However, steer clear of alcohol-free shampoos that have the tendency to dry the strands out after each use.
Why Trust StyleCraze?
The author, Shiboli Chakraborti, is a hair care enthusiast and loves writing comprehensive articles on the same. After doing hours of extensive research on anti-dandruff products and sifting hundreds of user reviews on trusted online forums, she compiled this list of the best alcohol-free dandruff shampoos for her readers. These products can help remove dandruff without stripping off your hair's natural oils.
Frequently Asked Questions
Is alcohol-free dandruff shampoo good?
Yes, alcohol-free dandruff shampoo is good because alcohol works as a harsh, drying chemical that strips off the moisturizing scalp oil and causes dandruff and a dry scalp.
Is alcohol-free dandruff shampoo good for colored hair?
Yes, as it's gentle, chemical-free, and helps to retain hair color.
Can I use alcohol-free dandruff shampoo while pregnant?
There is no evidence stating alcohol-free shampoo safe for use during pregnancy, always take advice from the doctors.
Can you use alcohol-free dandruff shampoo every day?
Yes, alcohol-free dandruff shampoo has a regulated, low pH and is gentle on the hair and scalp, so you can use it every day. However, always refer to the packaging for use instructions.
Does alcohol-free dandruff shampoo cause hair loss?
No, it prevents dandruff in order to prevent hair loss. The absence of alcohol in the formulation prevents your scalp from becoming dry and irritated.
How long do you have to use alcohol-free dandruff shampoo to see results?
Use alcohol-free dandruff shampoo twice a week for 2-4 weeks to see lasting results.
Recommended Articles
The following two tabs change content below.