12 Best Alcohol-Free Mousses
Enhance your frizz-free, smooth curls with the help of the right hair care essentials such as these.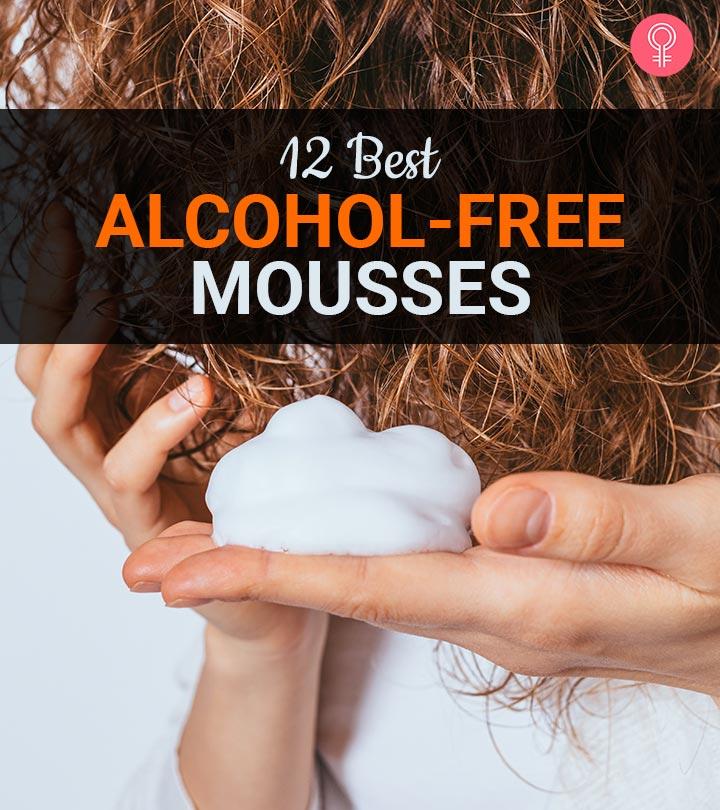 From reducing frizz to enhancing curl structure for curly and wavy hair, mousse plays a crucial role in the hairstyling side of things. But since alcohol is the most common ingredient in it, it can also cause damage to the hair by drying it. This is why you need to set your heart on the best alcohol-free mousse that's available. Check out our list of the 12 most effective options we have listed below.
12 Best Alcohol-Free Mousses
The Scruples Creme Parfait Volumizing Foam mousse provides very natural-looking volume and control for styling hair. This mousse is foam-based and lightweight and gets easily absorbed, so you can style your hair without weighing it down. This mousse is a good styling base as it does not create a barrier for other styling products like heat protectants or gels. As it is alcohol-free, this mousse does not dry hair out or make it look tired. The gentle formula preserves the hair's natural nutrients and leaves it soft, shiny, and healthy.
Pros
Does not leave thin hair stiff
Rich foam
Adds volume
Adds shine
Lightweight
No residue
Reduces frizz
Softens hair
Long-lasting hold
No artificial fragrance
No harsh chemicals
Cons
:
The No Nothing Very Sensitive & Strong Mousse contains no common sensitizing or irritating ingredients, which makes it a good choice for sensitive skin. It does not contain any fragrances and chemicals. This styling mousse gives a strong hold and makes the hair look voluminous. It improves hair elasticity and makes it shine. It provides UV and humidity protection. It does not contain perfume, parabens, colorants, and harsh, irritating ingredients.
Pros
Imparts shine
Adds volume
Reduces frizz
No residues
No sticky feeling
Softens hair
Long-lasting hold
Hypoallergenic
Gluten-free
Soy-free
Fragrance-free
Cruelty-free
Paraben-free
Cons
May cause allergic reactions.
May cause static hair.
:
The L'Oreal Paris EverStyle Curl Activating Mousse contains high-performance, no residue styling polymers that offer a good hold for hairstyling. It is an energizing mouse that shapes the hair and boosts curls. It enhances the curl structure while controlling frizz. It also makes curly hair shine. The botanical extracts in this product keep the hair moisturized and healthy-. It provides 24-hour curl control and protects the hair from humidity. To make an informed decision before buying, you can check out this video.
Pros
Does not weigh the hair down
Enhances curls
Imparts shine
Reduces frizz
24-hour curl control
Long-lasting hold
Paraben-free
100% vegan
Cons
Strong smell
May cause itchiness.
The L'Oreal Paris Everstyle Volume Boosting Mousse is a whipped cream-based mousse that gives body, volume, and fullness to even the finest hair. It is suitable for lifeless fine and thin hair that needs a volume boost. It is enriched with natural botanical extracts that volumize the hair without weighing it down. It provides 24-hour volume and has high-performance, no-residue styling polymers, which provide superior style without any build-up.
Pros
Does not dry hair
Adds volume
Adds shine
Reduces frizz
Does not weigh the hair down
Softens hair
Long-lasting hold
Paraben-free
100% vegan
Cons
Contains propanol
Might leave the hair sticky.
:
The Biotera Alcohol-free Styling Mousse is a light-weight body-building foam. It is blended with bamboo extract, which provides 24-hour volume, hold, and shine. It is suitable for lifeless hair that needs extra volume and lifts for maximum styling versatility. It provides body without leaving any residue, flakes, or stickiness. Shake the can before using it. Massage it into your hair.
Pros
Softens hair
Adds body to hair
Imparts shine
Reduces frizz
Light-weight
Long-Lasting hold
Paraben-free
Free of colors
Cons
May cause itching and burning.
Consistency might differ.
:
The Blow Up Volume Foam provides weightless volume and long-lasting hold for fine hair types. It swells up each strand of hair before blow-drying. It is light-weight and gets absorbed by hair easily for styling. While it is suited for fine hair, it can also be used on curly hair. It is organic, vegan-friendly, and gluten-free. It is non-GMO and PETA certified cruelty-free.
Pros
Volumizes hair
Adds shine
Long-lasting hold
Softens hair
Reduces frizz
Silicone-free
Paraben-free
100% organic
Vegan
Gluten-free
GMO-free
Cruelty-free
Cons
Might cause static.
Might make hair stiff.
The Vigorol Mousse Super Curl Hold is a distinct daily styling foam. It is a creamy, rich foam containing argan oil, which enhances curl definition. It helps style your hair without leaving it stiff or sticky. It is an alcohol-free mousse that helps detangle hair. It also makes dry and brittle hair healthy. It helps control frizz and leaves hair shiny.
Pros
No flakes or residue
Long-lasting hold
Adds volume
Adds shine
Softens hair
Suitable for curly hair
Cons
Does not define curls well.
May make the hair frizzy.
The Design Freedom Designing Mousse provides natural hold and volume. It is best-suited for blow-drying, setting, and air-dry hairstyles. It contains silk protein, which provides improved body and shine. It is light-weight and does not leave any residue, buildup, or flaking. This alcohol-free mousse makes the hair voluminous and shiny.
Pros
Adds volume
Adds shine
Reduces frizz
Defines curls
Softens hair
Long-lasting hold
Cons
Might not suit all hair types.
The Great Lengths Volume Care Mousse provides extra volume and elasticity. It nourishes and revitalizes the hair, providing long-lasting volume and improved elasticity. It also shelters the hair from humidity. It contains special ingredients that make the hair more manageable when styling. It provides a lasting hold for hairstyles and does not dry out hair.
Pros
Long-lasting
Adds volume
Adds shine
Reduces frizz
Suitable for all hair types
Cons
May cause breakouts.
Might leave hair a bit crunchy.
The Ultra Vital Care Max Shine Mousse provides good hold and extra shine. It uses optical brighteners to add intense shine to hair. It also provides a strong hold for normal to dry hair. It is anti-static and prevents flyaways. It volumizes and lifts flat hair, making it fuller with more body. It contains panthenol, pro-vitamin B5, and silicones, which help style hair and protect it. It does not weigh hair down.
Pros
Adds volume
Adds shine
Prevents static and fly-aways
Revitalizes dull hair
Softens hair
Long-lasting hold
Lightweight
Cons
The John Frieda Luxurious Volume Perfectly Full Mousse builds volume by lifting hair from the roots. It makes the hair fuller with a flexible and natural hold. It boosts volume and makes the hair look and feel fuller, thicker, and lifted. It contains nourishing ingredients that help make your hair manageable for styling. It also provides heat protection and uses polymer technology that thickens individual strands. It does not dry hair and is safe to be used on natural and color-treated hair.
Pros
Adds volume
Reduces frizz
Softens hair
Long-lasting hold
Safe for color-treated hair
Cons
Might make the hair crunchy.
The Suave Professionals Mousse is alcohol-free and prevents frizz. It also helps define and hold curl patterns. It softens curls and enhances their natural movement. You can apply the mousse to wet hair. Shake the can, turning it upside down. Blot out any excess water with a towel using a squeezing motion. You can use a blow dryer but on a low setting. Use the mousse, depending on your hair length and texture. Click here to check out this YouTuber's unbiased review.
Pros
Imparts shine
Reduces frizz
Softens hair
Long-Lasting hold
24-hour touchable curls
Meets CA and NY Clean Air Standards
Cons
Might not suit all hair types.
Might leave hair sticky.
Why Trust StyleCraze?
The author of this article, Shiboli Chakraborti, is a dedicated hair care enthusiast who constantly endeavors to provide the best products for her readers. She sifted through numerous customer testimonials in trusted online forums and assembled this list of the choicest alcohol-free mousses available on the market. These mousses add volume, reduce frizz, and soften your hair, making them a must-have in one's collection.
Frequently Asked Questions
What happens if you use mousse on dry hair?
Using hair mousse on dry hair can make its appearance dull and mat. The amount of product you use will depend on your hair length.
Can you leave mousse on wet hair?
Yes. Wash your hair and towel-dry it. Apply a generous amount of mousse on damp hair before going to bed. The next day you'll wake up with natural curls.
Is it OK to use mousse every day?
Using hair mousse excessively may dry out the hair strands, especially at the ends leading to hair breakage, split ends, and frizziness. Overusing mousse may affect permed and colored hair. Some formulas are made for daily use while some others are to be used 1-2 times a week. Check the label of the product for proper instructions.
Can mousse damage your hair?
No. Using hair mousse moisturizes and nourishes the hair and provides, fullness and shine to the tresses. However, if you use mousse too frequently without shampooing your hair, it can dry out your hair, making your tresses dry and brittle.
Recommended Articles