12 Best Alcohol-Free Mousses
Enhance your frizz-free, smooth curls with the help of the right hair care essentials such as these.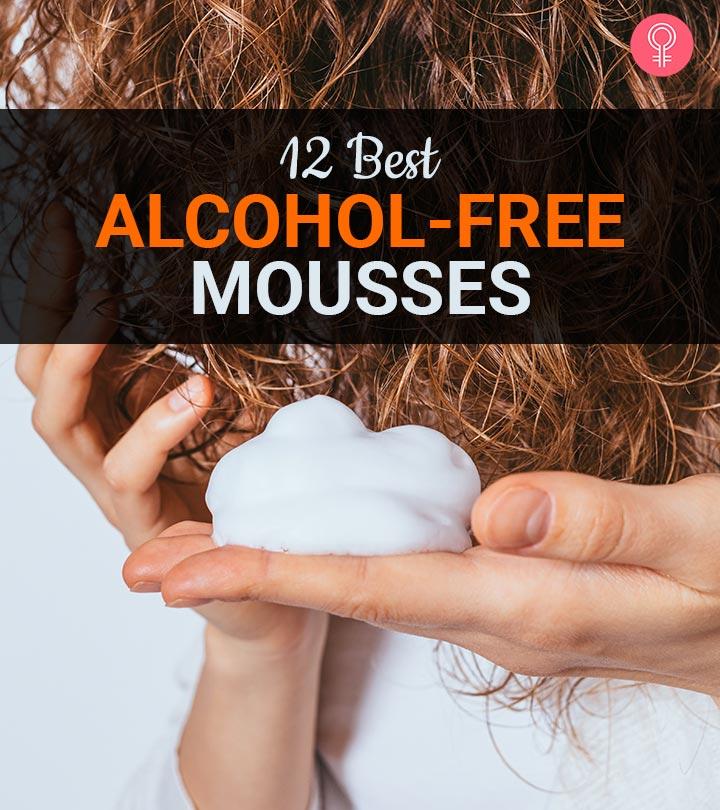 From reducing frizz to enhancing curl structure for curly and wavy hair, mousse plays a crucial role in the hairstyling side of things. But since alcohol is the most common ingredient in it, it can also cause damage to the hair by drying it. This is why you need to set your heart on the best alcohol-free mousse that's available. Yvey Valcin, a celebrated master stylist says, "Organic mousses can be tricky, so it is important to use an oil or moisture based product before applying any kind of mousse." Check out our list of the 12 most effective options we have listed below.
12 Best Alcohol-Free Mousses
The Scruples Creme Parfait Volumizing Styling Foam is a styling hair foam with a cream texture suitable for all hair types. It is designed to create volume and give definition to your hair. This weightless foam not only holds any hairstyles but can also be used as a heat-protectant or serum without feeling greasy. In addition, the styling foam nourishes your hair and conditions it without making it dry and frizzy, giving you softer, shiner hair.
Pros
Gives a shiny finish
Lightweight formula
Non-greasy
Free of fragrance and harmful chemicals
Moisturizes hair
Cons
The dispenser can be faulty
:
The No Nothing Very Sensitive & Strong Mousse contains no common sensitizing or irritating ingredients, which makes it a good choice for sensitive skin. It does not contain any fragrances and chemicals. This styling mousse gives a strong hold and makes the hair look voluminous. It improves hair elasticity and makes it shine. It provides UV and humidity protection. It does not contain perfume, parabens, colorants, and harsh, irritating ingredients.
Pros
Imparts shine
Adds volume
Reduces frizz
No residues
No sticky feeling
Softens hair
Long-lasting hold
Hypoallergenic
Gluten-free
Soy-free
Fragrance-free
Cruelty-free
Paraben-free
Cons
May cause allergic reactions.
May cause static hair.
Price at the time of publication: $26.0
:
The Maui Moisture Flexible Hold + Coconut Milk Curl Foam Mousse is a hydrating and nourishing styling foam suitable for curly hair. The hair foam is free of alcohol and has natural ingredients such as aloe vera, coconut milk, and mango butter, providing intense nourishment to your curls without making them feel rough. In addition, this lightweight foam provides a flexible hold, prevents frizz, and adds volume to your hair without any harsh chemicals that can endanger your hair quality.
Pros
Suitable for curly hair
Light formula
Vegan and gluten-free
Free of silicone, sulfate, and paraben
Easy to style
Cons
None
Price at the time of publication: $7.09
The Nexxus Mousse Plus Volumizing Foam is a lightweight, alcohol-free hair mousse that helps you achieve voluminous hair and hold hairstyles all day long without damaging your hair. The mousse is formulated with keratin protein and ceramides, providing moisture and strength to your hair and ensuring a smooth, frizz-free, natural finish. Suitable for all hair types, this mousse lets you have salon-like hair from the comfort of your home.
Pros
Alcohol-free formula
Suitable for all hair types
Cause no flaking or buildup
Lightweight
Cons
Can make hair feel sticky
Price at the time of publication: $11.99
:
The TRESemmé Flawless Curls Mousse is a curly-girl-friendly, alcohol-free mousse enriched with coconut and avocado oil. It provides a powerful hold to your hair that is flexible enough to style and enhance your natural hair texture for a smooth and defined look. This lightweight hair mousse is also formulated with gelatin protein and keratin that helps improve your hair's quality and make it silky-smooth. The mousse is suitable for color-treated hair as well and protects your hair from heat-styling tools.
Pros
Suitable for textured hair
Suitable for colored hair
Can be used as heat-protectant
Provides strong hold
Has a pleasant smell of coconut
Cons
Can make detangling difficult
Price at the time of publication: $22.99
:
The Kenra Volume Mousse Extra 17 is suitable for achieving a firm hold to keep your hairstyle intact all day. This unscented styling mousse provides intense thermal protection for up to 450°F, which allows you to style your hair without worrying about damage, frizz, or stickiness. In addition, the hair mousse has a rich formula that is easy to apply and helps you achieve full and shiny hair, even in very humid conditions.
Pros
Provides a firm hold
Suitable for all hair types
Protects hair against heat damage
Silicone free
Unscented
No flaking
Cruelty-free
Non-drying formula
Cons
Price at the time of publication: $15.99
The Vigorol Mousse Super Curl Hold is a distinct daily styling foam. It is a creamy, rich foam containing argan oil, which enhances curl definition. It helps style your hair without leaving it stiff or sticky. It is an alcohol-free mousse that helps detangle hair. It also makes dry and brittle hair healthy. It helps control frizz and leaves hair shiny.
Pros
No flakes or residue
Long-lasting hold
Adds volume
Adds shine
Softens hair
Suitable for curly hair
Cons
Does not define curls well.
May make the hair frizzy.
Price at the time of publication: $15.99
Style your 2A to 4C curls with beautiful sheen with the Design Essentials Natural Curl Enhancing Mousse before any event. The lightweight formula dries quickly with a non-greasy finish while eliminating all frizz from curls. The mousse contains almond oil, avocado oil, olive oil, Vitamin D complex, and wheat protein that penetrate the hair shafts to add nourishment and moisture while strengthening them. With this moisturizer, you can achieve a soft, pliable hold to enhance curl definition while getting ready. Gently comb through with your fingers to achieve an eye-catching hair look and use a diffuser to make the mousse disappear, creating a natural look.
Pros
Kid-friendly
Lightweight
Paraben-free
Paraffin-free
Petroleum-free
Mineral oil-free
Suitable for all hair types
Cons
The Great Lengths Volume Care Mousse provides extra volume and elasticity. It nourishes and revitalizes the hair, providing long-lasting volume and improved elasticity. It also shelters the hair from humidity. It contains special ingredients that make the hair more manageable when styling. It provides a lasting hold for hairstyles and does not dry out hair.
Pros
Long-lasting
Adds volume
Adds shine
Reduces frizz
Suitable for all hair types
Cons
May cause breakouts.
Might leave hair a bit crunchy.
Price at the time of publication: $38.0
The GIOVANNI Mousse Air-Turbo Charged Hair Styling Foam is a lightweight, curly-girl-friendly hair styling foam that provides medium to strong hold. The hair foam is infused with vitamin E, aloe vera, and lavender, which helps nourish your hair and give definition and volume without damaging the natural texture. In addition, it is made safe for color-treated hair, meaning it won't fade your hair color. With the goodness of natural ingredients and recyclable packaging, this hair foam is a good choice for your hair and the environment.
Pros
Suitable for all hair types
Environment friendly
No harmful chemicals or dyes
Vegan
Cruelty-free
Suitable for colored hair
Cons
Price at the time of publication: $7.99
The Keranique Thickening & Texturizing Mousse is a multitasking product that gives bouncy hair while adding definition to the curls, waves, or any other hairstyle. This product helps control frizz, adds shine, and reduces the appearance of flyaways. It is a lightweight formula enriched with biotin, which straightens the hair strands. It also conditions dry, damaged hair without weighing them down. It does not leave a white cast or any greasy, sticky residue.
Pros
Adds volume
Reduces frizz and hair loss
Softens hair
Safe for chemically treated hair
Dye-free
Gluten-free
Paraben-free
Sulfate-free
Cons
Price at the time of publication: $23.97
The Suave Professionals Mousse is alcohol-free and prevents frizz. It also helps define and hold curl patterns. It softens curls and enhances their natural movement. You can apply the mousse to wet hair. Shake the can, turning it upside down. Blot out any excess water with a towel using a squeezing motion. You can use a blow dryer but on a low setting. Use the mousse, depending on your hair length and texture. Click here to check out this YouTuber's unbiased review.
Pros
Imparts shine
Reduces frizz
Softens hair
Long-Lasting hold
24-hour touchable curls
Meets CA and NY Clean Air Standards
Cons
Might not suit all hair types.
Might leave hair sticky.
Price at the time of publication: $30.79
A good-quality hair mousse adds life to your hairstyle. A quality hair mousse, treats your locks with love, adds definition, and prevents dryness or frizz. Here is a detailed buying guide to help you choose the best alcohol-free mousse for your strands.
How To Choose The Best Alcohol-Free Mousses
Ingredients To Avoid
If you are shopping for a mousse for your hair, make sure that the formula does not contain the following ingredients:
Mineral oils And Silicones:Silicones offer the silky slip to your hair, but with regular use can weaken your strands and cause dullness. They also cause buildup on your scalp.
Mineral oils are not recommended to people with sensitive scalp, as they are known to cause allergic reactions and irritation.
Alcohols:Alcohol can dry and ruin your bouncy hair. Stay away from alcohols like ethanol, isopropyl alcohol, benzyl alcohol, and ethyl alcohol which can strip your hair off its natural oil and moisture.
Sulfates: Sulfates can cause dryness and brittleness in your hair, along with irritation and inflammation of the scalp.
Natural ingredients like coconut milk, argan oil, panthenol, or vitamins also nourish and fortify the hair.
Type
There are different types of hair mousses in the market and you can pick the right one, depending on the type of styling you need.
Fix A Hairstyle:If you want your hairstyle to stay in place throughout the day, opt for stronghold fixation mousses, which add definition to your hairdo while keeping the most complex hairstyles intact.
For Volume:For fine or thin hair, choose volume adding mousses. These hair mousses are perfect to apply on the base and offer a voluminous, lush hair.
Hold
Some mousses offer a 'natural hold' so that your hair looks natural and not stiff or crunchy. 'Light hold' creates a breezy but defined look. Products that offer 'stronghold,' 'extreme grip,' or 'sky high volume' set your hairstyle in place for a long time. This is particularly useful for elaborate hairdos, wedding hairstyles, or fashion runway looks.
Additional Features
There are certain additional features to look for in hair mousses, like the finish. If you want a shiny effect, go for a glossy finish hair mousse, and to enhance the texture of your hair choose mousses with a matte finish. In case you have coloured hair make sure that the hair mousses are specifically formulated for prolonging the shine and color of your strands.
Why Trust StyleCraze?
The author of this article, Shiboli Chakraborti, is a dedicated hair care enthusiast who constantly endeavors to provide the best products for her readers. She sifted through numerous customer testimonials in trusted online forums and assembled this list of the choicest alcohol-free mousses available on the market. These mousses add volume, reduce frizz, and soften your hair, making them a must-have in one's collection.
Frequently Asked Questions
What happens if you use mousse on dry hair?
Using hair mousse on dry hair can make its appearance dull and mat. The amount of product you use will depend on your hair length.
Can you leave mousse on wet hair?
Yes. Wash your hair and towel-dry it. Apply a generous amount of mousse on damp hair before going to bed. The next day you'll wake up with natural curls.
Is it OK to use mousse every day?
Using hair mousse excessively may dry out the hair strands, especially at the ends leading to hair breakage, split ends, and frizziness. Overusing mousse may affect permed and colored hair. Some formulas are made for daily use while some others are to be used 1-2 times a week. Check the label of the product for proper instructions.
Can mousse damage your hair?
No. Using hair mousse moisturizes and nourishes the hair and provides, fullness and shine to the tresses. However, if you use mousse too frequently without shampooing your hair, it can dry out your hair, making your tresses dry and brittle.
Recommended Articles