12 Best Hairsprays For Braids To Avoid Dryness And Itchiness
Time to grab these hair care formulations that help in creating braided hairstyles.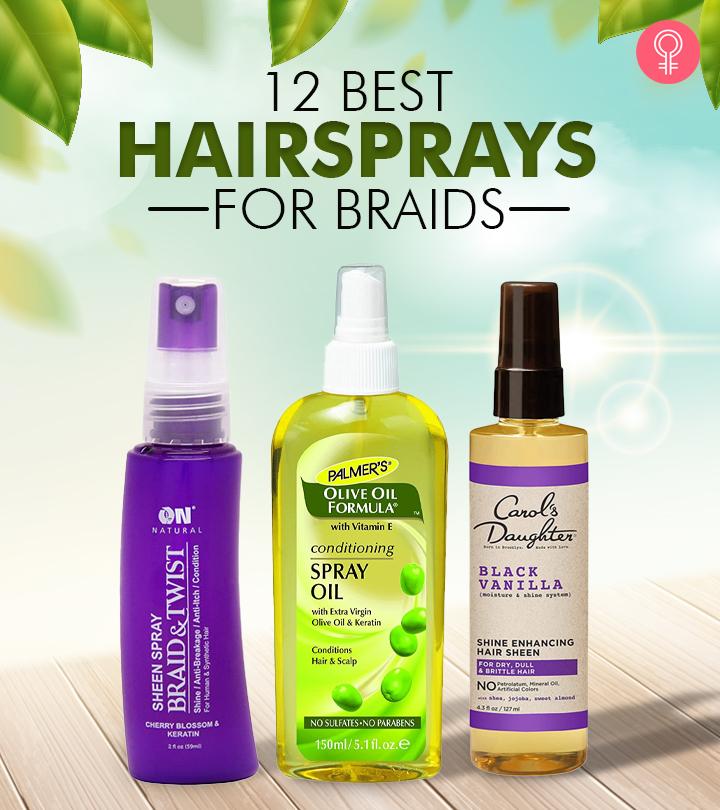 While braiding your long thick hair adds an extra charm to your overall look, maintaining them right might get difficult. That's when you might start looking for the best hairspray for braids. It not only moisturizes your hair but also helps keep your braid free of dirt and frizz. It also reduces slippage so that your style remains intact. They are important hair care products, if you are someone who needs to style your hair regularly. To help you get started, we have listed down the 12 best hairsprays after carefully analyzing their honest reviews online to keep your braids in shape.
12 Best Hairsprays For Braids
The Strickland & Co Sulphur 8 Medicated Anti-Dandruff Conditioner prevents dryness of the scalp. It moisturizes the scalp helps you flaunt shiny braids, and resists flaking and itching. This hairspray softens the hair and makes it healthy. It keeps your braids natural-looking and shiny. If you want to find out more about this product and its usage, make sure to check this review on YouTube featuring a tester's experience of using it.
Pros
Silicone-free
Medicated
Prevents dandruff
Non-drying
Reduces itchiness
Cons
The PARNEVU T-Tree Braid Spray gives tight-braided hair the perfect edge control and much-needed comfort and shine. This anti-itch braid spray contains clean ingredients like Australian tea tree oil that helps control itching and reduces flakiness. The therapeutic formula contains menthol, which refreshes the scalp and provides a cool sensation. This product adds luster to your hairstyle and has keratin to moisturize the hair and scalp. If you need further convincing, check a tester's experience of using the product in this YouTuber's review.
Pros
Pleasant fragrance
Controls itching
Adds shine
Moisturizes the hair and scalp
Cons
The African Pride Spray is suitable for braids, locks, and twisted hair. It soothes a sore scalp caused by tight braiding, nourishes the hair, and makes the braids soft and glossy. This spray also moisturizes the scalp and prevents dryness. This reduces dandruff and relieves itchiness. This spray conditions, strengthens, and adds shine to braids. Check out the review of this product on YouTube to know why it is one of the best out there and how people experience it.
Pros
Soothes the scalp
Softens the braids
Conditions the hair
Adds shine
Cons
The Fantasia Braid Sheen Spray contains blended herbal extracts, botanicals, vitamins, and minerals. These ingredients keep the braids shiny and soft. This braid spray controls dryness and itching caused by tight braiding and helps you enjoy your protective style. It moisturizes the hair and imparts a healthy sheen to your braids, weaves, dreadlocks, and extensions. This product is made with clean ingredients and is cruelty-free, lightweight, and non-greasy. It helps you flaunt shiny braids and also imparts sheen to natural and synthetic braided hair as well as natural hair.
Pros
Cruelty-free
Lightweight
Non-greasy
Suitable for natural and synthetic hair
Pleasant fragrance
Cons
None
The Africa's Best Braid Sheen Spray contains nourishing ingredients like African herbs and vitamins that penetrate the hair and moisturize and condition the braids. The conditioning, non-sticky formula helps eliminate dryness, and relieves an itchy scalp. By using this product, you can enjoy your hairstyle without fearing itchy braids. This spray works great on natural, synthetic, relaxed, braided locks, and curly hair.
Pros
pH-balanced
Reduces hair breakage
Cons
Contains alcohol
Unpleasant smell
The Salon Pro Braid Sheen Shine Spray contains argan oil that moisturizes and conditions the braids. It is a lightweight product that does not cause itchy braids or lead to product buildup. This non-greasy spray imparts an enhanced sheen and luster to the hair and resists the unraveling of your hairstyle. It also helps reduce breakage and soothes an itchy, dry scalp.
Pros
Non-greasy
Soothes the scalp
Long-lasting
Cons
None
The African Essence Braid Spray contains natural conditioners and additives that make the hair shiny. It moisturizes the hair and provides a strong grip, so that the braid stays secure, neat, and tight. The hydrating formula reduces itching on the scalp and hair breakage. This quality braid spray with its lightweight and non-greasy spray imparts a nourished sheen to your braids. It can also be used for detangling your hair, as it softens your hair and makes it easy to brush out.
Pros
Adds shine
Detangles the hair
Non-greasy
Lightweight
Cons
None

The ON Natural Braid & Twist spray is formulated with keratin, which strengthens the hair, resists frizz, and makes it healthy. It moisturizes your braids, makes them shiny, and provides a natural finish. The non-greasy formula reduces scalp irritation, soothes itchiness, smoothes frizzy hair, and reduces hair breakage. This protein spray softens braids, weaves, and extensions and makes them more manageable. This extensions sheen spray is ideal for making your hairdo look absolutely perfect.
Pros
Soothes the scalp
Non-greasy
Available in three variants
Cons
The Kuza Jamaican Black Castor Oil Braid Spray replenishes the lost moisture and imparts shine to your braids. This quality braid spray formula is enriched with Jamaican black coconut oil and castor oil which hydrate the strands, condition them, and control flyaways and breakage. The non-greasy formula also contains argan oil and aloe vera juice that soothe dry, itchy scalp and seal in the moisture. Using this product can help you prevent itchy braids. The lightweight braid spray with its advanced formula is perfect for human hair as well as synthetic hair. It is ideal for sensitive scalps as well and is not tested on animals.
Pros
Pleasant fragrance
Lightweight
Ideal for all hair types
Non-greasy
Suitable for natural and synthetic hair
Alcohol-free
Sulfate-free
Paraben-free
Mineral oil-free
Cruelty-free
Cons
The Carol's Daughter Black Vanilla Shine Enhancing Hair Sheen is suitable for dry, dull, and brittle hair. This quality braid spray hydrates the hair, makes it more manageable, and adds a long-lasting sheen. This leave-in spray contains a blend of nourishing ingredients like jojoba oil and shea butter, which condition the hair and prevent an irritated scalp. Sweet almond oil strengthens the hair, reducing hair breakage and hair fall. This braid tension relief hairspray adds texture to the braids, is suitable for all hair types, and is free of parabens, petrolatum, mineral oil, and artificial color.
Pros
Paraben-free
Petrolatum-free
Mineral-oil-free
No artificial color
Cons
The Jamaican Mango & Lime Sproil Spray Oil nourishes the scalp. It contains vitamin E, which strengthens the hair and imparts a radiant sheen. This spray makes the twists, locs, and braids healthy and soft. It soothes the itching scalp, protects the hair from damage, and adds gloss. This non-greasy spray contains menthol that lubricates the hair and scalp, reducing dandruff and dryness. It is lightweight and free of sulfates and parabens.
Pros
Paraben-free
Sulfate-free
Safe for color-treated hair
Suitable for all hair types
Non-greasy
Lightweight
Cons
Leaves residue on the scalp
The Palmer's Olive Oil Formula Conditioning Spray Oil contains natural extra virgin olive oil, which is rich in vitamins A, B, and E, and antioxidants that protect the hair from free radical damage. Vitamin E heals the scalp and repairs dry skin and black castor oil relieves scalp dryness and reduces itching and irritation. This braid scalp spray contains pure plant-based nourishing ingredients that hydrate and soften your hair. This hairspray keeps your locs, braids, and extensions healthy and glossy. It is free of sulfates, parabens, phthalates, mineral oil, gluten, and dyes.
Pros
Sulfate-free
Paraben-free
Phthalate-free
Mineral oil-free
Gluten-free
Dye-free
Cons
*The prices provided in this article are based on the latest available information. However, they may vary due to changes in pricing by the seller and/or promotional offers.
How To Choose The Best Hairsprays For Braids To Avoid Dryness And Itchiness
Hairspray formulas come in three different types of holds: light, medium, and strong. When it comes to braids, look for a professional-grade hairspray with a light or medium hold formula, as they provide a flexible hold to keep your braids in place, without making them look crunchy or weighing them down.
The holding capacity of the hairspray maintains your braid shape and is responsible for the overall look of your hairstyle.
Keep away from hair sprays that contain alcohol as the main ingredient as it can cause dryness and make your hair look crunchy or damaged. Make sure that the hairspray is free from harsh ingredients like mineral oil, paraben, sulfate, gluten, dye, and phthalates. Choose formulas with butters and essential oils that have nourishing properties. When it comes to braided hair, your scalp can become susceptible to excess buildup and bacterial growth. Look for products infused with tea tree oil to reduce irritation, fight bacteria, and refresh the scalp. You can also choose hair sprays with menthol, as it combats itching and has cooling properties. Menthol also treats dandruff, and is loaded with antibacterial properties. Go for expert-recommended products free of alcohol and oil to control excessive dryness or greasiness.
Braided hair can become brittle or dry, making it prone to damage. A hair spray which contains hydrating ingredients like oils, hyaluronic acid, shea butter, and mango butter can prevent hair fall, breakage, dandruff, itching, flakiness and dryness. This can provide your hair with a natural sheen and support a confident look.
Who does not like good smelling hair? If you want your braid to smell amazing, opt for hair sprays with added fragrances. Make sure that the fragrance is not synthetic or chemically induced, but natural from essential oils and fruit extracts. If you are allergic to heavy fragrances, you can also choose a specialist-approved, neutral scented hairspray.
If you are someone who travels a lot, look for a hair spray that is minimal in size and has a travel-friendly packaging for on-the-go application. You can also get a mini version of your regular hairspray if available to carry along in your bags.
The following section explains the correct way of using a braid spray.
How To Use Braid Sprays
Apply the spray to the hair roots.
Massage the product on your scalp evenly.
Wait for a few minutes and let the spray get absorbed into the hair.
Avoid over-washing your hair as it might make the product less effective.
Use it as a leave-in spray rather than rinsing it off. If it feels heavy or greasy, rinse your hair lightly and towel dry.
Here's a few essential features of a braid spray.
Top Features To Look For In Braid Sprays
1. Hydration – Braided locks tend to become dry and are easily prone to damage. A braid spray is an easy remedy to prevent dandruff, hair fall, and breakage. Thus, it must contain hydrating ingredients like shea butter, coconut oil, or olive oil. Keeping the braids hydrated will reduce flakiness, itching, and dryness.
2. Ingredients – A braided head might cause buildup and the growth of microorganisms in the scalp. Tea tree oil helps fight microbes and refreshes the scalp, reducing irritation caused by germs.
Another essential ingredient is menthol. It has cooling properties that soothe itching in the scalp. The antibacterial properties of menthol help fight microorganisms and lice and treat dandruff. However, if you're allergic to any such ingredients, make sure to perform a patch test to avoid potential reactions.
Let's now look at a few benefits of braid sprays.
Why Should You Use Braid Sprays?
Balances The Hair's pH Levels – Your tresses need to be artificially loosened before putting in braids to make the process easy. Braid sprays help balance the hair's natural pH levels and moisturize the hair. They also help reduce hair breakage and prevent damage.
Protects Hair Extensions – Whether they are made of natural human hair or synthetic material, braids and extensions might affect your scalp and hair health. A braiding spray protects the braided hair against dirt and aggressors and adds shine.
Why Trust Stylecraze?
The author of this article, Shiboli Chakraborti, is a hair care enthusiast who constantly endeavors to provide the best products for her readers. She understands that maintaining braids can be difficult. She has gone through numerous customer testimonials online and assembled this list of the choicest hairsprays for braids. These hairsprays moisturize your hair and keep it free of dirt and frizz.
Frequently Asked Questions
Is hairspray good for braids?
Yes. Hairsprays enhance braided styles by nourishing and adding an enviable gloss to your hair strands, while also providing a strong hold to keep your braids secure. The right hairsprays protect your hair against humidity, frizz, and pollution.
Can you put hairspray on box braids?
Yes. Hairsprays can be used on box braids. They keep the braids' style intact and add a healthy shine.
How long does it take to braid hair?
Braiding the hair properly needs a minimum of six hours. However, it completely depends on the kind of braid you are doing and the length of your hair. For example, braiding long hair can take up to 10 hours.
Recommended Articles