12 Best Korean Shampoo
Get soft, glossy, shiny, and gorgeous hair with these nourishing shampoos.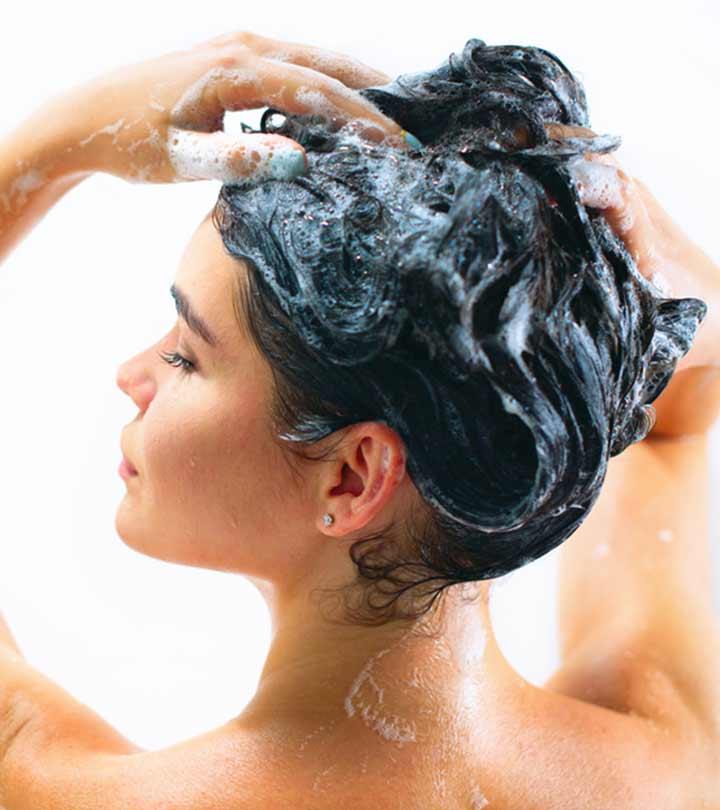 There is something about K-beauty products that have revolutionized the whole beauty industry. If you are looking for the best Korean shampoo, we have the perfect list for you to choose from. If you look at Korean hair, it is shinier than glass and has a glossy finish on each and every strand. The secret is herbs and botanical extracts that keep their scalp clean and promote healthy hair growth. If you have longed for hair like that and don't know where to begin, we will help you pick the shampoo that works best for your hair needs. Go through these 12 shampoos and select your favorite one right away.
12 Best Korean Shampoos
This Korean shampoo is infused with a rich blend of medicinal herbs and plants that target hair issues like dandruff and hair fall and work to eliminate them. This nutrient-rich shampoo is formulated to combat thinning of hair and improve the scalp's condition with every use. Enriched with biota seed and red ginseng, this shampoo lowers the heat of the scalp and promotes blood flow, which in turn boosts hair growth.
Pros
Targets hair loss and promotes healthy hair growth
Has a mild, refreshing scent
Prevents hair breakage and frizz
Doesn't cause greasiness
Loaded with the benefits of biota seeds and red ginseng
Cons
Poor packaging may make it inconvenient to use
This premium shampoo blends the power of 10 active plant-based ingredients and Korean ginseng to deep cleanse the scalp and reduce itching. The shampoo is rich in menthol and, thus, moisturizes the scalp from deep within while the herbal formula soothes the irritation caused by dandruff. As a bonus, the shampoo has a mild, Oriental fragrance that lasts for days and makes your hair feel freshly washed.
Pros
Features the Ki Gold Energizing medical beauty method to clean the hair
Controls sebum secretion and enhances the hair texture
Improves blood circulation in the scalp and strengthens the hair
Controls bacterial growth in the scalp
Cons
It may dry out, so use it with a conditioner or serum
If you see a lot of clogged hair strands in your shower drain often, this shampoo can help you with its unique formula. The shampoo is formulated with 22 exclusive botanical extracts and seven hair growth-boosting ingredients that can nourish and cleanse your scalp. For intense hair loss, this is a premium-grade shampoo that will help battle hair loss and improve hair growth. Plus, it works on all hair types for preventing hair fall and thinning.
Pros
Comes in a bottle with an easy dispenser
Hair feels soft and breezy after each use
Consists of keratin and methionine for conditioning
Features 22 botanical extracts for cleansing the scalp
Reduces shedding of hair
Cons
May take a while to show results
This shampoo does a great job of detangling the hair and nourishing the scalp for all those with dry hair. This shampoo leaves your hair with a pleasant aroma and a hint of freshness. The 8-in-1 formula of this shampoo repairs damaged scalp, strengthens hair from roots, softens dry strands, and imparts shine, and also prevents scalp itchiness.
Pros
Easily penetrates and cleanses the scalp
Comes with a conditioner
Moisturizes and hydrates dry scalp
Bottle has a quick dispenser that doesn't create a mess
Hair feels smoother after one wash
Cons
Doesn't work well on oily scalp
Not recommended for sensitive scalp
For damaged tresses, this herbal anti-hair loss shampoo, infused with the goodness of salicylic acid, panthenol, and menthol, will work well. This shampoo contains ingredients that stimulate hair growth and cleanses the pores. Plus, it is free from silicones, sulfates, and other harsh chemicals that may irritate your scalp. Thus, if you are looking for a deep-cleansing shampoo powered by cruelty-free formula, this is the ideal option.
Pros
Infused with natural plant extracts like licorice, pine needles, mulberry root, etc.
Boosts hair volume and shine
Penetrates and cleanses the scalp
Safe for sensitive scalp
Cons
Results take a while to show
Has a runny consistency
An oily scalp can lead to tons of other scalp issues like build-up, clogging of pores, greasiness, irritation, etc. To combat all these issues; this shampoo is formulated with soybean and rice ferment filtrate, hordeum vulgare seed extracts, and other such ingredients. These constituents exfoliate the scalp by controlling excess sebum and removing dead skin cells. This deep-cleansing shampoo removes all impurities without stripping the natural oils of your scalp.
Pros
It is free from silicones, parabens, toxins, fragrances, and preservatives
The pH of this shampoo is between 4.2-4.7
Composed of exfoliating ingredients that gently cleanse oily scalp
Rich in antioxidants and nutrients
Hydrates the scalp
Cons
Not suitable for extremely dry hair
This is the gentle scalp cleanser you need if you are suffering from dandruff, thin hair, and pruritus! It is composed of plenty of natural ingredients along with pure red ginseng that will visibly combat hair issues and promote the growth of healthy hair. The shampoo scrubs off dead skin cells and oily residue from the scalp and supplies essential nutrients to the scalp, thereby transforming thin and damaged hair.
Pros
Natural constituents soften dull hair
Enhances the moisture-absorbing capacity of the scalp
Enhances the texture of hair
Reduces itching and scalp irritation within a few uses
Cons
For those who like to wash their hair daily, this 2-in-1 shampoo and conditioner is a great catch! The shampoo provides a total cleansing and nourishing treatment. Its herbal complex promotes shiny and smooth hair. The shampoo blends six active herbal ingredients and jaseng plant extracts to strengthen the hair from roots.
Pros
It creates saponin bubbles that can cleanse the scalp thoroughly
Makes the hair feel bouncy
Controls oil and sebum buildup
It offers the benefits of both a shampoo and a conditioner
Washes away dirt and greasiness
Cons
Has an intense and perfume-like fragrance
Thin or runny consistency
This damage care shampoo is formulated with herbal ingredients, swiss alpine extracts, edelweiss extracts, panthenol, and hydrolyzed proteins that hydrate, replenish, and repair damaged hair. It further targets split ends, strengthens hair, and adds a healthy shine. This revitalizing formula leaves your hair feeling smooth with a pleasant fragrance.
Pros
 Repairs damaged hair
 Contains herbal ingredients
 Leaves hair with a fresh fragrance
Cons
None
This herbal shampoo is formulated with green tea, rich in antioxidants that eliminate toxins and leave the scalp and hair clean and healthy. It also contains spider lily, red ginseng and Korean ginseng that help in hair growth, add nutrition to the hair, while ceramide prevents moisture loss and treats damaged hair. The shampoo gives you soft and vibrant hair while the mild herbal scent lifts up your senses.
Pros
 100% Oriental herbal ingredients
 No artificial coloring
 Mild formula
 Refreshing herbal scent
Cons
None
The Apothehair signature scalp shampoo is one of the few luxe shampoos that check all the boxes. This shampoo is loaded with herbal ingredients, consists of the highest quality ginseng extracts cleanse the scalp gently, promote blood flow, and also strengthens the hair from roots. Treat your scalp with traditional Korean remedies and strengthen your hair from roots to tips.
Pros
Mineral, paraben, and silicone-free product
Targets itchy scalp and consistent hair fall
Makes hair bouncy and strong
Features a blend of authentic Korean herbs
Cons
A patch test is required before use as it may not suit all skin types
Using chemical-based products can cause permanent damage to the scalp and can lead to extensive hair loss. This hair care and styling shampoo comes with a nourishing conditioner that will repair your damaged hair and will control hair loss within a few uses. This anti-hair loss shampoo improves blood circulation in the scalp and promotes hair growth. It also offers optimum bounce and volume of your hair.
Pros
Soothing aroma
Prevents itchy scalp and boosts hair growth
Increases elasticity of hair strands
Prevents premature graying
Cons
May cause an allergic reaction if you have sensitive skin
Buying shampoos can be confusing because of the different requirements and types of hair. To select the ideal shampoo for your hair, you must go through some important factors such as hair type, scalp type, and many more. For the best results, it is very important to use the right shampoo according to the needs of your hair. We are here with a brief buying guide that will definitely help you with this matter.
How To Select The Ideal Korean Shampoo For Your Hair
Most Korean shampoos are formulated with botanical extracts and natural ingredients. These ingredients help in repairing your damaged hair and promote healthy hair growth. Herbal shampoos are considered the best options in Korean shampoos. You must go with sulfate-free, phthalate-free, paraben-free, mineral oil-free, SLS-free, and PEG-free K-beauty shampoos.
If you have an oily scalp, avoid using shampoos with oily ingredients. For a dry scalp, avoid shampoos that are too drying and do not offer enough moisture, hydration, or smoothing. For extremely dry, itchy, or flaky scalps, use the shampoos designed with formulations that include tea tree oil and menthol that keep your scalp fresh and moisturized.
Your hair type can also affect your choice of Korean shampoos. For fine hair, select volumizing shampoos that help in boosting your strands without weighing them down. People with thick hair should opt for hydrating and moisturizing shampoos that offer moisture, shine, and smoothness.
People with straight hair should ideally choose smoothing or straight hair shampoos that are rich in moisturizers. People with waves and beachy hair should use balancing shampoos that are not too moisturizing or too drying.
Select the moisturizing shampoos for severely curly tresses. Opt for shampoos that reduce frizz without weighing your curls down.
If you have color-treated hair, or have damaged strands, opt for strengthening or fortifying shampoos that are beneficial to weak and brittle hair. The formulas contain protein intended to improve the condition of the hair. You can also choose shampoos for color-treated hair that contain jojoba oil and vitamin E to help keep the moisture in.
It is very important to select pH-balancing shampoos for better results. If you have oily hair, use pH-balanced shampoo with panthenol. Try a pH-balancing shampoo with fatty alcohols like cetyl alcohol for dry hair with split ends.
Why Trust StyleCraze?
Vaishnavi Kothuri, the author, is a hair care enthusiast who is fond of closely reviewing hair care products. Her interest in what goes inside the product has helped her improve her own hair too. She has prepared a list of the best Korean shampoos that help maintain healthy hair. The products listed here target hair loss and promote healthy hair growth.
Frequently Asked Questions
Are Korean shampoos good for hair?
Yes. Korean shampoos come in a unique formula with active ingredients that address different hair issues. They are not only effective in thorough cleansing but are also hydrating, nourishing, and anti-frizz. Some formulas help enhance the elasticity of hair strands while some are specially made to reduce dandruff and itching. Korean shampoos are often devoid of toxins, making your hair healthy and shiny.
Is it safe to use Korean shampoos on hair?
Yes. The Korean shampoos mentioned in this listicle are brimming with nourishing ingredients and devoid of harmful chemicals. They are safe for sensitive scalp and beneficial for hair growth.
How should I apply Korean shampoos?
Apply Korean shampoos like you would use any other shampoo. Follow the steps mentioned below:
• Saturate your hair with water.
• Take some shampoo in your palm and apply it all over your wet hair and scalp.
• Massage for a few minutes until it lathers.
• Wash your hair until the water runs clear.
• Follow up with a conditioner, preferably one from the same line as your shampoo.
Pro Tip: Like Korean women, apply a deep cleansing oil to your hair before using shampoo.
Recommended Articles