Smell Great With Our 13 Best Prada Perfume Reviews
Surround your body with the heavenly fragrances of the iconic perfumes from this brand.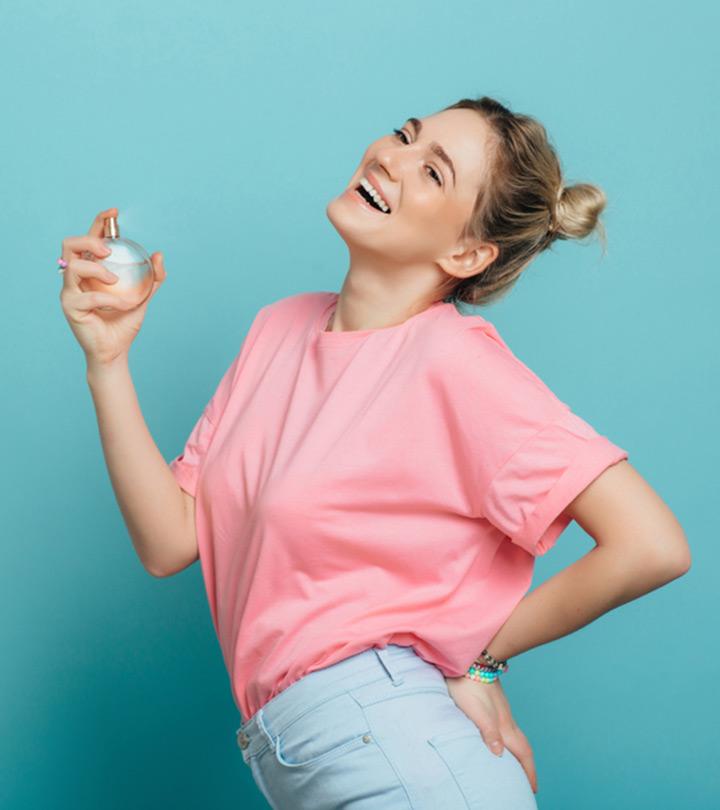 Prada perfumes for women are designed to make them feel exactly what they are: exquisite! And that is exactly why you deserve to get one for yourself. It is often said that the perfume a woman wears is her best adornment (besides her smile of course) and with a few spritz of a Prada perfume, you can completely elevate your mood and presence instantly.
The iconic luxury fashion label from Italy formulates its perfumes by blending in a variety of notes so that you can find exactly what resonates with you the most. The perfumes from Prada are long-lasting and linger beautifully all day and night long. We have narrowed down the top 13 perfumes Prada has come out with so that you can easily pick one that you think matches your personality the most! So, read on the reviews and make the best choice.
Our Review Of 13 Best Prada Perfumes Is Here To Make You Smell Like A Million Bucks
If you're looking for something bold yet feminine, the Prada Candy Eau De Parfum is the one for you. With a blend of musks and caramel notes of benzoin, this perfume packs in a fragrance that is a heady combination of sensuality and vigour. The perfume also looks as good as it smells with a fierce hot pink packaging. While the musk is velvety and silky, the benzoin notes are warm and balmy, reminding you of scents of honey and vanilla. The caramel adds a naughty twist to the overall profile of the perfume. So. wear some Prada perfume for ladies and go strutting around town to turn heads wherever you go. This video takes you through this product's details.
Pros
Combines a variety of musks expertly
Notes of benzoin
Caramel adds a twist to the fragrance
Sweet on the nose
Ideal for date night
Cons
May not be very long-wearing
Price at the time of publication: $64.44
If you're looking for a trendy day fragrance sans vanilla that will leave you feeling fresh and invigorating, then this is the one for you. Floral notes get diffused with a hint of citrus, making it subtle and light. Introduced in 2007, this has a fun story of origin. Made using notes of lilies extracted the traditional way, which involves soaking the flowers in water for 6 months, this perfume smells like an Italian dream. Notes of galbanum, mandarin, orange, and orange blossom, fused with rich cedar, vetiver, and incense make this a cocktail of smells that also has a touch of the Orient. Wear this for a brunch with the girls or a shopping trip and leave a trail of your scent behind. For a more detailed review of this product, here's a video.
Pros
Oriental and woodsy
Light and subtle
Made using a traditional process of extracting notes from lilies
The packaging is reminiscent of old-school glass perfume bottles.
Cons
May be a little too heady for some
Price at the time of publication: $86.86
Third from the Candy line of fragrances, this Prada floral perfume was released in 2014 for all of us ladies who are crazy about those floral fragrances. This one was marketed as a candy bouquet and has a romantic and powdery composition. Accords of limoncello sorbet at the top and flower of peony in the heart make this the perfect candy-crush concoction. The sweetness is balanced with the base composed of the warm notes of benzoin, musk, caramel, and honey. Wear this for an evening out or to a work event for a subtle feminine fragrance. Know more about this product in this video.
Pros
Merges candy and floral notes
Great for a work event
Romantic composition
The citrus of limoncello is balanced with warm notes of honey.
Cons
The floral and candy notes might be too overwhelming for some.
Price at the time of publication: $76.49
If you like your old-school glam, Amber is the gourmand fragrance for you. As the name suggests, amber is the most dominant note of this scent profile. But what gives it more character is how the light and dark musks mingle with bitter orange, patchouli, tonka bean, and sandalwood oil. The encaptivating scent of this perfume lingers on for hours, so you can easily take it out for a swing for a night out or when you go clubbing next. Amber is a classic Prada perfume that loyalists recognise even from a distance.
Pros
A classic Prada fragrance
Stays for long
Dominant note of amber
Balanced notes
Cons
May not be suitable for those looking for something light
Price at the time of publication: $78.23
For those looking for something flirtatious and seductive, this should be the first choice. Very feminine and soft, this has a lot of musk in the form of white cotton blending in with the sweetness of orange blossom and some smooth notes of vanilla. Prada Candy Kiss is a part of the brand's popular Candy collection that is very famous with ladies across the world. Mixing sweet and smooth, this perfume is also suitable for those who otherwise don't like overly sweet notes. In fact, this is "the only gourmand scent that does not cause me a headache" is what so many women claim!
Pros
Mixes sweet and smooth
Flirtatious and seductive
Great for all seasons
Sweetness of orange blossom mixes with lily of the valley, musk, and vanilla
Cons
May not be suitable for daytime wear
Price at the time of publication: $69.44
This one's a classic and a part of a pair originally made for men and women. Released in 2016, the brand established this set of perfumes for him and her as one that sees both genders the same. Therefore, it is not surprising that the fragrance in this one redefines what feminine floral scents should be like. Frangipani meets Iris and is elevated with beeswax and tuberose. A blend of spices adds more depth to the fragrance and is also the key reason why this is different from the usual floral scent. Wear this at the next big work meeting and see how it makes you feel empowered!
Pros
Unconventional floral notes
Long-wear
Not too sweet
Spices add depth and balance the floral notes.
Cons
Not suitable for those who like conventional, sweet floral notes
Price at the time of publication: $76.2
Part of the Candy series, this came out in 2017 and was the fifth from the series that is known for its playful, sweet fragrances. The sour-sweet cherry flavor of this perfume is well-suited for those who like their perfumes to not just be floral but also have a touch of sour. The orange blossom notes in the heart are then toned down further by a base comprising vanilla, almonds, and musk. This perfume is feminine and flirtatious but is also balanced. Wear it to a fun party or spray it on to instantly smell and feel like a million bucks after a long day at work, before you meet bae.
Pros
Playful and sweet
Great for a night out or date-night
Sour-sweet cherry lends it a fun floral note.
Orange blossom, vanilla, and musk balance the fragrance.
Cons
May not be suitable for those who like their perfumes light
Price at the time of publication: $54.83
If you're one for warm notes that stay for a while so that you don't have to worry about having to reapply your perfume, this is the one for you. The perfume gets its sweetness from the top notes of neroli, iris, bitter orange, and the warmth from the heart notes of tonka bean and vanilla. The profile of the perfume is balanced by the base notes of chocolate and patchouli. Part of the Candy line, this was introduced in 2019 and was conceived as a contradiction between energy and addictiveness of the notes.
Pros
Warm notes
Long-wear
Great for a night out
Balanced profile with sweetness and warmth
Cons
Some may find the scent a little heavy.
Price at the time of publication: $67.62
This is for today's woman who likes to keep it fuss-free when it comes to her perfume. Forget having to change up your fragrance from morning to night and seamlessly walk into a pub wearing the same scent as the one that you used for your morning meeting. Fresh and warm, this perfume has been designed to be a feminine fragrance that works all day. Middle notes of benzoin and may rose mingle with the top notes of entail rose. The heart notes are made up of De Mai and citron, which is then balanced with patchouli, opoponax, and vanilla. Launched in 2009, this gives a fresh and light take on amber.
Pros
Suitable for night and day
Fresh and light take on amber
Feminine and warm
Oriental and woody
Cons
Some may find it too subtle.
Price at the time of publication: $375.55
Jump on to the citrus scent trend bandwagon with this combination of sweet and citrusy, crafted for women who are looking for a dose of fun in their fragrance. Part of Prada's Candy range, this perfume is great for casual use and will leave you feeling fresh and fun. Bergamot, apple, caramel, and vanilla are balanced out with the twist provided by peach and citrus notes. Spray on in abundance and go paint the town red with this flirtatious, fun fragrance that is bound to catch the nose of anyone you strut by!
Pros
Sweet and citrusy
Fun and feminine fragrance
Great for casual wear
Part of the popular Candy range by Prada
Cons
Does not stay on for very long
Price at the time of publication: $59.78
As the name suggests, this is not for the faint of heart. A sensual blend of notes make this a fiery take on the iconic scent of Prada La Femme and was released in 2009. Fruity and hearty, this is for women who are looking for a fierce fragrance that makes them feel elevated. The intensity of tube rose is balanced with white floral and woody notes and patchouli at the base. This is a top-rated perfume that you can wear to date-night to spice up things or to a meeting to feel empowered.
Pros
Intense fragrance
Spicy and fruity
Long-wear
Great for use at night
Cons
May not be suitable for casual use
Price at the time of publication: $59
Released in 2017, this is a rosy and feminine take on the original Infusion series. Mandarin orange, galbanum, neroli, Bulgarian rose, and Turkish rose come together to create this beautiful, floral perfume that is perfect for a romantic day with your loved one. Super floral with a hint of fruity, this is as feminine as it gets. The good thing about this versatile Prada perfume is that you can take it for a swing to work or even a date.
Pros
Floral and feminine
Balanced with a hint of fruit notes
Romantic, rosy fragrance
Great for date-night
Cons
May not be suitable for those looking for something intense
Price at the time of publication: $103.99
This miniature roll-on by Prada is a dream for those who like to keep it easy and not necessarily want to stuff a big bottle of perfume in their stylish purses in order to keep smelling good for long. Just pop it into your purse and roll it on your skin discreetly when you need a retouch, and you'll keep smelling good throughout! This is an amber and vanilla with citrus, sweet pea, caramel, benzoin, and white musk as the main notes. Give this roll-on perfume with a hassle-free applicator a try when you go out with your girlfriends next.
Pros
Easy to carry
Easy to apply
Amber vanilla fragrance
Great for both mornings and evenings
Cons
Price at the time of publication: $29.95
And now that we have looked at our 13 best Prada perfumes, let us make it easy for you to choose one too.
How To Choose The Best Prada Perfume
Keeping the occasion of use in mind is imperative while choosing and wearing any perfume. Go for something light and floral for the day and something woody and musky for the night. Similarly, keep the season in mind too while choosing your Prada perfume. Pick something citrusy and fresh for the summer while something amber and heady for the winter months
Given the diverse range of Prada perfumes in the market, there are options for everyone. If you're not one who likes frequent retouches or don't prefer to carry your bottle of perfume around, pick one of their long-stay ones. For those who don't mind carrying their perfumes along or those who are looking for a fragrance that stays the duration of a short meeting, pick one of the more casual ones.
Your personal preference when it comes to the fragrance should be your first priority while choosing a Prada perfume because you are the one wearing it and chances are that you will not be comfortable using something that you don't like. But the good news is that from Oriental, woodsy and floral to vanilla and amber – Prada's perfume profile has everything! Go for their Candy line if you like fruity perfumes, their Infusion line if you like floral fragrances, and their La Femme line if you like to keep it more serious and intense.
Why Trust StyleCraze?
Chaitra Krishnan, the author, has a passion for sniffing out the best fragrance notes and blends. She recommends using these exquisite Prada perfumes to make you feel like the chic and sophisticated woman you are! She conducted extensive research, browsing through many reviews on multiple forums, to make sure you only opt for the best perfumes from Prada. These scents have been chosen because of their scent notes and popularity.
Frequently Asked Questions
Is Prada Candy a good perfume?
The Prada Candy line is known for its floral and fruity fragrance that is very popular with women across the world.
Is Prada perfume cruelty free?
According to PETA's latest update, Prada as a brand is still testing on animals unfortunately. They might test on animals directly or through a third party.
How long does Prada perfume last?
It differs with each perfume and it is best to check each one's duration individually. Some last for hours while some are designed for casual use.
What does Prada perfume smell like?
Prada offers various perfumes with distinctive and soothing fragrances. For example, the Prada Candy Eau de Parfum merges the warm scents of benzoin and musk with an alluring scent of caramel, while the Prada Amber Eau De Parfum offers the intoxicating scent of orange, patchouli, tonka bean, and sandalwood oil.
Is Prada perfume vegan?
No. Prada perfumes are not vegan.
Is Prada perfume unisex?
Yes. Prada perfumes like the Prada La Femme Intense Eau De Parfum perfectly balance floral and woody notes. Its fruity but spicy smell is suitable for both genders.