10 Best Orange Perfumes Of 2021 To Smell Fresh And Fruity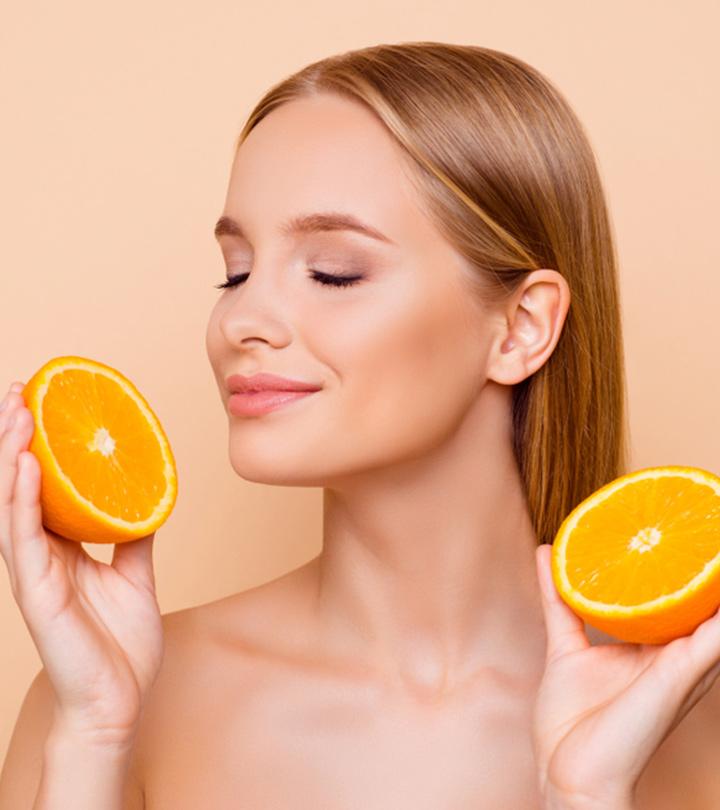 Who does not like smelling fresh and fruity to not just keep body odor at bay but to also feel energetic? An orange perfume is your answer because of the way it packs in citrus and fruity notes to make you feel fresh all day. Almost every popular brand of perfume makes an orange perfume. Their popularity is time-tested because an orange perfume instantly makes you feel alive and rejuvenated.
Moreover, orange, in many old customs, is also considered to be auspicious. So what better than your orange perfume also bringing you some good luck, right? Fruity or floral, an orange perfume can be quite diverse as it can draw from both the fruit and orange blossoms, and it is this diversity that probably explains the popularity of an orange perfume. The color itself gives you a kick and the smell makes you feel pleasant. Orange perfumes are also great for both work and leisure so that you do not have to buy different perfumes for different uses. With all these benefits, why are waiting to grab one right now? Our reviews of the top 10 are here to make your task of choosing one easier.
Smell Like A Dream With Our Top 10 Orange Perfume Reviews
If you are one to like your scents heady and sweet, this is your perfect orange perfume. Made using non-GMO corn-grade alcohol in small batches, this is mindfully made in the US and packaged in recyclable glass bottles. The blood orange fragrance is derived by expertly blending natural and essential oils to give it a sweet, juicy scent. It contains no harmful chemicals and is made to be free of parabens and phthalates. Plus, this is vegan and does not get tested on animals too. Wear this perfume for women to turn heads and leave a whiff of you everywhere you go.
Pros
Heady and sweet smell
Non-GMO ingredients
Uses corn-grade alcohol
Made in small batches
Free of parabens
Free of phthalates
Free of animal cruelty
Bottled in recyclable packaging
Cons
Might be too strong for formal events
This perfume from Hugo Boss is not just citrusy but blends in notes of apple and bergamot too to make a perfume that is balanced. Notes of white flower at the base blended with sandalwood and creamy vanilla create a fragrance that is both deep and has a touch of intensity. Orange flowers, plum, and cinnamon combine to form the heart notes that make this orange perfume scent a great balance of fruity and floral. The oriental and woody notes ensure that the orange floral fragrance notes are not overwhelming, making this great for all occasions.
Pros
A feminine fragrance
Woody and oriental fragrance
Balanced profile
Great for work and play
Cons
May not be suitable for those looking for something long lasting
Floral and oriental, this perfume from the house of Carolina Herrera has top notes made of bergamot, orange, grapefruit, and melon, making this floral yet juicy. Bulgarian rose, jasmine, and praline in the heart notes balance the floral scent, making it sweet. Whiffs of cinnamon, woody notes, and leather give it an oriental and woodsy character. This stays on for a few hours and will make you feel feminine and sensual. Add this as a last touch to finish your look or elevate any outfit. Wear it to work or to a date and watch how you turn heads!
Pros
Floral, woodsy, and fruity
Suitable for use at all times of the day
Stays on for a few hours
Great for elevating any look
Cons
May not be suitable for those looking for something stronger
[Related: 13 Best Powdery Scent Perfumes For Women To Try In 2021]
This one's not for the faint of heart but for the femm fatale within you. Powerful notes of sweet orange blossom are balanced with the caressing note of vanilla and then made more potent with ginger that is known to be an effective aphrodisiac. Made by the famous designer label of Jean Paul Gaultier, this is an orange perfume that you wear as a woman on a mission – a mission to create an impression and to win! Just spray some on and see how you instantly feel sensual, elevated, and in-control as you head out of the door, smelling and feeling your best.
Pros
Strong fragrance
Balanced with vanilla
Empowered by ginger, known to be an aphrodisiac
Great for wearing to a party
Cons
Some may find it too intense to wear at work.
While there are many who like their orange perfume to be heady and sweet, there are also many who like them to be like a fine caress on their cheeks. This one's a tangy perfume that is also crisp and sparkling with notes of orange blossom that are responsible for the balanced profile. Mandarin also makes up the top notes that lends it a fresh fruity spirit. Tiare flowers in the heart and sandalwood along with tonka beans and vanilla as the base notes combine to form this orange flower perfume that is the perfect mix of heady and fresh so that you can wear it everywhere without thinking!
Pros
Tangy and sparkling
Light and fresh
Suitable for daily use
Comes in the format of a spray-on
Cons
The scent does not stay for very long.
This perfume signifies everything we expect when we hear the word "fresh". Designed to be sunny and tangy, this is a great orange perfume for the day that will leave you feeling rejuvenated. Combining notes of orange blossom, rose, honey, musk, petitgrain, bergamot, lemon, and water jasmine, the citrus adds to the freshness of this profile. Wear this as you go out of the door, ready to battle another day at work, and let it make you feel spunky and effervescent instantly. This is also a great mood-lifter and something that you must pack for your next holiday.
Pros
• Citrusy and fresh
• Great for daily use
• Has a hint of musk
• Uses essential oils and natural oils
Cons
• May not be suitable for a party or for those looking for something strong
The story of its creation is as fascinating as the fragrance of this orange perfume by Jo Malone. Apparently conceived during a hotel stay in Bel-Air, this perfume was designed to capture the spirit of the Californian address. Sunny, sprightly, and citrusy, the scent profile uses clementine leaves along with notes of a classic orange blossom scent at the heart and water lily. This will remind you of the sunny days and the cool nights of Bel-Air. The best part is that it is suitable for both professional as well as party wear.
Pros
Inspired by Bel-Air
Citrusy and floral
Suitable for daily use
Can be worn to both formal and informal events
Cons
Does not stay on for very long
[Related: 10 Best Vintage Perfumes For Women]
An orange perfume does not always mean that it has to be really heady and fruity and this perfume is perfect to debunk that myth. Inspired by orange blossoms, it combines both fruity and floral notes fabulous enough to bottle a scent that is appealing to many. Neroli blossom, bergamot, jasmine, and musk combine to form a profile that is balanced and can be worn everywhere. The jasmine and musk complement the fruity notes of bergamot, mandarin, and orange that makes this orange perfume really versatile.
Pros
Combines fruity and floral notes
Balanced fragrance
Suitable for everyday use
Versatile
Lasts for a long duration
Cons
May not be suitable for those looking for heady, sweet scents
This is an iconic orange perfume that one must buy if they are looking for a fragrance that lasts. Created in 1979, this is both refreshing and fruity, which makes this very versatile and therefore, very popular. Made of blended citrus and green scents, this is great for casual wear and has a masculine profile. It has a balanced citrusy, fruity scent that complements the wearer in a way that it does not distract. Lemon, mandarin, mint, and blackcurrant buds combine to lend their varied notes to make this orange perfume perfect for daily use.
Pros
Combines floral and green scents from leaves of mint
Versatile and light
Suitable for daily use
Does not distract but complements the wearer
Cons
Might be a little pricey for daily use
This is another orange perfume that is great for casual use and comes in a versatile packaging that lets you use this as both a spray as well as a cologne. It has top notes comprising blood orange and bitter orange, heart notes of jasmine and geranium from South Africa, and base notes of amber wood, tonka beans, and sandalwood. This perfume combines the citrus fruitiness of orange with floral notes of jasmine and geranium and is also woody. Such a balanced profile makes this perfume ideal for use both at the boardroom and when you go out for a party after work.
Pros
Orange notes balanced by floral notes of jasmine and geranium
Woody, floral, and fruity
Great for casual use
Can be used both as perfume and cologne
Cons
May not be suitable for those looking for a fresh fragrance
And now that we have looked at our favorite 10 orange perfumes, here's a buying guide for you so that you can pick one in a giffy.
How To Choose The Perfect Orange Perfume
The kind of orange perfume you want depends on the fragrance or the profile of the scent. From heady to light, scents vary just like the personal preferences of people. Go for a sweet and fruity one if you like your perfume strong and want to wear it to a party, or choose a balanced one that is floral and fruity to get a smell that is strong yet not overwhelming. Some fruity and woody ones are the best options for those looking for casual wear.
The strength of perfume and the time that it lasts depends on the concentration of perfume in it. Go for a perfume that stays for more than 6 hours, that is what you are looking for or a eau de parfum if you are looking for something not that strong. For daily use, we suggest an eau de toilette or eau de cologne that stays on for a couple of hours and you can spray on some more when the scent wears off.
The kind of strength and the duration of wear you are looking for in your orange perfume also depends on the purpose of wearing it. Pick something light and that you are okay with retouching for your office use and something heavier, that stays on for a while if you are looking for something that is more versatile in wear. Pick out something stronger for a party so that it stays on for long and makes you stand out even in a crowd.
A perfume is almost always the last and the most important accessory you need to finish any look. So why not elevate the way you look and feel instantly with a touch of an orange perfume that is so versatile that it comes in floral, fruity, and woody profiles with something for everyone. Just choose one from our list of the top 10 and splash on some of your favorite orange perfumes to create a lasting impression even without having to try much. An orange perfume is a good investment that pays off by making you stand out with your distinctive fragrance, wherever you go! So why wait? Grab an orange perfume that makes you feel as fresh as your favorite citrus fruit and as beautiful as orange blossoms to take on the day in style.
Frequently Asked Questions
What does orange perfume smell like?
It usually combines the fruity notes of orange and other citrus fruits and floral notes of their flowers such as orange blossoms. It usually smells citrusy, tangy, fresh, and fruity. However, each scent profile is different as it combines a number of distinctive blends, unique to each perfume.
Is orange an attractive scent?
An orange perfume usually has a very attractive scent but each perfume has a distinctive fragrance of its own and it also depends on personal preferences that can be subjective.
How long does orange blossom perfume last?
The fragrance of perfumes last anywhere between 2 to 6 hours, depending on each perfume's individual strength and concentration.
Recommended Articles