10 Best Avocado Oils For Hair Growth In 2022
Enrich your hair with the goodness of this natural ingredient for the healthy hair of your dreams.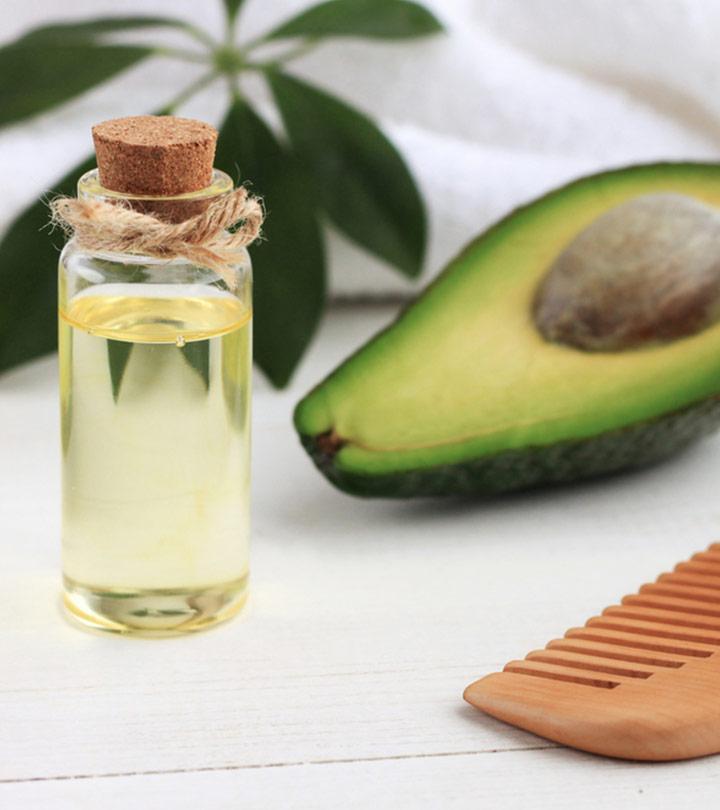 If you have been looking for the best avocado oil for hair, we might have exactly what you need. The benefits of avocado oil are no more a secret, and as healthy as the fruit is, it is also an excellent ingredient for strengthening your hair. Avocado oils are cold-pressed and extremely good for you as the fruit is rich in healthy fat. The oil is enriched with antioxidants, biotin, minerals, and vitamins like C, A, B-5, E, and D. If used to massage hair regularly, it will prevent hair loss and accelerate hair growth. Even though it might be more expensive than the regular oils, it is definitely worth every penny and shows satisfying results in a short while. However, we know your struggle for finding natural avocado oil, especially when the market has numerous brands promising to be authentic. To make things easier, we made a list of avocado oils selected with the highest ratings and reviews from frequent users. Go through the list of 10 avocado oils given below and choose the ideal one for your hair needs. So, who is ready to flaunt gorgeous shiny hair?
10 Best Must-Try Avocado Hair Oils In 2022
This pure avocado oil by Maple Holistics is what you need to tame your dry and frizzy hair. It works from deep within, reducing damage to hair follicles. Popular for its penetration ability, it delivers moisture deep into the dermis without leaving any buildup or clogging the pores. It is suitable for sensitive skin as it is sulfate and paraben free. But that's not all! The high level of monounsaturated fatty acids allows avocado oil to be more easily absorbed, leaving you with healthy-looking and stronger hair. For those of you who enjoy experimenting with DIY skincare and hair care products, this product is a perfect carrier oil. You can use it as a moisturizer, makeup remover, leave-in conditioner, facial oil, or shine serum – the list is endless.
Pros
Prevents hair follicles from being damaged
Keeps hair and scalp moisturized
Reduces frizz
Sulfate, cruelty, and paraben-free
Can be used as a carrier oil
Suitable for all hair types
Cons
Some may find the scent a little strong
This 100% pure, natural, and premium quality avocado oil is well-priced for an unfiltered and undiluted cold-pressed product. It comes in a pump bottle, which makes it convenient to use. Massage it onto your scalp and work it through your hair, from the root to the tip. This will ensure that your hair stays moisturized for long hours and helps detangle hair, making it more manageable. This product has a light texture that gives it the ability to absorb into the skin quickly. When combined with essential oils or conditioners, this versatile oil can be used on the face, body, and nails, too.
Pros
Quickly absorbs into the skin
Hexane-free
All-natural oil
Multipurpose
Budget-friendly
No greasy residue
Shields the skin and hair from ultraviolet radiation
Easy-to-use pump bottle
Cons
May not be suitable for oily hair
Those looking to repair damaged hair strands and reduce dandruff should consider Premium Nature Avocado Oil. The high concentration of healthy fats and minerals, combined with their anti-inflammatory and antioxidant properties, makes avocado oil a great ingredient to add to your hair. Using it regularly will prevent hair breakage, if not reverse the damage already done to your hair. It also keeps your scalp and hair moisturized and hydrated. Overall, it helps fight frizz, detangles knots, and softens hair.
Pros
Detangles knots
Reduces dandruff
Vegan
BPA-free and chemical-free
Affordable
100% natural
Can be used to treat eczema and psoriasis
Ideal for all skin and hair types
Great carrier oil
Cons
It could release an unpleasant smell if kept in storage for too long
Are you always on-the-go and don't have time for hair care? Do you get a salon treatment done for your damaged hair but don't achieve the desired results? Do not worry. This cold-pressed avocado oil by Sports Research works like magic on dry and frizzy hair. It provides hair strengthening and moisturizing benefits by seeping deep into your hair shaft. It comes in a user-friendly bottle, which has a pump top – take a small amount in your palms and comb it through your hair with your fingers, especially when you're in a rush. With no added fragrances, carriers, or solvents, this avocado oil is as authentic as it can get. This is a highly versatile oil that can be used in your DIY skincare products, too.
Pros
Moisturizes hair
Convenient pump bottle
Fragrance-free
Vegan and cruelty-free
Hexane-free
Non-GMO project verified
Therapeutic benefits
Versatile
Cons
Take care of your color-treated or recently permed hair with this pure avocado oil by Life-flo. This lightweight extraction rapidly penetrates the hair shaft without leaving a heavy and greasy residue, further providing natural shine to your hair. Use the oil as it is or add it to your favorite conditioner to give your hair and scalp some much-needed hydration and nourishment. The product contains a small amount of vitamin E to help preserve freshness. For best results, massage the oil in your hair and leave it overnight and wash it off in the morning. You will be amazed at how silky smooth your hair is.
Pros
No greasy residue
Includes vitamin E to maintain freshness
Lightweight formula
Suitable for all hair types
Works well on colored hair
Keeps hair hydrated
Can be used as a base oil for massage and aromatherapy
No parabens, artificial colors or fragrances
Hexane-free
Cons
Packaging may make the oil leak when shipped
Now you can sleep better, knowing that there is a product that can solve all your hair woes. Tropical Holistic 100% Pure Refined Avocado Oil is the treatment you never knew you needed! Naturally infused with an abundance of vitamins and minerals, it is known to restore moisture and make your hair soft. This pale yellow to golden yellow liquid seeps deep into the skin as opposed to staying at the top of the hair strands. It may not be an unrefined oil, yet, no added chemicals, preservatives, and GMOs make it a safe hair care product. It comes enclosed in a dark amber bottle that keeps sunlight from diluting or degrading the oil.
Pros
Quick absorption formula
The bottle keeps sunlight from degrading the oil
Cold-pressed extraction
No chemicals and preservatives
Hexane-free
Restores lost hair moisture
Mild scent
Used as a cooking oil
Cons
Not recommended for sensitive skin
With the help of this 100% pure and natural avocado oil, fight frizz, once and for all! Carefully sourced and packaged, it provides deep conditioning benefits to your hair, among other advantages. Avocado oil is the only ingredient used in this formula, which means, if used regularly, you can experience moisturized, soft, and healthy hair. Along with that, this formula treats sun-damaged, undernourished, and dry hair while stimulating blood flow and unclogging blocked follicles, which helps encourage hair growth. If you are still not convinced, you will be glad to know that this product contains no fillers, dyes, or artificial colors, and is cruelty-free.
Pros
Can also be used as a leave-in conditioner or hair mask
Does not clog pores
Pure and all-natural
Chemical-free
Not tested on animals
Promotes hair growth
Versatile
Food grade
Cons
Tends to be a little thick in texture
We believe that hair care routine should be economical, hassle-free, and high impact. Nanoil Avocado Oil is all that and more! Designed to refine and repair, this product is composed of only unrefined and cold-pressed avocado oil certified by Ecocert (organic certification organization). It is referred to as a nourishing bomb and for good reason. It contains omega unsaturated fatty acids in addition to the seven vitamins, which revives lost elasticity and conditions your hair to give it healthy shine and vitality. Additionally, since this oil is well-absorbed, it revitalizes the surface of the scalp and hair follicles and combats hair loss. To sum it up, it breathes new life into your hair.
Pros
Suitable for medium and high porosity hair
Protects hair strands against toxins
Organic and unrefined
Nicknamed as 'The Oil of 7 Vitamins' – vitamins A, B, D, E, H, K and PP
Highly versatile
Relieves inflammation
Ecocert label
Cons
Might be heavy on low porosity hair
Do you have frizzy hair, and you wish there were days when you had less or no frizz? If yes, try this avocado oil by African Angel! It works well on all hair types and has moisturizing and regenerating properties, which your hair needs. This oil is affordable, which is an ultimate plus point! However, most importantly, this multivitamin hair oil works wonders on a dry scalp as well – fights flaking, promotes a healthy scalp, and encourages hair growth. You can use this oil just before styling your hair for a glowing shine. Your tresses will thank you for this!
Pros
Reduces frizz
Detangles hair
Protects hair from UV rays
Natural moisturizer
Fragrance-free
Cons
May not be suitable for sensitive skin
Most people stay clear of hair oils because they are afraid it can cause their hair to look overly greasy. But with ILJIN COSMETICS Avocado Treatment Hair Oil, you don't have to worry about that as it is a fresh and relatively light oil that also absorbs well. This powerful blend of three ingredients – avocado, kernel, and camellia oil – is everything that your dull hair requires. A tiny drop of this oil is enough to give you soft, detangled, and nourished hair, thereby promoting hair growth. This luxurious formula is especially useful for curly hair – it conditions your hair and gives it an extra bounce.
Pros
Soft and bouncy hair
Ideal for all hair types
A blend of three effective oils
Fruity fragrance
Cruelty-free
No BPA
100% money-back guarantee
Cons
Some may not like the thin consistency
Why Trust Stylecraze?
Our haircare enthusiast, Kirtana Divankar, understands the numerous benefits of avocado oil and has scoured multiple websites to compile this list of the best avocado oils in the market for hair growth. After extensive research, she has enlisted these authentic and trustworthy brands of avocado oil. Check the given descriptions and pros and cons of each product to understand which oil would suit your hair type and texture.
Frequently Asked Questions
Can avocado oil get rid of dandruff?
Yes. Avocado oil stimulates blood flow, nourishes the dry scalp, and eliminates dandruff.
How often do you use avocado oil on your hair?
Apply avocado oil to the scalp once a week. Skip using it too often to prevent product buildup.
What are the benefits of avocado oil for hair?
Avocado oil reduces dandruff, prevents hair breakage, and detangles hair. It also protects the hair from damage caused by free radicals.
Is avocado oil good for curly hair?
Yes. Avocado oil deeply nourishes curly hair. The vitamin E in the oil adds softness and shine to the curls, and the antioxidants protect the hair from environmental toxins.
Can I leave avocado oil in my hair overnight?
No. Do not leave avocado oil on your hair overnight. The greasy texture of the oil collects the dirt and blocks the follicles. Therefore, it might develop scalp infections and irritations.
Recommended Articles