13 Best Indoor Tanning Lotions For A Gorgeous Golden Glow – 2023
Achieve that sun-kissed golden glow at home with the safe and mess-free tanning lotions.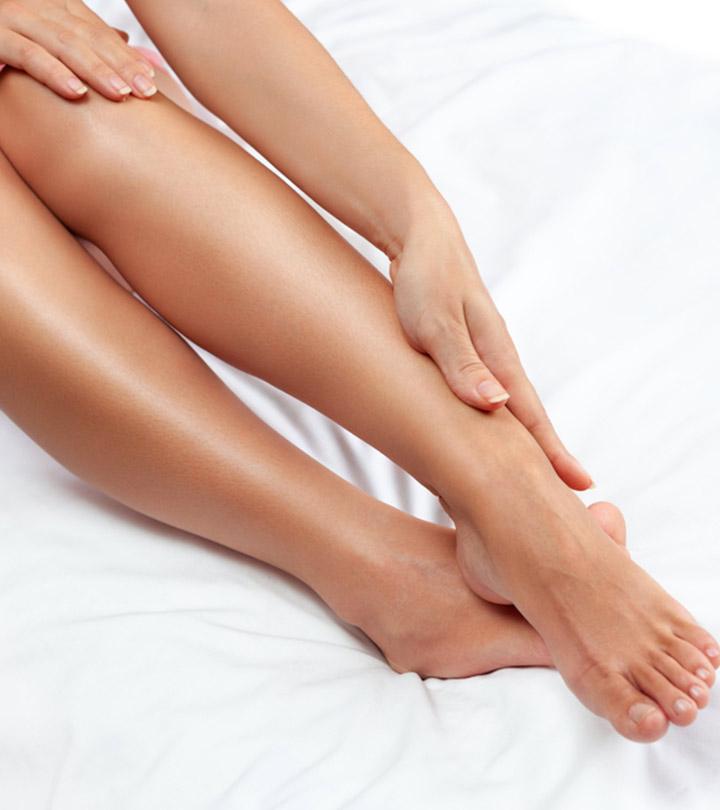 Getting a sunkissed glow on your skin without visiting the beach is possible! You just need the best indoor tanning lotions, and voila! Your skin will get that gorgeous golden glow from the comfort of your home.
Indoor tanning lotions are much safer than tanning spas and extremely convenient. They do not cause any mess during application and save a lot of expenses. Best part? Some of these clinically-tested products show visible results within hours and do not harm your skin, unlike the UV rays of the sun! In this article, we have put together a list of the 13 indoor tanning lotions that have the best reviews. Swipe up to grab them!
13 Best Indoor Tanning Lotions Of 2023
The Devoted Creations Somewhere On A Beach Instant Dark Tanning Lotion is a DHA-free bronzer that coats your skin with a streak-free tan. The tested formula is infused with sea buckthorn berry that protects your skin from free radicals and an anti-aging peptide, advanced matrixyl synthe 6, that smoothens the appearance of fine lines and wrinkles. The coconut and walnut oils in the formula soften your skin and offer deep moisturization. This results-driven lotion powered by BB cream which color corrects, mattifies, and primes your skin for a healthy glow. This long-lasting indoor tanning product is also enriched with FreshTekTM which eliminates after-tan odor as claimed by the reviewer's experience.
Pros
Streak-free
Stain-proof
Pleasant fragrance
Long-lasting
Can be used outdoor
Cons
The Australian Gold Cheeky Brown Accelerator Plus Bronzer is one of the best indoor tanning lotions with a bronzer. It is scientifically formulated with native Australian oils and vitamins A and E that keep the skin hydrated and provide a good tanning experience for visible results. This accelerator indoor tanning lotion offers safer tanning and works quickly on the skin to give that tanned, back-from-vacation look in just a few hours. Reviewers claim it does not stain sheets or carpets, does not create a mess, does not streak, and makes the skin glow with an even bronzy skin tone. The skin remains soft and supple and looks naturally glowing.
Pros
Skin-hydrating formula
Works quickly
Does not create a mess
Does not streak
Makes skin glow with an even bronzy tone
Keeps the skin soft and supple
Adds a natural glow
Reasonably priced
Cons
None

The Devoted Creations Turquoise Temptation Dark Tanning Lotion is a lightweight, smooth skin bronzer, proven to deliver visible results. It is infused with cooling cucumber and aloe vera that moisturize your skin. The bakuchiol in the lotion stimulates collagen production, diminishes wrinkles, and eliminates skin laxity, while the charcoal extracts exfoliate the impurities from your pores and refresh your skin. This lotion has a silicon feel and a sugared sorbet fragrance.
Pros
Lightweight
Smooth texture
Fast acting formula
Pleasant fragrance
Cruelty-free
Paraben-free
Cons
The Tanovations Sun Day Fun Day Dark Tanning Cocktail contains hyper-dark tanning activators that target melanin production for fast tanning results. The results-driven formula is infused with sea kelp that treats inflammation and boosts your skin with the goodness of anti-aging ingredients and their benefits. The coconut oil, cocoa, and shea butter moisturize your skin while the pineapple extracts promote collagen production and combat free radical damage. The Anti-aging indoor tanning lotion is also enriched with kukui nut oil that soothes dry, irritated skin, and the baobab and vitamin E in the formula brighten your skin and slow down its aging process.
Pros
Fast tanning results
Pleasant fragrance
Non-sticky
Paraben-free
Cons
Watery consistency
Stains the skin
The Ed Hardy Die Hard Black Bronzing Indoor Tanning Lotion is a fast-acting rapid release, natural, and cosmetic bronzer. It offers extreme bronzing results. The advanced formula stimulates melanin activity to allow long-lasting results at home. It is scientifically formulated with caffeine and green tea extracts that energize, firm, and tighten the skin. The acai berry and pomegranate have anti-aging antioxidants that fight free radical damage. They protect the skin from environmental aggressors. The SPF-infused indoor tanning lotion applies evenly and does not streak. It is tested to be transfer-resistant, absorbs quickly, and gives your skin a sunkissed glow in just a few hours.
Pros
Fast-acting rapid release for extreme bronzing results
Stimulates melanin activity
Energizes, firms, and tightens the skin
Antioxidants fight free radical damage
Protects skin from environmental aggressors
Applies evenly
Does not streak
Transfer-resistant
Absorbs quickly
Affordable
Cons
The Cocosolic Sun Tan & Body Oil is a smooth tanning formula that is suitable for delicate and sensitive skin. The lotion is infused with sweet almond oil and jojoba oil that moisturize the skin, promote collagen production, and soften the skin with visible results. The Vitamin-enriched indoor tanning lotions contain vitamin E-rich avocado oil in the formula, reverses sun damage and resists the harmful effects of pathogens. The lotion's cocoa butter darkens your tan over time and imparts your skin a lovely golden glow.
Pros
Suitable for sensitive skin type
Long-lasting
Pleasant chocolate fragrance
Easy to apply
Cons
None
The Dolce Black Extreme Black Bronzing Tanning Lotion is a 100% natural dark DHA formula that imparts long-lasting bronzed results. This lightweight tanning lotion is a soft, silicone formula that dries quickly and develops in just 2 hours. The lotion is infused with skin-firming peptides that reduce the appearance of fine lines and wrinkles and restore the youthful glow of your skin. This tattoo-friendly indoor real tanning lotion is enriched with antioxidants that protect your skin against free radical damage and the tattoo and color-fade protectors protect the luster and shine of your tattoos. This lotion has a blend of tanning and deodorizing ingredients that are tested to eliminate gross tan odor.
Pros
Suitable for all skin types
Lightweight
No orange streaks
Long-lasting tan
Fast-drying formula
Vegan
Cruelty-free
Cons
The Millennium Paint It Black Indoor Tanning Lotion is scientifically formulated with a new auto-darkening tan technology that delivers a bronze tan through the super-luxurious silicone emulsion blend. The streak-free indoor tanning lotion glides over the skin and absorbs quickly into the skin with proven efficacy. It is soft in texture and its nourishing properties make the skin look smooth and healthy. The effect of this hydrating indoor tanning lotion is tested to last all day long. It also firms the skin and adds a youthful glow. It is suitable for all ages and skin types. The lotion has a pleasant fragrance.
Pros
Auto-darkening tan technology
Super-luxurious silicone emulsion blend
Glides over skin without streaking
Absorbs quickly
Soft texture
Nourishing
Makes skin look hydrated and healthy
Lasts all day long
Firms the skin
Adds a youthful glow
Suitable for all ages and skin types
Pleasant fragrance
Reasonably priced
Cons
May stain the skin
No SPF
The Sun Laboratories Dark Sunsation Self Tanning Lotion is a sunless self-tanner. The paraben-free blend of tanning and scientifically formulated ingredients in this product provides your skin with the most natural-looking tan possible. It nourishes, hydrates, and revitalizes the skin. It also improves the elasticity of your skin. The fast-drying action of this self-tanner has an ultra-smooth and sleek texture and it helps achieve a flawless look. This indoor tanning lotion gives your skin a golden glow that does not look fake. It is cruelty-free and made in the USA.
Pros
Paraben-free
Natural-looking tan
Nourishes, hydrates, and revitalizes skin
Improves skin elasticity
Fast-drying
Transfer-resistant
Ultra-smooth texture
Cruelty-free
Cons
The Neutrogena Build-A-Tan Gradual Sunless Tanning Lotion helps create a deep tan for a healthy-looking glow. This clinically verified gradual self-tanning body lotion is to provide a natural-looking tan. It also allows you to control the shade of tan – you can apply more for a deeper tan or less for just a hint of color. The formula is lightweight and delivers sheer color with each application for a natural tan with proven efficacy. This indoor tanning lotion has a light, fresh scent. It is tested to dry in 5 minutes after application and develops within 2 to 4 hours. It is easy to apply and does not streak or blotch.
Pros
Lightweight
Protects skin from harmful sun rays
Light, fresh scent
Dries in 5 minutes
Develops within 2 to 4 hours
Clinically-proven results
Easy to apply
Does not streak or blotch
Affordable
Cons
The Just Nutritive Tanning Indoor Lotion is formulated with aloe vera, kokum butter, mango, hazelnut, avocado oil, coffee, guava, noni, and papaya extracts. These ingredients offer the best tanning performance and provide nutritive benefits to improve the look and feel of your skin. These professional-grade ingredients in the moisturizing indoor tanning lotion keep the skin hydrated and add a long-lasting tan. This product adds a youthful glow to the skin. It is easy to apply and does not contain artificial fragrances or colors. It is suitable for all skin types. It contains no harsh chemicals, is cruelty-free, and is made in the USA.
Pros
Keeps skin hydrated
Adds a long-lasting tan
Easy to apply
No artificial fragrances or colors
Suitable for all skin types
No harsh chemicals
Cruelty-free
Suitable for sensitive skin
Cons
May require 2-3 applications for very pale skin
That's What Sea Said is dermatologist-tested and formulated with powerful professional-grade ingredients – seaweed, hibiscus, passion fruit, and coconut that nourish your skin and retain moisture to offer a glow to your tan. Tyrosines included in the lotion stimulate melanin and accelerate the natural tanning process. Hibiscus infused in the lotion has anti-aging properties that help increase the skin's elasticity, even out the natural skin tone, reduce wrinkles, and add a radiant look. In addition, the blend of passion fruit and coconut keeps your skin hydrated. Additionally, it enhances the color of your tan and can be used both indoors and outdoors.
Pros
Cruelty-free
Vegan
Dermatologist-recommended
Dye-free
Non-staining
Tattoo-protectant
Provide ultra-hydration
Non-sticky
Cons
None
The Onyx Very Sexy Legs Indoor Tanning Lotion is a powerful bronzing and tanning lotion. This formula provides a hyper-dark tanning effect to hard-to-tan body parts. The lotion is designed with a scientifically formulated thermoactive complex that imparts instant color. The aloe vera and shea butter in the formula hydrate your skin, while the organic blend of avocado oil, macadamia oil, and black pearl extract reduces the appearance of cellulite and promotes firm-looking skin. This anti-cellulite indoor tanning lotion stimulates your senses with a tingling effect and is tested to obtain a better and more natural-looking tan. One application is enough to get a gorgeous chocolate tan with proven efficacy.
Pros
Gives a quicker and deeper tan
Aloe vera keeps skin hydrated
Green tea fights cellulite
Mango extract reduces inflammation
Jojoba oil and algae extract improve skin appearance
Citrus aurantium extract stimulates melanin production
Chamomile extract soothes irritation
Suitable for sensitive skin
Reasonably priced
Cons
None
*The prices provided in this article are based on the latest available information. However, they may vary due to changes in pricing by the seller and/or promotional offers.
These are the 13 best indoor tanning lotions you can buy online. If you are a new user, here's a step-by-step guide on the tanning method to use the lotion properly.
How To Use An Indoor Tanning Lotion
Wash your skin and pat it dry.
Take a dime-size amount of the tanning lotion and apply it in a circular motion.
Repeat the process until the desired area is covered.
Let it dry for 5 minutes.
Wash your hands with soap.
Let the tan develop overnight.
Apply a dermatologically-approved natural moisturizer in the morning.
The Benefits Of Using A Tanning Bed Lotion
Lotions for tanning bed contains DHA, which develops a deep color as it interacts with the top layer cells of the skin.
The lotions promotes safer tanning and ensure the tan does not look fake.
The following section discusses what you need to look for in a tanning lotion before purchasing one.
Factors To Consider Before Buying A Tanning Lotion
Check the tint of the tanning lotion. Some clinically examined and confirmed tanning lotions are too orange or have a green tint, and may not help you achieve the exact shade of tan you want.
Check if the tanning lotion suits your skin tone. If you have a deep or dark skin tone, go for a lotion with a deeper color. If you have lighter skin, choose a sheer tanning lotion so that you can build-up to the shade you want.
Some tanning lotions cause a tingling sensation. These may be uncomfortable for new users but they are fast-acting indoor tanning lotions and provide long-lasting results.
Some tanning lotions come with a bronzer while some come without it. Check what you like.
Choose a tanning lotion according to your skin type. Avoid lotions with alcohol if you have dry skin. Avoid lotions with multiple oils if you have oily skin.
Choose a tanning lotion that is free from parabens, sulfates, and other harmful chemicals.
Choose clinically verified tanning lotions with good ingredients like amino acids, tea tree oil, hemp seed oil, marula oil, argan oil, coconut oil etc.
Avoid tanning lotions with propylene glycol.
Choose a tanning lotion that does not streak or blotch.
Choose a dermatologically-tested tanning lotion that does not stain your fingers.
Why Trust StyleCraze?
The author of this article, Oyendrila Kanjilal, is a certified skin care coach and loves to try out different skin care products. She believes that one can get a sun-kissed glow by using the best indoor tanning lotions. So, she conducted in-depth research by browsing through various online forums to check user feedback and product specifications. These tanning lotions are suitable for all skin types. They keep your skin smooth and hydrated apart from adding a glow.
Frequently Asked Questions
What is the best tanning bed lotion to get dark fast?
The Supre Indoor Tanning Bronzer Lotion Packets are the best choice that provides optimal results overnight. They absorb quickly and offer a bronzy tan on the skin.
How long before indoor tanning should you apply tanning lotion?
You should apply tanning lotion after 2 hours of a regular skin care routine consisting of skin cleansing, exfoliation, and moisturizing to get the best results.
How long can you keep indoor tanning lotion?
Indoor tanning lotions last for around 2-3 years and show peak effectiveness during this period.
How long after indoor tanning can you shower?
You must wait for around 30-60 minutes to take a shower after applying indoor tanning lotion.
Is it better to shower before or after tanning?
It is recommended to shower after applying tanning lotion for the best results.
Recommended Articles