14 Best Bubble Face Masks Of 2022
It is time to get rid of dirt and pollutants with gently formulated skin care masks.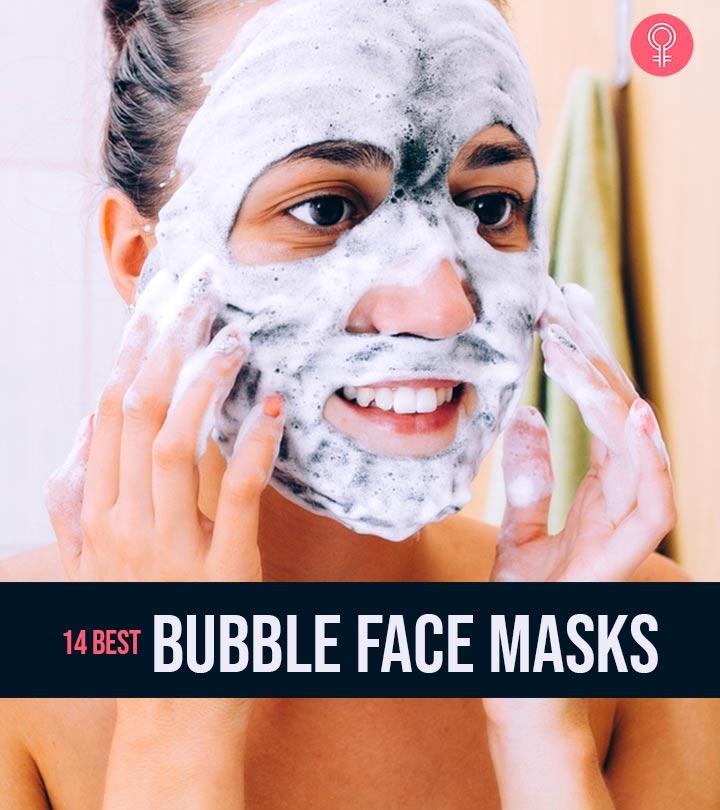 If you are an ardent fan of Koren beauty products, chances are you already have got your hands on the best bubble face mask out there. These face masks are quite a sensation in Korea and fast becoming a worldwide trend. These are not only effective in cleansing your skin but are fun to use as well. If you want to try one for yourself, take your pick from any of the 14 best bubble masks listed below.
What Is A Bubble Face Mask? What Does It Do?
A bubble face mask is a special cleansing mask that utilizes an oxygenation process to clean the skin. The process leaves foamy clouds on the face after applying the mask.
The bubble face mask helps deep clean the pores and removes dirt and impurities from the face. It effectively unclogs pores, clears excess sebum, and helps reduce blackheads and acne.
The market has different types of bubble masks. We will briefly explore them below.
Different Types Of Bubble Masks
Bubble sheet masks: These masks are made with thin pieces of fabric that are saturated with a solution. The solution produces bubbles after you put on the sheet mask. Some find sheet masks to be easier and less messy to use.
Bubble gel and cream masks: Various gel and cream masks are available on the market. Some of them are thin and runny in texture while others are thick. These masks are applied with the help of your fingers or a spatula.
Let us take a look at the 14 best bubble face masks available on the market.
14 Best Bubble Face Masks – Reviews
The Talika Bubble Mask is a purifying detox bubble mask that contains bamboo charcoal. The mask helps in fighting the effects of pollution and brightens skin complexion. It also clears out pores. The mask is suitable for all skin types. It is formulated with natural ingredients like bamboo charcoal and fermented rice. The bamboo fabric's detoxifying capacity, in combination with the probiotic extracts from fermented rice, helps fortify skin. Check out this YouTuber's review of the product if you require more details.
Pros
Fights effects of pollution
Suitable for all skin types
Natural ingredients
Cons
None
The bliss Triple Oxygen Bubble Mask is formulated with oxygen molecules. The mask brightens and revitalizes dull and drab complexion. It cleanses, exfoliates, detoxes, and leaves skin feeling nourished. The mask also keeps the skin moisturized and protects it from free radicals. It starts to work in minutes. It has a citrusy scent that helps enhance one's mood. You can also check this YouTube video for a complete idea about the product.
Pros
Moisturizing
Exfoliates skin
Protects against environmental aggressors
Does not make skin oily
Fights irritation and redness
Great fragrance
Cruelty-free
Paraben-free
Phthalate-free
Sulfate-free
Cons
None
The Elizabeth Mott Carbonated Bubble Clay Mask will detox your face effectively. The mask is formulated with activated charcoal that deeply penetrates the pores and removes impurities. The carbonated bubbles effervescent into a lightweight foam that clings to the skin. The mask also smooths out dry, patchy skin and gives a soft, glowing complexion. If you want to know more about the results, take a look at this review on YouTube.
Pros
Easy to use
Easy to remove
Lightweight
Cleans out the pores
Cruelty-free
Cons
Not ideal for sensitive skin
Contains parabens and sulfates
The Mediheal Oxygenating bubble Mask detoxifies pores effectively. The mask delivers super-oxygenating infusion to the skin that scrubs away any buildup that may dull one's complexion. It leaves the skin feeling satisfyingly smooth, soft, and refreshed. The mask is formulated with witch hazel, papaya, and mung bean extracts that revitalize and soothe the skin. The mask fizzes on contact and gives you a deep pore cleanse.
Pros
Detoxifies skin
Clears pores
Soothes skin
Cons
None
The Holika Holika Soda Pore Cleansing Bubble Mask is a foaming mask that has an auto bubble system. It automatically generates oxygen bubbles when applied to the face. The mask helps create a soft foam that cleanses the pores deeply. It decongests clogged pores and increases skin radiance. It also moisturizes the skin. The product contains gold kiwi and tea tree that remove dead skin cells and brighten one's complexion.
Pros
Moisturizing
Removes sebum
Exfoliates skin
Cons
None
The Matykos Green Tea Carbonated Bubble Mask deeply cleanses the face and removes blackheads, dirt, and oils from the pores. The green tea in the face mask moisturizes the skin and nourishes it. The mask makes the skin appear refreshed and perfectly hydrated. It also is vegan and free from artificial fragrances. It comes with an applicator that is perfect for evenly spreading the product on the skin.
Pros
Moisturizing
Vegan
Fragrance-free
Alcohol-free
Comes with an applicator
Cons
None
The Palm Beach Essence Champagne Bubble Mask is filled with the essential benefits of oxygen. The mask helps fight free radicals and energizes the skin. It is filled with antioxidants that neutralize the effects of pollutants and environmental aggressors. The mask also helps in replenishing moisture and gives the skin a plump and dewy appearance. It decongests clogged pores and increases skin radiance.
Pros
Moisturizing
Fights free radicals
Decongests clogged pores
Prevents collagen loss
Treats hyperpigmentation
Cons
None
The Eaoron Oxygen Bubble Face Mask is an effective bubble mask that double cleanses the skin and deeply nourishes it. The mask also removes oil and dirt from the skin while absorbing skin impurities. It is formulated with natural ingredients like birch sap, macadamia oil, and betaine. It is gentle on the skin and helps minimize pore size.
Pros
Minimizes pores
Vegan
Moisturizing
Removes oil and dirt
Cons
None
The Elizavecca Milky Piggy Carbonated Bubble Clay Mask cleanses pores and removes blackheads effectively. The mask stimulates the skin with bubbles and brings out a healthy glow. It is formulated with green tea extracts, pomegranate extracts, and charcoal extracts. These ingredients help clear the excess sebum and trapped dirt.
Pros
Removes blackheads
Clears excess sebum
Natural ingredients
Moisturizing
Easy to apply
Cons
Not suitable for sensitive skin
Contains parabens and sulfates
Make your skin appear glowing and radiant with the Laboratoires Filorga Scrub & Mask Exfoliating Bubble Mask. It is a reoxygenating mask that refines your skin texture, tightens the pores, and brightens your complexion. This bubble mask evens out the skin tone and makes you look young and refreshing. Additionally, the mask draws out all impurities from the skin, giving you clear skin.
Pros
 Pleasant fragrance
 Smooth texture
 Blends well on skin
 Easy to store and use
Cons
 May experience redness if allergic to any ingredients
The JJ Young Pore Bubble Mask is suitable for sensitive skin. It purifies the skin effectively. It helps improve skin complexion and tightens enlarged pores. The micro oxygen bubbles and charcoal effectively eliminate impurities and sebum within the pores and keep the skin clean and fresh. The mask is free of any harsh chemicals and artificial fragrances. The brand also believes in using minimal synthetic colors. Their packaging is dyed with soy ink instead of chemical ink.
Pros
Hydrating
Fragrance-free
Tightens enlarged pores
Cruelty-free
Eco-friendly packaging
Cons
None
The e.l.f Hydrating Bubble Mask cleanses and hydrates the skin with the help of thousands of tiny bubbles. The mask gently washes away dirt and clears out pores. It gives your skin a hydrating glow. The product is vegan. It comes in a mess-free bottle that dispenses the product from the top.
Pros
Vegan
Hydrating
Clears pores
Mess-free packaging
Cons
None
The Imagine Dermatology Bubbling Charcoal Mask has a smooth, creamy texture that transforms into a dense foam. The mask helps deliver supercharged oxygen to the skin. It contains ingredients like activated charcoal and clay that purify, detoxify, and hydrate the skin. The mask is formulated without harmful chemicals like parabens or phthalates. It also is cruelty-free and free from any artificial fragrances.
Pros
Hydrating
Cruelty-free
Paraben-free
Phthalate-free
No artificial fragrances
Cons
May cause allergic reactions
Remove the greasy sebum with the Volluck Carbonated Bubble Clay Mask to make your skin clear. This bubble mask effectively improves large pores, exfoliates your skin, eliminates blackheads, cleanses the dirt from your skin, and makes your skin appear clear and refreshing. It is infused with clay that contains natural collagen making your skin soft and clean.
Pros
 Easy to store
 Pleasant smell
 Smooth texture
Cons
Why Trust Stylecraze
The author of this article, Oyendrila Kanjilal, is a certified skin care coach. She read several product details and visited online forums to check customer reviews, and compiled a list of the best bubble face masks for her readers. These products are a must-buy as they help unclog pores, clear excess sebum, and reduce blackheads and acne.
Frequently Asked Questions
How long should I leave a bubble mask on?
Leave the bubble mask on your face for 10-15 minutes and rinse after the bubbles appear.
How often should you use a bubble mask?
You can use a bubble mask once a week.
Recommended Articles