11 Best Flattering Pinafore Dresses To Invest In 2023 – Reviews & Buying Guide
Stand out in style when you look chic and trendy in this minimalistic edgy outfit.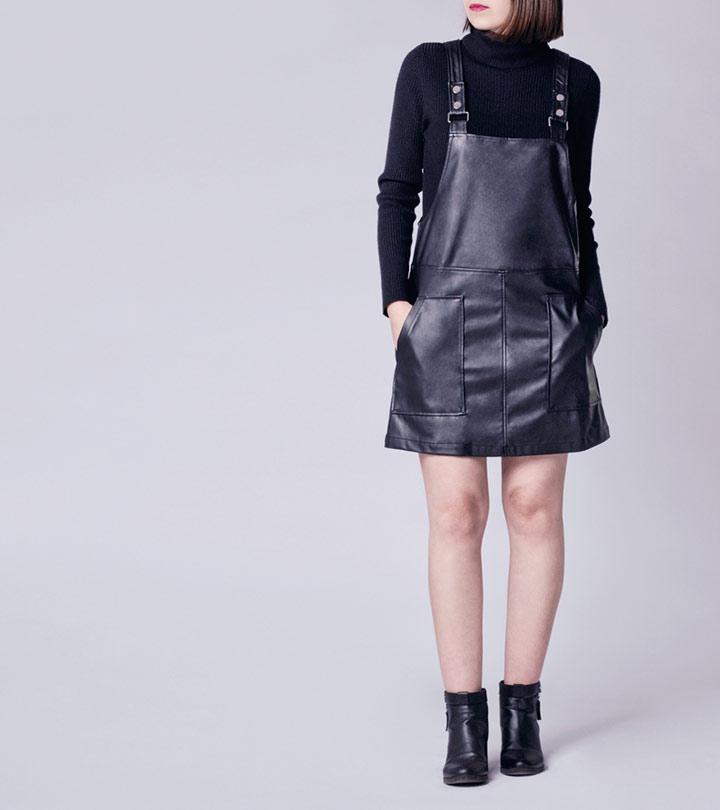 Wearing the best pinafore dresses makes you look way younger and cuter. Unlike other dresses, it is not too casual nor too boxy. They have a different kind of charm that is elegant, alluring, and endorsed by designers all over the world. You can wear one with minimal styling and still rule the edge. There is no one kind to look for. You can find different variants in a variety of patterns, lengths, and styles. They give you an effortless look while carrying it with your sneakers and a cute hairband. Here are 11 handpicked and highest-rated pinafore dresses to choose from.
What Are Pinafore Dresses?
Pinafores are sleeveless dresses that can be worn as decorative garments or as a protective apron. These dresses are worn over a top or a blouse and come in various styles and patterns. These are often compared with aprons and are a fashion avatar of dungarees and come with wearable straps worn as overdresses. From casual loose-fit dungaree styles to more tailored, vintage-inspired pinafores, one would get diverse options to try on to amp up their style quotient.
Sounds interesting, isn't it? Here are the 11 best pinafore dresses for women available online that are a must have in your wardrobe.
11 Best Pinafore Dresses For Women
Ace the perfect vintage look with this mini-V-neck pinafore dress from Allegra K. The knee-length overall skirt dress features a crisscross strap and button décor, making it a great option for any occasion. These sleeveless chic dresses are made of polyester and cotton blend fabric that makes them super comfortable. The A-line dress goes with most body types. Pair it up with a tee and boot to go rocking to get a trendy look for summers, springs, or even autumns.
Pros
Hidden hook closure
Adjustable strap
Machine-washable
Regular fit
A-line cut
Affordable
Breathable fabric
Cons
Dangling buttons
Ill-fitting torso
Price at the time of publication: $32.99
This elegant cuffed A-line corduroy pinafore dress from Bigpets gravitates the flirty, feminine fashion. This knee-length decorative garment is made from polyester and nylon and features one front chest bib pocket and two pockets on the sides. Plus, its loop suspender and adjustable hook straps ensure a customized fit. The square neck sleeveless design accentuates your shoulders while enhancing your waist for a relaxed fit. Pair it up with a light-colored high-neck shirt and thigh-high boots to accentuate your looks.
Pros
Soft fabric
Sturdy hardware
Adjustable straps
Cons
Sheer fabric
Wrinkles easily
Price at the time of publication: $22.99
This flattering pick from Floerns is a perfect blend of trendiness and elegance. This corduroy pinafore dress is made of polyester and other soft material, making it super comfortable and luxurious. Its knee-length design renders a slim-fit look that compliments all body shapes. Besides, it also features a button closure, two side pockets, and a strap that adds to its overall appeal.
Pros
Soft fabric
Regular fit
Lightweight
Machine-washable
Roomy pockets
Value for money
Cons
Price at the time of publication: $29.99
Dip your toes in the latest trend with this gorgeous long midi denim pinafore dress from Flygo. The cotton denim dress in A-line skirt style features adjustable shoulder straps and two slant pockets. Its frayed hem renders a grungy finish to this long dungaree style dress. This loose-fit jumper dress with loop suspenders is perfect for the outdoors.
Pros
Breathable fabric
Machine-washable
Fringed hem
Roomy pockets
Regular fit
Cons
Price at the time of publication: $36.98
Make a statement with this classy, trendy dungaree-style pick from Hell Bunny. This unique yet high-quality dress item is designed with crisscross adjustable straps and loop suspenders. The elastic waistband holds the skirt in place, while the button-down closure provides a perfect fit. It's cute bib panel chest pocket with bunny embossed buttons add to the beauty of this flared-style skirt. This skirt looks great on athletic body types.
Pros
Adjustable strap
Thick fabric
Elastic waist
Stretchable fabric
Great fit
Easy-to-wear
Cons
No pockets
Fabric wrinkles
Price at the time of publication: $64.99
This elegant denim pick from Luvamia would be a splurge-worthy pick solely for its chic, classic look. This knee-length, button closure overall denim dress with adjustable straps features two roomy front pockets. You can pair this cute pinafore dress crop tops or turtlenecks and stockings.
Pros
Machine-washable
Soft cotton fabric
Stretchy
Flattering fit
Does not shrink after washing
Cons
Price at the time of publication: $30.99
Tired dressing in the usual way? Try out something casual yet modish with this A-line mini overall pinafore dress from Romwe. The 100% polyester fabric is super comfy to wear and does not lose its shape on washing. The jumper dress comes with a zipper closure. Its backless, high-waist design resembles the traditional dungarees, giving you a cute, charming appearance. This dress looks great on pear-shaped body types. Pair it up with a short or long sleeve top or a round neck t-shirt to take this outfit to another level.
Pros
Non-stretch fabric
Zipper closure
Soft fabric
Great fit
Cons
Price at the time of publication: $23.99
Probably this may be the most fashionable and appealing pinafore in the list. This high-waist dress from Sheln is made of polyester-spandex fabric and features a spaghetti strap and backless design that enhances the visual appeal. You just need a round neck top to pair it up with this above-knee pinafore to get a glamorous look for your date nights, parties, or casual outings. Moreover, the zipper fastening back closure and adjustable strap ensures perfect fit and no falling off to hold your confidence while going out in public.
Pros
Stretchy material
Stylish design
Perfect fit
Cons
None
Price at the time of publication: $25.99
Pinafores cannot get any cuter than this buttoned dress from Verdusa. It features an A-line design and pull-on closure, making it too easy-to-wear. The fabric is not stretchy yet offers the perfect fit to look stunning. You can pair it up with a high-neck top and leggings for a flirty, feminine look.
Pros
Cons
Fabric may rip off easily
Price at the time of publication: $30.99
Get your outfit sorted for a leisure evening, movie date or late-night parties with this A-line pinafore dress from Yeokou. This corduroy-styled cute pinafore is made of spandex-cotton fabric and features adjustable straps and loop suspenders for a perfect fit. Its one chest bib pocket and hidden zip closure simply add to the convenience.
Pros
Soft fabric
Lightweight
Machine-washable
Cons
None
Price at the time of publication: $27.99
Stand out in the crowd with this pinafore dress from Yoins. This high-waist suspender skirt recreates the charming 90s look seamlessly. It is made of polyester and rayon and its stretchable fabric makes it a great casual wear. The flared design aided with adjustable strap boosts its visual appeal. Pair it up with a long or short sleeve t-shirt or top to simply go rocky for all occasions. Moreover, experience style and comfort with this elegant pinafore dress.
Pros
Pleated hem
Adjustable straps
Stretchable fabric
Multiple color options
Cons
Price at the time of publication: $25.99
That sums up our list of the 11 pinafore dresses that are an absolute must-have. But which one to pick? Check out our buying guide to know what to look for before buying a pinafore dress.
How To Choose The Best Pinafore Dress For Women?
Fabric Type: Cotton and polyester are the most common types, making these dresses lightweight and super comfortable for all-day wear. You can even opt for rayon, spandex-cotton blend, and other types. But do ensure that you pick good quality material for effective use.
Length: Pinafore dresses are available in various shapes and designs – above-knee, midi, mini, and knee-length. Mini pinafore is super chic, trendy, and looks incredibly appealing. You can even opt for long or knee length-dresses if you're into minimal dressing.
Pattern: These super cool and fashionable dresses come in various styles and patterns. Solid-colored pinafore does look charming. But if you want to try out something out of the box, you can even look for checkered or dyed pattern pinafores.
Wash Care: Check the instruction labels properly to follow the wash care as some may need a hand wash while some may be fit for a machine wash. Follow the instructions to retain the fabric quality and enhance its durability.
Why Trust StyleCraze?
The author, Baishali Bhattacharya, is a certified image consultant. She curated this list of the best pinafore dresses after in-depth research and going through numerous user reviews on trusted online forums and brand websites. The dresses listed in this post can give you an effortless look while carrying it with your sneakers and a cute hairband.
Frequently Asked Questions
What is the ideal length for a pinafore dress?
There's no such ideal length for pinafore dresses. These are widely available in a variety of lengths, starting from small and medium length to knee-lengths to fully covered ones.
Is a pinafore dress formal?
A pinafore dress is more on the formal side, but you may dress it up or down for a casual look accordingly.
How do you wear a long pinafore dress in the winter?
Style your long pinafore dress with a pair of warm tights or high-rise boots and a sweater or long coat to stay cozy and look stylish.
Can I wear pants with a pinafore dress?
No, pinafore dresses are mostly paired with thigh-high boots or black stockings and tights.
Are pinafore dresses flattering?
Yes, pinafore dresses are stylish, cute, and flattering. They fall on the cusp of formal and casual and also look smart.