9 Best Rain Hats For Women To Keep The Hair Dry & Style Protected
Protect your hair from the rain with these functional, fun, and stylish hats.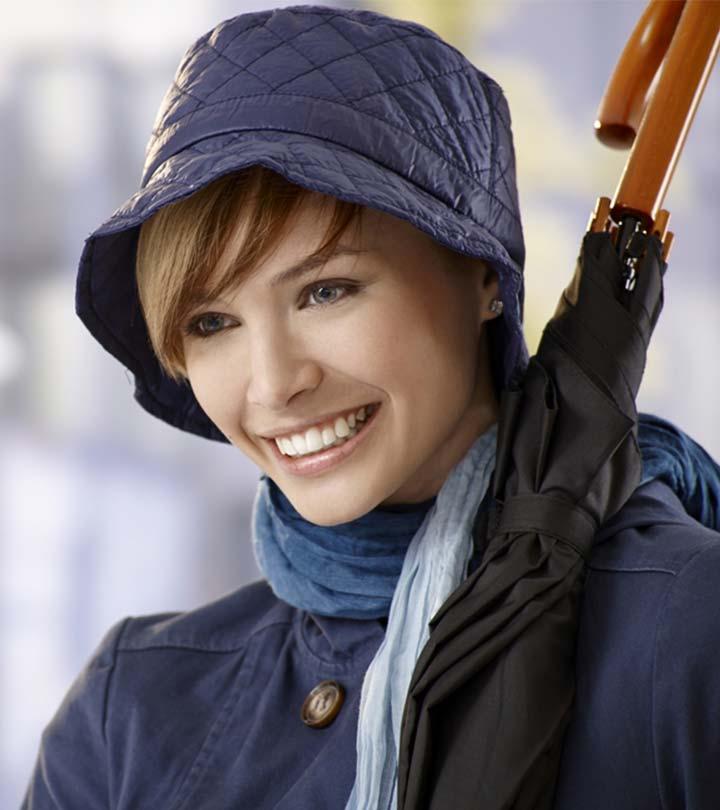 Rainy days are fun when you enjoy a cup of tea and are not stuck in the open. However, to fix this woe, we have the best rain hats that will allow you to keep up with your daily routine without being affected by rain. We are sure you wouldn't want to ruin your perfect hairstyle or stunning outfit. Hence rain hats are a must-have. So, our versatile list of rain hats offers cute colors, alluring designs, and styles that will make everyone go wow. So, go ahead and be the rainbow on a gray rainy day.
Keep scrolling and get your hands on these top 9 rain hats that will perk up your mood and energy this season.
9 Best Rain Hats For Women – 2023 Update
The Bucket Rain Hat from Angela and William is made from 100% polyester. It is foldable in its case, which can be zippered for storage or carrying. Its one-size circumference of 21.5 to 22.8 inches fits every head and can be customized using the adjustable cord. The hat has a brim width of 2 inches that offers assured rain protection to your head, hair, face, and neck. This 100% waterproof bucket hat can be carried easily in your backpack or attached to your belt.
Pros
Easily foldable
Adjustable
Waterproof material
Comes with a carrying case
Lightweight
Cons
May not be ideal for a larger head size
Price at the time of publication: $15
This waterproof Bucket Hat from C.C Store is made with 100% polyurethane. It comes with a drawstring tie closure to ensure a perfect fit. The inner lining with a sweatband keeps your head cool even on sunnier days. This foldable all-weather hat is convenient to carry around during fishing, trekking, backpacking across rainy regions. This one-size rain hat is ideal for head circumferences ranging 55cm to 58 cm and has a brim width of 2 1/4inch. It also comes in a wide array of attractive colors.
Pros
Convenient design
Comfortable
Adjustable fit
Water repellent
Cons
Price at the time of publication: $16.99
The Frogg Toggs Women's Boonie Hat is made from the classic frogg toggs fabric. The material is 100% waterproof and breathable. It can be easily folded and packed for travel. The brim is short and round, hence doesn't cover your eyes. It has a 1-inch internal band with a shock cord adjustment feature so that you can tighten it as per your convenience. This one-size packable hat can be comfortably worn to protect your head and hair during rains or any outdoor adventure activity.
Pros
Drawstring closure
Easy crush n pack
Short brim
Adjustable cord
Machine washable
Cons
Price at the time of publication: $14.99
You don't have to worry about your hair styling going for a toss under an ill-fitting hat anymore. The Hairbrella women's rain hat, with its innovative and sensible design and waterproof microfibre polyester material, keeps your hairstyle intact even when it is pouring out there. The inner satin lining takes care of your hair, while the PVC visor offers maximum UV protection. This one-size hat has an adjustable band to ensure the perfect fit, and it can be folded into a pouch, which fits in your purse or bag for easy storage.
Pros
Adjustable strap
Integrated pouch
Waterproof material
Easy to store
Cons
The visor tends to fog vision
Price at the time of publication: $34.99
The Lanliebao Women's Bucket Rain Hat is made with waterproof vinyl material. It comes with a polyester lining which makes it perfect for wearing throughout the year. The wide 3 inches brim offers better face and neck protection. This one-size hat fits head circumferences 22.04 to 22.83 inches. It is lightweight and easy to fold and carry along. It comes in three exciting colors to choose from.
Pros
Wide approx 3inch brim
Waterproof material
Inner lining
Cons
Price at the time of publication: $17.99
If you're looking for a stylish multi-purpose bucket hat, then your search ends here. The Luxury Divas Reversible Rain and Sun Hat can be worn comfortably in hot and wet conditions. It is made with nylon on one side which repels water droplets, and soft cotton on the other to keep your hair getting frizzy. This foldable hat does not wrinkle and fits in your handbag easily.
Pros
Foldable
Waterproof
Fast-drying fabric
Stylish design
Ideal for travels
Cons
Price at the time of publication: $13.99
The 6 Piece Rain Bonnet from the Satinior Store is made with polyethylene. It is waterproof, wind-resistant, lightweight, and long-lasting. The transparent bonnet can be worn as a headscarf and secured by tying the straps to protect your head and hair from rain and wind. It has a clear visor that doesn't block your vision. This rain bonnet can be folded easily and put away in your jacket pockets or purse. The one-size hat measures 101×33 cm. The durable, reusable, and functional rain bonnet comes in a pack of 6 and is certainly worth every penny.
Pros
Transparent
Foldable
Reusable
Headscarf design
Clear visor
Tie closure
Cons
Price at the time of publication: $10.49
Are you looking for that fun bucket rain hat for versatile styling with the perfect fit? Well, the Totes Women's Water-Resistant Bucket Hat offers just that. The snug and stylish hat is treated with totes coat application which makes it water repellent. You can fold it without worrying about wrinkles and fit it in your purse easily. This lightweight and the comfortable hat fits perfectly on your head, preventing your hair from getting wet on a rainy day.
Pros
Snug fit
Lightweight
Wrinkle resistant
Cons
May not be ideal for a larger head size
Price at the time of publication: $25
The Toutacoo Adjustable Bucket Rain Hat is made from nylon fabric that is rainproof and windproof. It comes with a discrete elastic cord that has a metal stopper to ensure a perfect fit over your head while preventing the hat from flying off. This lightweight rain hat can also be easily folded, so you can keep it in your backpack or pocket while going out. It fits comfortably and has a circumference measuring 22.6 to 23.5 inches. This stylish rain hat is available in 10 unique colors and is a must-have in your wardrobe.
Pros
Lightweight
Waterproof material
Elastic cord
Foldable
Cons
None

Price at the time of publication: $19.99
These lightweight and waterproof hats protect your hair against wind and rain while adding style to your appearance. We would also like to share a few pointers regarding what you need to consider before buying your rain hat. So, read on to learn more.
What To Consider When Choosing A Rain Hat – Buying Guide
Material: Rain hat should keep your head and hair during the rainy season. Hence, the material of the hat plays a great role in selecting the correct one. Nylon or polythene exteriors work well in keeping the water out. Many hats also come with specially created water-repellent coats that make the water droplets just slide off the hat. Another important thing to keep in mind is that the inner lining of the hat should preferably be of a breathable material to avoid sweaty frizzy hair.
Adjustability: Ensure that the hat fits you snuggly and doesn't fall off by the slightest tilt of the head or a whiff of breeze. It is preferred to go for a hat with a discreet cord that can be tightened or loosened to adjust the fit without spoiling the look.
Style: With the rains already trying to wreck your wardrobe, why let your rain hat add up to your woes? Stay ahead in the rainy-day fashion game by going for a stylish-looking rain hat. Bucket hats provide good head coverage and also look chic. The Boonie hat with its wide brim helps shelter your face and neck well while giving you that charming appearance. Like headscarves? Go for the Satinior rain bonnet, which is simple yet stylish and offers perfect coverage. Either way, it is best to go for a rain hat that is functional as well as stylish.
Why Trust StyleCraze?
Baishali Bhattacharya, is a certified image consultant who knows what works best for your body shape and size. She believes that feeling comfortable in what you wear is key to feeling confident in your body. That's why she has painstakingly gone through extensive reviews and feedback before shortlisting the best rain hats for you to choose from. These rain hats help you keep dry and comfortable while going about your day's errands, rain or shine. These are not only comfortable to wear but also keep your hairstyle in place.
Frequently Asked Questions
What is a rain hat?
A rain hat is a waterproof headgear made of special water-resistant material and lets the raindrops slide off, keeping your head dry. Bucket hats, Boonie hat, bonnets made of nylon or polythene are all rain hats.
Is a bucket hat a rain hat?
A bucket hat made from a waterproof material like nylon or having a water repellent coating on its surface can work as a rain hat. Its downward sloping design allows the water droplets to roll off immediately. Due to the classic hat style, it goes well with pretty much any outfit.
Are boonie hats waterproof?
Yes, bonnie hats are waterproof and breathable, keeping the rain off the face.
What is the difference between a sun hat and a rain hat?
Sun hats have a wider, floppy brim to offer more weather protection and shade from the sun. However, they may or may not be waterproof. In contrast, rain hats are waterproof and have a thinner brim.
Do bucket hats work in the rain?
A bucket hat made of waterproof material can protect you from rain.
Which Tilley hat is waterproof?
The Tilley TWP1 hat is waterproof and perfect for hiking experiences.
Recommended Articles