10 Best Microcurrent Facial Machines That Give An Instant Face Lift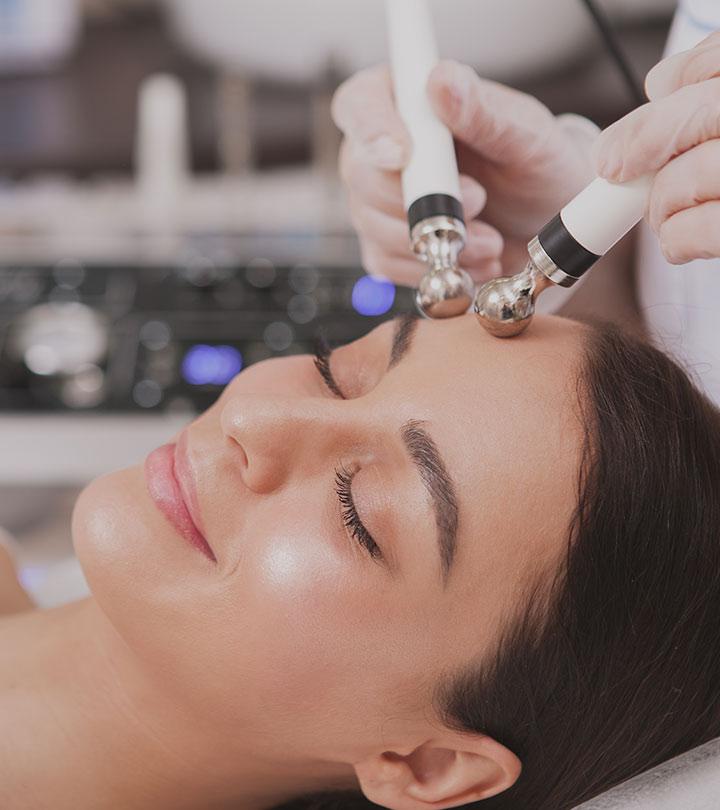 Do you want a contoured face with defined cheekbones and a sharp jawline? Do you want to get rid of sagging skin in your eye and chin area? If you answered 'yes' to these questions, here's the best product for you – a microcurrent facial machine. Wrinkles, fine lines, and pigmentation are the unmistakable signs of aging. But if you want to delay these without undergoing any cosmetic procedure, we suggest you try this non-invasive facial device. To help you decide which brand to purchase, we have rounded up a list of the 10 best at-home microcurrent facial machines. But before that, let's look into the mechanism of microcurrent facial machines.
What Are Microcurrent Facial Machines?
Microcurrent facial machines use electricity to interact with facial tissues. When the stainless steel probe is gently rubbed across the skin's surface, it stimulates the facial muscles underneath. This helps improve blood circulation while promoting the production of collagen. Collagen is the protein that is responsible for giving you refreshed, rejuvenated, and younger-looking skin. Ideally, this device requires a follow-up treatment for 8 days to get the maximum benefits.
Are you curious to know what these microcurrent machines do to your face? Scroll down to the next section to find out!
Benefits Of Microcurrent Facial Machines
Microcurrent therapy rejuvenates damaged skin faster than other facial products.
You can notice firmer, clearer, and glowing skin within a couple of sittings.
It makes your skin appear tighter, spot-free and lifted.
It adds definition to your cheekbones.
It makes your eyes look less puffy.
The skin looks and feels healthier.
It reduces wrinkles and under-eye bags.
It reduces the appearance of dark circles, blemishes, and acne.
You notice immediate results after the treatment.
Find out more benefits of microcurrent facial machine here.
How To Use A Microcurrent Facial Device
Prep your face by washing it with warm water and a mild facial cleanser.
Remove your makeup thoroughly.
You can even use a scrub to remove all traces of makeup.
Apply the conductive gel on the preferred area.
Massage the area in an oval motion three times before moving on to the next section.
Make sure you glide the device on the contours of your face, i.e., right below the cheekbones and jawline.
Wash the gel off with warm water after the treatment.
Now that you know how to use this amazing device let's talk about the 10 best microcurrent facial devices available on the market.
Top 10 Microcurrent Facial Machines To Buy In 2019
Product Claims
Yeamon Microcurrent Facial Massager provides microcurrent therapy in high-frequency vibration, as well as phototherapy function. Its vibration mode, vibration speed, and microcurrent intensity are adjustable. You can choose from five options for each function. This facial massager releases gentle microcurrents that stimulate and energize your facial muscles. This device also delivers blue light phototherapy to relieve acne and skin inflammation.
Pros
Suitable for use on face and neck
5 vibration speeds and 5 vibration modes
Portable and lightweight
Travel-friendly
Reduces fine lines and wrinkles
Cons
None 
Similar Products

Product Claims
Multifun Microcurrent Facial Massager helps energize your facial muscles. It provides painless and gentle microcurrent massage that reduces fine lines, wrinkles, puffiness, and dark circles. It also improves your skin tone, makes your skin firm, and gives you a youthful appearance. This massager also stimulates blood circulation and promotes lymphatic drainage. You need not worry about charging or replacing the batteries as this device is solar-powered. 
Pros
Portable design
Storage bag included
Travel-friendly size
1-year warranty
Solar-powered 
Cons
None 
Similar Products

This mini device claims to improve your facial contours and reduce fine lines by stimulating the surface area of your face with a gentle microcurrent. This portable device delivers professional results in just 5 minutes. It helps contour your facial features, smoothen fine lines and wrinkles, and even out saggy skin and eye bags. The Nuface gel primer contains hyaluronic acid and phytologist complex that help revitalize and rejuvenate dry skin. The kit includes a facial device, a gel primer, a power adapter, and a user manual.
Pros
Lightweight and velvety gel primer
Regenerates skin collagen
Suitable for face and neck
No additional attachments
Travel-friendly
Cons
None
Similar Products

No products found.
This device restructures your facial muscles by using 400 microamps of current. It evens out your skin tone and reduces the signs of aging. It also lifts your facial muscles by massaging them thoroughly. This user-friendly device has a large LCD screen with a timer. The kit contains a microcurrent device, an adaptor, an applicator set, and a 100% natural seaweed gel.l
Pros
Just 15 minutes of treatment
Long-lasting battery
2 microcurrent wands
Delivers quick results
Portable
Cons
None
Serious Skincare Microcurrent Facial Kit consists of an egg-shaped microcurrent device that includes two hand-held units that interlock with each other to become one unit. This device is ideal for those who want to lift and firm up their facial muscles to reduce wrinkles and fine lines. It can be used at three settings: deep toning, toning benefits, and enhancing routine. Its ergonomic design provides state-of-the-art toning to aging skin by sending monitored electric pulses through the steel nodules. You can use this device on your face and neck.
Pros
Provides a youthful glow
Tightens saggy skin and under-eye bags
Suitable for neck and face
Portable
Cons
Buy Now From Amazon
Similar Products

ShowYoung Microcurrent Mini Facial Massager is ideal for anyone who wants to stimulate the production of collagen and elastin. This device activates your skin from within to rejuvenate aging skin. With 350 microamps and five levels of intensity control, this gentle and effective device works faster than other microcurrent devices. It massages and soothes your skin without causing breakouts or acne.
Pros
Improves facial contours, especially the jawline
Long-lasting battery
Suitable for the face, neck, and the area around the eyes
Cons
Requires long charging hours
Similar Products

ZIIP Beauty Microcurrent Facial Device is a luxury facial kit created by the renowned esthetician, Melanie Simon. It is a handheld nano current and microcurrent machine that helps in skin tightening, sculpting, and contouring and lifting facial muscles. It also reduces dark circles and acne and evens out your skin tone. This beauty device increases cell activity, which leads to radiant and glowing skin.
Pros
Defines cheekbones
Improves skin texture
No side effects
Cons
This device is designed to operate easily at home. It lifts the wrinkles from underneath and fills the pits with growing cells. It strengthens your facial muscles and improves the contours of your face. While toning your skin, it also adds a radiant glow to it. Use the device for 15 minutes every day to get amazing salon-like results.
Pros
Smoothens skin
Stimulates collagen production
Clears pigmentation
Tightens the loose skin around the neck
Cons
Takes time to show results
Lemique Blanche Multifunctional Facial Massager increases adenosine triphosphate and stimulates the microvascular and cellular tissues in your skin for faster regeneration of collagen. It improves skin tone and texture, prevents wrinkles, and increases the elasticity of your skin. This device uses 108°F heat, galvanic current, microcurrent, micro-vibration, and LED red light therapy.
Pros
Improves skin texture in just one week
Multipurpose device
Brightens skin tone
Contours your face
Cons
This advanced microcurrent device helps reduce fine lines and wrinkles around your eyes. It uses sonic vibration and microcurrent treatment to tighten and lift your skin. Its high-frequency vibration helps revitalize dull skin. It gently massages your skin and relaxes your face, body, and neck instantly. This stainless anti-aging massage roller delivers a soothing experience and simultaneously stimulates collagen production.
Pros
Cons
Now that you know what the 10 best microcurrent facial machines are let's look at the factors you need to consider when purchasing them.
Factors To Consider When Buying A Microcurrent Facial Machine
1. Portability
Most facial machines are portable but look for one that comes with a carry bag. This will prove convenient for traveling.
2. Ease of use
Although most microcurrent facial machines are easy to use, look out for ones that do not have any complex mechanism or multiple buttons.
3. Duration
Look for a frequency-specific microcurrent machine that delivers noticeable results within the first two uses. Products with high electric frequency tend to work quicker compared to the others.
Though microcurrent facial machines deliver amazing results, they do have a few side effects that you need to keep in mind. Check them out below.
What Are The Side Effects Of Microcurrent Facial Machines?
Microcurrent facial machines are not recommended for pregnant women. They are also unsafe for people with chronic conditions like spasms and seizures. Do not use this device if you have an infection or a fresh scar. If you have skin conditions like lumps or psoriasis, stay away from this product as the RF microcurrent can aggravate the problem.
Results – Before And After
Flaunt your contoured face with the help of these amazing microcurrent facial machines. Grab your favorite product from this list, try it out, and let us know about your experience in the comments section below.
Recommended Articles: