11 Best Microcurrent Facial Machines That Give An Instant Face Lift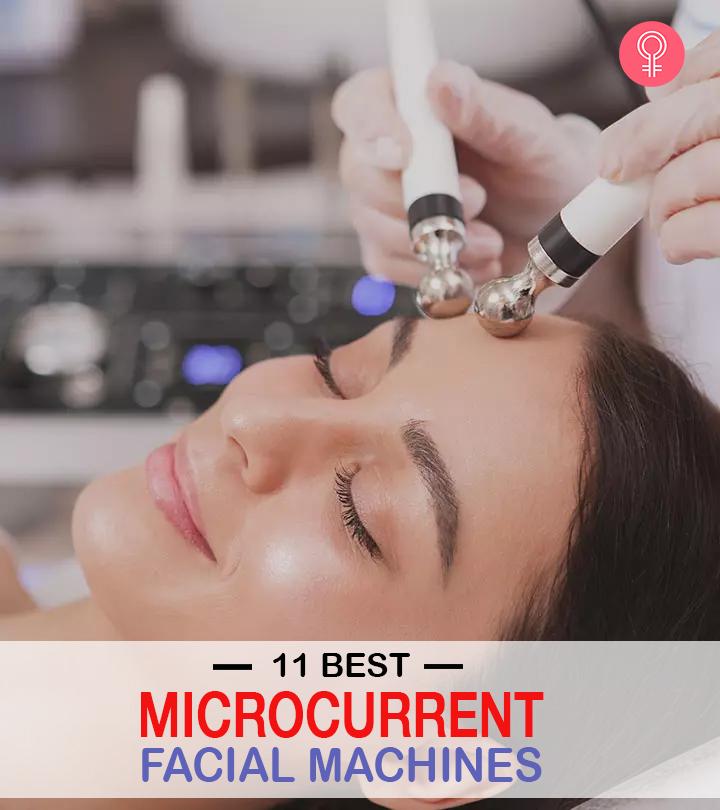 Do you want a contoured face with defined cheekbones and a sharp jawline? Do you want to get rid of sagging skin in your eye and chin area? If you answered 'yes' to these questions, here's the best product for you – a microcurrent facial machine. This non-invasive facial device delays the signs of aging, like wrinkles and fine lines, without undergoing a cosmetic procedure. To help you decide which brand to purchase, we have rounded up a list of the 11 best at-home microcurrent facial machines. Scroll down to check them out!
What Are Microcurrent Facial Machines?
Microcurrent facial machines use electricity to interact with facial tissues. The stainless steel probe is rubbed gently across the skin's surface to stimulate the facial muscles underneath. This helps improve blood circulation while promoting the production of collagen. Collagen is the protein responsible for making your skin refreshed, rejuvenated, and young-looking. Ideally, this device requires a follow-up treatment for 8 days to get the maximum benefits.
If you are new to microcurrent therapy and curious about how it can help you, here are a few benefits of using a microcurrent facial machine.
Benefits Of Microcurrent Facial Machines
Rejuvenates damaged skin faster than other facial products.
Makes the skin firm, clear, and glowing.
Makes your skin appear tight, spot-free, and lifted.
Adds definition to your cheekbones.
Makes your eyes look less puffy.
Reduces wrinkles and under-eye bags.
Reduces the appearance of dark circles, blemishes, and acne.
Offers visible results immediately after the treatment.
Find out more benefits of microcurrent facial machines here.
Here's a step-by-step guide for using a microcurrent facial device correctly.
How To Use A Microcurrent Facial Device
Prep your face by washing it with warm water and a mild facial cleanser.
Remove your makeup thoroughly with a makeup remover
You can also use a scrub to remove all traces of makeup.
Apply the conductive gel to the preferred area.
Massage the area in an oval motion three times before moving on to the next section.
Glide the device on the contours of your face – below the cheekbones and jawline.
Wash the gel off with warm water after the treatment.
Now that you know how to use this device, let's take a look at the 11 best microcurrent facial devices available online.
Top 11 Microcurrent Facial Machines To Buy In 2020
The NuFACE Trinity Advanced Facial Toning Device features interchangeable attachments that aid in facial stimulation and help reduce wrinkles and fine lines. It contours your facial skin by toning and firming it with regular use. The recommended usage is 5 days a week initially for up to 2 months, followed by a maintenance routine of 2-3 times a week.
Pros
Compact design
Improves facial contours
Reduces fine lines and wrinkles
Includes NuFace gel primer
Easy to use
Interchangeable attachments
Clinically tested
1-year warranty 
Cons
None
Similar Products

The NuDerma Cell Energy Amplification System comes with a high-frequency handle and 4 neon-powered wands for different requirements. The spot treatment tip targets acne and scars to soothe inflammation and boost cellular energy. The comb attachment energizes the hair follicles to reduce hair fall and treat dandruff. This microcurrent machine generates 10 watts of power in high-frequency waves of 50-60Hz for a painless and effective treatment.
Pros
Suitable for all skin types
4 neon-powered wands
Helps reduce acne and blemishes
Helps treat dandruff and hair fall
Reduces fine lines and wrinkles
Compact
Portable
Affordable 
Cons
None
Buy Now From Amazon
Similar Products

The Biosincron Beautystar Face Lift Device is designed to target under-eye bags, crow's feet, smile lines, fine lines, and wrinkles. It uses 2 electrodes to generate a full cycle, gentle current for your face and neck. The waves penetrate deep into your skin  for quick results. The package includes a non-sticky moisturizing conductivity gel that you need to apply before using the microcurrent device.
Pros
Travel-friendly
Lightweight
Easy to use
Long-lasting battery
Includes conductivity gel
1-year warranty
Affordable 
Cons
Buy Now From Amazon
Similar Products

The Yeamon 4D Microcurrent Facial Massager provides microcurrent therapy in high-frequency vibration, as well as phototherapy function. It has adjustable vibration mode, vibration speed, and microcurrent intensity – you can choose from 5 options for each function. This facial massager releases gentle microcurrents that stimulate and energize your facial muscles. It also delivers blue light phototherapy to relieve acne and skin inflammation.
Pros
Suitable for the face and neck
5 vibration speeds
5 vibration modes
Offers bluelight therapy mode
Portable
Lightweight
Travel-friendly
Reduces fine lines and wrinkles
Rechargeable
Includes USB cable
Cons
Unclear usage instructions.
Buy Now From Amazon
Similar Products

The NuDerma Professional Skin Therapy Wand is a set of 6 beauty applicators designed for various treatment areas. There are 3 argon-powered and 3  neon-powered applicators. The natural healing power of these elements helps improve your skin profile. It provides relief from several skin problems like acne, wrinkles, fine lines, and inflammation. It boosts collagen production to improve skin elasticity and imparts a radiant, youthful complexion.
Pros
3 neon-powered applicators
3 argon-powered applicators
Suitable for the hair, face, and body
Reduces hair fall and dandruff
Treats acne and wrinkles
Affordable 
Cons
Buy Now From Amazon
Similar Products

The Vijuve Skin Care Booster is a face massager designed for better absorption of your skin care products. It hydrates your skin and fights the signs of aging by reducing fine lines, wrinkles, scars, and age spots. It also firms and tightens sagging skin by rebuilding collagen, tightening the pores, and boosting blood circulation. You can also use the microcurrent machine for relief from facial pain and fatigue.
Pros
Suitable for all skin types
Auto power-off
9000 vibrations per minute
Compact
Ergonomic design
Better serum absorption
Travel-friendly device
Affordable 
Cons
Battery not included
Flimsy material
The Genmine Microcurrent Face Lift Machine is ideal for a variety of skin care treatments. It assists in whitening the skin and removing freckles. Microcurrent therapy from this machine improves skin cells' ability to absorb nutrition and promote their regeneration. Its anti-aging benefits extend to the stimulation of collagen production and reduction in wrinkles and fine lines. The electric nutrition conveyor belt helps fight acne by soothing inflammation and clearing blemishes.
Pros
Lightens the skin tone
Removes freckles
Reduces fine lines and wrinkles
Soothes inflammation
Minimizes acne and blemishes
Hydrates the skin
3 treatment heads
Improves skin elasticity 
Cons
Expensive
Not travel-friendly 
The Denshine Microcurrent Machine eliminates dead skin cells, wrinkles, and pimples and imparts a clear complexion. It uses heat and vibration to generate a pleasant massage that aids the skin to absorb serums and creams for best results. This microcurrent facelift device uses a non-invasive cosmetic technique to give you healthy and radiant skin.
Pros
Improves skin elasticity
Minimizes fine lines and wrinkles
Treats acne and pimples
Better absorption of skin care products
Eliminates toxins
Rejuvenates the skin
3 wands
9 diamond tips
Suitable for all skin types 
Cons
Expensive
Suction is not adjustable.
The Unoisetion Bio Face Lift Microcurrent Machine is safe for oily, dry, and combination skin types. However, it is not recommended for use on sensitive skin. This facelift machine helps tighten the skin and remove wrinkles from the face and neck. It reduces sagging skin and makes you look youthful and healthy. The microcurrent boosts blood circulation, breaks down fat and cellulite, and aids in skin rejuvenation.
Pros
Minimizes fine lines and wrinkles
Tightens sagging skin
Suitable for the face and neck
Works on oily, dry, and combination skin
Easy to use
2-year warranty 
Cons
Not suitable for sensitive skin.
The pulse may feel weak.
The Lebody Microcurrent Generator Facial Toning Device is a Korean skin care device that lifts sagging skin and improves elasticity using microcurrent technology. It enhances the skin's ability to absorb active ingredients in your creams and serums. It also activates the skin cells to boost collagen and elastin production, improving your skin tone. It claims to show remarkable results within 10 minutes of usage.
Pros
Includes
Renewal Face Water Gel
Automatic power-off
Adjustable settings
2 treatment modes 
Cons
The Inchor Microcurrent Face Lifting Machine fights the signs of aging by reducing wrinkles and improving skin elasticity. It helps your skin to better absorb skin care products. This face lifting machine has a deep cleaning function that eliminates dirt and debris from your pores. It also features red and blue light therapy to boost collagen and elastin production while controlling grease and sebum. The result issmooth, tight, youthful, and glowing skin.
Pros
3 intensity levels
Travel-friendly
Wireless charger
LED screen
Affordable 
Cons
Now that you know about the 11 best microcurrent facial machines, let's look at the factors you need to consider when purchasing one.
Factors To Consider When Buying A Microcurrent Facial Machine
1. Portability
Most facial machines are portable. Look for one that comes with a carry bag for convenience in traveling.
2. Ease Of use
Although most microcurrent facial machines are easy to use, look out for ones that do not have complex mechanisms or multiple buttons.
3. Duration
Look for a frequency-specific microcurrent machine that delivers noticeable results within the first two uses. Products with high electric frequency tend to work quicker compared to the others.
4. Settings
Facelift machines come with different settings that vary across models. The power cycle can range from three-stage to ten-stage settings. This will allow you to adjust the current as per your needs.
5. Corded Vs. Cordless
A cordless microcurrent machine is preferred for frequent travelers. It is compact, portable, and battery-operated, so you don't have to worry about adding to your luggage.
6. Accessories
Most microcurrent devices come as packages that include treatment serums or conductivity gels to enhance the benefits of microcurrent therapy. Some machines also have multiple applicators to target different areas of your skin.
7. Warranty
Manufacturers usually offer a warranty of 1 to 3 years, so be assured that your investment is protected against faulty construction.
Although microcurrent facial machines deliver amazing results, they also have a few side effects. Check them out below.
What Are The Side Effects Of Microcurrent Facial Machines?
Microcurrent facial machines are not recommended for pregnant women. They are also unsafe for people with chronic conditions like spasms and seizures. Do not use this device if you have an infection or a fresh scar. If you have skin conditions like lumps or psoriasis, stay away from this product as the RF microcurrent can aggravate the problem.
Results – Before And After
A microcurrent facial treatment at regular intervals can work wonders at delaying the signs of aging. Flaunt your contoured face with the help of these fantastic microcurrent facial machines. Grab your favorite from our list of the 11 best microcurrent facial machines. Try it out for and get flooded with compliments!
Expert's Answers for Readers Questions
What results should I expect from my microcurrent facial machine?
The first result of using a microcurrent facial machine is firm skin. You will notice your eyes look lifted, your forehead feels tighter, and the boost of collagen will give your face a fuller look.
What does a microcurrent facial feel like on the skin?
This facial is a painless procedure. However, you will feel a gentle "zingy" sensation as the current touches your skin.
Would I have to use gels with the device?
A conductive gel will help you get the best results. You might feel mild shocks if you use the device on bare skin. Using a gel helps the current penetrate deeper into the skin for better results.
Recommended Articles: