10 Best Japanese Teapots Of 2023 – Reviews And Buyer's Guide
Immerse yourself in the authentic Japanese tea ceremony vibe with these teapots.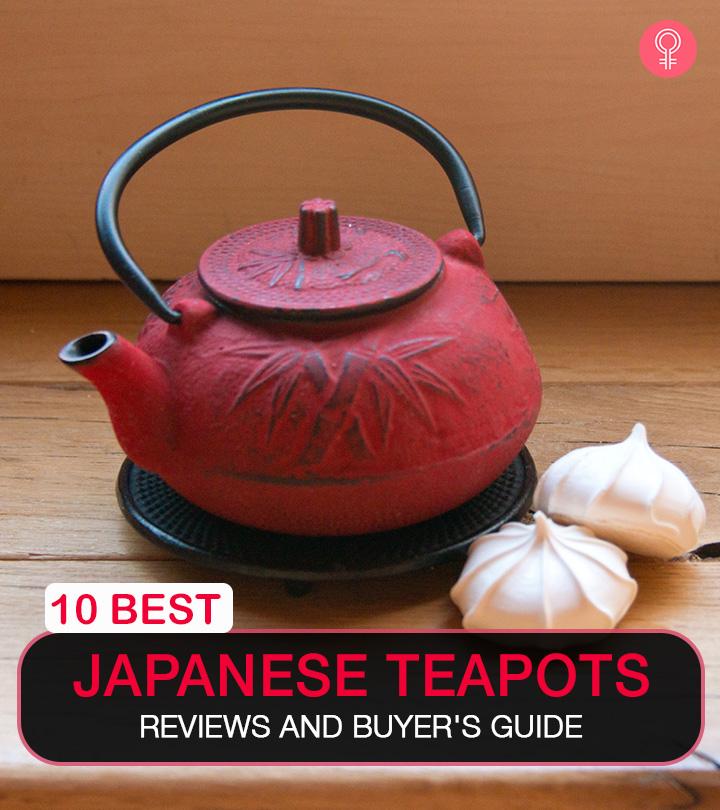 If you are looking for something to brew green tea leaves, the best Japanese teapots will be an ideal choice. These teapots are available in different sizes, shapes, and beautiful designs. They are used during traditional tea ceremonies and are handcrafted by skilled and efficient artisans. They are designed with different materials like ceramic, glass, porcelain stone, and cast iron.
Japanese teapots are great for hosting tea parties, and they can also be used as a decor piece. We have curated a list of the best Japanese teapots available online. Check them out!
10 Best Japanese Teapots Available Right Now
This clear and delicate glass Japanese teapot comes with a large stainless steel strainer to brew tea. The glass can withstand high temperatures and does not shatter easily. This teapot can serve 2-3 cups of tea. It is easy to use and clean in a dishwasher.
Pros
Easy to use
Large tea strainer
Heat-resistant
Shatter-resistant
700 ml capacity
Stainless steel mesh filter
Dishwasher-safe
Cons
Price at the time of publication: $14.8
TOPTIER Japanese Cast Iron Teapot comes in a unique aqua shade with a  beautiful leaf design on the exterior of the pot. It is durable as it is made of great-quality cast iron. It also conducts heat, so it heats up water quickly and keeps it warm for a longer period of time. The enamel-coated interior protects the pot from rust and bacterial growth. It is safe to use on a stovetop to boil water for beverages.
Pros
Vintage design
Professional-grade cast iron
Durable
Stovetop-safe
Enamel-coated interior
Cons
Paint may chip off quickly
Price at the time of publication: $29.99
Iwachu is a well-known brand from Japan that is over 100 years old. This cast iron teapot or tetsubin is sturdy, durable, and keeps tea warm for a long time. It has an enamel coated interior to prevent rust. It comes with a removable stainless steel mesh infuser to brew loose leaf tea. This beautiful black teapot with embossed gold maple leaves makes for a perfect gift.
Pros
22 oz. capacity
High-quality cast iron
Rust-resistant
Removable stainless steel mesh infuser
Made in Japan
Cons
None
Price at the time of publication: $119.95
This five-piece Japanese tea set consists of a beautiful ocean blue teapot and four matching teacups. It makes for a great gift as it comes in gorgeous boxed packaging. It has a lovely design, and the size of the cups is perfect for sipping tea. The teapot is durable and does not chip easily. Its handle is wrapped with bamboo to lend it a traditional look and feel. This also helps in serving the tea without any risk of burning your fingers.
Pros
Does not chip quickly
Comes with cups
Makes for a great gift
Durable
Heat-resistant handle
Cons
Does not come with a tea strainer
Price at the time of publication: $68.23
ZENSCeramic Teapot Set consists of a sleek ceramic teapot, 2 porcelain teacups, 2 handmade rattan coasters, and a mesh tea infuser. The elegant design of this tea set complements any decor. It has a timeless yet modern feel to it. The bentwood handle ensures a good grip and heat protection. This aesthetically pleasing tea set is lead-free and non-toxic.
Pros
Made of ceramic
Heat-resistant bentwood handle
Fine mesh tea infuser
Durable
Comes with 2 matching cups and coasters
Elegant design
Cons
Price at the time of publication: $31.99
SUSTEAS Tetsubin Cast Iron Teapot is artistically crafted by skilled professionals. It has a traditional yet contemporary design that makes for a perfect gift. Its cast iron is durable and sturdy. This teapot is safe to use on stoves to brew loose tea, fruit tea, blooming flower tea, herbal tea, and any other herbal infusions. It has an anti-drip spout that helps in pouring the tea without any spillage.
Pros
Anti-drip spout
Compact
Beautiful design
Durable
Handcrafted
Stovetop-safe
Cons
Price at the time of publication: $32.56
TOWA Workshop Japanese Tetsubin are inspired by traditional designs and motifs. The interior of the pot is coated with enamel for protection. It is safe to use on a stovetop. This cast iron pot is infused with stainless steel, which makes it sturdy and long-lasting.
Pros
Enamel-coated interior
Stovetop-safe
Keeps tea hot for a long time
Durable
Cons
Price at the time of publication: $19.99
This teapot is made with local Japanese porcelain stones and is baked in a kiln. This beautiful teapot comes in traditional designs and rich overglaze colors. It can hold up to 360 ml of water to brew 2-3 cups of tea. The stainless steel tea strainer helps in filtering tea leaves after brewing the tea. It is easy to use and maintain.
Pros
Made in Japan
Traditional design
360 ml capacity
Comes with a tea strainer
Easy to use and clean
Cons
Price at the time of publication: $28.1
Happy Sales HSTS-PMR02 Japanese Tea Set set consists of a beautiful teapot and 4 matching teacups. It is elegantly designed with a red finish and black Kanji calligraphy. It is the perfect gift for any occasion. The traditional look of this tea set makes it an amazing decor piece.
Pros
Elegant
Makes for a great gift
Traditional design
High-quality material
Cons
Price at the time of publication: $35.99
Tokoname pottery is known for its skilled craftsmanship. This Japanese teapot is made of clay and comes with a built-in ceramic mesh filter to strain tea leaves. It has an ergonomically designed handle that offers a good grip and a drip-free spout that prevents spillage. These beautiful designed traditional teapots are made in Japan.
Pros
Built-in ceramic mesh filter
Drip-free spout
Made in Japan
Handcrafted
8 fl. oz. capacity
Comfortable grip
Cons
Price at the time of publication: $33.27
Now that you have checked out the best Japanese teapots available on the market, let us look at the important features to keep in mind before buying one.
Buying Guide For Japanese Teapots
Type Of Japanese Teapots: There are many different types of Japanese teapots (traditionally known as kyusu)that are popularly used to prepare green tea. Yokode kyusu teapots come with side-handles, which makes them convenient to use. Ushirode kyusuteapots,on the other hand, have handles on the back (back-handle teapots) and are more popular. Dobin teapots are heat-resistant and have removable handles made of rattan, bamboo, or plastic. Finally, tetsubinteapots come in various shapes and sizes and are made of cast iron for its durability, heat conductivity, and sturdiness. It is also believed to enhance iron absorption.
Material Used: Different materials like porcelain, glass, cast iron, stainless steel, and ceramic are used to make Japanese teapots. Glass is rust-resistant and looks elegant but cannot withstand high temperatures. Porcelain and ceramic are delicate but sturdy enough for daily use. Stainless steel is durable and does not rust. Cast iron maintains high temperatures for a long time.
Size: Different sizes of teapots come in handy for different occasions. Apart from being compact and portable, these teapots can be used to brew tea multiple times a day.
Shape: The craftsmanship and inspiration from traditional Japanese teapots determine the shape of the teapot. Contemporary, minimalist teapots with a Japanese motif are the most popular. Hobnail teapots have a low, broad body and an elevated handle. Upright and round teapots look like conventional coffee pots.
Functionality: Other features such as handle, spout, infuser, and lid should be considered before buying a Japanese teapot.
Why Trust StyleCraze?
Pratyasha Ray is a big-time kitchen appliances lover who makes sure that her readers have access to tools that make their kitchen functional and manageable. She realizes that the quintessential Japanese teapot would add an elegant touch to your kitchen. She carefully evaluated feedback given by users on various platforms and assembled this list of the finest Japanese teapots one should own. These teapots are made from ceramic, porcelain, or glass and are beautifully handcrafted by skilled artisans to keep your tea fresh and warm.
Frequently Asked Questions
Are Japanese teapots good?
Yes. Japanese teapots are made with durable and sturdy materials like ceramic, glass, and cast iron. Efficient artisans handcraft them. They are ideal for hosting tea parties or traditional tea ceremonies.
How do you season a Japanese teapot?
Follow these steps to season a Japanese teapot:
• Take a pan. Place the teapot and the lid on the pan separately.
• Fill the pan with water. Make sure that the teapot and lid are fully covered with water.
• Let the pan simmer for 1 hour. Do not over-boil to prevent damaging the teapot.
• Let the pan and the teapot cool down. Then take the pot out of the pan.
How do you clean a Japanese teapot?
Follow these steps to wash your teapots regularly:
• Hold the teapot firmly with one hand.
• Place the spout under running warm water and wash away all the tea leaves.
• Use a small brush to remove the clogged leaves from the corners of the teapot.
• For deep cleansing, add two spoons of baking soda. Use a sponge and rub the teapot thoroughly to clean the stains.
• Rinse the teapot with clean, warm water.
• Dry it with a clean cloth.
• Let it air-dry.
Why are Japanese teapots made with cast iron?
Japanese teapots are made with cast iron as the material improves the taste and health benefits of the tea. In addition, such teapots keep the tea warm for a longer time – about half an hour.
How do you care for a Japanese cast iron teapot?
Keep these in mind while using and storing a Japanese cast iron teapot-
• Let the teapot cool down completely before cleaning and storing it.
• Do not place the teapot inside the dishwasher and do not wash it with detergents.
• Avoid contact with salt and oil.
• Use only warm water to rinse and clean the teapot.
• Do not leave tea or water in the pot for a longer period.
Recommended Articles