8 Best Essential Oils For Sunburn (2023): A Dermatologist's Recommendations
Soothe your sunburnt skin and reverse the impacts with these affordable products.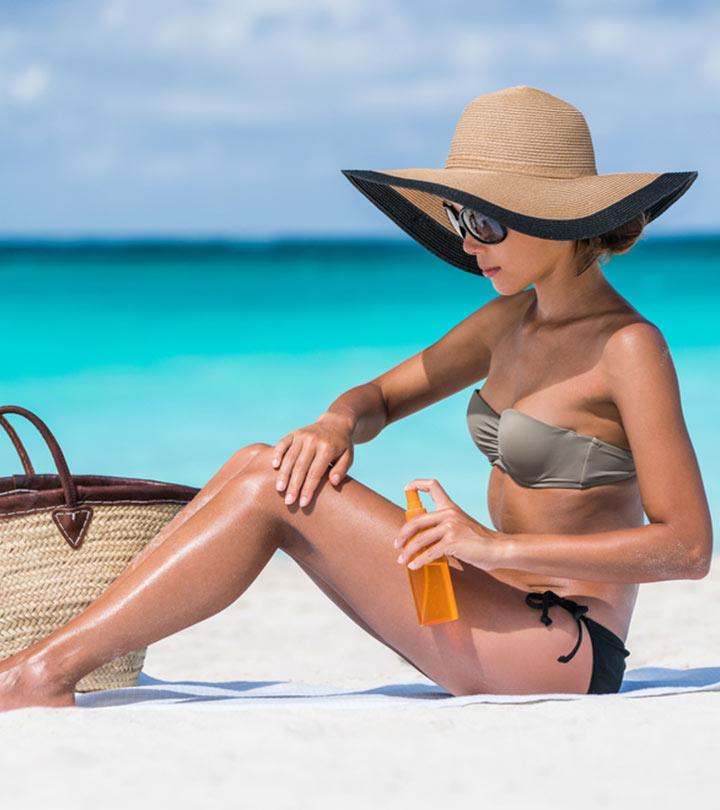 We all love getting a gorgeous golden tan on our skin when we take a trip down to the beach. In that excitement, we forget to put on sunscreen, and lo and behold – a blistering sunburn! If you want to go for a natural alternative, the only way to get those burns to go away is to apply some of the best essential oils for sunburn. They contain high levels of anti-inflammatory and antioxidant properties that help in the treatment of sunburn.
To soothe those painful, red burns on your skin, mix the essential oil with soothing agents like aloe vera, oatmeal, or coconut oil to give your skin the much-needed hydration. However, if you have sensitive skin, experts recommend applying the diluted oil to a small area of your skin first to make sure you don't have any adverse reaction to it. Take a look at our list of some of the top essential oils out there for treating sunburn. Scroll down!
Top 8 Essential Oils That Help Combat Sunburn
Though coconut oil is known primarily for the benefits it provides for your hair, not many know that it is equally beneficial to treat sunburned skin. As coconut oil is high in saturated fats, it can help soothe your dry and itchy skin by replenishing your skin's moisture. The unfiltered and non-toxic oil leaves no greasy residue on your skin and is easy to wash away from clothes and sheets. This fractionated oil can be blended with carrier oils for massages and aromatherapy sessions. This results-driven essential oil for sunburn relief is one of the best natural sunburn remedies as it works great as a moisturizer, eye makeup remover, and in shaving creams. Coconut oil also has antimicrobial properties, killing bacteria and fungi. So, investing in an oil with multiple benefits for skin and hair can be a great decision. You may check more about this product in this video.
Pros
Easy absorption
Non-toxic and no additives
Moisturizes body
Suitable for all skin types
Non-greasy
Long shelf life
Cons
May not be suitable for use during pregnancy
We understand the frustration that you can have due to sunburned skin. The itch, heat, and painful sting can get really unbearable. That's why we have found this pure and natural essential oil for sunburn itch for you. This soothing sunburn treatment is antimicrobial, anti-inflammatory, and contains antioxidant properties that can do wonders for your skin. It also heals dry skin, minor cuts, and scrapes quickly. This therapeutic-grade oil can treat acne breakouts and promotes healthy skin and hair. You can relieve your stress and anxiety with this relaxing essential oil as it helps improve your sleep too. Just blend and apply 10 drops of this lavender oil with a carrier oil and get immediate relief from sunburn. Do a patch test before using the oil topically.
Pros
Unfiltered and undiluted
Free of toxins and additives
GMO and cruelty-free
GC-MS tested for quality
Soothes dry, itchy skin
Anti-anxiety
Treats acne
Eases joint pain
Cons
Some may find the scent overwhelming.
Take time off work and chores and chill out by giving yourself a massage session as this lavender oil calms your skin. This 100% pure, cruelty-free, and vegan oil is a great calming sunburn remedy that also promotes clear and healthy skin with its anti-aging properties. Steam distilled from flowers, it has a rich fresh floral scent which makes it a perfect addition to your aromatherapy. The sunburn relief oil uplifts the mood and improves sleep by relieving anxiety. The oil also boosts the health of both hair and skin. Adding this soothing oil to your skincare regimen is worth it as it heals your skin and adds natural glow to it.
Pros
100% pure oil
Cruelty-free and vegan
Has soothing effects
Adds glow to skin
Treats dry scalp
Has anti-aging properties
Cons
Some may find the scent very faint.
The Desert Essence Tea Tree Oil Relief Spray is sourced from family plantations in Australia. It soothes minor scrapes, burns, bug bites, skin breakouts, and sunburn. It is meant to nourish, rejuvenate, and promote skin cell regeneration. It is infused with a powerful combination of rosemary oil, balm mint extract, chamomile, and horsetail to soothe the skin from sunburn. It has a convenient spray applicator that is ideal for hard-to-reach areas.
Pros
Soothes skin
No artificial color
Vegan
Gluten-free
Cruelty-free
B-Corp Certified
Chemical-free
Paraben free
Cons
Consequences of a sunburn can be detrimental and hence, it only makes more sense to prevent it. This unadulterated essential oil can be used to blend with other oils and create your own natural sunscreen. Its antibacterial, anti-inflammatory and antioxidant properties promote healthy skin by treating dull, tired, and blemished skin while improving your complexion. It moisturizes and rejuvenates your skin by fighting against acne, and hyperpigmentation. You can also apply it on your abdomen to get relief from digestive issues.
Pros
Non-GMO
Cruelty-free
Treats acne breakouts
Minimizes signs of aging
Helps fight hyperpigmentation
Acts as a natural sunscreen
Soothes dry, dull, and blemished skin
Cons
Some may find the fragrance unpleasant.
Here's your secret to repair and rejuvenate your sunburned skin. The queen of essential oils, that is lavender essential oil, helps with sunburns and soothes inflammation, insect bites, and bee stings. This lavender oil for sunburns balances out moisture levels and promotes a healthy skin by relieving anxiety, easing headaches, and inducing better sleep. It can help disinfect wounds and fade scars. This oil can be easily blended with other carrier oils, creams, lotions, or foot balms for renewed and rejuvenated skin.
Pros
Soothes inflammation
Reduces scarring
Promotes healing of skin
Reduces anxiety and stress
Induces better sleep
Relieves headaches
Cons
Some may find it slightly expensive.
This soothing essential oil for sunburn is worth getting hooked on for its countless skincare benefits. It has multiple therapeutic benefits that help the skin recover from sunburn and protect it from any damage, signs of aging, acne, and bruising. In addition, it moisturizes the skin, softens it, revealing healthy, glowing skin. The oil also aids great benefits when used for aromatherapy and massages. The rich and sweet fragrance of the oil provides therapeutic benefits as well.
Pros
Therapeutic benefits
Moisturizes the skin
Reduces exhaustion
Great for aromatherapy
Pleasant fragrance
Cons
The scent might not be long-lasting.
Walk free with no worries when you step out in the sun. This essential oil is great for sunburn care remedies as it is gentle to use and is very effective in treating sunburn, acne breakouts, and insect bites. This 100% pure and certified-organic oil has undergone third-party laboratory testing and has anti-inflammatory properties, and woody and earthy fragrance which helps calm and soothe your body and mind by uplifting your mood. This frankincense oil can be experimented with to make a topical to treat nagging skin and for pain-relieving effects. It can also be blended with some carrier oils to soothe and heal your skin. Watch out for some DIY recipes you can try with this oil and enjoy its numerous benefits.
Pros
100% certified pure
Anti-inflammatory
Easy to use
Gentle on skin
Controls acne breakouts
Cons
The scent may not last long enough.
*The prices provided in this article are based on the latest available information. However, they may vary due to changes in pricing by the seller and/or promotional offers.
We understand that our list of best oils with plenty of options might have overwhelmed you. Fret not as we're here to help you further with the factors you need to keep in mind to pick the best one for your skin.
How To Choose Best Essential Oils For Sunburn
Ensure that the essential oil you pick is not adulterated with vegetable oils. You can check it with the help of a simple process. Put a few drops of the oil on a piece of paper and if it forms an oily ring, it is most likely to have been diluted with vegetable oil.
Always buy an essential oil that comes in an amber or dark cobalt blue glass bottle as it protects the aromatic and therapeutic properties of the oil. If stored in transparent bottles, it can allow light to enter and spoil the oil. It is also not safe to store essential oil in plastic bottles as it can dissolve the plastic and get contaminated.
You can also buy essential oils that come with extra ingredients for topical use. It would be wise to look for essential oils with ingredients like avocado oil, vitamin E, and vitamin C as they help repair and heal damaged skin due to sunburn as they are key antioxidants.
Now that you know how to choose the best essential oil, here's the right way to use it.
How To Use Essential Oils For Sunburn
Ensure to not apply it directly to sunburned skin without diluting it as essential oils generally have a strong fragrance and are quite potent.
It should be diluted with a carrier oil like coconut or a soothing aloe gel to make it less potent. It is therefore less likely to lead to irritated skin.
Just mix a few drops of essential oil with an unscented lotion, carrier oil, gel or ointment, and apply it to the skin. The usual recipe for concoction should be 3 to 5 drops of essential oil to 1 ounce of carrier oil.
Schwarzburg, MD, expert in cosmetic dermatology, advicess, "Always do a patch test before using a product to avoid allergic reactions or skin irritation."
But before you use it, ensure that you are not sensitive to its scents. Here's why.
Are There Any Side Effects Of Essential Oils?
A few might experience certain side effects of these oils, particularly for sensitive skin. Ensure that you pick a scented essential oil only if you can tolerate the fragrance. If you cannot tolerate the scent, your skin may experience irritation, and in rare cases even dermatitis which means further damage to sunburned skin with something like chemical burn. Avoid using the essential oil if you have first-degree burns from the sun. Experts also suggest not to apply it on the area that is extremely red and painful as it can aggravate your skin irritation and may cause some allergic reactions. It is recommended that you try testing it on the back of your hand or ear for skin tolerability before you use it.
Why Trust StyleCraze?
The author of this article, Kirtana Divakar, is a skin care enthusiast. Her keen interest in various skin care trends and products helps her recommend the best products to her readers so that they can choose easily. She has curated the list of the best essential oils for sunburn after in-depth research and reading many feedbacks on trusted forums. These oils are loaded with antioxidants, have anti-inflammatory properties to help manage sunburn effectively.
Frequently Asked Questions
Who should not use essential oils?
Senior citizens and young children may be more sensitive to essential oils and hence, it is advised to dilute the oils more and avoid some oils, like birch and wintergreen. These may cause some serious problems in children who are 6 years old or younger due to the presence of a chemical called methyl salicylate.
Does coconut oil help sunburn?
Yes, it can. Coconut oil can help moisturize your sunburned skin and reduce itching and peeling. But ensure you apply it only after your skin has cooled. Also, use only expeller-pressed organic, virgin coconut oil for your skin.
Does a hot shower help with sunburn?
No. A hot shower can strip the natural oils off the skin. The water should be cool to lukewarm to help with your sunburned skin.
Can you put peppermint oil on sunburn?
Yes, peppermint sunburn oil contains the cooling agent, menthol, which helps treat sunburns.
Does tea tree oil help with sunburn?
Yes, tea tree oil soothes the sunburnt area and relieves pain. However, use a diluted form of tea tree oil if you have sensitive skin.
Can you use lavender oil on sunburn?
Yes, lavender oil has antioxidant and anti-inflammatory properties that treat sunburn.
Why does apple cider vinegar help sunburn?
Apple cider vinegar is a natural astringent. It treats sunburn, soothes the affected area, and quickens healing.
What makes sunburn worse?
Further exposure to harmful UV rays worsens sunburns.
Recommended Articles
Best Lavender Essential Oils – Top Picks
Best Carrier Oils For The Skin That Are Worth Buying