10 Best Woody Perfumes For Women That Are Sultry And Seductive – 2022
Invest in these uber-seductive and exquisite perfumes with long-lasting fragrances.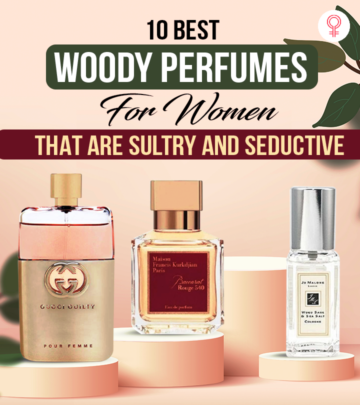 Fragrances don't simply make you smell incredible; they also connect you with your most precious memories. If you are a wild child, you need to experience the best woodsy perfume that can transport you to nature in an instant. Woody aromas are a change from excessively sweet fragrances and are typically bound with notes of cedar, sandalwood, amber, and bergamot. These notes make an exotic scent when mixed with fruity or floral scents. In this article, we have gathered the 11 best woody scents for ladies and compiled a list for you. Take a look!
10 Best Recommended Woodsy Perfumes For Women
Le Labo Santal 33 Eau De Parfum is a cult favorite and is inspired by the American West. This perfume is all about personal freedom. The sensual fragrance is intoxicating and scented with notes of violet accord, cardamom, iris, ambrox, cedarwood, sandalwood, and leather. This addictive perfume is perfect for both women and men, and its enticing scent leaves a lasting impression wherever you go. To get a detailed review of this fragrance, have a look at this YouTube video.
Key Notes: Violet accord, Iris, Cedarwood, Papyrus, Cardamom, Leather, and Ambrox
Pros
Light fragrance
Long-lasting
Value for money
Cons
Byredo Bal D'Afrique Eau de Parfum has a long-lasting and captivating fragrance. The cheerful top notes consist of bergamot, lemon, neroli, African marigold, and bucchu. The middle notes have flowery scents of violet, jasmine, and cyclamen. The intense base notes are a blend of black amber, musk, vetiver, and Moroccan cedarwood. The warm fragrance is inspired by a mix of Parisian extravagance and African culture. Check out the review of Byredo Bal D'Afrique Eau de Parfum for more information.
Key Notes: Bergamot, Lemon, Neroli, Marigold, and Bucchu
Pros
Contains premium natural ingredients
Long-wearing
Beautiful packaging
Cons
None
Tom Ford Oud Wood Eau de Parfum Vaporisateur Spray contains fragrances of rare notes of oud wood, sandalwood, and Chinese pepper. These notes are complemented by the enchanting fragrances of Brazilian rosewood, cardamom, vanilla, tonka bean, amber, and vetiver. The woody fragrance is a sensual delight and is balanced expertly to give you the most indulgent experience.
Key Notes: Oud wood, Brazilian rosewood, Sandalwood, Chinese pepper, Cardamom, Vetiver, Amber, vanilla, and Tonka bean
Pros
Travel-friendly
Ideal for informal social gatherings
Cons
Baccarat Rouge 540 Maison Francis Kurkdjian Paris Eau De Parfum has an amber floral fragrance. The top notes consist of saffron and jasmine, while the middle notes have a woody fragrance of amber wood and ambergris. Fir resin and cedar contribute to the base notes. The woody scent is highly condensed to give you a graphic olfactory signature. Check out this quick review on YouTube to learn more about the notes of this fragrance.
Key Notes: Saffron, Jasmine, Amber, Ambergris, Fir resin, and Cedar
Pros
Delicious fragrance
Clean scent
Luxurious packaging
Cons
Yves Saint Laurent Opium Eau De Toilette has an enchanting and intriguing fragrance inspired by the orient. The striking notes of mandarin and bergamot are made mystical with middle notes of myrrh and jasmine. A final accord of deep amber laced with opoponax makes it a truly unique signature scent from the house of Yves Saint Laurent.
Key Notes: Mandarin, Bergamot, Lily of the valley, Jasmine, Myrrh, Carnation, Vanilla, Amber, Opoponax, and Deep amber
Pros
Earthy musk fragrance
Long-lasting
Large quantity
Paraben-free
Cons
None
Chloe Nomade Eau De Parfum embodies the essence of a free woman. The intense mineral character of the oak moss is enveloped in the sweetness of mirabelle plum. The subtle fragrance contains a mix of bright floral notes of rose and jasmine and the freshness of freesia. The luscious woody notes are inspired by natural ingredients that convey the feeling of joy and spontaneity. The transparent rosy beige bottle with a pink ribbon and golden cap gives your vanity an elegant look.
Key Notes: Mirabelle plum, Bergamot, Orange, Lemon, Freesia, Jasmine, Peach, Rose, Oakmoss, Patchouli, White musk, Sandalwood, and Amberwood
Pros
Floral fragrance
Exquisite packaging
Value for money
Giftable
Cons
Jo Malone Wood Sage & Sea Salt Cologne has an alluring scent that stays with you for a long time. It transports you to the rugged cliffs with its mineral scent and the woody earthiness of sage. The fragrance can be worn on its own or layered with other mild perfumes. The scent makes you feel lively and joyful.
Key Notes: Sea salt, Sage, Ambrette, Grapefruit, and Seaweed
Pros
Mild fragrance
Ideal for special occasions
Travel-friendly
Cons
The Origins Ginger Essence Sensuous Skin Scent consists of spicy ginger balanced by a citrusy twist of lemon, lime, and bergamot. It leaves you with a welcoming aroma that is impossible to resist. The seductive notes of spicy ginger and citrus fruits create the perfect balance between warm and cool. This perfume is inspired by the Chinese philosophy of yin and yang.
Key Notes: Ginger, Lemon, Lime, and Bergamot
Pros
Soothing scent
Clean fragrance
Suitable for all seasons and occassions
Cons
None
This perfume from Gucci enhances your sensuality with superior floral notes combined with natural scents. It has top notes of citrus mandora that unfold into notes of natural bergamot and pink pepper. The heart notes reveal the delicacy of flowers like lilac, rose, and violet that are layered with geranium oil. The enduring sillage can be felt with the base notes of patchouli and amber.
Key Notes: Mandora, Bergamot, Pink pepper, Lilac, Rose, Violet, Patchouli, and Amber
Pros
Unique oriental smell
Enduring sillage
Ideal for daily wear
Large quantity
Clean fragrance
Cons
Juicy Couture Viva La Juicy Perfume is a signature perfume that offers an excellent pairing of exclusive juicy fruits and feminine florals. It contains top notes of delicious wild berries and mandarin, infused with middle notes of jasmine, gardenia, and honeysuckle. The base notes consist of sandalwood, vanilla, praline, and amber. The light gold liquid shines through the glass bottle, and a metal charm tied through the bow adds a feminine touch.
Key Notes: Wild berries, Mandarin, Honeysuckle, Jasmine, Gardenia, Praline, Vanilla, Amber, and Sandalwood
Pros
Flirtatious fragrance
Suitable for all occasions
Aluminum-free
Not too strong
Luxurious packaging
Cons
None
Why Trust StyleCraze?
The author of this article, Baishali Bhattacharya, is certified in makeup techniques. She has carefully browsed through online reviews before picking these woody perfumes as her favorites. She has added products that smell exotic and can transport you amidst nature as soon as you wear them. Her well-researched article ensures that the perfumes last long and keep you refreshed all day!
Frequently Asked Questions
Are woody fragrances attractive?
Yes. Woody perfumes are usually well-balanced fragrances that can be both warm and cool. These aromas are usually intriguing and attractive.
What makes a perfume woody?
Perfumes that are formulated with wood materials like resin, moss, bark, and roots can be categorized as woody. They have intensely earthy aromas.
Is woody fragrance good?
Yes. Woody perfumes emit enchanting warm aromas that rejuvenate the senses. They work better for men as the fragrances invoke timeless masculinity.
Which wood is used in woody perfumes?
Many kinds of wood can be used to build enchanting woody fragrances. Some of the most used woods are sandalwood, patchouli, cedar, cypress, and oud wood. All these botanical raw materials are integral to formulating earthy aromas.
Recommended Articles