15 Best Glitter Hair Sprays You Need To Try Right Now In 2023
Look gorgeous & dazzling, and steal the show with these incredible glitter hairsprays.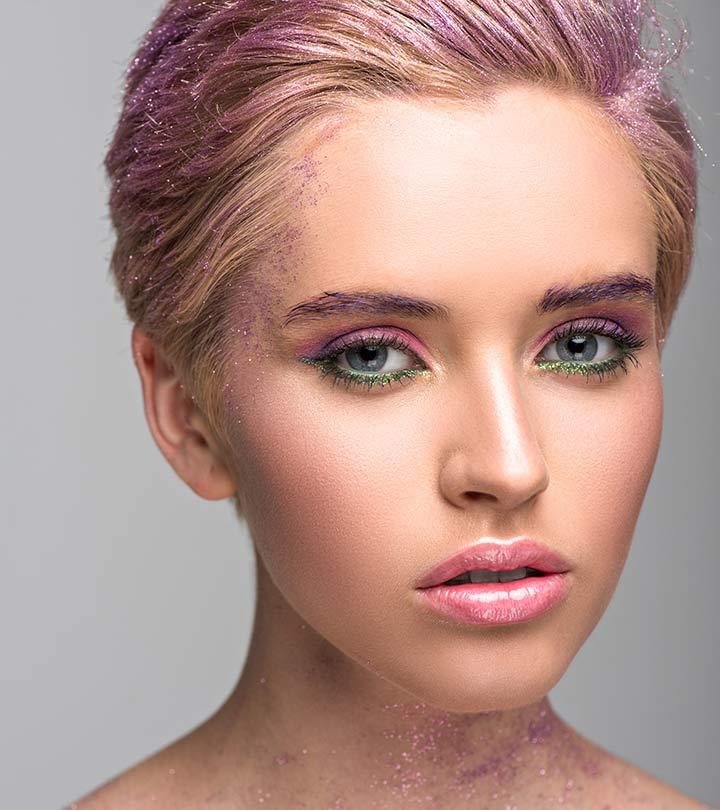 If you're all about shimmer and glow around this festive time of year, look no further for inspiration than a bottle of glitter hairspray! One more in a long line of glitter-inspired products like lipsticks, nail paints, and eye shade palettes, these sprays allow you to have some serious fun with your tresses. Whether you're going to a music festival or painting every club in town red, nothing will amp up your look like shiny hair in your favorite colors!
The best part about our handpicked selection of glitter hairsprays is that they are designed not to damage your locks in any way, nor do they look or feel tacky. So, what are you waiting for? Pull-on your hottest bodycon dress and spritz some sparkle on those strands!
Do you need more reasons to get your hands on glitter hairspray? Take a quick look at the 15 best glitter hairsprays that you can try out right now.
Top 15 Glitter Hair Sprays To Create That Outrageous Party Look
Want to leave a little sparkle everywhere you go? Try Jerome Russell's Hair And Body Glitter. It lets you create a sparkly look from head to toe as it works on both hair and body. Throw on some party shoes and let your glittery hair loose. Hold the can 12-18 inches away from wet hair when spritzing it on to create a chic hairdo.
Pros
Long-lasting
Multipurpose
Does not transfer
Dries up quickly
Pleasant fragrance
Washes out easily without leaving behind a residue
Cons
None
The Kevin Murphy Shimmer Shine helps revive dull and lifeless hair. It enhances the shine of your locks and does not leave any oily residue. This hairspray is rich in vitamins, baobab seed oil, bamboo extracts, and Immortelle that help moisturize your hair. Click here to check out this YouTuber's unbiased review.
Pros
Adds healthy glow
Does not leave an oily residue
Hydrates the hair
Cons
None
Price at the time of publication: $28.59
Just a few spritzes of this hairspray adds a ton of glitter to your hair. It delivers a delicate gold sparkle that adds glamour to your hair instantly. You can also create various textures in your hair by using this gold dust. It adds a gorgeous touch at night as it makes your hair sparkle under the lights, and it is a clever choice for the day as it makes your hair shimmer under the sun.
Pros
Ideal for all hair types and colors
Dries up quickly
Adds a subtle shine to your tresses
Skin-friendly
Sprays evenly without clogging
Cons
Feel the vibes of ancient Egyptian queens with the EBIN New York Secret Of Pharaoh Hair & Body Glitter Mist Spray. The body spray moisturizes your skin and leaves a everlasting seductive shimmer. The compact size fits perfectly in a sling bag. The fragrance is sweet, alluring, and pleasant and can charm the crowd's attention in an instant. It is easy to apply and quick-drying as well.
Pros
Alluring scent
Fast-drying
Moisturizing
Easy to apply
Vegan
Cons
May not be very long-lasting
Price at the time of publication: $9.99
Add a fine spritz of silver to your hair with Yofi Cosmetics Silver Hair And Body Glitter Spray. It is a non-aerosol formula that lasts longer than a day. It has a subtle fragrance and a non-sticky finish. Whether you are going to a costume party, a competition, or a club, this glitter spray will make you sparkle like a star. The best thing about this spray is that it washes out quickly without leaving behind any residue.
Pros
Easy to use
Long-lasting
Covers a large surface in one spritz
Blends well with your hair
Buildable shine
Cons
Color is a bit different from the way it is shown.
This glistening golden syrup looks luxurious and ritzy. It is a classic sea salt hair shimmer spray formula with golden mica that adds a beautiful shimmer to your hair. Gold goes well with all hair colors, and this hairspray brings out your natural hair color by adding life, shine, and strength to your tresses. Hit the beach and let the sunlight reflect on your sparkly golden hair.
Pros
Lightweight
Fine and delicate glitter
Easy to wash off
Long-lasting
Vegan and cruelty-free
Attractive packaging
Cons
Price at the time of publication: $14.99
Make your hair look more attractive with Amscan Multi Glit Hair Spray. The spray adds instant vibrant color to the hair. It is easy to spray on your hair and stays on until you wash out your hair with shampoo. However, it is easily washable with a shampoo. This spray causes no damage to the hair. It is suitable for festive parties, events, etc.
Pros
User-friendly
Attractive
Travel-friendly
Cons
Price at the time of publication: $9.65
Sammy Salon Collections 24K Gold Shimmer Hair Spray is a lightweight formula with a very fine gold shimmer. It adds glitz and glamour to your tresses and the perfect touch for a night out. It also provides a perfect finish to your hairstyle, no matter what the occasion.
Pros
Contains delicate glitter
Just a little product required per use
Blends well with your hair color
Washes out easily
Cons
Price at the time of publication: $21.99
The SexyHair Fun Bling It On hairspray with glitter technology provides a medium hold to your hair. The jeweled toned glitter adds a glamorous touch to your daily look. Spray it on your finished hairstyles to get the perfect glittery shine.
Pros
Provides medium hold
Value for money
Long-lasting
Cons
None
Price at the time of publication: $15.95
The Punky Colour Temporary Glitter Hair + Body Spray is a lightweight, multipurpose formula that offers a metallic and glitter finish. It can be used on hair, skin, and clothing. The mess-free formula is easy to use and is long-lasting. But it also washes off easily. This 100% cruelty-free formula contains no butane, methylene chloride, etc., and thus is safe for the skin.
Pros
Cruelty-free
Butane-free
Methylene Chloride-free
Fluorocarbon-free
Travel-friendly
Easy to spray and wash out
Cons
Price at the time of publication: $7.91
Make your hair look attractive by adding glitter to it with Rubie's Glitter Hairspray. You can use this spray to add silver glitter to your hairstyle. It is ideal for Halloween parties, costume events, dress-up play, and more. It lasts throughout the day. The formula provides a flexible hold, and the glitters stay until your next hair wash.
Pros
User-friendly
Cost-effective
Fragrance
Cons
Price at the time of publication: $10.98
"Shimmer, sparkle, and shine" is its motto of Eva. Nyc Kweeen Glitter Spray. It is a fine mist that adds a shimmering look to your hair. It is a lightweight, non-sticky formula that contains ultra-fine glitter particles. Moreover, its formula is infused with argan oil and keravis protein complex that deliver optimal anti-breakage benefits to your hair. With just a little product, your hair is left shimmery, sparkling, and shiny.
Pros
Salon-quality formula
Just a little product required per use
Fine and soft glitter
Damage-free formula
Very pigmented
Cons
Price at the time of publication: $37.99
Graftobian Premium Concentrated Glitter Hair Spray is a salon-quality styling product that looks exquisite when sprayed on hair. It transforms your hairstyle into a festive look instantly. With its bright gold finish and excess shine, this hairspray makes your hair look fierce. The best thing about it is that it washes off easily. This soft fairy dust-like shimmer looks gorgeous in all hair colors.
Pros
Long-lasting
Does not transfer
Pigmented formula
Does not settle on the scalp
Cons
Thick formula
Can weigh your hair down
Price at the time of publication: $11.99
[ Read: 10 Best Detangling Hairsprays – 2019 ]
This product is highly concentrated and suitable for stage performances, competitions, and costume parties. It creates an intensely sparkly look that lasts long. It brightens up your hair instantly and provides a multi-dimensional look. If you prefer a multicolor glitter hairspray, this is the perfect product for you. 
Pros
Provides a luminous shine
Just a little product required per use
Thick consistency
Cons
Price at the time of publication: $9.99
High Beams Intense Temporary Spray-On Hair Glitter has upgraded its formula. It is a salon-quality, highly concentrated formula that adds pizzazz to any hairstyle. It adds a ton of shimmer to your hair, making it look gorgeous and shiny. Since it contains fine glitter, it washes away effortlessly without damaging your hair. Here's a personal review video to help you get a better understanding of the product.
Pros
Suitable for adding subtle highlights
Blends with your hair color
Lightweight formula
Non-damaging
Cons
Expensive
Availability issues
Price at the time of publication: $24.37
Planning to add a bit of glitz and glam to your hair? Then, a glitter hair spray can do the trick! You can become the life of the party with a simple glitter hair spray. However, there are a lot of different things you need to consider before purchasing one. So, here is a buying guide including essential factors you should know to buy the best glitter hair spray.
How To Choose The Best Glitter Hair Spray
Consider your hair type when picking out a glitter hair spray. For example, thick hair calls for a spray that has a medium-to-strong hold. However, if you have fine hair, you should choose a hairspray that provides volume and doesn't make your hair look lanky.
Glitter hair spray comes in both a matte and glossy finish. You can choose one according to your hair type and personal preference. For example, when applied to hair that is inherently dull and dry, a high-shine finish may make it appear healthier and brighter. However, a high shine and glossy finish can make the hair look greasy when applied to oily hair. So, for oily hair, opt for a matte hair spray.
Hairspray generally comes in either an aerosol can or a non-aerosol can. You will usually get a pressurized hair spray in an aerosol container. A steady flow of hair spray is released when you apply pressure on the nozzle. Aerosol sprays are the most effective way to get desirable volume. On the other hand, the contents of non-aerosol canisters are not 'sprayed' since they are not pressurized. Instead, hair spray is released with each pump of the nozzle. Hair care products like this may be applied directly using your hand. This allows you to use as much hairspray as you want on your tresses.
Consider the texture of the hair spray. Using too much hair spray may leave your locks feeling sticky and stiff. Look for a hair spray with a grip that is strong enough to keep your hair in place without being too heavy or weighing it down.
While it may seem trivial, having a hair spray that dries super fast is helpful if you need to rush out the door. Hence, always opt for quick-drying glitter hair sprays that will completely set in a little more than a few minutes.
Sparkle with all your heart with these amazing glitter hairsprays! If you have not tried one yet, grab the product that caught your eye, try it out, and let us know how it worked for you in the comment section below.
Why Trust StyleCraze?
The author, Pooja Karkala is a skin and hair care enthusiast. She has curated this list of the best glitter hair sprays available in the market keeping the quality parameters in mind. Pooja has carefully researched and browsed through online reviews to bring forth a list of glitter hair sprays for her readers to choose from. These hair sprays are long-lasting, dry quickly, and add a healthy glow to your hair.
Frequently Asked Questions
Can you put spray glitter in your hair?
Yes, you can put glitter hair spray in your hair as it is easy to use and can make your hair glamorous within minutes.
How do you make glitter hair spray?
You can use regular hair spray, sprinkle some fine glitter, and mix it properly. Another way to make your glitter hairspray is to mix 3 tbsp of clear hair gel with 1 tbsp of hair glitter.
Does glitter damage your hair?
No. However, glitter tends to dry out your hair. Therefore, use a hydrating mask to provide extra care.
How long do hair sparkles last?
Hair sparkles will stay on your hair unless you wash your hair.
Can you use glitter hair spray on your body?
Yes, most glitter products are multipurpose, and you can use them for your hair and body.
Recommended Articles