12 Best Brightening Serums For Healthy And Radiant Skin – 2023
Rejuvenate and hydrate the skin cells to improve your skin texture for a youthful glow.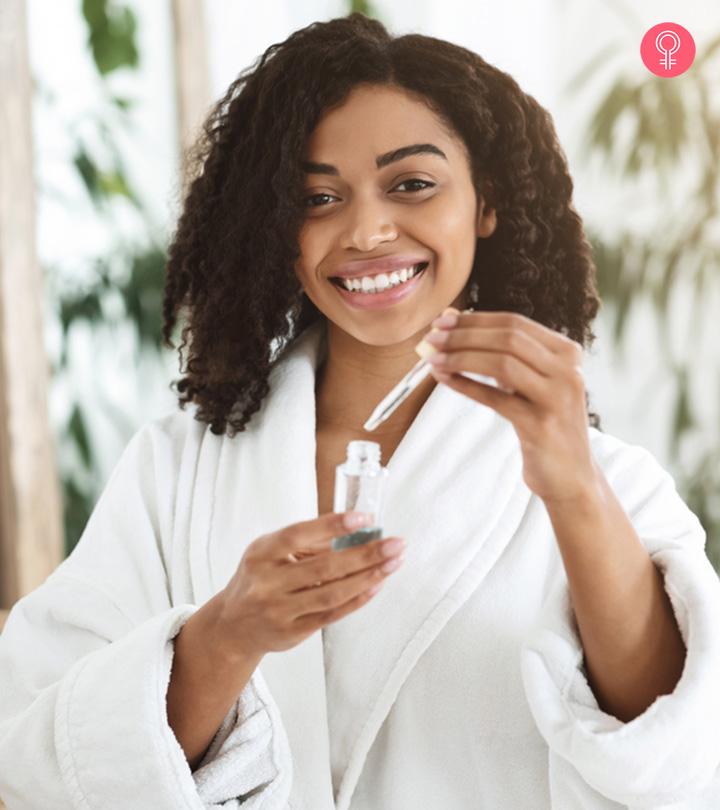 Dry, dull, uneven, and pigmented skin tone undoubtedly needs the best brightening serum for improved skin texture. Serums contain beneficial ingredients like acids, antioxidants, and vitamins that hydrate the skin, reduce fine lines, and correct color. After cleansing your skin, apply this concoction to rejuvenate and make it glow from within. Don't forget to moisturize after! If you're confused about which serum to buy, check out the list of our favorites, and take your pick for healthy, nourished skin.
Dr. Enrizza Factor, a certified dermatologist, says, "If you have drier or sensitive skin, look for gentler exfoliating ingredients, like lactic acid."
12 Best Brightening Serums – Reviews

Pros
Reduces large pores
Does not cause breakouts
Cruelty-free
Fragrance-free
Free of color additives
Free of stabilizers
Cons
Not suitable for sensitive skin
Price at the time of publication: $38.99
Pros
Improves skin texture
Non-comedogenic
Paraben-free
Fragrance-free
Allergy tested
Developed with dermatologists
Cons
Price at the time of publication: $16.38
Pros
Provides antioxidant protection
Prevents UV damage
Lightens dark spots and hyperpigmentation
Non-GMO proprietary Bio Preserve Complex
No harmful preservatives
Suitable for all skin types
Lightweight
Gluten-free
Cruelty-free (Leaping Bunny Certified)
Paraben-free
Cons
Price at the time of publication: $15.97
Pros
Vegan
Gluten-free
Paraben-free
Phthalate-free
SLS/SLES-free
Petroleum-free
Fragrance-free
Color-free
Cons
Price at the time of publication: $18.29
If you want a radiant glow and flawless skin, Amara Beauty Vitamin C Serum is one of the best brightening serums to try. It is formulated with aloe vera juice, vitamin C, witch hazel, and botanical hyaluronic acid.
With regular application, the serum reduces dark spots, pigmentation, fine lines, and wrinkles and leaves the skin firmer, brighter, and smoother. It gets absorbed quickly, penetrating the deepest layer. It is paraben-free, free of dyes and fragrance, cruelty-free, and vegan. The serum comes with a 100% money-back guarantee.
Key Ingredients: Vitamins C & E and Hyaluronic acid
Pros
Gets absorbed quickly
Non-sticky
Cruelty-free
Paraben-free
Vegan
Fragrance-free
Dye-free
Cons
Not suitable for sensitive skin 
Price at the time of publication: $17.95
Pros
Reduces acne scars and hyperpigmentation
Reduces redness
Non-comedogenic
Oil-free
Alcohol-free
Cons
Not suitable for sensitive skin
Price at the time of publication: $16.68
The Acure Brightening Glowing Serum is formulated with argan oil, kale, Cica, chlorella, niacinamide, and pomegranate. The antioxidants in the ingredients and vitamins A, E, and C prevent free radical damage and protect the skin's natural barrier.
The niacinamide rejuvenates the skin and boosts radiance by fading pigmentation and dark spots, while chlorella provides anti-aging benefits by improving wrinkles and fine lines. This serum unclogs pores and hydrates and plumps the skin to give it a youthful glow. It is suitable for all skin types and can also be used on the neck.
Key Ingredients: Argan oil, Chlorella, Cica, Kale, Niacinamide, and Pomegranate
Pros
Suitable for all skin types
Paraben-free
Sulfate-free
Petroleum-free
Mineral oil-free
Formaldehyde-free

Cons
Not suitable for people with active cystic acne
Price at the time of publication: $17.9
Pros
pH 5.5
Plumping effect
Reduces acne breakouts
Fades acne scars
Suitable for most skin types
Eliminates dark spots under the eyes
Cons
Not suitable for sensitive skin
Price at the time of publication: $14.99
This Vitamin C Serum by ANAIRUI contains collagen, vitamin B5, witch hazel, aloe vera, and hyaluronic acid. It targets aging signs such as dark spots, enlarged pores, sun damages, acne, hyperpigmentation, breakouts, and blemishes, revealing bright and younger-looking skin.
Vitamin C protects your skin from dehydration and dark spots caused by UV rays. The 1% pure hyaluronic acid locks skin moisture, and witch hazel extract relieves puffiness, soothes inflammation, and detoxifies the skin. Aloe vera juice hydrates the skin, and collagen boosts skin elasticity. Vitamin B5  repairs damaged skin, making it smooth and firm.
Key Ingredients: Vitamin C, Hyaluronic acid, Witch hazel, Aloe vera, Collagen, and Vitamin B5.
Pros
Suitable for all skin types
Vegan
Cruelty-free
Paraben-free
Sulfate-free
Non-irritating
Dermatologist-tested
No synthetic colors and fragrances
Cons
None 
Price at the time of publication: $9.99
The Burt's Bees Dark Spot Corrector is infused with vitamin C to brighten and refresh the skin. It contains daisy extract that is clinically shown to even out skin tone and diminish dark spots' appearance.
The serum reduces fine lines and wrinkles and makes the skin look younger, firmer, and radiant. The vitamins, minerals, antioxidants, and phytonutrients in this serum hydrate, nourish, exfoliate, protect, and rejuvenate the skin to give you a lit-from-within glow.
Key Ingredients: Vitamin C and Daisy extract
Pros
6% natural
Reduces dark spots
Rejuvenates dull and tired skin
Non-irritating
Paraben-free
Phthalate-free
Cons
Price at the time of publication: $18.47
The Ebanel Liposomal Vitamin C 20% Serum is infused with potent L-ascorbic acid and vitamins E and B5 to refine and brighten uneven skin tone. This serum visibly fades dark spots, dullness, sunspots, and hyperpigmentation.
Ferulic acid helps fight free radicals and reduce the blemishes from sun damage and acne breakouts. It promotes collagen and elastin production to make the skin firmer and youthful. This serum is infused with hyaluronic acid and retinol, which penetrate the skin's deepest layer to deliver moisture, preventing it from drying, flaking, and breaking out. It is gentle enough to be used on the eye area and the skin around the lips.
Key Ingredients: Vitamin C (L-ascorbic acid), Vitamins B5 and E 
Pros
Skin firming effect
Vegan
Hypoallergenic
Cruelty-free
cGMP certified
Affordable
Suitable for acne-prone skin
Cons
Sticky
Contains phenoxyethanol
Price at the time of publication: $21.99
The PCA SKIN Vitamin B3 Brightening Serum is a multifunctional formula that helps reduce all forms of discoloration. Niacinamide, mulberry extract, green tea extract, morus alba leaf extract, and other ingredients in the serum helps even out skin tone, reduce hyperpigmentation, hydrate, and leave the skin with a youthful glow. It can be applied during the day and at night. The serum visibly reduces redness, acne scars, dark spots, sunspots, fine lines, and wrinkles.
Key Ingredients: Vitamin B3
Pros
Reduces redness
Reduces dark spots, sunspots
Improves skin texture
Cons
Price at the time of publication: $120.0
These are the 12 best brightening serums of 2023 that you can buy to improve skin tone, texture, and health. But before you add them to your cart, here are a few points to keep in mind. 
What To Look For In A Good Brightening Serum
Ingredients: A good brightening and lightening serum contains acids and vitamins that help exfoliate the dead and dry upper layer and nourish the skin from within. Peptides also help firm the skin. Antioxidants like green tea extract and vitamin E protect the skin from free radical damage. Avoid harmful ingredients like parabens, phthalates, and SLS/SLES.
Texture: Most serums contain hyaluronic acid, which helps hydrate the skin and lock moisture. However, it may have a sticky feeling. Hence, do not worry if the texture feels a little thick and weird.
Fragrance: A good serum will not have a strong fruity/citrusy or flowery smell. The artificial fragrance also tends to aggravate inflammation, which can trigger acne breakouts in sensitive skin types.
Price: This list includes serums from $10 to $120. Choose a serum in your budget. Give it at least two weeks to see if the product suits you or not.
Caution: If a serum is making you break out, immediately stop using it.
If you want that lit-from-within glow for your skin, the best brightening serums are what you need to try out. Incorporating a brightening serum in your skincare routine can change the entire look of your skin by improving its texture. These serums are enriched with beneficial ingredients like acids, antioxidants, and vitamins to give you naturally radiant skin. In addition, the reviewed products are free from synthetic additives, fragrances, and additives. Some formulas also prevent UV damage. Consider the ingredients, texture, fragrance, and price while choosing the best brightening serums for your skin.
Why Trust StyleCraze?
Oyendrila Kanjilal, is a hair and skin care expert who stays aware of all the latest products on the market. She put in hours of research, perusing through umpteen user forums for feedback and reviews, to find you the best brightening serums to make your skin radiant. She selected these products on the criteria of ingredients added in, consistency, fragrance, and price.
Does vitamin C serum brighten skin?
Yes, vitamin C helps gently exfoliate dead skin, revealing the new skin underneath. This provides an instant glowing effect on the skin. Vitamin C also acts as an antioxidant and protects the skin from sun damage.
Is vitamin C or E better for skin?
Both are equally good for your skin and give the best results when used together. Vitamin C brightens the skin while vitamin E nourishes and fights free radical damage to reduce aging signs.
When should I apply brightening serum?
You can apply it during the day and at night after cleansing and before moisturizing.
What ingredients brighten skin?
Vitamin C and retinol can brighten the skin.
How long does it take for brightening serum to work?
It will take at least two to four weeks for a brightening serum to show visible results.

Best Face Serums For Bright, Firm, And Glowing Skin
Best Korean Brightening Serum
Best Natural Face Serums To Buy Online
Best Vitamin C Serums For Dark Skin