8 Best Korean Brightening Serum
Enhance and brighten the complexion of your delicate skin with these Korean serums.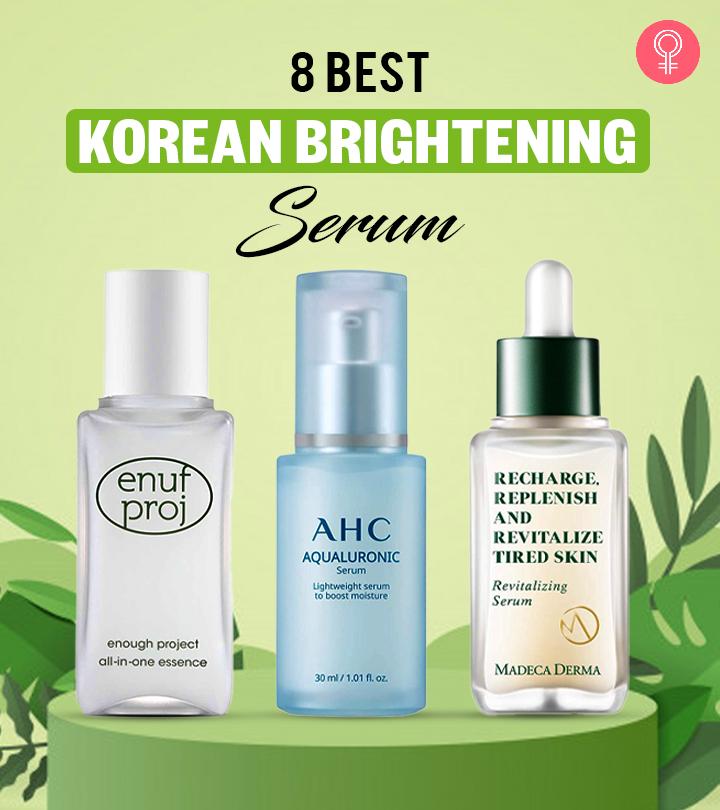 If you want to enhance the radiance of your skin, brightness, and texture, all you need to do is, get your hands on the best Korean brightening serum available in the market. These serums are genuinely a game-changer are they are enriched with skin-loving ingredients and can provide you with targeted effects. Knowing this, we have created a list of the eight most effective Korean brightening serums after much scrutiny of formulations and reviews that will give your skin the love it deserves. So, go ahead and check it out.
8 Best Korean Brightening Serum
The Day Glow Serum from Seoul Ceuticals features potent and active skin-friendly ingredients like ferulic acid to brighten your dull skin. It works by clearing acne, minimizing the appearance of pores, preventing breakouts, and fading the scars to reveal flawlessly bright skin. This results-driven anti-aging serum contains vitamin C that also helps in diminishing wrinkles, crow's feet, and fine lines, and ensures bright and youthful skin. Further, it is not tested on animals.
Pros
Refreshing citrus scent
Contains skin brightening ingredients
Suits all skin types
98% natural
Cruelty-free
Cons
Price at the time of publication: $17.0
The Crème Shop x Hello Kitty Apple Essence Serum has a skin-protecting formula to combat free radicals and leave your skin glowing, moisturized, and youthful. This apple-ceramide serum prevents wrinkles and fine lines while strengthening the skin barrier, boosting hydration, and plumping the skin. It contains apple essence to retain moisture and ceramides beads to prevent moisture loss from the skin. Apples are also rich in vitamin C and have astringent properties that rejuvenate the skin and may fade acne scars and marks. This serum is suitable for oily, acne-prone skin as it helps in toning the skin naturally.
Pros
Non-oily
Boosts skin whitening
Pleasant scent
Quick absorbing
Cruelty-free
Cons
None
Price at the time of publication: $13.85
AHC's Aqualuronic Serum has a moisture-balancing formula to lock in moisture. It contains triple hyaluronic acid that hydrates the skin and has a lightweight formula that gets absorbed quickly to reveal bright and healthy skin. The hyaluronic acid used in the serum has a low molecular weight, allowing it to penetrate the skin layers for intense moisturization. This brightening skincare product fades wrinkles, fine lines, prevents water loss, and plumps the skin. The ceramides in the formula boost moisture retention and French seawater further enhances hydration capability.
Pros
Lightweight
Gives radiant complexion
Suits all skin types
Absorbs quickly
Refines texture
Hypoallergenic
Cons
None

Price at the time of publication: $32.99
The Dr. Color Effect Red Serum from Skin & Lab has a gentle formula that provides all day long protection to the skin. It contains adenosine and niacinamide to hydrate, soothe and moisturize the skin. This glow-enhancing serum minimizes the appearance of skin pores, restores glow, and prevents sun damage to reveal youthful-looking skin. It also contains pomegranate extract to revitalize the skin, raspberry extract to boost firmness, and blueberry extract to minimize oxidation. The formula also contains acai berry to brighten the skin, cloudberry to soothe, and goji berry to moisturize the skin. The phyto-red complex of the serum containing lycopene and ellagic prevents collagen damage and protects the skin.
Pros
Pleasant scent
For all skin types
Reduces skin pigmentation
Hypoallergenic
Repairs sun damage
Cruelty-free
KFDA-approved
Non-greasy
Cons
None
Price at the time of publication: $24.99
The Madeca Derma Revitalizing Serum is developed with TECA technology to nourish dull and dry skin. This skin-friendly serum contains clinically-proven ingredients like centella asiatica extract to revitalize and add glow to the skin. With regular use, this serum strengthens the skin barrier, reduces inflammation and redness while promoting cell regeneration. Its plant bases extract moisturizes the skin while offering rejuvenating benefits. This hydrating serum contains skin-firming marine collagen to fade wrinkles and fine lines. The triple hyaluronic acid in the formula moisturizes, soothes, and hydrates the skin. This serum has a non-greasy and quick-absorbing texture.
Pros
Suits all skin types
Lightweight
Promotes skin rejuvenation
Pleasant scent
Non-greasy
No artificial fragrance
Cons
Price at the time of publication: $36.99
This Cica Serum from Meebak heals and soothes irritated skin by strengthening the skin barrier. Its super-concentrated formula penetrates deep into the skin to boost skin radiance. It contains skin-nourishing and protecting cica or centella asiatica extract that promotes collagen synthesis and tones the skin. The combination of niacinamide and retinol in the formula fades dark spots and aging signs while improving uneven skin tone. The presence of hyaluronic acid boosts moisture and hydration levels to smoothen and plump the skin. To follow a Korean skincare routine, add this serum to your routine today.
Pros
Suits all skin types
Reduces skin discoloration
Cruelty-free
Paraben-free
Sulfate-free
Phthalates-free
Cruelty-free
Cons
Price at the time of publication: $17.97
The Propolis Vitamin Synergy Serum by iUNIK has a highly concentrated and potent formulation to protect, nourish, and soothe the skin. It is infused with centella asiatica and propolis extracts to quickly calm and nourish the skin by supplying essential minerals, vitamins, and amino acids. This serum is suitable for sensitive skin. The propolis extract soothes and protects the skin, while hippophae rhamnoides fruit extract provides additional nourishment. This serum repairs dull and dry skin, fades dark spots and hyperpigmentation, and reduces irritation, acne, and breakouts. This moisture-rich serum is suitable for all skin types
Note: Avoid the product if you are allergic to propolis and beeswax.
Pros
Hypoallergenic
Non-comedogenic
Improves skin elasticity
Lightweight
Gluten-free
Cruelty-free
Vegan
Cons
Mat cause allergic reactions
Price at the time of publication: $16.99
The Enough Project All-In-One Essence reveals bright and youthful-looking skin that stays soft, plump, and hydrated throughout the day. Its lightweight and quick-absorbing formula deeply nourishes the skin without leaving any residue. This essence contains beta-hyaluronic acid to boost hydration, elasticity, and skin regeneration. It also contains peptides derived from white lupine seeds to nourish the skin and improve firmness. The refreshing woody and floral scent of the product provides a rejuvenating experience. Further, it is free from animal testing.
Pros
Fresh fragrance
Improves skin tone
Lightweight
Boosts skin hydration
Artificial color-free
Mineral oil-free
Cruelty-free
Triethanolamine-free
Cons
None
Price at the time of publication: $20.99
Korean brightening serum enhances the skin's natural radiance by targeting dark spots, decreasing wrinkles, and improving the overall tone. This is a popular item for Korean cosmetics as it brightens your complexion quickly and effectively. There are plenty of serums in the market and finding the right one may become a bit puzzling. So, you can use the guide below to make an informed decision.
What To Consider When Buying Korean Brightening Serums
Skin Type: You need to know your skin type well before making a purchase. Choose a serum with salicylic acid for skin prone to acne. It has soothing effects so it will not itch your skin. A serum that contains niacinamide or hyaluronic acid is best for all skin types. Centella asiatica is good for soothing irritated dry skin. It also promotes collagen production and is a good choice for mature skin. For sensitive skin, choose serums that are scientifically formulated and dermatologically-tested to prevent irritation.
Gentleness: Choose a serum with a gentle, non-irritating formula with proven efficacy to deliver visible results within few uses. It should be lightweight and get absorbed easily. It should be able to deliver nutrients deep down into the skin cells. But not so strong that it drys out the skin instead.
Organic Ingredients: Don't forget to check the ingredients listed in the product you are going to buy. Look for brightening serums with organic ingredients. These are safe to use and will not cause any harm to your skin. They are ideal for sensitive skin as they don't have chemicals to irritate your skin. Goji berries and acai berries are common ingredients used in Korean serums. Different seaweeds are also common antiaging ingredients in Korean serums.
Ingredients To Avoid: Avoid using serums made with harsh ingredients or toxins like parabens, phthalates, mineral oil, and artificial color or fragrances. They can irritate the skin, aggravate existing conditions, and trigger allergic reactions.
Additional Factors: Make sure the serum is non-greasy and does not leave a sticky feeling on your skin. Choose a non-comedogenic serum with active ingredients that deliver premium benefits to the skin. It should be safe to use on sensitive facial skin.
Why Trust Stylecraze?
Shiboli Chakraborti, the author, is a certified skin care coach who loves keeping up with the latest trends in skin care. In this article, she lists the best Korean serums to brighten your complexion. Don't worry, each of these products and their reviews was thoroughly studied and researched. These serums were selected based on their ingredients, skin care benefits, absence of harmful elements, and more.
Frequently Asked Questions
What goes first, ampoule or serum?
Apply a few drops of the ampoule to your skin before using a serum. The higher concentration of active ingredients seeps into your skin quickly and prepares your skin for the following skin care steps.
When should I apply Korean brightening serum?
Apply a Korean brightening serum as the fifth step of skin care after using a cleanser, toner, essence, and ampoule.
How quickly does Korean brightening serum work?
Korean brightening serum takes four to six weeks to show effective results on your skin.
How often should you use Korean brightening serum?
Use a Korean brightening serum daily to achieve healthy, glowing skin within a month.
Is brightening the same as whitening?
No. Skin brightening means having healthy, glowing skin with fewer dark spots and an even skin tone. Whitening means making your face appear a few shades lighter.
Recommended Articles