11 Best Mousses For Thin Hair In 2023 That Give Your Hair A Volume Boost
Volumize thin hair with mousse and enhance the look of your fine hair by boosting its shine.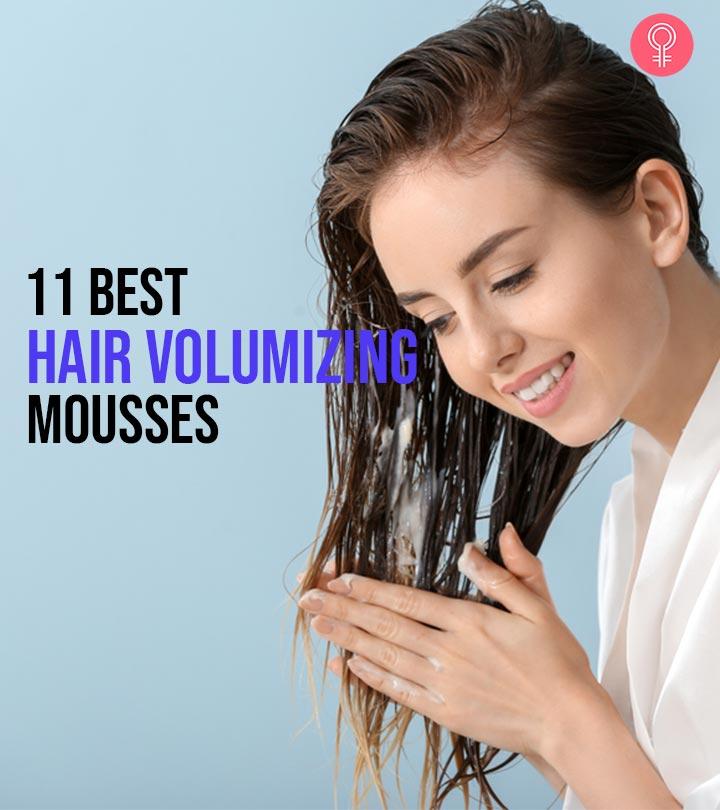 Tired of flat, flat hair that never gives you that oomph you're looking for? Well, it's time to add the best mousse for fine hair to your hair care essentials and watch your hair transform. Not only are they easy to apply, but hair mouse also helps add texture, shine, and much-needed volume to hair. Check our top favorites below and pick the perfect one!
11 Best Mousses For Thin Hair In 2023 That Give Your Hair A Volume Boost
The Design Essentials Natural Curl Enhancing Mousse is a lightweight foam that defines curls, separates each hair strand, and tames frizziness. This medium-hold formula is infused with natural ingredients that penetrate the hair cuticles for stronger, healthier-looking hair.
Styling with this mousse gives you a soft, pliable hold. It also leaves a luminous shine on your hair. The mousse adds texture without leaving any sticky residue. It quickly dries when applied on damp hair. It does not flake or crunch. The mousse is free from parabens, paraffin, and other harsh chemicals.
Key Ingredients
Avocado Oil: It is rich in biotin and vitamin B complex that make hair smooth, shiny, and provide intense moisture. The minerals in the avocado extract seal the hair cuticles and prevent hair breakage.
Almond Oil: It is rich in omega-3 fatty acids that seal moisture into the hair shaft, nourish each hair strand, and leave a luminous shine. Its strategically infused wheat protein is a boon to fine hair.
Hydrolyzed Wheat Protein: It improves the tensile properties of hair fibers, keeps the hair elastic, and adds strength. It also prevents hair breakage.
The olive oil and B vitamins provide a natural shine.
Hair Type: 2A-4C type curls
Pros
Paraben-free
Paraffin-free
No mineral oil
Sulfate-free
Petrolatum-free
No alcohol
Cruelty-free
100% natural ingredients
Separates each curl
Dries quickly
Leaves no sticky residue
Provides soft, pliable hold
Cons
Contains silicone
Leaves hair greasy
Feels heavy on the hair
Price at the time of publication: $27.58
The Moroccanoil Volumising Mousse is a lightweight formula that creates exceptional volume. It leaves no flakes or grease in the hair. This long-lasting mousse offers flexible hold and makes your hair look sleek and shiny. The anti-static ingredients in this mousse also tame frizz. It adds oodles of volume to fine, straight hair. Check out this YouTuber's review of the product if you require more details!
Key Ingredients
Argan Oil: It conditions hair from the roots. It leaves hair feeling soft and smooth. The essential fatty acids protect the moisture barrier. It restores hair elasticity, tames frizz, and treats dry and damaged hair.
Hair Type: Fine to medium hair
Pros
Flexible hold
Grease-free
Lightweight
Non-flaky
Long-lasting
Moisturizing
Cons
Price at the time of publication: $30.0
If you want to add volume to your limp hair and achieve a long-lasting hold, the Aussie Headstrong Volume Mousse is your right pick. It is infused with bamboo and Australian Kakadu plum that boost hair health from the roots for 24 whole hours. Applying this mousse will give your effortlessly flawless hair. If you need more convincing, feel free to take a look at this YouTuber's video on the merits and demerits of this product.
Key Ingredients
Bamboo Extract: This is a powerful plant extract that retains hair moisture. It also strengthens and softens the hair locks. It improves blood circulation to the scalp, promotes hair growth, and gives a new lease of life to thin, limp hair.
Australian Kakadu Plum: It helps boost collagen and elastin production and enhances hair moisture and shine. The antioxidants in Kakadu plum protect the hair from oxidative damage and chemical toxins.
Hair Type: Fine curly hair
Pros
Lightweight foam
Provides maximum hold
Long-lasting effect
Adds shine to hair
Cons
Leaves flakes in the hair
Leaves a greasy feel
Price at the time of publication: $10.44
The Paul Mitchell's voluminous mousse with extra-body sculpting foam provides fullness and controls frizz. The thickening formula with natural ingredients amplifies shine and seals moisture, making hair more manageable. The rich emollients drench the thirsty strands and wrap them with moisture with every use. The energizing and calming notes of lemon, neroli, chamomile, peony, and rose uplift your mood.
Key Ingredients
White Ginger Root Extract: It deeply cleanses the hair follicles and promotes hair growth.
Hair Type: Fine hair
Pros
100% vegan
Gluten-free
Paraben-free
Color-safe
Super-emollient ingredients
Seals moisture
Refreshing aroma
Cons
Defective nozzles
Not suitable for baby-fine hair
Sticky consistency
Price at the time of publication: $11.9
The John Frieda Mousse is an ultra-nourishing cream that adds volume in all the three dimensions viz. fullness, thickness, and lift. It leaves your hair feeling touchably soft. The antioxidant-rich natural formula with polymer technology protects each hair strand from oxidative damage. It also helps thicken individual hair strands. Check out this YouTuber's video on the benefits of using this product.
Key Ingredients
Caffeine: It is a potent DHT blocker that helps stimulate hair growth and prevent hair loss. It stimulates hair shaft elongation and strengthens hair roots, resulting in longer, fuller hair. It adds life to dull, limp, and dehydrated hair.
Hair Type: Color-treated damaged fine hair
Pros
Lightweight foam
Protects hair strands
Lifts hair from the roots
Nourishing
Alcohol-free
Safe for color-treated damaged hair
Cons
Price at the time of publication: $5.99
The Giovanni Air-Turbo Charged Hair Styling Natural Mousse helps in easy styling. The texturizing, volumizing, and bodifying natural ingredients penetrate the hair shaft and promote hair health. This styling foam blends easily with the hair strands and adds texture and shine without stripping off moisture.
Key Ingredients
Aloe Vera Leaf Juice: It strips off extra sebum from the roots and helps in deep cleansing. The vitamins A, C, and E in the aloe leaf extract improve cell turnover and protect each strand from oxidative damage. It helps increase blood circulation in the scalp, promotes hair growth, and strengthens the hair follicles.
Soybean Seed Extract: The amino acids in the soybean extract promote elastin and collagen synthesis to repair and strengthen the structure of hair strands.
Vitamin E: The antioxidant properties of vitamin E protect the locks from environmental and chemical toxins.
Hair Type: Dry, thin hair
Pros
100% vegan formula
Perfect for damaged, color-treated hair
Paraben-free
Sulfate-free
Lavender aroma
Distributes easily for smooth styling
Adds shine and luster
Hydrates tresses
Cons
Sticky consistency
Defective pump
Price at the time of publication: $12.28
The Tresemmé Thermal Creations Volumizing Mousse allows salon-quality hairstyling in an affordable range. It adds texture, volume, and luster to thin locks. The super-hold mousse is formulated with a moisture-locking vitamin complex that resists humidity and protects hair from free radical damage.
Key Ingredients
Panthenol: It is a highly effective humectant that deeply moisturizes dry hair. It adds shine and strength to chemically damaged locks.
Vitamin E: A potent antioxidant providing a protective shield against oxidative damage.
Keratin: Hydrolyzed keratin is an amino acid that helps smoothen the hair strands for a glossy, shiny look. It also helps strengthen the hair roots, tames frizz, and stimulates hair growth.
Biotin: It helps strengthen hair roots and promotes hair growth. It helps restructure the keratin and adds life to thin, sparse hair.
Nicotinamide: It enhances the appearance and feel of hair. This vitamin improves blood circulation in the scalp and promotes hair growth.
Hair Type: Chemically treated thin, fine hair
Pros
Seals moisture
Leaves hair feeling soft
Strengthens hair roots
Promotes hair growth
Adds shine
Cons
Price at the time of publication: $9.99
The Pureology Clean Volume Mousse is a weightless formula that protects hair color, and adds volume and luster to super-fine hair strands. Apply this lightweight mousse to damp hair, starting from the root to the end. Blow-dry it for adding fullness. The aromatherapy blend of elixir essential oils (bergamot, citrus, cedarwood) provides deep nourishment and leaves a weightless shiny finish.
Key Ingredients
Sunflower Seed Oil: It is high in fatty acids, antioxidants, and vitamin E that deeply nourishes and soothes a dry scalp. It seals the moisture and offers protection against free radical damage.
Hydrolyzed Vegetable (Soy) Protein: It penetrates the hair strands and binds water molecules to restore moisture. It also tames frizz, reduces hair loss, and prevents hair breakage.
Hair Type: Chemically treated fine strands
Pros
Color-safe
100% vegan
Sulfate-free
Silicone-free
Paraben-free
Provides shine
Strengthens root to tip
Cons
Aroma could be overpowering
Price at the time of publication: $29
If you are looking for a fresh, breezy scent with a beachy vibe, the airHr Whipp mousse is the best option. It is easy to apply and glides through the hair smoothly. Your hair will not disintegrate or fall apart, making this product ideal for brushable blowouts. This mousse helps add density and structure to the locks. It also exhibits sun protection properties for color longevity.
Key Ingredients:
Vitamin E: It helps strengthen the hair and improve scalp health. It also promotes growth and adds shine to the hair, making it appear bouncy, shiny, and mangeable.
Hair Type: Fine, Damaged, and Color-treated
Pros
Paraben-free
Keratin safe
Sulfate-free
Alcohol-free
UV protection
Cons
None
Price at the time of publication: $24
The Thermafuse Fixxé Extreme Volume Mousse adds instant shine and body to thin, limp hair. The natural botanical formula includes protein and vitamins that protect each strand from the damaging effects of free radicals, UV rays, and chemicals. It provides a long-lasting hold with incredible shine. The blackberry vanilla notes blended with green mandarin and apple add a fresh feeling to your locks. Spray this lightweight mousse to damp hair and style it without weighing it down.
Key Ingredients
Hydrolyzed Wheat Protein: It enhances volume and provides deep conditioning without any build-up.
Keratin Protein: It strengthens the hair roots and leaves hair feeling soft, smooth, and shiny.
Polyquaternium-11: It forms a clear, non-tacky, and continuous film that seals luster.
Panthenol: It is an effective humectant that promotes moisture retention.
Hair Type: All types of fine hair
Pros
Lightweight
100% vegan
Long-lasting hold
Detangles hair strands
Protects hair from damage
Seals moisture
Soothing fragrance
Sulfate-free
Paraben-free
Cons
None
Price at the time of publication: $17.0
Create volume and long-lasting body with the Nexxus Mousse+ Volumizing Foam. This salon-grade creamy mousse sculps and protects hair strands from chemical and environmental aggressors. The aerated hair foam lifts fine hair from the roots while retaining their natural movement.
Key Ingredients
Keratin protein: This is a natural hair conditioning agent that improves the gloss, sheen, and texture of thin hair.
Ceramides: These are a type of lipids that protect the outermost layer of the hair strands and strengthen the roots. They also promote hair elasticity and retain hair moisture.
Hair Type: Thin hair
Pros
Lightweight
Protects hair strands
Protects hair from humidity
Cons
None
Price at the time of publication: $19.43
These are the 11 best mousses for fine hair that add texture, fullness, and volume. We will further discuss a hair mousse in the following section.
What Is A Hair Mousse?
A hair mousse or styling foam is an aerosol foam spray that adds volume to the hair. It conditions hair deeply and leaves no residue on the scalp. Using a mousse alone can get you fuller, thicker hair. It also adds life to the thin strands.
How does applying a mousse to your thin hair help? The next section discusses the same.
Why Use A Hair Mousse For Thin Hair?
Thin hair often looks dull and frizzy. Applying mousse to thin hair boosts the volume from the roots, sculpts your strands, and gives long-lasting volume. It also helps fight humidity and encourages hair shine and definition. The nourishing ingredients stimulate hair growth and also allow versatility in styling.
Before you buy a hair mousse for your thin hair, you may want to go through the following buying guide.
Hair Mousses For Fine Hair – A Buying Guide
Ingredients: The hair mousse should contain natural ingredients that seal in moisture, add luster, restore elasticity, and provide protection. Argan oil, keratin complex, sunflower seed oil, aloe vera extract, and biotin are known to nourish and rejuvenate hair.
Hold: Another major function of a hair mousse is to hold the volume for long periods. Polymer complex and resins in the mousse coat each hair strand, add body from the roots, and offer long-lasting hold.
Protection: A mousse rich in antioxidants protects the strands from environmental damage.
Why Trust StyleCraze?
Oyendrila Kanjilal is a certified skin care coach and passionate about hair care and styling. She is aware of the difficulties associated with thin hair and has listed the ideal product recommendations for her readers. After thorough research and reading various internet reviews, she developed a list of the finest mousse for fine or thin hair that could effectively add volume. These products are chemical-free, non-greasy, and do not leave any sticky residue.
Frequently Asked Questions
Mousse Vs. Gel – which is better for fine hair?
Mousse is better than gel for thin hair. Mousse is an airy foam that lifts hair from the roots whereas gel may weigh down hair even further.
How do you use mousse on fine hair?
Damp each hair strand and apply the mousse gently from the root to the tip. Wash or rinse with normal water to add volume. If you need to add extra body, blow dry your hair for versatile styling.
How often should fine, thin hair be washed?
Fine, thin hair can be washed 2-3 times a week.
Do I apply mousse to wet or dry hair?
It is recommended to apply mousse after towel drying your hair. However, do not completely dry your strands and keep them semi-wet while using the product. Hair mousse can help get rid of the dull appearance and mattify your tresses.
Can I brush my hair with mousse in it?
Yes, brushing your hair with mousse can create wonderful textures on your tresses. This can also help define your waves and curls without using heated styling tools.
Can I put on a heat protectant before or after using a mousse?
Yes, you can apply a heat protectant five minutes before putting on a mousse. While heat protectants ensure that your hair remains damage-free, mousses offer the perfect definition to your strands and provide heat defense.
Recommended Articles