7 Best Glue For Glitter Tattoos This 2023- Review Guide
Stay inked in your own terms with skin-friendly and non-toxic glues for temporary tats!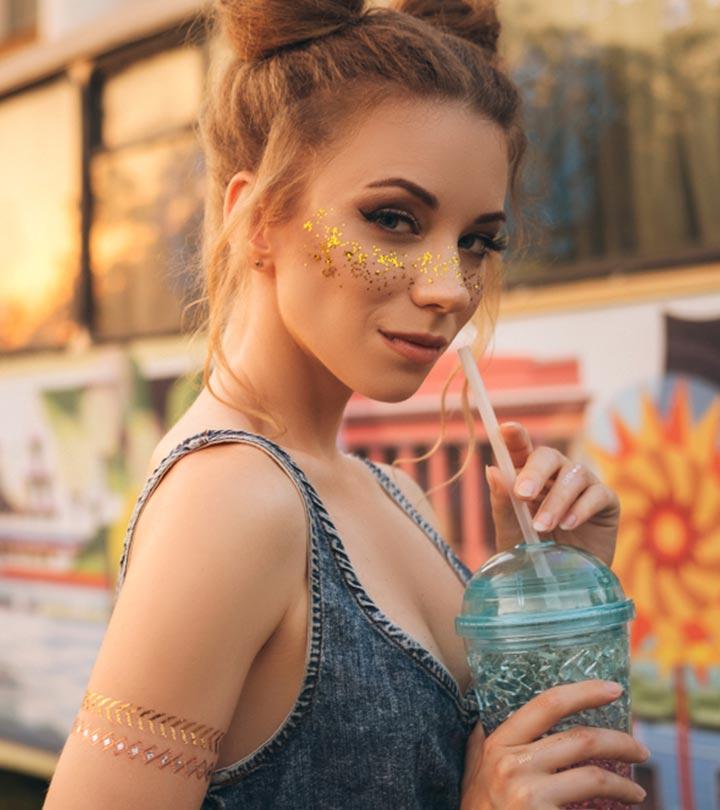 The forever active fashion world surprises us with trends throughout the year. Temporary glitter tattoos for the body are the latest trend. For this, one would require the best glue for glitter tattoos. These glues are applied directly to the skin, and hence, one needs to be doubly careful while choosing one. If not, the glues may cause your skin to react.
Getting temporary tattoos could well become a fun activity at your child's or nephew/niece's birthday party. Or you could also wear these quirky tattoos to a concert. These are quite versatile that way. In this article, we have listed the 7 best glues for glitter tattoos that are made of safe, non-toxic materials and are suitable for sensitive skin. But we would still recommend you to get a patch test done before applying a whole lot of it on your skin. Go ahead and check them out for your next party or concert or a casual fun activity with your kids.
Top 7 Best Glues For Glitter Tattoos- Reviews And Buying Guide
The Custom Body Art Bottle Of Glitter Tattoo Body Glue is exactly what you need to start using glitter to create tattoos on your body. If you already have glitter, tattoo stencils, and body jewels, the only missing item is the glue for glitter tattoo so that your tattoo stays on your body all night long without smudging, leaking, or looking shabby. This glue for glitter is safe for use on the skin for face paint and is suitable for children that are 3+ years old and adults. The glue is also waterproof so you can easily wear glitter tattoos at the beach and get into the ocean without any worries about spoiling your look. The glue and the tattoo can come off easily by rubbing alcohol, oil, swab, or lotion.
Pros
Can be used to create about 50 tattoos.
The tattoo applied with this glue can last for up to 7 days.
Made using FDA-compliant, non-toxic ingredients and is safe for use on skin.
Cons
The glue may not come off very easily.
Price at the time of publication: $6.99
The Glimmer Body Art Glitter Tattoo Skin Glue is a cosmetic grade glue that is ideal for applying glitter tattoos on your body. This glue for glitter tattoos is hypoallergenic which means that irrespective of your skin type and allergies it is safe to use on your skin. The best thing to do is run a quick patch test with a thin layer of glue on your wrist before you apply it to sensitive areas. This body art glue can also be used to glue the fabric together so if you have an incident with your bikini you can stick the fabric together, make sure the glue dries up, and enjoy worry-free time in the water. Once the glimmer glue for glimmer tattoos is over you can easily refill it and use it again.
Pros
Latex-free
The tattoo can last for up to 7 days.
Can come off using baby oil or alcohol.
Cons
The glue may leave behind a residue.
Price at the time of publication: $28.44
The INGALA PREMIUM Body Adhesive is a lot more than a tattoo glue. Fondly termed as 'super glue for skin', this glue for glitter tattoos works on all skin applications like body glue for clothes, skin glue for event costumes, body glue for backup dancers and performers, face glue for rhinestones and glitter tattoo, bikini glue, sock glue, etc. One of the best strong hold glues for glitter, it is certified to be non-toxic and is also latex-free. A dermatologically tested formula is used in the creation of this body glue. Tattoos made using this glue can last for up to a week if all instructions are followed. It can also be removed easily without too much hassle whenever you are bored of your tattoo. All you have to do is apply either body lotion, baby oil, perfume, or surgical spirit and rub it off.
Pros
Hypoallergenic does not cause an allergic reaction.
Can be used to glue on gems on clothes as well.
1 bottle can produce about 80-120 glitter tattoos.
Cons
The glue in the bottle may dry up very quickly.
Price at the time of publication: $14.95
The Glimmer Body Art Glitter Body Glue is an easy-to-use glitter tattoo glue. If you wish to host a party for kids and have still not planned the entertainment element, then this glue for glitter is your answer. Set up a body glitter tattoo corner and use this glue even on the skin of kids without worrying about the glue damaging their skin. Glitter tattoos are a hit among kids of all age groups – of course, to be used with adult supervision, and among grandparents as well. If you have a sizzling party to go to with your friends, then this glitter glue will ensure that your glitter tattoo stays on all night through the dancing and the sweating.
Pros
1 tube can work for about 40 applications.
Glitter tattoo applied with this glue lasts for up to 3-7 days.
Good idea for birthday parties, bar mitzvahs, fairs, and carnivals.
Cons
The glue may be a little stringy.
Price at the time of publication: $10.5
The Glimmer Body Art Glitter Tattoo Glue is a pros-aide glitter tattoo glue designed especially just for this purpose. It comes in a 10 ml bottle and is exactly what you need to secure your glitter tattoos so that they do not smudge or come off completely. The consistency of the glue is perfect and can be easily applied either with a brush, sponge, or with your fingertips. Glitter tattoos are what smokey eyes were a decade ago and soon everyone is going to be wearing them and sporting them even on basic days. For now, take your festive look a notch higher and wear your glitter tattoos with safe and harmless glue for glitter. This non-toxic glue for the face can last up to 3-7 days depending on where on your body the tattoo is located.
Pros
Latex-free
Made using non-toxic materials
Hypoallergenic
Cons
The glue may not be safe for use near the eyelids.
Price at the time of publication: $5.89
The GripFx Body Art Glue is a medical-grade adhesive that provides a firm and flexible grip. The water-based formula is perfect for glitter tattoos, stencils, prosthetics, and other body arts. This glue can be applied both with a paintbrush and an airbrush. You can create a wide variety of designs and intricate glitter artwork over any makeup.
Pros
Medical-grade adhesive
Provides firm grip
Easy to apply
Creates 480 tattoos
Cons
Not long-lasting
Watery consistency
Price at the time of publication: $20.99
The YBODY Store Glitter Tattoo Skin Glue is a latex-free glue for glitter tattoos that can last for 3-10 days on your skin. The bottle is large enough to produce as many as 80-120 glitter tattoos depending on their size. This means you can easily use a single bottle even if you have to tattoo your entire body with glitter and be the center of attention wherever you go. It can be easily used in hot as well as cold seasons. This glitter tattoo pink glue can be removed easily with the help of oil-based products like sunscreen, coconut oil, almond oil, olive oil, or any baby oil.
Pros
Safe for use on kids
A brush applicator is included
Can be used as skin adhesive as well to glue gems
Cons
It may not be safe to use this glue near the eyes
Price at the time of publication: $11.4
Buying Guide
Glitter tattoos need to be applied in a certain way using body glue. While it is a simple process here is a guide that can help you apply without making any mistakes.
How To Apply Glitter Tattoo Glue
Take the body glue for glitter tattoo on a brush or a sponge and remove any excess product from it.
Apply the glue on the skin side of the tattoo stencil and cover all the edges.
The glue will first look white and then become clear.
Once it is completely clear you can apply the glitter on top of it.
How To Remove Glitter Tattoo Glue?
Glitter tattoo can be removed easily by rubbing some baby oil, alcohol, or baby wipes that help the glue break down after which wiping it off from the skin becomes an easy affair.
Glitter tattoos are extremely unique as each design can be created and designed by you. While stencils are easily available the glue you use on your skin can make or break the look. There is no point in wearing a glitter tattoo that may come off within 3 hours and wearing a glitter tattoo with glue that won't come off for days is also not ideal. Glitter tattoo glue should be used only as a body glue and at the same time no other glue should be used on the skin in place of tattoo glue. Express yourself with glitter tattoos, Halloween or not, and experience the use of the best glues for glitter tattoos in 2023.
Why Trust Stylecraze?
Chaitra Krishnan is a makeup and fashion enthusiast. She enjoys reviewing various products to help her readers make an informed choice. In this article, she highlights the best glue for glitter tattoos that are safe, non-toxic, and completely suited to those with sensitive skin. Her review process involves extensive research into the pros and cons of each product, along with an aggregation of consumer reviews from multiple online forums.
Frequently Asked Questions
How can I make my glitter tattoo glue last longer?
If you apply baby powder on the tattoo the excess oil gets absorbed from the skin and your tattoo has a chance of lasting longer.
Can I make my own homemade glitter tattoo glue?
Yes, you can make a homemade version using body-safe adhesive.
Can I use Elmer's Glue for glitter tattoos?
No, you cannot as it is not designed to be safe for the skin.
Can I use regular craft glitter for glitter tattoos?
No regular craft glue is not safe to be used for glitter tattoos.
Can you use PVA glue with glitter tattoos?
No, you cannot and must not use PVA glue for glitter tattoo as it may not be safe.
Can you put glitter in tattoos?
Yes, you can use cosmetic-grade glitter in tattoos.
Recommended Articles