6 Best Drugstore Glitter Glues And Primers For Eye Makeup – 2021 Update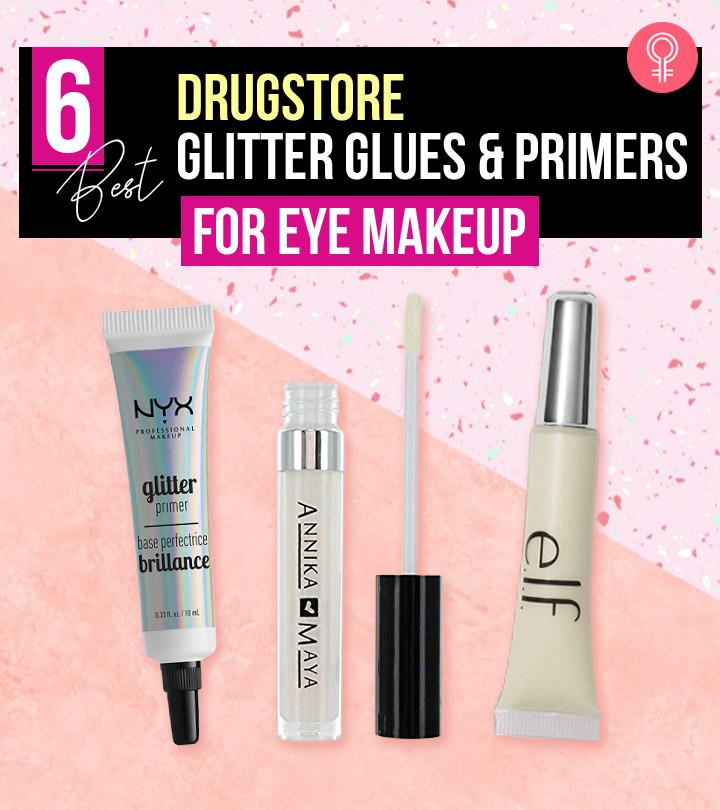 Your look can go from basic to stunning with glittery eye makeup. But at the same time, it can be a mess, too, if you don't apply the suitable eyeshadow primer or glitter glue to keep the makeup in place. Worry not; we have listed the 6 best drugstore glitter glues that can save your day. These long-lasting glues will keep the sparkle in place, for they have impressive holding power. So now go ahead and experiment with the ones we have listed below.
6 Best Drugstore Glitter Glues And Primers For Eye Makeup
The Annika Maya Cosmetic Glitter Glue Adhesive Wand enables you to safely apply your glitter eye makeup. It has a mild formula that is safe for all skin types and holds the glitter for long hours without causing any irritation. It comes with an easy-to-use wand design for a hassle-free application.
Pros
Long-lasting hold
Non-irritating
Easy to apply
Easy to remove
Mild
Cons
Takes a long time to dry and set the glitter
This primer gel has a lightweight formula that holds your eyeshadow and glitter in place all day long. This creamy drugstore eyeshadow glitter glue can be used on your eyes, face, and body. It can hold various types of glitters – from chunky to matte – with ease. It lets you easily blend the eyeshadow or glitter while helping to maintain its vibrancy.
Pros
Prevents crease
Safe for the face and body
Vegan
Easy to wash off
Waterproof
Smudge-proof
Cruelty-free
Cons
The e.l.f Glitter Primer has a lightweight liquid formula that feels comfortable on the skin. It increases eyeshadow and glitter longevity by keeping it in place. The formula is non-toxic and infused with shea butter and jojoba that nourish the delicate skin on your eyes. The smooth texture of this drugstore glitter glue for eyes blends easily and works seamlessly with loose or pressed glitter eyeshadows. The color of this glitter glue is beige, which eventually settles down to a clear transparent layer after blending. Watch this video for a thorough understanding of the product.
Pros
Long-lasting
Lightweight
Vegan
Nourishing
Easy to apply and blend
Easy to wash off
Paraben-free
Phthalate-free
Nonylphenol-free
Ethoxylate-free
Triclosan-free
Triclocarban-free
Hydroquinone-free
Cruelty-free
Cons
The NYX Professional Makeup Glitter Primer helps you minimize the glitter fallout every time you are all glammed up! This light and creamy formula glides on easily to help set your favorite eyeshadow and glitter. With a simple swipe, tap, or dab, it instantly sets the glitter and holds it in place for hours. It ensures that it leaves a bold and highly pigmented glitter on your eyelids. This drugstore glitter makeup glue is not just a primer for your eye makeup but can be used anywhere on your face or body. Click here to check out a detailed personal review of this product.
Pros
Lightweight
Creamy
Non-sticky
A little goes a long way
Comfortable
Safe for the face and body
Easy to apply and blend
Easy to wash off
Cruelty-free
Cons
The Stina Face Glitter Glue Adhesive Primer is specifically formulated for sensitive skin. It comes with an easy application wand that allows you to use it efficiently. It can hold on to the glitter and eyeshadow and prevents them from creating a mess. You can use this product on the face and body as well.
Pros
Easy to apply
Easy to wash off
Vegan
Cruelty-free
Cons
Does not hold glitter for long
The Too Faced Glitter Glue Primer holds the most sparkly of shades. It keeps the shimmer of your eyeshadows and glitter in place and ensures that they last long. This drugstore glitter makeup glue is designed to hold on shimmer, matte, and glitter makeup while boosting its vibrancy and vividness. The unique blend of jojoba and shea butter infused in this product has various beneficial properties. Jojoba has antioxidant properties that boost skin firmness and elasticity, while shea butter ensures nourishment and smooth application. The unique needle-nose applicator of this tube offers precise application and easy blending.
Pros
Sheer coverage
Long-lasting hold
Easy to apply
Easy to wash off
Comfortable on the skin
Cruelty-free
Cons
Follow these steps to ensure that you are applying the glitter adhesive properly and ensure stunning eye makeup.
How Do You Apply Glitter Adhesive?
Apply a thick coat of the drugstore glitter glue on your eyelids and blend it evenly with a blending brush or Q-tip. You can also use your fingers.
Tap the glitter eyeshadow onto this base with your finger or brush, while this primer is still slightly damp.
To lock it in, lightly tap and dab on the eyeshadow glitter to ensure it is in place.
You can layer it some more if you need that extra boost of vivid color and glam.
Wait for a few seconds, and you can start brushing off the extra glitter on your face.
You can also use a piece of sticky tape to take off any stubborn glitter residue.
Eye makeup enhances your overall makeup look. They can make you look attractive with an oomph factor when done right or dull and boring if you take one wrong step. You can transform your basic eye makeup into a shiny, glittery look if you have the right glitter primer for your eyes. The glitter glues and primers in our list are long-lasting, easy to apply, and lightweight. They do not crease and help you attain dazzling, glittering eyes. And since this list contains only drugstore items, you can rest assured that the quality and safety of these products are nothing less than top-notch.
Why Trust Stylecraze
Baishali Bhattacharya, the author of this article, is certified in makeup artistry. She knows the ins and outs of different makeup products and has suggested the best and skin-safe glitter glues and primers to enhance your eye makeup. She has conducted an in-depth study and filtered out the best products available on the market. The products have a mild formula and can hold your eye makeup in place for hours.
Recommended Articles
The following two tabs change content below.