11 Best Drugstore Long-Wear Lipsticks Of 2023 For That Enviable Pout!
Just a few swipes of these impressive colors will last you throughout the day.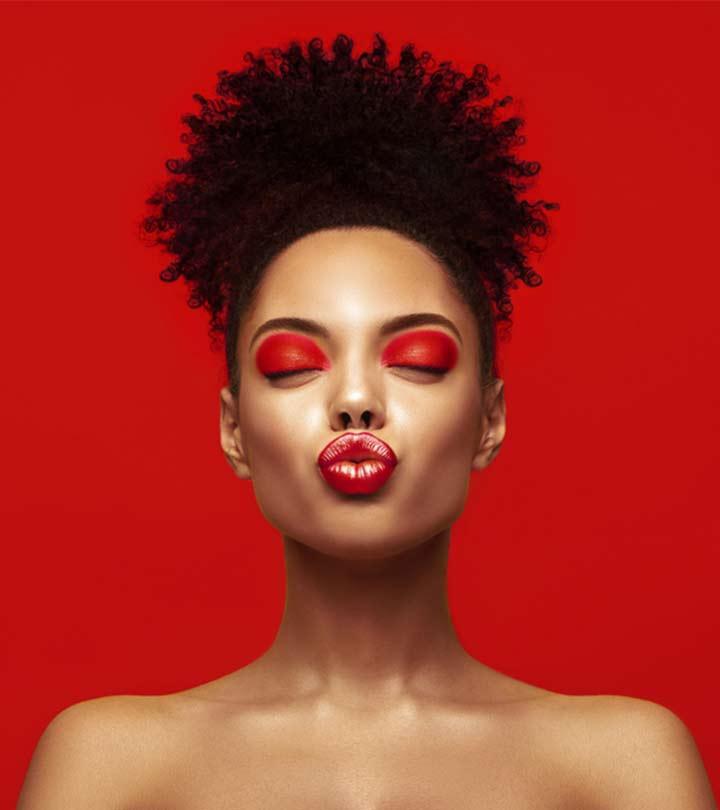 Using the right lipstick to look like the dolled-up queen that you are is crucial as it will either make or break your long-lasting cosmetic dreams. Lipsticks usually fight hard to stay on and end up looking dreary at the end of the day, and that is when it is crucial to invest in the best drugstore long-wear lipsticks that will give you that enviable pout. No matter what you do – constant eating, talking, or unconscious wiping, it can cause your lipstick to disappear unevenly. It is also not a good look to have when you are leaving stains on a glass or just going around with patchy lip stains. Here is to the makeup enthusiasts who want products that are smudge-proof, water-resistant, as well as sturdy enough to maintain their look. Many products are doing the rounds, so we have shortlisted a few for a clearer view. Take a look at our list of the 11 best drugstore lipsticks that will not only last long but are also very affordable.
11 Best Drugstore Long-Wear Lipsticks That Are Fade-Proof! (With Reviews)
Commercial-worthy red lips are now doable at home. One of the best matte drugstore lipsticks, Maybelline's SuperStay Matte Ink stays put for up to 16 hours! Kickstart your day with this high-impact and deep-pigmented color that'll last through your work hours and stay fresh for a dinner date too. The precision arrow-tip applicator ensures a smooth glide and irresistible matte effect with every use.
Pros
Intense pigment
Liquid consistency
Kiss-proof
Transfer-resistant
Available in 40 shades
Cons
Price at the time of publication: $7.98
This red lipstick is every bit the velvety dream you've been yearning for, it's like smearing your lips with tinted butter! Infused with shea butter, vitamin E, and aloe vera, the formula will keep your lips intensely hydrated all day. Goodbye, chapped lips! This stay-on longest-lasting lip color glides on smoothly and ensures an experience so lush and moisturizing that you'll never reach out for your lip balm during the day.
Pros
Soft matte finish
Ensures a luxurious suede look on the lips
Transfer-proof
Smudge-proof
Food-proof
Cons
Not ideal if you prefer intense pigment
Price at the time of publication: $7.5
Your party-wear will hit different if you pair it with this richly pigmented and sassy lip color. Giving your pout an instant oomph with its flattering shade, watch the formula turn from liquid to matte on your lips effortlessly. Moreover, this drugstore lipstick is infused with French vanilla to deliver a rosy-soft and velvety experience with every glide. Yep, not indulging in this one would be a crime, girls!
Pros
Prevents dry lips
Ensures minimal touch-ups
Vegan and cruelty-free
Long-lasting, soft, and smooth
Transfer-proof, food-proof, and non-bleeding
Cons
Price at the time of publication: $15
One word — scandalous! Watch all eyes follow your lips wherever you go with this drugstore long-wear matte lipstick. A color tailor-made for bold and sassy souls, this non-sticky and highly-pigmented lipstick will deliver optimal coverage in just one coat. And besides giving off a gutsy vibe, it's also intensely moisturizing and packed with mineral-based ingredients, vitamin E, and a sweet vanilla scent to give your lips a kissable charm. Do you think you can pull off this daring tint? If you are still unsure about purchasing, you can check out a review of this product on YouTube.
Pros
Velvety matte finish
Transforms from gloss to matte quickly
Long-lasting, smudge-proof, and no-bleed
Waterproof, transfer-resistant, and kiss-proof
GMP-certified, vegan, cruelty-free, and paraben-free
Cons
May not be best suited for extremely dry or chapped lips
Price at the time of publication: $12.99
Here's a lipstick that'll add a dash of whimsy to your makeup experience with its color-changing formula. We know it sounds out of the world, but believe us when we say this — this lipstick personalizes the lip color in response to your body chemistry. Now, whether you pair it with your spring and summer OOTDs this season, this drugstore long-lasting lipstick stays on for up to 12 hours! Also, are you dealing with dry or chapped lips? The Moodmatcher Lipstick has moisturizing benefits as it contains vitamin E and aloe vera to keep your lips soft and supple. You can check out this YouTuber's review of the product if you require more convincing.
Pros
Ensures intense hydration
Clinically-proven long-lasting power
Waterproof, fade-proof, and requires no touch-ups
Non-feathering, non-smudging, and no-bleed color
Cons
May not work on lips with uneven skin tone
Price at the time of publication: $6.25
Plump your lips with the classics! Go vintage with this drugstore long-wear red lipstick that'll make you and those around you a fan of the lip color instantly. Blessing your pout with an irresistible hue, this long-lasting formula ensures full coverage in one coat and a feather-proof finish too. The triple-pigmented lipstick is enriched with ingredients like castor seed oil, safflower seed oil, and aloe leaf extract, which help keep your lips hydrated, nourished, and loved throughout the day.
Pros
Semi-matte finish
Non-drying formula
Vegan and cruelty-free
Infused with natural and safe pigments
Moisturizing, long-lasting, and smooth
Cons
Price at the time of publication: $28
The Too Faced Melted Matte Liquified Long Wear Lipstick has an iconic, deep, vivid color and glides smoothly on the lips. The formula contains ingredients like avocado, vitamin E, and hyaluronic acid that help keep them moisturized. It settles into a fully matte finish after application. The product is extremely light on the lips and has a minimum 8-hour wear time. Apart from being intensely hydrating, it is also infused with Volulip, which plumps and smooths the lips.
Pros
Angled applicator
Matte finish
Lightweight
Longer-lasting
Cons
Not waterproof
May require touch-ups
Price at the time of publication: $12.99
Love flaunting your makeup collection, do you? Well, who doesn't? Especially if a lipstick such as this one is in it! This lipstick by Kiko Milano ensures a lush, creamy, and highly pigmented tint with every application. One of the best drugstore lipsticks, its formula contains passion fruit extract and monoi oil, making it an ideal combo if you are looking for a moisturizing, high-impact, and precise coverage. If you want to find out more about this product and its usage, make sure to check out this review on YouTube.
Pros
Semi-matte finish
Cruelty-free product
Ensures instant color pay-off
Lasts for up to 10 hours
Dermatologist-tested, buildable, and smooth
Cons
You may require touch-up after meals
Price at the time of publication: $14
What makes this pencil a good drugstore lipstick? You can use it in 3 ways! Get ready to pamper your lips with this lipstick that you can use as a lip balm, lipstick, and blush for your cheeks. Infused with cocoa and shea butter to moisturize your lips intensely, it glides like butter to deliver a medium coverage. And unlike crayon pencils, this one requires no sharpening and comes with a swivel bottom. Add it to your daily makeup kit ASAP!
Pros
Creamy texture
Ensures a natural and soft finish
Long-lasting and travel-friendly
Cruelty-free and paraben-free
Cons
Not suitable if you prefer intense pigment
Price at the time of publication: $21
With this tint on your lips, you'll need to gear up to handle some serious and envious stares! Highly pigmented and ultra-matte, it will stay on like your second skin, and the empowering color will amp up your style and confidence instantly. Enriched with ingredients hydrogenated soybean oil, theobroma cocoa seed butter and shea butter, this lipstick blesses your lips with moisturization throughout the day. It's just what you need to make your look stand out, the minimalist way — give this liquid lipstick a try on those first dates or when you want to make a long-lasting first impression.
Pros
Long-wear lipstick
Ensures no touch-ups
Crease-proof and smear-resistant
GMP-certified and cruelty-free
Cons
Some may find it slightly too shimmery
Price at the time of publication: $18
The COVERGIRL Exhibitionist Ultra-Matte Lipstick is one of the most comfortable lipsticks with full coverage and hydration. Aside from the rich color payoff, this product lasts comfortably with a matte finish. stays put for hours and doesn't dry out your lips. This lipstick formula is designed to provide full coverage and maximum hydration. It is a great choice for daily wear as the lightweight formula is not only transfer-proof and waterproof but, kiss-proof as well.
Pros
Transfer-proof
Waterproof
Cruelty-free
24 hours stay
Cons
None
Price at the time of publication: $7.94
Say no to touchups and fading lipsticks! There you go, those were the 11 best drugstore long-wear lipsticks that'll stay on all day. Are you still unsure how to choose the best drugstore long-wear lipstick for yourself? Worry not, we've collated some tips for you in our buying guide below.
How To Choose The Best Drugstore Long-Wear Lipstick
 While choosing a long-lasting lipstick, you must lookout for the following features in the product before buying:
The richer the pigment, the more intense the color payoff will be. Also, the lipstick will take longer to fade. Hence, it is ideal to choose lip color with intense pigment for a long-lasting stay.
 Long-wear lipsticks are available in matte, semi-matte, and glossy finish. If you are looking for an all-day lipstick, choosing a matte or semi-matte finish is ideal as they coat the lips like second skin. However, if you have dry or chapped lips, you must opt for a moisturizing or soft matte or glossy finish.
 Pick a moisturizing formula, always. Given the lipstick is to stay on all day, you might as well choose a texture that is hydrating and moisturizing your lips at the same time to prevent drying. Look for a lipstick with essential oils, aloe vera, and vitamin E.
Fade-proof and waterproof
Lastly, one of the best ways to make sure your lipstick will last through all your meals and coffee breaks is to pick a fade-proof and water-resistant formula. Also, some lipsticks on the market are smear-resistant and transfer-resistant as well to deliver the best experience.
Why Trust Stylecraze?
The author, Chaitra Krishnan, is passionate about makeup and discovering products that make you look attractive. Most of us dedicate time, everyday, to applying our favorite lipstick, only for it to fade away a little while later. In this article, she discusses the best long wearing lipsticks from drugstore brands. She perused many products, researching for their benefits and reading their reviews, before finally settling on this list. Each of the products offer benefits such as high color payoff, consistency, color variety, and additional factors like transfer-resistance and more.
Frequently Asked Questions
Can I use drugstore long-wear lipstick as a blush?
Yes, you can use drugstore long-wear lipstick as blush. Just apply a little bit of the product and blend it along the cheeks for a natural finish.
How do you remove long-wearing lipsticks from your lips?
To remove long-wearing lipsticks from your lips, use a mild micellar water, cleansing balm, vaseline, or lightweight cleansing oil.
Is matte or glossy lipstick better for long-lasting wear?
A matte finish lipstick is better for long-lasting wear as it dries up to offer a smudge-proof, transfer-resistant finish, unlike a glossy one that is generally not transfer-proof.
How do you make lipstick stay on longer and look flawless?
Follow the pointers below to make lipstick stay on longer and look flawless:
Exfoliate and moisturize your lips.
Use a concealer as a lip primer to outline your lips.
Apply your lipstick from the center to the sides.
Use a nude lip liner to outline the lips for a fuller look and also to avoid smudging.
What lipstick stays on for 24 hours?
The Revlon ColorStay Ultimate Suede Lipstick stays on for the whole day. It is also enriched with nourishing ingredients and is transfer-proof.
What kind of lipstick does not come off?
A lipstick with a transfer-resistant formula lasts all day and does not smudge, smear, or come off easily. A matte finish lipstick offers the best long-lasting formulation.
Recommended Articles