15 Best Shampoos For Coarse Hair
Here's the extra TLC you need to tame coarse hair and keep it healthy, soft, and lush.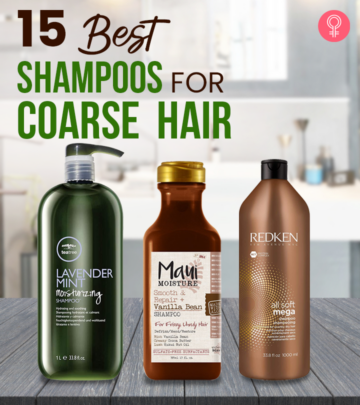 If you are having trouble managing your thick tresses, try getting your hands on the best shampoo for coarse hair. While all hair types are different and need the regular oiling and cleansing, coarse hair needs that extra bit of TLC to be manageable. This hair type usually tends to be dry and frizzy in texture with a dull appearance. Making sure that you moisturize it well is key in adding life and bounce back to your thick hair strands. We have listed down the 15 best shampoos for coarse hair to help you get started.
15 Best Shampoos For Coarse Hair
The teatree Lavender Mint Moisturizing Shampoo is an ideal product to soothe dry and coarse hair. This hydrating shampoo contains calming lavender, natural tea tree extracts, and cooling peppermint that rejuvenate the senses. All these ingredients thoroughly cleanse and restore the health of dry, unruly hair. This shampoo contains conditioners and amino acids to boost shine, strength, and manageability of the hair.
Pros
Pleasant scent
Paraben-free
Gluten-free
Vegan
Color-safe
Cons
Price at the time of publication: $76.08
The Maui Moisture Smooth & Repair + Vanilla Bean Shampoo is best suited for coarse and tightly curled hair. This hydrating and repairing shampoo contains essential moisturizers that help prevent frizz and detangle your hair. The mild and nourishing formula has no harmful additives like dyes, sulfates, silicones, or parabens.
This shampoo contains a natural blend of ingredients like aloe juice, kukui nut oil, coconut oil, cocoa butter, and vanilla beans. Kukui nut oil has humidity-resistant properties, while vanilla beans and cocoa butter help defrizz, soften, and smoothen stubborn hair strands. The 100% aloe juice soothes and moisturizes the scalp and strands.
Pros
Silicone-free
Vegan
Paraben-free
Sulfate-free
Dye-free
Color-safe
Cons
Price at the time of publication: $7.89
REDKEN 5TH AVENUE NYC All Soft Mega Shampoo is a deep moisturizing shampoo that helps hydrate and soften extremely dry or coarse medium to thick hair. It restores moisture to the hair and makes the strands soft, shiny, and manageable. This ultra-hydrating shampoo is formulated with aloe vera, cactus extract, Sacha Inchi oil, and REDKEN's exclusive RCT Protein Complex to lock in moisture and strengthen your hair strands from root to tip.
Pros
Makes the hair soft
Long-lasting
Value for money
Cons
Contains sulfates
Not color-safe
Price at the time of publication: $46
The WELLA PROFESSIONALS Invigo Color Brilliance Shampoo is specially formulated for coarse colored hair. This color-protecting shampoo is infused with an antioxidant shield technology to help impart instant shine to dull and lifeless hair. It contains lime caviar that intensely nourishes your hair with essential vitamins and antioxidants. The low pH formula closes the cuticles after coloring to facilitate better color retention. If you are still unsure, check out this honest unboxing review.
Pros
Color-safe
Pleasant fragrance
A little goes a long way
Value for money
Cons
Price at the time of publication: $19.56
The JustNutritive Shampoo for African American Hair is an intense moisturizing shampoo that restores hair vitality. It cleanses the scalp without stripping its natural oils while maintaining the natural pH. This gentle shampoo contains natural essential oils and herbs that thoroughly remove dirt and impurities to leave your hair feeling fresh. It also contains pro-vitamin B5 that repairs and strengthens the strands.
The luxurious blend of nourishing ingredients like marshmallow and hibiscus extracts moisturize and detangle your hair and make it shiny and soft. Castor oil and kokum butter seal in moisture and smooth coarse and rough hair. This gentle shampoo can be used daily as it is free of harsh detergents like sodium lauryl sulfate and sodium laureth sulfate.
Pros
Refreshing mint fragrance
Vegan
Sulfate-free
Value for money
Cons
May cause scalp irritation.
Price at the time of publication: $29.99
The Controlled Chaos USE ME Hair Cleanser is a sulfate-free, frizz control shampoo for coarse and oily hair. It rebalances the scalp without stripping its natural oils, leaving your hair shiny and manageable.
This low foaming cleanser is suitable for all hair types, including color-treated hair. It helps maintain a pH of 5.93 and adds moisture to the hair while keeping it intact to offer smoothness and volume. This shampoo contains essential oils of jasmine and lavender that rejuvenate your senses and offer relaxation. The product is free of BPA, sulfates, parabens, and gluten.
Pros
pH-balanced
Sulfate-free
Paraben-free
BPA-free
Gluten-free
Color-safe
Suitable for all hair types
Cons
Price at the time of publication: $7.99
The ColorProof SuperRich Moisture Shampoo is meant to deeply nourish dry and damaged hair. The powerful formula contains a botanical blend of nourishing ingredients that moisturize, repair, and strengthen coarse and rough hair to leave it smooth, shiny, and healthy.
This ultra-repairing shampoo is specifically designed for color-treated hair and offers UVA and UVB protection to make the color last longer. The gentle and lightweight formula revitalizes and moisturizes the hair. This sulfate-free shampoo has a gingered amber fragrance.
Pros
Gentle
Lightweight
450° heat protection
Color-safe
Sulfate-free
Salt-free
Paraben-free
100% vegan
Cruelty-free
Cons
Price at the time of publication: $30
The Dove Nutritive Solutions Absolute Curls Shampoo is designed primarily for curly hair struggling with dryness and roughness. This ultra-nourishing shampoo eliminates dryness and adds definition to curly hair. It contains protein and buriti oil, which is rich in omega-9, that provide four times more definition and conditioning to curly hair. The advanced formula locks nutrients while eliminating frizz to make your curly hair smooth, soft, and healthy. This gentle shampoo prevents breakage and strengthens the strands. If you are still unsure, this video review might be useful.
Pros
Lightweight
Smells great
A little goes a long way
Cons
Price at the time of publication: $10.79
The Davines LOVE Shampoo is a smoothing shampoo for frizzy or unmanageable hair. Its formula is distinguished by a gentle and creamy foam that is meant to gently wash frizzy hair and smooth it. It is enriched with olive extract which is high in fatty acids and vitamin E and is exceptionally nourishing, softening, and moisturizing to the hair. This shampoo prevents hair aging caused by dryness and leaves hair silky, smooth, nourished, and manageable.
Pros
Natural active ingredients
Paraben-free
Synthetic-color free
Cruelty-free
Cons
Price at the time of publication: $32
The Schwarzkopf Professional BC Bonacure Excellium Taming Shampoo is an excellent choice for coarse and colored hair exposed to damage. The nourishing formula is enriched with Q10+ and omega-3 fatty acids that rejuvenate and tame the hair to prevent frizz.
Q10+ is a powerful co-enzyme that stimulates the hair roots and promotes keratin production. Omega-3 smooths the hair surface and provides essential lipid nutrients to maintain hair health. This hair therapy soothes and calms dry scalp while preserving hair color from fading.
Pros
Color-safe
Volumizing
No residue
Cons
None
Price at the time of publication: $15.01
The HELI'S GOLD Revitalize Shampoo is formulated for colored hair prone to damage and roughness. It de-stresses the scalp and hair to reverse damage and restores moisture levels. This repairing and replenishing shampoo imparts instant shine and suppleness to coarse hair to leave it healthy and manageable.
This purifying shampoo contains Helichrysum Italicum flower, a powerful antioxidant with antibacterial, antifungal, anti-inflammatory, and therapeutic properties. It strengthens the hair structure, provides hydration, regulates sebum production, and nurtures the hair follicles while preventing dandruff or flakes.
This shampoo does not contain any harmful additives and is made only with flaxseed oil, silk protein, creatine, and natural betaine. While silk protein locks in moisture by creating a protective barrier, flaxseed oil nourishes and repairs damaged strands and relieves scalp irritation. Betaine enhances shine, strength, and elasticity of the hair, and creatine improves cell metabolism.
Pros
Silicone-free
SLS-free
Mineral oil-free
Paraben-free
Color-safe
Cons
None
Price at the time of publication: $24.12
The it FACTOR Quick Blowdry Shampoo for medium to coarse hair is infused with broad-spectrum sunscreen, protective antioxidants, hydrating sea kelp, and nourishing rosehip oil. These ingredients prevent damage, provide strength, and make your hair smooth, shiny, and healthy. This ultra reviving formula works excellently on chemically exposed or color-treated hair. It is free of additives like alcohol, sulfates, parabens, and sodium chloride that make your hair dry and prone to damage by stripping off natural oils.
Pros
Offers UV protection
Sulfate-free
Paraben-free
Alcohol-free
Sodium chloride-free
Safe for colored and chemically treated hair
Cons
Price at the time of publication: $9.29
The 4ever SMOOTH PROFESSIONAL HAIRCARE X-Treme Smooth Shampoo is specially formulated for rough and dry hair. This sulfate-free shampoo contains moisture-rich ingredients like essential oils, organic keratin, and botanical extracts. It cleanses the scalp while producing a luxurious foam to leave your strands rejuvenated with a fresh and pleasant aroma. This shampoo helps in preserving keratin treatment for a long time so that your hair is never coarse.
Pros
Gentle
Pleasant fragrance
Sulfate-free
Paraben-free
Sodium chloride-free
Color-safe
Cons
Price at the time of publication: $32.99
Moisture Shampoo by MONDAY Haircare is great for dry stressed hair. With a gentle washing technique, it cleanses, nourishes, and adds moisture to the hair at the same time. It makes hair soft and silky. This shampoo is made with natural ingredients that prevent protein loss. The hydrolyzed rice protein gives strength and boosts moisture retention. The vitamin E in the formula makes your scalp healthy and promotes hair development. Shea butter adds softness and luster.
Pros
Dermatologically tested
Cruelty-free
Vegan
Sustainable packaging
Paraben-free
SLS-free
Sulphate-free
Cons
None
Price at the time of publication: $28.99
The WELLA PROFESSIONALS Brilliance Shampoo gives a soft, smooth, hydrated, and gorgeous finish to coarse hair. It is formulated with diamond dust, which enhances hair quality to the optimum and leaves it extra lustrous and healthy. This shampoo can be used daily for effective results.
Pros
Pleasant fragrance
Color-safe
Cons
None
Price at the time of publication: $11.58
Coarse hair is thicker in diameter and can be difficult to manage. It tends to develop frizz and dry out quickly. Here are some factors to consider before buying the right shampoo to manage your coarse hair.
Things To Consider Before Buying The Best Shampoos For Coarse Hair
We must choose shampoos that are free from harmful chemicals that damage the hair strands. Go for shampoos that do not contain stuff like paraben, BPA, SLS, sulfate, and silicone. Such shampoos are mostly gentle and can be applied on every alternate day.  Shampoos loaded with harmful chemicals can also cause hair thinning or even temporary hair fall.
Formulation
Look for non-greasy, lightweight formulas that do not leave any residue and get washed off easily to give frizz-free, soft hair. Greasy formulations make your hair look dull and lifeless. They strip off the shine and smoothness away from your follicles and cause irritation on the scalp. The shampoos that are washed off without leaving a greasy impact can make your hair appear voluminous.
Coarse hair often appears to be rough in texture. Hence, one must choose a shampoo that offers deep nourishment and hydration from root to tip. This will make your hair look shiny and lively.
Shampoos that have a rich blend of natural ingredients are the best remedy for treating dullness in coarse hair. Ingredients such as aloe juice, cocoa butter, and coconut oil nourish and soften the strands. Vanilla beans present in many shampoos and help remove frizz. Opt for shampoos that consist of botanical ingredients like argan oil, neem, and jojoba oil which impart shine, softness, and moisturization to our hair follicles.
Why Trust StyleCraze?
Shiboli Chakraborti is a certified haircare and skincare coach whose passion lies in writing about various beauty products. She has conducted thorough research on shampoos and read hundreds of online customer reviews to put together a list of the best shampoos for coarse hair. Her recommended products add bounce and lock in moisture to your hair after giving it a thorough cleaning! It is a perfect buy for people who struggle with dry hair after each wash.
Frequently Asked Questions
What does coarse hair mean?
Coarse hair may not necessarily mean rough hair. But stylists define coarse hair as the hair type that has thicker strands. Usually, this type of hair is drier and tends to get frizzy more often.
How do I know if I have coarse hair?
Take a strand of hair and place it between two fingers. If you can feel the thickness of it, then you probably have coarse hair.
How often should you wash coarse hair?
You can wash coarse hair every 4-7 days as this hair type tends to be less oily and may feel dry if you wash it too often.
What softens coarse hair?
The best way to make coarse hair soft is by applying hot oil on a regular basis. It will provide the right kind of moisture and nutrition that your hair needs.
Does hair get coarser with age?
Usually, hair tends to get less dense or less thick as you age. So your hair shouldn't get coarser with age. However, mature hair is drier and can feel rough to touch.
What causes coarse wiry hair?
Coarse wiry hair can be caused due to the intake of drugs or certain hair growth medications. Health issues such as thyroid or hormonal imbalances also cause the hair to become coarse and wiry.
Recommended Articles