15 Best Shampoos For PCOS Hair Loss (2022) + Buying Guide
It's time to say bye-bye to PCOS-related hairfall and welcome back your gorgeous mane.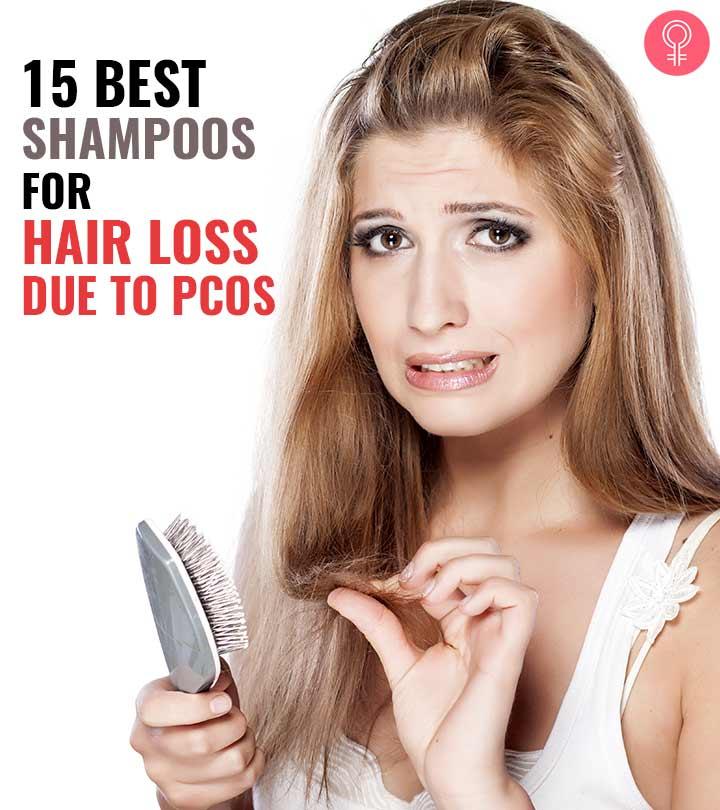 In this article, we have listed the 15 best shampoos for PCOS hair loss for you to consider. Yes, hormonal imbalance causes PCOS, which can lead to hair loss. So, if you are experiencing stubborn acne issues, irregular periods, and extreme hair fall, a hormonal test is what you should do. PCOS can also lead to androgenic alopecia. But don't worry. Go ahead and check out our list and pick the one that fits right for you.
15 Best Shampoos For Hair Loss Due To PCOS
The pura d'or Original Gold Label Anti-Thinning Biotin Shampoo is infused with biotin and other DHT herbal ingredients that reduce hair thinning and protect the damaged locks. Biotin is an essential vitamin that improves keratin structure and may help in the treatment of androgenic alopecia (hair loss due to hormonal imbalance). It also supports healthy hair growth. This anti-thinning shampoo also contains nettle extract, pumpkin seed, black cumin seed oil, saw palmetto, He Shou Wu, red Korean seaweed, argan oil, tea tree oil, niacin, and vitamin E. These ingredients strengthen the hair shaft, cleanse the scalp, and moisturize hair. Learn more about this product in this video.
Pros
Paraben-free
Gluten-free
100% vegan ingredients
Hypoallergenic
Contains essential vitamins
Promotes circulation for hair growth
Suitable for all hair types
Suitable for both men and women
Cons
The Honeydew Biotin Shampoo is among the top-rated fortifying shampoos that strengthen hair follicles and fortify each hair strand. It is infused with DHT-blocking ingredients. It also contains provitamin B5 and eleven nutrient-rich botanical extracts including coconut oil, tea tree oil, jojoba oil, olive oil, evening primrose oil, argan oil, and zinc.
The blend of essential oils boosts hair hydration and delivers nutrition deep into the scalp. The provitamin B5 spreads evenly throughout the hair strands and slows down hair thinning. The blend of invigorating oils hydrates your hair from the roots and protects against dryness, breakage, and split ends. The antioxidants protect the hair shaft from environmental toxins and chemical aggressors. The shampoo contains high levels of omega-6 fatty acids (like gamma-linolenic acid (GLA)) that stimulate hair growth. This sulfate-free formula cleanses your hair and scalp, unclogs hair follicles, and removes excess oil and dirt.
Pros
Sulfate-free
Infused with natural components
Cruelty-free
Safe for color-treated hair
Hypoallergenic
Non-GMO
Very light
Anti-residue shampoo
Unclogs hair follicles
Detoxifies oily hair
Effective for both men and women
Cons
The Ultrax Labs Hair Growth Stimulating Shampoo helps stimulate hair growth and nourishes hair follicles deep from within. This shampoo contains some of the best DHT-blockers, including caffeine, ketoconazole, saw palmetto, niacin, peppermint oil, mango butter, and lauric acid. The active ingredients stay longer on the scalp and nourish hair deeply. It contains a highly effective CaffinoPlex blend designed for optimum hair growth.
Caffeine, one of the potent ingredients, helps stimulate the life cycle of hair follicles and encourages hair growth when applied transdermally. Caffeine also helps block DHT and may stall hair loss. Saw palmetto may block the enzyme 5-alpha-reductase (responsible for the conversion of testosterone to DHT) and encourages healthy hair growth. Ketoconazole, an anti-fungal and anti-inflammatory ingredient, helps prevent dandruff and stimulates hair growth. The emollient blend of mango butter keeps each hair strand hydrated and protects hair from dryness.
Pros
Effective formula for both men and women
Blended with natural ingredients
Reduces dandruff
Nourishes each hair strand
Clinically-proven ingredients
100% satisfaction guarantee
Easy to use
Cruelty-free
Cons
Expensive
Does not produce lather easily
Smells odd
The Hairgenics Pronexa Clinical Strength Hair Regrowth Therapy Shampoo is made with the best-picked ingredients that support hair growth and nourishment. The natural ingredients act synergistically to stimulate hair growth and prevent thinning hair. This DHT-blocking shampoo contains aloe vera extract, saw palmetto extract, biotin, and seaweed extract. It also is enriched with vitamin B5 and hydrolyzed silk protein. The collagen peptide formula builds hair protein, strengthens the hair roots, and prevents premature graying.
Biotin not only promotes healthy hair growth but also maintains hair hydration, prevents dryness, and increases the elasticity of the hair cortex. The emollient aloe vera and seaweed extracts deeply moisturize each hair strand and reduce hair thinning and shedding. Saw palmetto is a clinically proven DHT-blocker that effectively reduces the production of DHT, prevents hair loss, and promotes hair thickness and volume. For the best results, use the shampoo for six months at a stretch.
Pros
Clinically-proven formula
FDA-approved
Manufactured at GMP-compliant facilities
Certified organic ingredients
Supports follicular growth
Prevents hair loss
100% vegan
100% money-back guarantee
Suitable for both men and women
Cons
Expensive
Minty fragrance
The Honeydew Biotin Shampoo is a natural therapeutic advanced formula for thicker, healthier hair growth. It removes the DHT-blockers to prevent hair thinning. It is infused with all the natural essential oils to nourish hair follicles from the root to the tip. It stimulates circulation for hair growth and nourishment. The natural biotin shampoo contains coconut oil, jojoba oil, argan oil, tea tree oil, olive oil, evening primrose oil, and advanced keratin complex.
The scientific complex shampoo with the elixir blend of argan and olive oils makes hair easy to manage. It also reduces stubborn dandruff, flakiness, and protects hair from free radical damage. The biotin or vitamin B7 promotes thicker hair growth, strengthens hair shafts, and stimulates the action of keratin. The hair-enhancing botanicals protect the hair from oxidative damage and plump hair strands for a healthy look.
Pros
Sulfate-free
Works well with all hair types
Hypoallergenic
Made with eco-friendly ingredients
Cruelty-free
Blend of all essential oils
Infused with advanced keratin formula
Rich in essential fatty acids and vitamin E
BPA-free container
Cost-effective
Effective for both men and women
Cons
May dry hair out
May make hair frizzy
The ProBliva Hair Loss & Hair Re-growth Shampoo is among the best DHT-blocking shampoos that halt the conversion of testosterone to DHT and reduce hair thinning. The green tea extract in this shampoo reduces DHT formation, promotes hair growth by increasing circulation, increases cellular metabolism in the scalp, and protects hair strands from free radical damage.
This DHT-blocking shampoo also contains Kapilarine complex, zinc PCA, vitamin E, vitamin B5, keratin, jojoba oil, and collagen amino acids. The zinc PCA, Kapilarine complex, and green tea extract deeply cleanse the scalp, reduce sebum formation, and stimulate hair growth. The jojoba oil deeply nourishes hair follicles, moisturizes hair strands, and seals in moisture.
Pros
Suitable for both men and women
Nourishes hair strands
Deeply cleanses the scalp
Infused with powerful ingredients
Small amount goes a long way
Cons
May cause minimal hair loss in some
May dry hair out
The Tree To Hub Nature's Shampoo is made with 100% organic handpicked botanicals that are naturally processed by a patented and sustainable extraction process. The active ingredient in the shampoo is a natural wild soapberry that forms a natural creamy lather to cleanse hair deeply and maintain its natural pH (5.5). The saw palmetto and pumpkin seed oil nourish hair follicles and promote hair thickness. The phytosterols in the pumpkin seed oil block the enzyme that causes hair loss.
The growth-boosting complexes, like vitamins A, B3, B5, C, D, E, and biotin, along with caffeine and rosemary, stimulate the hair follicles. The organic healing botanicals, like argan oil, sage, and aloe vera extract, have anti-inflammatory and antioxidant properties that prevent free radical damage. They protect the scalp from dandruff and promote hair growth. The refreshing eucalyptus and tea tree essential oils reduce inflammation in the scalp and create an ideal environment for hair growth.
Pros
Sulfate-free
Paraben-free
DEA/MEA-free
Gluten-free
Artificial fragrance-free
Dermatologist-recommended
Contains pH-balancing soapberry
Reduces dandruff
Natural antibacterial and antifungal
Cruelty-free
Eco-friendly
Suitable for men, women, and kids
Cons
The ArtNaturals Argan Oil & Vitamin E Hair Growth Shampoo contains DHT blockers, proteins, botanical oils, and extracts that stimulate the scalp and revitalize hair follicles. The shampoo is a blend of argan oil, vitamin E, aloe vera, rosemary, and other ingredients that stimulate hair cell renewal and growth. Argan oil is the signature ingredient of the shampoo that promotes hair growth, reduces hair loss and hair thinning, and treats split ends. It also hydrates hair. Vitamin E is an antioxidant that protects hair from free radical damage.
The willow bark helps exfoliate the scalp, unclogs pores, removes dirt and excess oil, and cleanses the scalp from within. It also helps reduce excess sebum formation and nourishes each hair strand. This shampoo is free from harmful chemicals. This video will provide you with added insights about the product.
Pros
Paraben-free
Sulfate-free
Silicone-free
Phthalate-free
Non-GMO formula
Hypoallergenic
Treats damaged, fragile hair
Color-safe
100% vegan formula
Eco-friendly
Cons
The Pure Biology Revivahair Growth Stimulating Shampoo is specifically formulated to strengthen hair, revitalize hair follicles, and reduce hair loss. It is infused with natural extracts like biotin, keratin, emollient oils, vitamin B, vitamin E, saw palmetto, and green tea extract. These deeply cleanse, repair, revitalize, and protect hair. The 3HC stimulating complex, a plant-derived ingredient, stimulates hair regrowth and regulates hair follicle development. It also increases the number of hair fibers, and enhances microcirculation to prevent androgenic alopecia (hormone-related baldness).
The revitalizing shampoo also contains a keratin complex that penetrates deep into the hair follicles. It strengthens the hair shaft, seals natural moisturization, and revitalizes dry, dull hair. This shampoo fortifies hair follicles and helps prevent hair loss in both men and women.
Pros
Paraben-free
Sulfate-free
Non-GMO
Cruelty-free
Unisex formula
Suitable for all hair types
Protects hair from oxidative damage
FDA-approved
Seals hydration in the hair shaft
Soothing fragrance
Cons
Expensive
Contains gluten
The Lipogaine Hair Stimulating Shampoo is a premium blend of natural ingredients that strengthen and nourish hair follicles. This hair growth shampoo is a blend of biotin, caffeine, argan oil, castor oil, and saw palmetto that adds volume to hair and protects it. The natural oil blend restores scalp vitality, densifies thin hair, adds moisture to dry and damaged hair, and promotes hair growth by increasing microcirculation. The antioxidants in these elixir oil blends promote cell production and protect hair from environmental toxins. He Shou Wou (Fo-Ti), a Chinese medicinal herb in the shampoo, prevents hair shedding and thinning. The caffeine is a potent ingredient in the shampoo that blocks DHT formation and promotes hair growth. It is suitable for both men and women, and for all types of hair.
Pros
Paraben-free
Sulfate-free
Silicone-free
Phthalate-free
Cruelty-free
Color-safe
Suitable for all types of hair
Unisex application
Prevents premature hair breakage
Cons
Its minty fragrance could be too strong
Not suitable for sensitive scalp
The Laritelle Sensual Bliss Organic Shampoo is gentle on the scalp. It protects hair from damage and prevents hair loss. It is a powerful proprietary blend of argan oil, therapeutic hydrolats, and essential oils of rosemary, clary sage, and palmarosa. These clarify, hydrate, and nourish all hair types. The 100% organic certified argan oil promotes hair growth.
The clary sage oil, rosemary oil, and organic West Indian bay leaves promote hair growth, strengthen hair at the cellular level, prevent hair loss, and restore natural hair oils. The palmarosa restores natural moisture, stimulates cell regeneration, improves elasticity, and regulates the production of sebum. The shampoo is safe for all hair types. It is chemical-free and protects each hair strand from damage.
Pros
Paraben-free
Sulfate-free
Silicone-free
Hand-made natural ingredients
100% certified organic formulations
Gluten-free
Cruelty-free
Phthalate-free
Non-GMO
BPA-free plastic container
Safe for all hair types
Good fragrance
Cons
Greasy and heavy on the hair
Expensive
The First Botany Cosmeceuticals Biotin Shampoo is infused with natural, safe, and alcohol-free ingredients that promote hair growth and reduce hair loss. The shampoo contains fourteen DHT blockers, including biotin, Korean red ginseng, hibiscus oil, niacin, turmeric compounds, and saw palmetto. Biotin strengthens hair strands, niacin increases blood circulation, and the other botanical extracts promote healthy hair growth.
The Korean red ginseng is an effective DHT blocker that reduces the effects of hair fall related to testosterone. It helps in the regeneration of hair matrix keratinocytes and blocks DHT formation. The hibiscus oil is rich in vitamin C and amino acids that nourish hair deep from within. They also strengthen hair roots and give luster and volume to hair. The shampoo also contains He Shou Wu (Fo-Ti), a Chinese medicinal herb that prevents hair loss. It is effective for both men and women. It can be used for any type of colored hair to nourish each strand.
Pros
Sulfate-free
Paraben-free
Best for daily use
Retains hair moisture
Good for both men and women
Free from harsh chemicals
Stimulates hair healing process
Detoxifies hair follicles
Promotes bouncy hair
Good, refreshing smell
Cons
Dr. Hempster Anti-Hair Loss Shampoo is an organic, cruelty-free formula that prevents hair loss and adds extra volume to hair. This hair growth therapy shampoo is infused with hemp oil, biotin, saw palmetto, and whey protein that strengthen hair locks. Biotin or vitamin B7 stimulates hair growth and thickens hair.
The saw palmetto blocks DHT formation and helps prevent androgenic alopecia. The hydrolyzed wheat protein penetrates the hair shaft, strengthens hair, and adds volume to thinning hair. The emollient argan oil deeply moisturizes hair. The antioxidants in the shampoo protect the hair from environmental toxins.
Pros
100% organic
Cruelty-free
Paraben-free
Sulfate-free
Free from toxins
Non-GMO
Revitalizes and repairs hair
Volumizing shampoo
Cons
Not suitable for very dry hair
Evlogies Naturals is a recovery, regrowth, stimulating, and deep repair shampoo made of certified organic ingredients that prevent hair loss and strengthen hair follicles. The shampoo is infused with aloe vera, barbary fig seed oil, sesame seed oil, argan oil, rosemary leaf oil, Abyssinia oil, avocado oil, moringa, keratin, panthenol, hyaluronic acid, quinoa protein, honey, vitamin E, Borage seed oil, and baobab protein.
This powerful ingredient blend protects damaged hair, increases blood flow to the scalp and hair follicles, reduces split ends, tames frizzy locks, and accelerates hair growth phase by minimizing hair shedding.
This keratin pro complex is rich in amino acids, vitamins, and proteins that nourish, revitalize, and protect hair. This therapy formula makes hair manageable and adds shine, volume, and texture to dull hair.
Pros
Paraben-free
Sulfate-free
Phthalate-free
Silicone-free
Clinically-researched formula
Color-safe
UV-protectant
Cons
Fragrance could be too strong
The WOW Skin Science Hair Loss Control Therapy Shampoo is a 100% pure, ayurvedic formula that gives noticeably thicker and fuller hair. This gentle hair growth shampoo is infused with Bhringraj extract, neem extract, biotin, rosemary extract, saw palmetto, and niacin. Bhringraj is a potent ayurvedic herbal extract that reduces hair fall, prevents baldness, delays premature graying of hair, and promotes hair growth.
The shampoo contains amla extracts rich in vitamin C and antioxidants that protect hair from environmental toxins. Biotin and niacin strengthen hair follicles, decrease hair breakage, and increase hair elasticity. The saw palmetto is a powerful ingredient that blocks DHT production.
Pros
Paraben-free
Sulfate-free
No artificial colors
Gluten-free
No mineral oils
Strengthens hair roots
Contains DHT blockers
Cons
These are the 15 top shampoos that help treat hair loss caused by hormonal imbalances from PCOS. In the following section, we will first understand why PCOS causes hair loss.
Why Does PCOS Cause Hair Loss?
PCOS is a condition characterized by a Hormonal imbalance. It increases the levels of dihydrotestosterone (DHT), which is responsible for hair loss in both males and females. Increased DHT levels have been associated with weakened hair follicles and loose hair strands, leading to hair thinning and shedding.
Picking a DHT-resistant shampoo helps reduce this hair fall. There also are other ways you can reduce hair fall related to PCOS. We have listed them out in the following section.
Hair Care Tips To Deal With Hair Loss Due To PCOS 
Shampoo your hair daily or every alternate day. Rinse thoroughly to ensure there is no shampoo build-up on the scalp.
Use a good quality conditioner to remove tangles.
Avoid any heat or chemical treatment as it may further loosen hair roots.
Do not tie your hair too tight.
We also have discussed how you can pick the right shampoo for treating hair loss due to PCOS. There are too many products on the market. Choosing the right product is important.
Tips To Choose The Right Product
Check if the shampoo contains active ingredients that prevent hair fall. These include saw palmetto, pumpkin seed oil, ketoconazole, etc.
The shampoo should contain biotin that strengthens hair follicles.
It should be free from harsh chemicals.
It should be suitable for all hair types.
Why Trust StyleCraze?
Oyendrila Kanjilal, a certified skin care coach, is an expert at reviewing both skincare and haircare products. She applied her in-depth understanding of PCOS while looking for the best shampoos to prevent hair fall due to hormonal imbalance. To ensure that the products deliver what they promise, she poured through user reviews, took a close look at the shampoo composition, and then came up with this curated list. The products listed here can help minimize hair loss, provide the essential nutrients your hair needs, strengthen your tresses and promote hair growth.
Frequently Asked Questions
Can a shampoo alone help with hair loss due to PCOS?
A shampoo may help, though only externally. Along with using the right shampoo, you also must have a balanced diet and exercise regularly.
Can hair loss from PCOS be reversed?
Yes. Maintaining a healthy haircare routine and leading a healthy lifestyle regulates your hormonal levels and may reverse the associated hair loss.
Recommended Articles