12 Best Blow Dryers For Natural Black Hair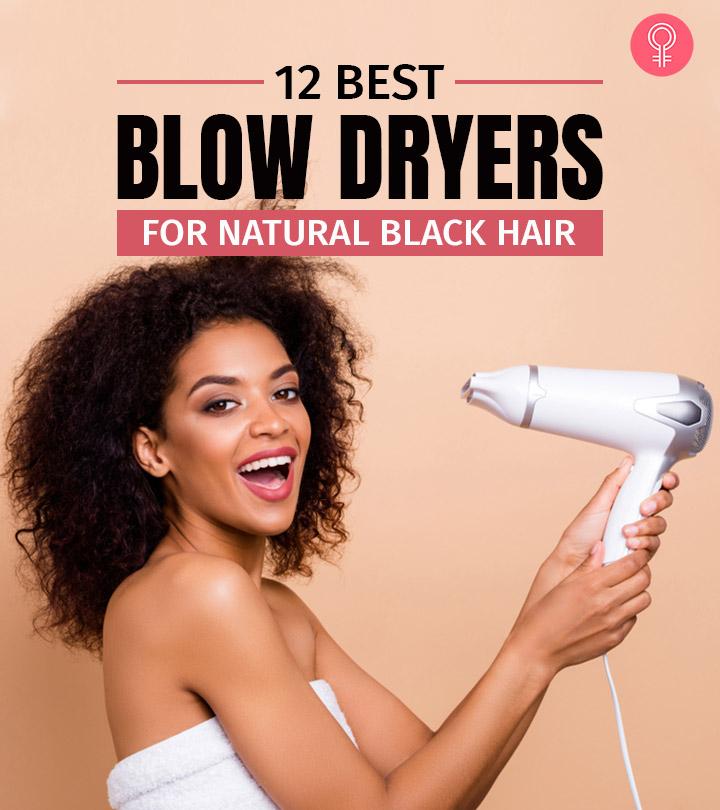 Naturally black hair, especially when it is kinky or in tight curls, can be a little challenging to style and maintain. Excessive heat may damage kinky hair more easily so it is important to pick only the best blow dryer for natural black hair if you want to maintain it well. Most often, that means hair dryers that have features that can protect the hair structure from heat damage. We are such fans of rich and beautiful natural black hair, that we have taken it upon ourselves to curate the top 12 blow dryers best suited for it.
12 Best Blow Dryers For Black Hair
The infrared hair dryer is part of Revlon's Pro collection. It uses infrared heat that penetrates the cortex and heats it inside out, resulting in maximum shine, softness, and control. The tourmaline ionic technology releases negative ions that help reduce frizz and static electricity and enhance shine. The triple ceramic coating distributes heat evenly and helps reduce damage to hair. The blow dryer comes with two heat settings and two speed settings and has a cold shot button to lock in the hairstyle. It also comes with three hair sectioning clips for hairstyling or focused hair drying. It has a concentrator attachment and a volumizing finger diffuser attachment to offer maximum precision  for hairstyling. Quick-dry your hair with this hair dryer. You can also check this video out for a brief review of the product.
Pros
Volumizes hair
Defines curls
Adds shine
Dries curly hair within half an hour
Smoother hair
Good airflow
Cons
Concentrator might melt when overheated.
The Remington Damage Protection Hair Dryer uses Advanced Coating Technology that offers three times more protection during styling. It uses the exclusive Micro-Conditioner Technology to keep hair healthy. It combines ionic and tourmaline ceramic technologies to minimize hair damage and frizz. This technology also spreads heat evenly. It comes with three heat settings and two speed settings to customize heat and airflow. It also has a cool shot button to help set hairstyles. It comes with a concentrator and a diffuser to style hair and build volume. It has a removable filter to help clean the dryer. It uses a 1875W DC motor for faster hair drying. For a thorough review of the product, have a look at this YouTuber's video.
Pros
Offers 3X damage protection to hair
Makes hair shiny and healthier
Equipped with Micro-Conditioner Technology
Removable air filter
Cons
May overheat
May short circuit
The Conair Full Size Pro Hair Dryer uses ionic technology to reduce frizz and increase hair shine. The tourmaline ceramic technology spreads heat evenly for faster drying and less hair damage. It has a cool shot button to set hairstyles. It comes with a five feet long power cord for your convenience and a concentrator for focused airflow. The custom settings suit all hairstyles. It comes with three heat settings and two speed settings for your hair type and comfort. The removable filter makes it easy to clean the dryer.
Pros
Dries thick hair fast
Easy controls
Durable
Removable filter
Custom settings for all hair types
Cons
The Infinitipro Hair Dryer by Conair uses a 1875W AC motor. It works like a salon dryer by drying your hair 50% faster. The ionic technology makes your hair smooth and shiny, without frizz or static. It claims to reduce frizz by 70%. It uses ceramic technology to distribute heat evenly and minimize hair damage. The blow dryer comes with three heat settings and two speed settings for customized airflow and heat and also has a cool shot button to help lock in curls, waves, and styles. It comes with a concentrator for smooth hairstyles, a diffuser for textured hairstyles, and a 6-foot long power cord for your convenience. It has a removable filter that prevents lint build-up and extends the motor life. This blow dryer comes with a hanging ring for easy storage. Find out how this hair dryer is different from other hair dryers in this video.
Pros
Dries hair fast
Boosts volume
Removable filter
Gentle and even heat
Cons
The motor may have issues.
May overheat
The Revlon Volumizing Turbo Hair Dryer is made with steel and plastic. It has a turbo airflow button that increases the airflow and promotes faster drying. The three-layer ceramic coating protects hair from damage. The hair dryer has three heat settings and two speed settings for better heating and styling. It also has a cold shot button to keep hairstyles in place. The finger diffuser attachment helps define curls and wavy hair. It comes with a diffuser that helps spread air evenly. This softens the airflow and helps define curls and add volume.
Pros
50% faster drying
Delivers volume and shine
Defines curls and waves
Lightweight
Cons
May melt when overheated.
May short circuit and catch fire.
Quality issues
No products found.
The Andis Tourmaline Hair Dryer uses even heat ceramic technology that preserves the natural oils of the scalp. It also seals moisture in the hair shaft, keeping your hair hydrated. It uses ionic technology that dries hair by breaking up water molecules. The three heat settings and the cool shot button not only help dry your hair but also lock in your hairstyle. This hair dryer uses a 1875W motor, which delivers high-velocity airflow. The ceramic technology keeps hair healthy and helps disperse heat evenly. The blow dryer is made of polymer and has dual voltage for travel and a turbo boost setting for high speed. It comes with a soft-bristle attachment, wide tooth comb, and a fine tooth comb. The attached hook makes it easy to store when not in use.
Pros
Even-heat ceramic technology
Volumizes hair
Defines curls
2 comb attachments
Cons
The SupSilk Professional Compact Hair Dryer is equipped with 3-heat settings and a 1-cool shot button. It features three accessories – a volumizer brush, a comb concentrator, and a styling nozzle. The comb concentrator makes the airflow reach the root of the hair, dries each hair strand, and is especially helpful for thick and coiled hair. The volumizer brush soothes the scalp and creates voluminous and bouncy hair. Finally, the styling nozzle helps you style your hair as needed, especially for fine hair. In addition, the powerful AC turbo motor provides a strong wind and dries your hair fast.
Pros
Compact
Portable
Fast drying
Lightweight
Easy to clean
Hanging loop
Cons
None
The Nition Ceramic Hair Dryer has a ceramic coated air outlet grill. It is infused with nano silver, argan oil, and tourmaline technology. The nano silver helps repair damaged hair. Argan oil helps moisturize hair and makes it soft and shiny. It also prevents hair from splitting, smooths out frizz, repairs damaged hair, and protects it from UV rays. Tourmaline technology produces negative ions that reduce static electricity. It leaves hair smooth, healthy, and shiny. This hair dryer is lightweight and compact and comes with three attachments – a diffuser, a comb, and a concentrator. The diffuser is 5.3 inches, providing more space for airflow. It is 20% faster than other diffusers. The three heat settings and two wind speed settings make it easy to control the temperature and airflow. It runs on a 1875W motor, which produces strong and consistent airflow. It has a 7.5 feet long cord and a double protection circuit design and uses a standard US ALCI safety plug that provides auto-leak protection.
Pros
Improved airflow and drying efficiency
Repairs damaged hair
Safe operation
Removable air inlet grill for easy cleaning
Defines curls and waves
Cons
The Jinri Professional Hair Dryer uses negative ions to reduce frizz and static hair. It seals the cuticle to make your hair smooth and shiny. It runs on a 1875W DC motor that dries hair fast with low noise. It has two speed and three heat settings and a cool shot button. It is made with high-quality matte material with a sleek and comfortable design that is easy to hold and operate. It comes with a diffuser and a concentrator that help in styling hair. The detachable rear filter makes cleaning the dryer easy. It has a user-friendly curved handle for easy use and comes with a 8.7 feet cable. The top heating coil produces an even and consistent flow of heat. The motor has a thermal safety protection system, where it automatically shuts off if it gets overheated. Check out this YouTuber's review of the product if you require more details.
Pros
Fast drying
8.7 feet long cord
Suitable for all hair types
Detachable rear filter for easy cleaning
Cons
Loud
The attachments pop off easily.
Quality issues
The Betra Ionic Salon Hair Dryer uses advanced ionic technology that protects the hair and scalp from heat damage. It generates a hundred times more negative ions than most hair dryers. It also prevents static and reduces frizz. The negative charge helps keep natural moisture locked in your hair and makes it smooth and shiny. It has three temperature settings (high, medium, and low), two speed settings (high and low), and a cool shot button. It runs on a 1875W DC motor that creates strong airflow to help dry thick hair in under five minutes without any heat damage. It comes with a concentrator that controls airflow and a 360-degree diffuser that helps spread the air through your curls. The comb helps focus the air to prevent detangling and help in straightening. It comes with a detachable rear filter for easy cleaning and a non-slip handle for flexible operation.
Pros
Generates 100x more negative ions than other ionic dryers
Reduces static
Makes hair soft and shiny
Dries curly hair within half an hour
Mulfitfunctional settings
Detachable rear filter for easy cleaning
Cons
May overheat
May short circuit
Turbo Power Twin Turbo 3200 is equipped with a durable motor that provides up to 2000 hours of operation. It comes with 2 speed and 4 temperature settings to suit various hair types. The nickel laminated coating protects your hair from heating damage. The device is equipped with 2 concentrator nozzles to offer you a thorough blow drying experience. Additionally, it has a 9 feet strong cable for convenient usage and is available in five colors.
Pros
 Lightweight
 Travel-friendly
 Drying power
 Safety thermostat
 Removable filter
 Hanging hook
Cons
None
The Revlon One-Step Hair Dryer doubles as a styler. It gives you smooth, dry hair and reduces frizz. This dryer has bristles that help dry and style your black hair and keep it hair tangle-free. It uses 1100W of power to dry your hair quickly. The ionic technology saturates the airflow, which conditions and smoothens curly hair. It also makes hair shinier and reduces static. It has two heat/speed settings and a cooling option that allow you to style your hair. This unit comes with an attached swivel cord that shouldn't be wrapped around the dryer. It has a counterclockwise temperature dial.
Pros
Detangles hair easily
Large paddle design dries thick curly hair
Lightweight, ergonomic design
Smoothens hair
Adds shine
Easy to use controls
Cons
Quality issues
May overheat
Does not straighten curly hair.
Now that you know the top blow dryers for natural hair, here are some tips to consider when buying one.
What To Look For While Buying A Blow Dryer For Natural Hair: Buying Guide
Check for the following features:
Ionic Technology: This technology uses negatively charged ions to break water molecules on the hair's surface. The smaller molecules are easily absorbed by the hair and hydrate it.
Tourmaline Ceramic Technology: If you want soft, smooth hair, buy a blow dryer with tourmaline ceramic technology. Ceramic technology distributes heat evenly and prevents hair damage. Tourmaline technology reduces frizz and static electricity.
Attachments: A diffuser spreads heat evenly and helps define curls, while a concentrator helps straighten hair. Most blow dryers come with a diffuser and a concentrator. Some also include additional attachments like combs.
Heat Settings: Heat settings allow you to decide the level of heat that is emitted from the dryer. Most hair dryers these days have more than two or three heat settings, which makes it more convenient for you to dry your hair.
Speed Settings: Speed settings help control the airflow of the dryer.
Cool Shot Button: The cool shot button helps lock in hairstyles once you fashion them.
Material: Make sure your hair dryer is made from durable materials and is ceramic coated to prevent breaking.
Wattage: It is important to know the wattage of the dryer and the plug point. If the wattage is too much, it may short circuit and overheat. The ideal wattage of blow dryers is between 1800 W – 3600 W. A blow dryer with a higher wattage can dry your hair faster. This will not only cut down the drying time but also minimize hair damage.
Here are some tips to use your blow dryer effectively.
How To Dry Natural African Hair
Make sure your hair is damp and not 100% wet. Keep it 70% wet when using a blow dryer.
Use a diffuser to spread the heat evenly.
Use heat protection serums before drying your hair.
Do not stretch your hair when drying it as it can lead to breaking and damage.
Scrunch your hair gently to define curls when drying hair.
These are our top 12 picks for blow dryers for natural curly hair. Your curly hair deserves all the care it can get, especially when it comes to heating tools. Keep the points discussed in the buying guide in mind and pick a blow dryer from the above list.
Why Trust Stylecraze
The author, Shiboli Chakraborti, is a certified skin care coach with a keen interest in hair care. She has done thorough research on blow dryers for natural black hair and compiled the list, making readers' choice easy. These blow dryers are a must-have to maintain kinky or tightly curled hair. These are easy to use, and the damage caused is very minimal.
Recommended Articles