10 Best Hair Dryers For Thick Hair
Improve your the condition of your tresses and keep your hair care woes at bay.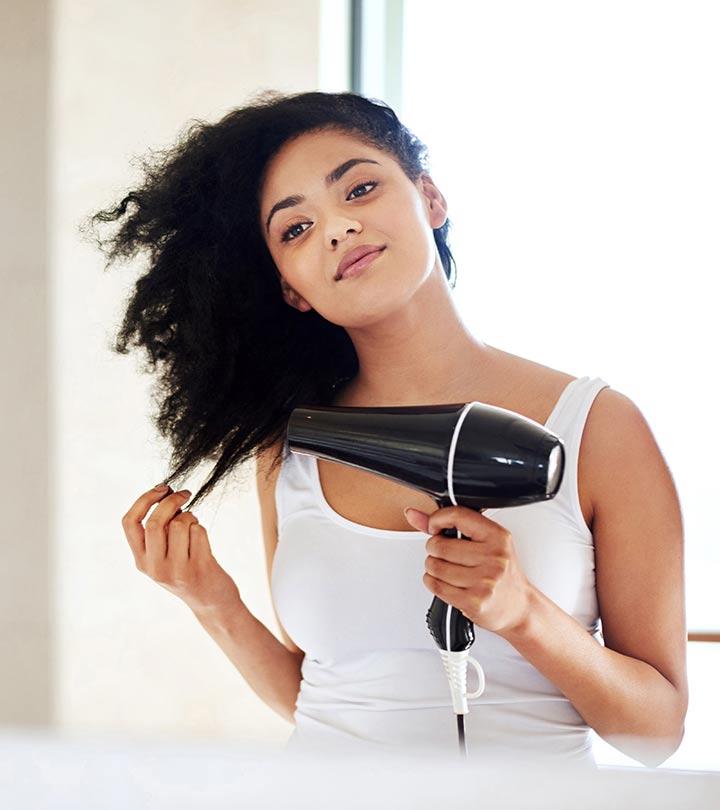 Hairdryers are time savers as they cut down on your drying time by half while giving your desired look. However, the wrong hair dryer can leave your hair thin, brittle, and waning, especially if you have thick hair. But this doesn't mean you should ban them from your life, instead just invest in the best hair dryer for thick hair, and you're all set! The best ones are gentle on your hair, offer equal heating, and ensure hair stays smooth and shiny. They also have additional features like a high-quality built, ergonomic design, and fast-drying technology that make your experience all the more pleasurable.
If you don't know where to start in your journey of finding the best hair dryer for thick hair, might we suggest right here? Please scroll through our list of the top ones in the market and remove all your hair drying woes.
Read on to know more.
How To Dry Hair Correctly
Every woman has a different hair care regime. Some women swear by blow-drying while others prefer air-drying their hair. Yet, it is important to understand and follow basic guidelines to help you get the best out of your dryer while also taking care of your hair. Follow these steps to keep your hair healthy:
1. Right after you have washed and conditioned your hair, take off the towel and dab some serum on damp hair. (0:58)
2. Using your hands, rub the serum along the length of your hair. (1:13)
3. Now set your blow dryer to medium heat as this temperature is optimal for thick hair. (1:25)
4. Blow dry your hair all over, concentrating on the roots. Use your fingers to gently detangle your hair while doing so. (1:29)
5. Use a rat tail comb to divide your hair into even sections. (1:56).
6. Once you do this, tie the rest of your hair in a bun. You don't need to worry about being neat while doing this. (2:07)
7. Using your concentrator and hair brush for this step. Gently comb through the hair section while using the dryer on this section. (2:29)
8. Now all you have to do is repeat step 7 for the rest of your hair. (4:00)
Voila, you are done! We are sure your hair will look amazing! (5:17)
Let us now take a look at the 10 best hair dryers for thick hair.
10 Best Dryers for Thick Hair
The BaBylissPRO Nano Titanium Hair Dryer is widely used among stylists worldwide. Made with high-quality material and state-of-the-art technology, this hair dryer has revolutionized hairstyling with its 6 heating levels and speed settings. This 2000 W power machine maximizes performance while remaining gentle on your hair. Its sleek design and attractive color are sure to win your heart over. The dryer comes with a removable outer stand and filter that makes it easy to pack in your suitcase. To find out more about this product, check this video review out.
Pros
6 heat and speed settings
Runs on Nano Titanium Technology
Cons
The filter and stand may come off easily if not fitted properly.
Price at the time of publication: $89.99
Professionals all around the world swear by the Jinri Paris Professional 1875 W Salon Hair Dryer and for a good reason! It features fast-drying technology and ensures zero noise while in use. The dryer comes with a diffuser, concentrator, and comb for all your hair needs. For all the girls that struggle with frizzy hair, this dryer's Negative Ion Technology helps reduce frizz to give you straight hair after every use. With 2 speed controls and 3-heat settings, it is incredibly easy to use. Its ergonomic design, coupled with a superior quality matt body, ensures convenience while using it. If you are an absolute beginner, this video review might be useful.
Pros
Comes with a diffuser, comb and concentrator
Creates no noise when in use
Cons
Slightly on the expensive side
Price at the time of publication: $59.78
From Revlon, comes the 1875 W Damage Protection Infrared Hair Dryer. Its Tourmaline Ionic Technology makes sure that your hair doesn't defy the rules of gravity and stays sleek and straight all day long. Its intelligent heat system gently dries your hair without damaging it to keep your hair shiny and silky. It has 2 controls and a Cool Shot Button to ensure that you are the one in control. As an add on, along with the concentrator and diffuser, it comes with 3 hair clips that will aid in dividing your hair while drying. Check out this review for a detailed understanding about the product.
Pros
This kit includes 3 hair clips for hair sectioning
Cons
Comes with only 2 heat controls
Price at the time of publication: $24.18
The Dyson Supersonic Hair Dryer is a lightweight yet fast-drying hair dryer that features 1600W to release high-velocity air. It measures air temperature every 20 seconds and keeps it under control to protect and maintain your hair's natural shine and prevent damage caused by heat. With 4 heat settings and 3 speed settings, this dryer is compatible with all hair types and textures. Moreover, the heat shield technology keeps all attachment surfaces cool, safe for you to touch.
Pros
Comes with a nozzle, concentrator, and diffuser
Gentle and fast-drying
Cool to touch
Comes with a non-slip mat
Cons
Price at the time of publication: $594.99
The Wazor Professional Ionic Ceramic Tourmaline Blow Dryer is a great investment as it guarantees a 4x longer lifespan than any other dryer on the market. Its negative ionic particles repair and renew your hair, enhancing its natural luster and volume. Tourmaline Technology protects your hair roots from damage from direct heat and gives you salon-like styling at home. And that's not all! It comes with a kit consisting of a comb, concentrator, and diffuser.
Pros
Lasts upto 4x times longer than other hair dryers
Its back filter can be dismantled for cleaning and restored to keep the dryer up and running always as good as new.
Cons
Price at the time of publication: $59.99
The Confu Professional Salon Hair Dryer features a powerful ac motor of 1875 watts that dries your thick hair within 3-6 minutes. It uses negative ionic technology that removes static and reduces frizz to give you healthy, glossy hair. It comes with two concentrators and one diffuser for precise styling. It is suitable for all hair types. The three heat settings, two-speed settings, and one cool shot button add to the versatility and easiness of hairstyling techniques.
Pros
Suitable for all hair types and textures
Low noise features
Cons
Price at the time of publication: $43.99
Designed with Negative Ion Technology, the 1875 W Professional Tourmaline Hair Dryer reduces and tames frizzy hair without harming your roots. It also works in silent mode, so no more yelling over the dryer! The dryer works on 1875 W and has a 2-speed and 3-heat control setting to suit your hair type. Its compact design makes it easy and comfortable to operate. The kit also comprises a diffuser and concentrator to help you style your hair in curls or poker straight. Say goodbye to over-priced visits to the salon and style your hair at home!
Pros
Comes with a diffuser and concentrator
Compact design
Cons
Price at the time of publication: $45.6
Hot Tools is yet another renowned beauty brand that is well-trusted and used by stylists all over the world. Its 1857 W powerful airflow dries your hair quickly without stripping it off of its vital oils and nutrients. This dryer brings you 6 different heating and control levels. Its cool button is powerful and helps to retain your styling for a long time. So now, you can correct your bed hair every morning quickly and efficiently to transform it into any style of your choice!
Pros
6 heating levels and 6 control levels
Comes with a cool shot button
Cons
The motor heats up too quickly, thereby decreasing durability
Price at the time of publication: $43.86
With a superwind force of 1800W, Karrong Ionic Hair Dryer features a constant temperature function to keep your hair healthy and eliminate dryness. Its negative ionic technology reduces frizz and adds shine to the hair. The powerful rotating speed and torque dry hair quickly. The dryer features two speed settings and three heat settings. In addition, it comes with three different nozzles to meet your versatile hair styling needs. This easy-to-use dryer is compact and lightweight too.
Pros
Lightweight
Comes with 3 styling nozzles
Suitable for all hair types
Cons
Heating issues
Price at the time of publication: $42.99
Available in 2 exciting colors- black and silver, the Elchim Milano Ceramic Hair Dryer is compact in design, making it easy to handle and operate. Whether you have the thinnest or frizziest hair, this dryer is sure to work for you. Featuring an advanced Italian motor, this dryer runs for up to 2000 hours! What makes it perfect for a professional setting is that it comes with a 9ft long cord. This product also comes with a life-long warranty.
Pros
Can last up to 2000 working hours
Life-long warranty
Cons
This product is expensive
Price at the time of publication: $160.0
Tips For Buying Hair Dryers For Thick Hair
Watts and Voltage: If you have thick hair, you must make sure to choose a sturdy hair dryer that has a high power or wattage. A wattage of 1800- 2000 is ideal for this purpose. This is important as, if your motor is not strong enough, then you will end up with cold air that will dry your hair.
Technology: Hairstylists across the world recommend the use of Ionic or Tourmaline dryers for thick hair. An Infrared porcelain or ceramic dryer is a better option as it has a lesser chance of overheating and distributes heat evenly to your hair.
Weight: The lighter the dryer, the easier it is to handle and use. This is especially useful if you have stubborn and thick hair that requires multiple blow dries.
Cool Shot Button: A cool shot button is a 'must-have' as it helps to keep the styling intact and adds shine to your hair.
Settings: The more the control options on your dryer, the easier it is to tune it to your requirement and style. A pro tip would be to use the lower heat setting as it reduces chances of damage.
Attachments Compatibility: Nowadays, most hair dryers come with additional parts, namely a concentrator, comb, and nozzles. These add-ons allow you to style your hair in beach waves, curls, or an uber-chic, sleek hairstyle. These accessories are useful for thick hair as they help make your hair more manageable.
We will now discuss a few tips to manage thick hair.
Tips For Thick Hair
The days of fretting over drying your thick hair are gone. With these quick tips, you are sure to find it easier to manage your thick hair and save yourself some time drying it. Let's take a look at them:
Always be gentle while drying your hair as wet hair is prone to breakage. Take some time to air-dry your hair manually before using the dryer.
Use a thick towel that absorbs all the water and dries your hair.
Section your hair to enable faster drying. Try dividing it using a root comb and use clips to secure it in place. This not only eases the process but also helps in styling, so don't be afraid to invest in some large clips.
Make sure to dry the roots first and then the length of your hair. Most people catch a cold when their scalp is wet.
Use an anti-frizz serum as this will help detangle and control your hair, making it straight and manageable.
In the next section, we will take a look at the common mistakes one can make while drying their hair.
Common Mistakes While Drying Thick Hair
Just like the old saying goes, "haste makes waste." Here are a few of the common mistakes you can make while drying your hair in a hurry:
While in a hurry to get to work, do not use your dryer at maximum heat, as it will damage your hair.
Detangling your hair knots with your fingers is always a good idea before you go in with a comb. This reduces hair fall caused by the harsh pull of a comb.
Do not use a fine-toothed comb while brushing as this would increase breakage. It goes without saying that using a fine comb on wet hair will leave you screaming in pain!
Dab on sufficient amounts of serum before sectioning your hair for a quick blow-dry. This offers an extra layer of protection from the heat and also adds shine to your hair.
Why Trust StyleCraze?
The author of this article, Vaishnavi Kothuri, is passionate about keeping up with the latest trends and products in haircare. She appreciates the power of a hairdryer and its place in our daily lives. She also knows that selecting the wrong hair dryer can have disastrous effects on your hair. To ensure that does not happen, she has meticulously gone through product features on brand websites and carefully compiled this list of the top hair dryers for thick hair. These hair dryers offer even heating and are gentle on your hair, leaving you with smooth and shiny hair.
Frequently Asked Questions
What type of hair dryer is the best for thick hair?
If you have thick hair, go for an ionic or tourmaline hair dryer, which can help lock in moisture and style thick hair.
Do different hair dryers make a difference?
Yes, choosing the right hair dryer can make a big difference. For example, dryers with higher wattage work best for thick hair, while thin and finer hair will style better with a lower-wattage dryer.
Does a hair dryer thicken the hair?
Yes, using a hair dryer with the right technique can add volume to your hair and make it look thicker.
How long do hair dryers last?
Most hair dryers can last up to 600-1000 hours of usage.
Can a hair dryer damage your hair?
Yes. Overusing hair dryers will expose your hair to heat more frequently, resulting in frizz, split ends, and breakage.
Can a hair dryer burn your hair?
No, using a hair dryer will not directly burn your hair as long there are no electric or functional mishaps.
Recommended Articles: