9 Best Infrared Hair Dryers (2023) – Reviews And Buying Guide
Benefit from the latest hair care technology to get rid of dry, frizz-free hair fast and easy.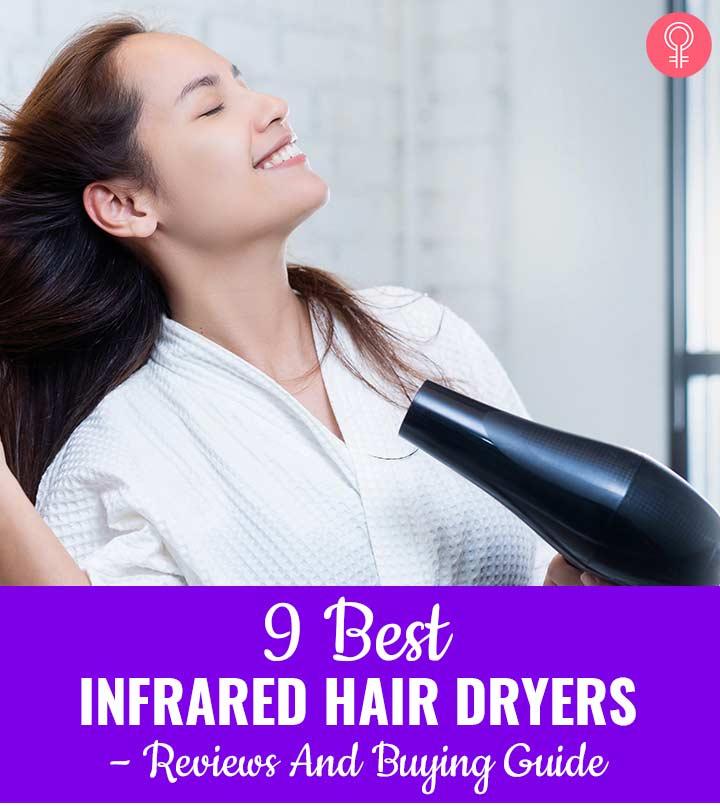 If you are tired of using your standard hair dryer that takes hours to dry your hair, it may be time to swap it with the best infrared hair dryer in the market. Unlike regular ones, these dryers use infrared light rays to dry your hair with a concentrated airflow to ensure a faster and more efficient hair drying process. They also heat the follicle from the inside out, reducing frizz and offering a salon-quality finish. To help you in your journey towards better hair care, we've listed the top infrared hair dryers that will not disappoint. Scroll down to know more!
9 Best Infrared Hair Dryers – Reviews
Revlon 1875W Infrared Hair Dryer creates the most gorgeous blowouts. It is designed with Infrared Heat Technology that taps into your hair's natural moisture, prevents it from over-drying, and delivers the maximum shine. This Revlon hair dryer combines three layers of Ceramic Coating that help reduce heat damage. This revolutionary hair tool is boosted with Tourmaline Ionic Technology that is ideal for getting perfect hair and smooth results. It has two heat and two speed settings along with a cool blast setting. Apart from this, it comes with a Concentrator and a Volumizing Finger Diffuser that provide the maximum precision for all your unique hairstyles.
Pros
Comes with a diffuser and a concentrator
Adds volume
Fairly quiet operation
Imparts a smooth finish with less damage
De-frizzes curly and thick hair
Affordable
Dries hair quickly
Lightweight
Cons
Difficult to change attachments
May not be durable
Price at the time of publication: $24.18
The MHU Professional Salon Grade Infrared Heat Hair Dryer has a far-infrared light that infuses gentle, healthy heat into the core of the cuticle and not the surface of the hair shaft like traditional blow dryers. It provides high shine and a smooth finish to your hair.
This hair dryer never feels too hot because it emits a cooler heat as it dries your hair, which eliminates burns and hot spots to the hair and scalp. It has two speed and three heat settings that are very helpful for controlled airflow and heat and ensure amazing results for all hair types and textures. This product also comes with an airflow concentrator and a diffuser that are ideal for styling your hair. They also help you accelerate drying, add volume, and minimize frizz.
Pros
Removable lint filter
Less noisy
Sturdy build
Comfortable to handle
Long cord and extended reach
Cons
Price at the time of publication: $16.96
JINRI Infrared Sterilization Hair Dryer dries your hair 45% faster compared to other hair dryers. It also has a longer life when compared to other hair dryers. Its tourmaline ceramic and infrared technology brilliantly protects your hair, reduces static and frizz, and results in healthy-looking and smooth hair.
This hair dryer has three heat settings and two speed settings along with a cool shot button for flexible heat and airflow. The cold shot button helps in drying different hair textures and styling in a less damaging manner.
Use the diffuser that comes with this product to dry and style curly and wavy hair and prevent it from getting tangled, frizzy, and unmanageable. Use the concentrator for smooth and shiny styles.
A great feature of this styler is that it has a certificated 9 foot long power cord with a hanging loop.
Pros
Ergonomic handle
Lightweight
Easy to operate and handle
Removable filter for easy cleaning
Low noise levels
Dries hair extremely quickly
Value for money
Cons
Difficult to change attachments
Price at the time of publication: $56.88
JINRI 1875W Negative Ionic Infrared Hair Dryer has a powerful 1875 W AC motor that offers a very powerful airflow while keeping the noise levels low and drying your hair quickly. This dryer has the Negative Ion Technology that helps in decreasing the drying time. The Ionic Technology breaks down the water particles in the hair and helps them evaporate faster, hence accelerating the drying process. The Infrared Heat Technology penetrates the hair at a lower temperature and dries it from the inside out, which is a healthier option for your hair in the long-term. The Cool Shot Button present on this hair dryer directs a burst of cold air to seal your style and reduce frizz, setting the final look with long-lasting hold and shine. It has three heat settings and two speed settings that you can adjust according to your needs. This hair dryer comes with three attachments: a diffuser attachment that helps maintain curly hair and reduce frizz, a hair pik attachment that is perfect for afro and type 3 hair, and a concentration nozzle that is ideal for styling straight, smooth hair. 
Pros
Lightweight
Does not dry out the ends
Comfortable handle
Heavy-duty 9' long cable
Suitable for thick hair
Cons
Awkward placement of setting buttons
Price at the time of publication: $59.98
This professional hair dryer produces millions of negative ions combined with far-infrared heat to help remove static and reduce frizz. Its Ceramic Tourmaline Air Outlet Grill makes your hair soft and smooth. The long-life AC motor produces a powerful airflow, which dries your hair easily and imparts a salon-style finish at home.
This hair dryer comes with a diffuser, a concentrator, and a straightening comb attachment. It has two speed settings (high/low) and three heat settings (hot/cool/warm) that can meet the demands of all hair types: curly or straight, thin or thick. The cool shot button locks the hairstyle in place. 
Pros
Non-slip handle
Removable lint filter
Low noise
Sturdy construction
Value of money
Cons
Not suitable for thick hair
Price at the time of publication: $49.99
Amaxy Real Infrared Therapy Hair Dryer is an energy-efficient, lightweight, and therapeutic hairdryer. It uses real far-infrared technology to dry your hair faster, make it smoother and shinier, and reduce frizz by 95%. The evolutionary Honeycomb Negative Ion Technology uses the patented honeycomb-shaped heating element and twin deep-penetrating infrared light technology to distribute heat evenly into your hair and scalp with a therapeutic effect, resulting in the repair of damaged hair and the prevention of hair loss in its early stages.
This hair dryer comes with three different heat settings and speed settings.
It also includes one wide and one narrow concentration nozzle to provide a wide range of styling options.
This hair dryer has a removable air filter with a double safety net that prevents your hair from getting drawn into the duct, keeping the dryer working at high efficiency. It also makes it easy to clean and durable. 
Pros
10' long professional cord
Low noise
Lightweight
Durable construction
Does not cause too much heat damage
Cons
Not suitable for thick hair
Price at the time of publication: $80.0
Prizm Infrared Hair Dryer improves your hair to a revolutionary new level with its superior ergonomic design and unparalleled technology. It helps you unlock your creativity while styling your hair. From smooth, straight hair to voluminous blowouts, this professional blow dryer takes styling to the next level without compromising the health of your hair. The ceramic-coated air outlet grill of this hair styler is infused with nano silver, argan oil, and tourmaline that repair damaged hair, leaving it feeling smooth and shiny.
This hair dryer comes with a diffuser attachment and a concentrator attachment that can be used interchangeably to get desired results. It also has two speed options, three heat options, and a cool shot button that help select the ideal setting an individual requires for their unique hair texture. 
Pros
Removable lint filter
Comes in a travel zip case
Silent operation
Lightweight
Available in multiple colors
Cons
Difficult to change attachments
Price at the time of publication: $35.99
The Wazor Infrared Lightweight Hair Dryer has the Negative Ionic & Infrared Function that protects your hair from damage and reduces frizz. It has a powerful DC motor that helps dry your hair much faster than other hair dryers. The tourmaline ionic-infused heater and integrated ion generator deposit high-volume ions onto the hair to eliminate static and add shine. This hair dryer has a cool shot button for people who prefer to cool blast their hair to reduce heat damage. This dryer's handle has a soft finish that is comfortable to grip. It also has a hanging ring on its cord for easy storage. 
Pros
Affordable
Removable lint filter
Does not her overheated
Lightweight
Quiet operation
Cons
Price at the time of publication: $39.99
Berta HEOMU 1875W Professional Blow Dryer emits ten times more ions for smooth, sleek styles. It helps remove static and reduce frizz. The combined effect of ceramic and tourmaline makes your hair soft and smooth. This hair dryer has three heat and two speed settings that enable you to find the ideal airflow for your hairstyle. You can also lock in your gorgeous style with the cool shot button. The HEOMU hair dryer is equipped with a safety plug and three different attachments – a concentrator, a diffuser, and a comb attachment. 
Pros
Lightweight
Reasonably priced
Dries hair very quickly
Removable lint filter
Cons
Price at the time of publication: $19.99
Now that we have looked at some of the best infrared hair dryers available in the market, let us check out at some of the things to consider while selecting the best hair dryer for you.
Buying Guide For Best Infrared Hair Dryers
Hair dryers with a higher wattage are more powerful. The​y are also less likely to burn out than the dryers with a lower wattage. It is important to understand that the texture of your hair plays an important part in this aspect. If you have thick, rough, and long hair, you will need a hair dryer that has a powerful motor. 
It is always best to select a hair dryer that does not strain your arms. If you take your time to dry and style your hair each morning, then you must be aware of the heavy weight of a hair dryer that can tire out your arm even before you start your day! Go for a professional-grade hair dryer that is balanced, with its weight evenly distributed, and is comfortable to hold. You must always make your choice by carefully analyzing what best suits you and your precious arms!
Always look for a hair dryer that has a comfortable and easy-to-hold handle. This can enhance your hair drying experience as your hand won't cramp up while you style your mane.
Your hair type and texture are important to consider before purchasing a hair dryer. If you have thick, curly hair, then a hair dryer that comes with a diffuser attachment will help define your curls and reduce frizz. It should also have a powerful motor that does not heat up easily.
If you have straight or fine hair that is prone to static and frizz, get a dryer with a concentrator attachment as it imparts a smooth and shiny texture to straight hair, reduces frizz, and adds volume.
If you want more control over your hair dryer and the way it works on your hair, you must choose one that comes with various heat and speed settings so that you can choose the setting that best suits your hair texture and length. These settings are really useful if you want to protect your hair from heat damage on some days, and dry your hair in a rush on others. Many hair dryers also have a cool shot button that throws off cold air to set your style and protect it from heat damage. 
Why Trust StyleCraze?
Oyendrila Kanjilal, the author of this article, is a certified skin care coach who also has a keen interest in hair care and styling. Her love for hairstyling makes her one of the bests to review hair care products. She has conducted in-depth research to find the best infrared hair dryers for her readers. They ensure a faster and hassle-free hair drying process.
Frequently Asked Questions
What is the difference between infrared and ionic hair dryers?
Infrared red hair dryers are much more effective in sealing in your hair's moisture and preventing frizz. However, ionic hair dryers work faster than infrared hair dryers.
Which is better – infrared or ceramic hair dryer?
Infrared hair dryers offer more shine to your tresses than ceramic dryers. They also offer a less frizzy finish.
Do expensive hair dryers make a difference?
Yes, premium hair dryers keep your hair shiny and damage-free. They also have better heat control settings that keep your hair protected.
Is an ionic hair dryer better?
Ionic hair dryers speed up the drying time; hence, they are better at quick-drying your tresses. However, overusing an ionic dryer may damage your hair as it emits negatively-charged ions to dry tresses.
How do you know if your hair dryer is dying?
If your hair dryer smells or makes a screeching sound, it means it is no longer working well.
Recommended Articles