13 Best Hair Dryers For Fast Drying
With these exciting tools, achieve a salon-level experience from your home.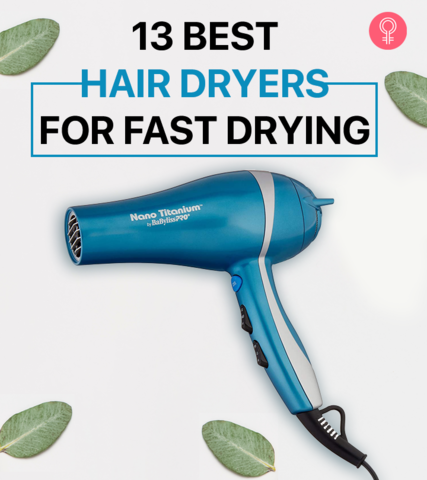 We always have a love-hate relationship with our hair driers. We love it because it's the friend in need when we need to head out just after washing our hair, and we hate it because it takes so long! But thanks to the best fastest hairdryer with modern iconic nanotechnology, it retains your hair's natural moisture while making it shiny and smooth. It also dries your hair much safer than ordinary blow driers. If you are looking for the best one, we have just what you need. Here are the 13 best hair dryers for fast drying to choose from.
13 Best Hair Dryers For Fast Drying – 2023 Update
The Trezora Ionic Systems 9300 is built with an advanced ion generator that transfers ten times more ions to eliminate static. This high-speed hair dryer for efficient drying features the enhanced 2200W DC motor, which rotates at 23000 RPM and offers a powerful airflow that dries your hair faster. The styling tool has 3 heat and 2 speed settings and a cool shot that sets your hairstyle for a longer period. It also includes two concentrator nozzles for precision styling and features overheat protection to avoid accidents. The handle is non-slip and comfortable to hold. Further, the hair dryer has a detachable rear filter as well so that you can clean it easily. Check out this video to learn more.
Specifications
Weight: 18 pounds
Color: Black and Rose Gold
Wattage: 2200 watts
Pros
Ergonomic design
Overheat protection
Detangles hair
Enhanced DC Motor
Non-slip handle
Cons
Price at the time of publication: $59.97
Pros
Lightweight
Compact
Foldable
Easy to store
Dual voltage for worldwide use
Cons
Price at the time of publication: $14.99
Pros
Removable filter
Lightweight
Versatile
Convenient design
Cons
None

Price at the time of publication: $89.99
Pros
Lightweight
Even heat distribution
Ceramic- and tourmaline-infused
Cons
Price at the time of publication: $19.5
The professionally designed Confu hair dryer with negative ions helps with frizz-free drying and controls moisture content. It eliminates frizz and gives your hair a silky, smooth, and full-bodied texture through moisture content control. It has 3 heat settings and a detachable rear filter for easy cleaning. The hair dryer restricts your strands from getting stuck in between and offers added safety. It comes with a finger diffuser and a nozzle. The diffuser controls the airflow and adds volume to your hair while the nozzles help you choose between large or small styling areas. The hair dryer provides direct flow for faster styling. The magnetic nozzle of the hair dryer works at 360° rotation while the 6.56-foot-long cord makes your styling experience convenient.
Specifications
Weight: 68 pounds
Color: Black
Wattage: 1600 watts
Pros
Magnetic nozzle
Strong airflow
Lightweight
Long cord
Cons
Price at the time of publication: $39.99
Pros
Lightweight
Ergonomically designed
Compact
Even heat distribution
Cons
Price at the time of publication: $210
Pros
Sleek design
Lightweight
Combats frizz
Even heat distribution
Cons
Price at the time of publication: $139.99
Pros
Reduces frizz
Dual voltage
Lightweight
Convenient design
Digital display
Cons
None
Price at the time of publication: $134.99
The Neuro Tourmaline Hair Dryer by Paul Mitchell is an innovative Tourmaline-infused hair dryer for quick and smooth drying and is built for high performance. Its 1875-watt motor dries your hair faster while reducing frizz and adding shine with tourmaline ions. It has an LED screen that displays 4 heat settings and a cool shot button for a personalized experience. A black protective rubber coating around the surface makes the dryer durable and prevents damage. Moreover, it has a concentrator nozzle and a collapsible silicone diffuser for smoother styling. Its smart filter sensor reminds you to clean the filter. The package includes a Neuro Prime HeatCTRL Blowout Primer for a sleek blowout.
Specifications
Weight: 4 pounds
Color: Black
Wattage: 1875 watts
Pros
Smart filter sensor
Sleek body
Low noise
Cons
The award-winning T3 – Cura Luxe hair dryer is designed with digital ion air technology that offers impressive results with its digitally controlled heat. It has a built-in ion generator to dry hair fast. The ions also smoothen the hair cuticle for softer and frizz-free hair. They also leave hair with a luxurious shine. The hair dryer's innovative add-on features include an auto-pause sensor that pauses the styling once the handle is released. The volume booster switch, on the other hand, boosts texture and makes your hair look voluminous. Its wider nozzle lets you dry more hair effortlessly in less time.
Specifications
Weight: 51 pounds
Color: Black
Wattage: 1875 watts
Pros
Durable
Lightweight
Low noise
2-year warranty
Cons
Price at the time of publication: $295
The Skanwen Professional Hair Dryer has a leafless hollow design with a strong airflow. It is equipped with a unique brushless motor that rotates at 110,000 RPM. It also has a built-in thermometer that records the temperature around 20 times per second to ensure it never gets too hot or damages your hair. This ergonomic hair dryer provides uniform heat for 50 percent faster drying, leaving you with shiny, fizz-free hair strands.
Its high insulated sound technique creates no noise and the 360-degree rotatable magnetic nozzles are specially designed for targeted fast drying. The device is equipped with a detachable filter for easy cleaning and an ALCI power plug. Moreover, to add to the safety factor, this dryer shuts off automatically in case of a short circuit. In addition, it has 3 different heat settings for hot and cold air. The dryer moisturizes your hair deeply, reduces split ends, and makes your strands smoother, shiny, and lustrous.
Specifications
Weight: 25 pounds
Color: Black
Wattage: 1500 watts
Pros
Unique design
Detachable filter
Overheat protection
Auto shut-off feature
Magnetic nozzle
Cons
None
Price at the time of publication: $229.99
The Tineco Moda One hair dryer features the air concentration technology that offers healthy, faster, and smarter drying. It is equipped with advanced iLoop Smart Sensor Technology with a humidity sensor that measures the moisture level and a proximity sensor that analyses the distance and adjusts heat, airflow, and ion concentration accordingly. The device's anion concentration technology releases millions of ions to protect your hair and give them extra shine. The hair dryer has a styling concentrator, diffuser, and a smoothing nozzle to style hair perfectly. It is one of the best hair dryers to dry hair fast.
Specifications
Weight: 47 pounds
Color: Sangaria
Wattage: 1400 watts
Pros
Lightweight
Ergonomic design
Noise-free operation
Long power cord
Cons
The Lpinye hair dryer is smartly designed and has an 1800-watt motor for different styling. It is equipped with an ultra-light gallop motor that makes the hair dryer lightweight and handy. Strong airflow and moisturizing ions seal moisture in your hair, giving you a smooth and shiny finish. The low magnetic wave construction technology is energy-saving and aids in electromagnetic field radiation reduction by 50%, making it safe for pregnant women and children. Additional attachments include three concentrator nozzles for different styling. This energy-efficient hair dryer is further equipped with an ALCI safety plug that automatically shuts off in case of a short circuit.
Specifications
Weight: 15 pounds
Color:  Gray
Wattage: 1800 watts
Pros
Lightweight
Overheat protection
Radiation-free
Low noise
Auto shut-off feature
Cons
Price at the time of publication: $42.99
The above-mentioned hair dryers will help you style your strands without wasting too much time. Here are a few points to keep in mind while buying a hair dryer to dry your hair faster.
How To Choose The Best Hair Dryer For Fast Drying
Understand Your Hair Type
There are various technologies available when you look for a dryer. However, every hair type is different. Hence, a dryer should be chosen accordingly to get the best results.
Always choose a hair dryer with 1500 watts or more. If you have extremely thick hair, choose a hair dryer with 1800-2000 watts. But if you have thin hair, choose a hair dryer with 1500-1700 watts.
You must always consider using cold air in hair dryers as hot air may damage your hair to some extent, no matter how good the product is. You can choose the Professional Ionic Hair Dryer for safe and damage-free drying. But if you still want to go with hot hair, pick a hair dryer with the lowest temperature or with multiple heat and speed settings.
You should always choose a hair dryer with a longer cord to ensure ease of use. The ideal cord length of a hair dryer is between 2 to 3 meters. The cords with 360-degree maneuverability are wonderful to use. They can be used in different angles and increase the styling options. Swivel cords will offer more rotation and have a greater lifespan.
One must also check the warranty period offered by the brand. Many brands offer warranty ranging from one to four years. This will ensure hassle-free replacement in case of damage.
Why Trust Stylecraze?
The author, Shiboli Chakraborti, is a certified skin care coach who enjoys trying out new products, tools, and formulations. She knows which tools can help make your hair and skin look their best. That's why she has done her share of research and reviewed several customer feedback before curating this list of the best hair dryers for you. These not only help dry your hair faster but also come with different temperature and blow options to help you style your tresses effortlessly.
Frequently Asked Questions
What makes a hair dryer faster?
The speed of the motor makes a hair dryer faster, The motor speeds as the power increases. The fan spins quickly, pulling in more air and increasing airflow. Therefore you muct look for hair dryers with airflow optimization for maximum drying speed
Is the Dyson hair dryer quicker?
Yes, a Dyson hair dryer with the highest speed and heat settings dry hair swiftly while inflicting minimal harm and leaving it smooth and lustrous.
What is the speed setting in a hairdryer?
A premium hairdryer has 3 temperature settings and 2 speed settings, providing 6 variable heat and speed adjustments, as well as a cold shot.
Do some hair dryers dry faster?
Yes, ionic hair dryers dry hair faster because they use negative ion technology, which dries your hair quickly and prevents frizz. However, avoid using these on fine hair because they add no volume to your tresses.
What are the highest watts for a hair dryer?
Professional hairdryers come with a wattage of 2000 to 3600 watts.
How quickly does Dyson dryer hair?
Depending on your hair type, a Dyson hair dryer can dry your hair in 5-10 minutes.
Do some hair dryers dry hair faster?
Yes, hair dryers that feature ion technology dry your hair faster and safer.
What is the highest wattage in a hair dryer?
The wattage of hair dryers can go as high as 3500. However, it is recommended to not go beyond 2000w to keep your tresses damage-free.
Is a higher wattage better for quick-drying hair dryers?
Yes, you can use a dryer with a higher wattage for quickly drying your hair. However, too high a wattage can fry your hair!
Does hot air dry hair faster?
Yes, hot air can dry your hair faster.
Does healthy hair dry more quicker?
Fast drying of hair completely depends on the hair's porosity and texture. Low-porosity hair dries quickly as they repel water and cannot hold moisture for long.