13 Best Poly Gel Nail Kits Of 2023 – Reviews And Buying Guide
Do salon-like manicures that last long right at home without spending big bucks.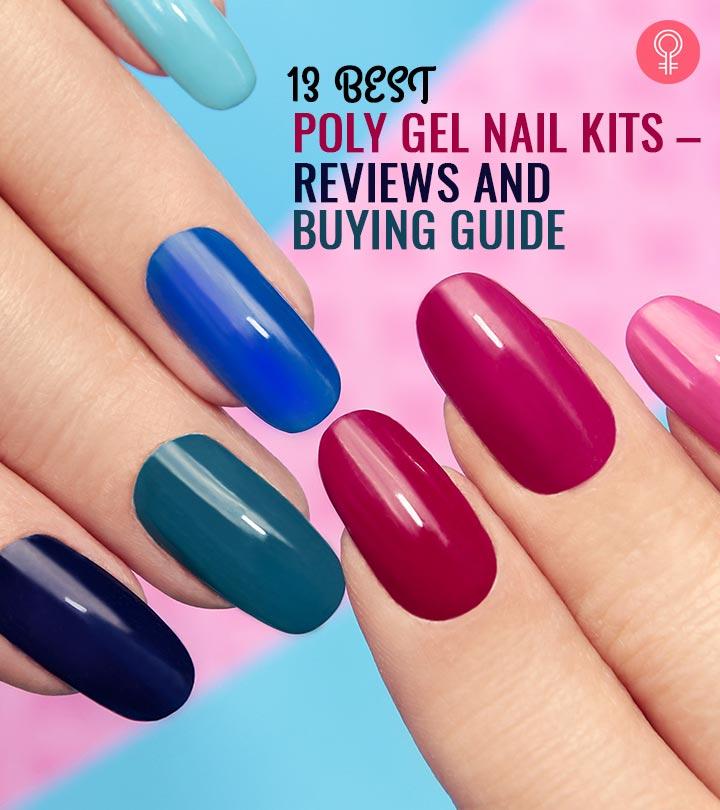 If you love poly gel nail polish and think it requires frequent trips to the salon, you will be in for a surprise. With the best poly gel nail kit in your beauty arsenal, you can achieve the same results at home. Polygel nails are quite popular because they are more natural, lighter, and durable than acrylic nail paint!
Whether you are a newbie or an expert, the wide range of kits out there offers you some shades to have fun with. Here is a list of the top poly gel nail kits available on the market. Scroll down to take a look!
13 Best Poly Gel Nail Kits Available Right Now – 2023
Pros
Includes 6 colors
Includes embellishments for fancy manicures
Comes with a detailed instruction manual
Long-lasting
Easy to apply
Cons
Does not include an LED UV lamp
Price at the time of publication: $29.99
Pros
Long-lasting
Non-toxic
Acid-free primer
Comes with a slip solution
Dries quickly
Easy to use
Cons
None

Price at the time of publication: $57.99
Pros
2 years manufacturer guarantee
No toluene
No DBP
No formaldehyde
No formaldehyde resin
No camphor
Cons
Price at the time of publication: $27.97
This all-pink poly get extension kit by Makartt comes with everything one can ask for, including six colors (one clear gel and five shade of pink), an LED UV lamp, rhinestones, glitter, slip solution, top coat, base coat, dual forms, a nail file, and a dual-ended nail brush and spatula. It is very easy to use as well as beginner-friendly. Manicures done with this poly gel kit can last up to a month – or even longer – with proper application and nail prep.
Pros
Includes nail art rhinestones and glitter
6W LED UV nail lamp included
Dries quickly
Easy to use
Long-lasting
Cruelty-free
Cons
Price at the time of publication: $49.99
Pros
Easy to use
Long-lasting
Comes with an LED lamp
Affordable
10 translucent colors
Easy to store
Cons
Price at the time of publication: $39.99
Pros
Includes 7 bright rainbow colors
Affordable
Non-toxic
Long-lasting
Chip-resistant
Minimal odor
24 pieces of dedicated nail forms
Comes in a red gift box
Cons
Does not include an LED lamp
Price at the time of publication: $26.99
Beetles Poly Gel Extension Nail Kit comes with 3 colors: clear, light pink, and white. It compensates for the lack of color range with lots of bling. It includes 6 different colored nail glitters, rhinestones, gems, and gold and silver nail foil. This kit also contains a 48W UV LED nail lamp, a slip solution, tweezers, dual forms, stripping tapes, nail forms, a base coat, a nail strengthener gel, a matte top coat, and a glossy top coat. The gel can build beautiful nail extensions in 3 minutes, which can last up to a month when applied properly.
Pros
LED nail lamp included
Includes both a matte and a glossy top coat
Wide range of nail art glitters, rhinestones, and gems
Easy to shape
Dries quickly
Comes with both dual forms and nail forms
Cons
Price at the time of publication: $32.99
Pros
Long-lasting
Easy to use
Toxin-free
Makes the nails stronger
Dries quickly
Comes with 80W UV LED
Cons
Price at the time of publication: $27.48
If you are looking for a shiny diamond effect with glitter poly nail gels, Vrenmol Glitter Poly Nail kit is the best choice. The poly gel you get in this kit is made of toxin-free ingredients and a low odor formula to keep your nails healthy. The gel is very thick and easy to shape and color. It comes in a beautiful gift box, so it makes for a perfect gift.
Pros
Comes with 6 different color gels
3 types of diamond sequins included
Long-lasting
Dries quickly
Toxin-free
Cons
Slip solution not included
Price at the time of publication: $19.99
Gellen Poly Nail Gel Extension Kit is great value for money as it comes with 6 color gels, 100 pieces of dual forms in an organizer case, 20 nail cleansing wipes, 2 nail files with different grits, a dual-ended nail brush and spatula, a top coat, and a base coat. Also, the base coat can be used as a slip solution. The gel dries very fast and has a very mild smell.
Pros
6 colors of nail extension gels
100 dual forms in 10 sizes
Long-lasting
Affordable
Cons
Slip solution not included
Price at the time of publication: $17.99
Ohuhu Poly Nail Gel Kit is the most extensively stocked poly gel nail set on this list. It comes with 8 regular colors and 4 temperature-changing color poly nail gels. When you combine them with the 4 different glitter powders, you can express your creativity in infinite ways. This kit is easy to use and comes in a beautiful box. It also includes a base coat, a top coat, a cleaning solution, 100 pieces of nail forms in different sizes, a double-ended brush pen, a nail file, nail clippers, a dead skin scissors, and a steel pusher.
Pros
Wide variety of nail extension gels
Made of natural materials
Dries quickly
Easy to use
Long-lasting
Includes all the tools needed for a manicure
Cons
UV/LED nail lamp not included
Price at the time of publication: $30.19
Pros
Non-toxin
Odor-free
Chemical-free
Long-lasting
Easy to use
Cons
Price at the time of publication: $9.99
Pros
Full-size tubes
Wide range of colors
Lasts up to 2 weeks
Smooth finish
Easy to apply
Suitable for all types of nails
Cons
UV/LED nail lamp not included
Price at the time of publication: $29.99
If you are wondering how to do a poly gel manicure, we have you covered. Check out the step-by-step instructions below!
How Do You Apply Poly Gel Nails?
Prep your nails with a pH solution.
Prepare the nail and place its tip carefully at the top of the nail.
Apply an acid-free nail primer.
Dip the brush in the solution and smooth out the gel all over the nails to give it the desired shape.
Cure under an LED or UV light.
Remove the form or tip.
File and buff the nail to give it your desired shape.
Clean the nails with rubbing alcohol.
Apply a gel top coat and cure under a UV/LED lamp to complete the process.
Now, let's check out all the things that you need to consider when buying a poly gel nail kit!
How To Choose The Best Poly Gel Nail Kit – Buying Guide
Material: It is important to choose good-quality products as cheaper ones can harm your nails and interfere with your natural nail growth and smoothness. Poor-quality gels are also not durable and chip quickly. Take a careful look at the ingredients before investing in a nail kit. Avoid toxic chemicals.
Quantity: Opt for full-size products to reap maximum benefits. There are kits that offer different sizes, so ensure that the amount lasts multiple applications.
Color Options: You can have upto 6 color options available in poly gel kits. It is feasible to get a kit with more color options so you can try different styles.
Texture: A smooth texture is absolutely essential for a shiny finish. It has to complement the size and shape of the nail as well. Look for a poly gel that does not dry up in the bottle and has a good consistency.
Curing Time: One of the most important requirements in the application process is the curing time, which depends on the lamp that you use. LED and UV lamps are the most commonly used to cure poly gel nails. Usually, LED lamps cure your nails more quickly than UV lamps.
Removal Process: Most kits come with a solution to remove the poly nail gel. Sometimes, the hard coat may take a long time to remove and require extensive filing and buffing.
Price: Make sure that the poly gel kit you buy is within your budget. The price depends on the quality and tools included in the kit.
Included Items: Some poly gel nail kits do not come with an LED curing lamps, top and base coats, or slip solution. This can lead to hidden expenses.
Why Trust Stylecraze
Baishali Bhattacharya, the author of this article, is certified in makeup artistry. She is also a nail art enthusiast who is an expert in choosing the best nail kits and reviewing them. She has curated this list after checking the user reviews and feedback to pick only the best ones. The products included in the list are natural, lighter, and more durable than acrylic paints.
Frequently Asked Questions
How do you remove poly gel nails?
It takes care and patience to remove poly gel nails. You can soak your nails in acetone to remove the gels or use a nail file or drill to buff the gel.
Does poly gel ruin your nails?
No, as long as the poly gel is of good quality and applied with proper techniques, it does not harm your nails. It is important to remove it carefully.
Is poly gel better for your nails than acrylic?
The durability of poly gel is far superior to that of acrylic nails. Thus, it requires fewer touch-ups. Poly gels are also lighter than acrylic nail extensions.
Can you polish poly gel?
Yes, in fact, most nail kits come with nail buffers to give them a shiny finish.
Is poly gel healthy for your nails?
If used properly, poly gel nails do not cause any harm to your nails.
Can you use regular nail polish on poly gel nails?
Yes, definitely. Regular nail polish can be applied over poly gel nails. However, for long-lasting color, use gel nail polish.
What is the difference between gel polish and poly gel?
Poly gel nails are lighter and stronger than gel nails. They both need to be cured under light to harden, but gel nails can heat up and cause some discomfort.
Do poly gel nails break easily?
No, poly gel nails do not break easily. Despite being lightweight, these nails are flexible, strong, and possess the toughness of acrylic nails. Moreover, poly gel nails will not break if you master the technique of applying them properly.
How long does a poly gel nail kit last?
Factors like the length of the nail and your regular lifestyle can determine the longevity of poly gel kits. However, these kits last three to six weeks, typically longer than regular gel manicures.
Why do my poly gel nails pop off?
If your poly gel nails are popping off, you have not yet mastered the art of applying them. Too much poly gel can often make your nails unstable. If not dried completely, these nails start coming off from around the edges. So, allow the product to dry completely to avoid your nails from embarrassingly falling off. Prepping your nails to remove water and oil can also help poly gel products settle well.