7 Best Horn Combs Of 2022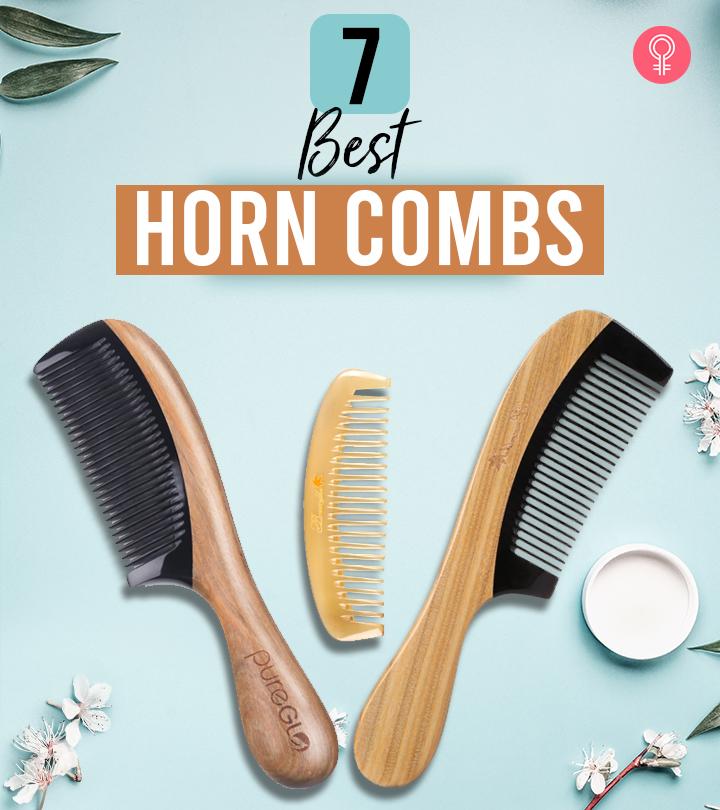 With the best horn comb in hand, you can say goodbye to tons of hair problems. Combs handcrafted from sheep or buffalo horns originated 700 years ago in China, and they relieve dandruff, scalp itchiness, stress, and tension, according to Chinese medicine. Massaging the scalp gently with these combs can facilitate blood circulation and equal distribution of the natural oils on the scalp. This makes way for healthy hair growth, eliminates dryness, and provides you with shiny and gorgeous tresses. They remove knots and detangle your hair. Hence, we have compiled a list of the best available ones in the market. Pick the one you like and let its natural insulation properties control the static and frizz!
7 Best Horn Combs
pureGLO Green Sandalwood Buffalo Horn Comb is made from natural green sandalwood and cruelty-free buffalo horn. This handcrafted horn comb has unique and distinctive wood grain. This protein-rich buffalo horn comb detangles the hair, distributes the natural oils evenly, and controls frizz effortlessly. It also improves the texture of your hair and adds shine and volume to it. Green sandalwood is rich in an essential oil that relieves stress and invigorates you with its calm natural aroma. This horn comb is suitable for removing knots from thick, wavy, and curly hair.  This anti-static comb promotes blood circulation and helps in getting shiny, smooth, and tangle-free hair. 
Pros
Handcrafted
100% organic
Ergonomic handle
Well-polished
Cruelty-free
Detangles the hair
Reduces frizz
Distributes the natural oils throughout the hair
Anti-static
Durable
Compact
Cons
Contains artificial fragrance
Breeze like Sandalwood Buffalo Horn Comb is made with a 100% natural black buffalo horn and fragrant green sandalwood. This handmade comb has a smooth, seamless design that is carefully crafted by skilled artisans. It helps in detangling long and short hair easily. It is a natural insulator, so it is anti-static and anti-frizz and does not snag on your hair. It is suitable for both straight and wavy hair. It also reduces hair breakage and split ends. It is suitable for both straight and wavy hair. The natural sandalwood aroma and round buffalo horn teeth improve blood circulation, which helps in relieving stress and tension. This horn comb can be used to gently massage the scalp for an even distribution of natural hair oils. This softens and conditions your hair. It can also be used to prep the hair with a conditioner or detangler. It comes in beautiful packaging that is perfect for gifting. 
Pros
100% natural
Anti-static
Natural aroma
Distributes natural oils evenly
Made by skilled handicrafts man
Relieves tension
Reduces frizz
Detangles hair
Stimulates the scalp
Great packaging
Cons
Olina Handmade Natural Sheep Horn Comb is made with natural sheep horn. It prevents snagging and static, which are common problems with plastic combs. It contains natural keratin that glides across the hair smoothly and without any effort. It tames unruly hair and makes it more manageable. Since it redistributes the natural oils, it helps you get soft and shiny hair. It gently massages the scalp, which helps in relieving headaches and reducing hair loss. It improves blood circulation, which can also help in reducing tension and itching and delaying gray hair and dandruff. Each comb has a unique and distinctive texture and color, so it makes for a great gift.
Pros
Reduces tension
Handmade
Distributes natural oils evenly
Improves blood circulation
Relives itching
Delays gray hair
Makes the hair soft and shiny
Glides smoothly
Detangles hair
Cons
Liasun Anti-Static Natural Sheep Horn Comb is made of high-quality natural sheep horn. It is anti-static and helps in detangling the hair smoothly. It can help in reducing headaches, baldness, tension, and hair loss as it promotes blood circulation. It has a naturally smooth and translucent texture and comes in unique colors as it is a natural product. It is strong and does not require much maintenance. 
Pros
Handmade
Durable
Eliminates frizz
Promotes blood circulation
Unique color and texture
Sturdy
Comfortable to use
Anti-static
Detangles hair
Reduces headaches
Cons
A breeze like Detangling Sheep Horn Comb is an anti-static wide-toothed detangling hair comb that is handmade with a 100% natural sheep horn. It is handcrafted, so it is well-polished, smooth, and seamless. Sheep horn is a natural insulator that helps in preventing snagging, static, and frizz. The smooth material of the comb makes it easy to detangle hair and prevents hair breakage. It is suitable for thick hair. The rounded sheep horn teeth help relieve tension as they massage the scalp to improve blood circulation. This comb also helps in uniform distribution of the natural hair oils. 
Pros
Anti-static
Wide teeth
Prevents hair breakage
Detangles hair
100% natural sheep horn
Relieves tension
Massages the scalp
Improves blood circulation
Helps in uniform distribution of natural hair oils
Suitable for all hair types
Cons
Liasun Natural Ox Horn Hair Comb is made with high-quality natural ox horn. This natural product is anti-static. It glides smoothly and comfortably through the hair, making it easy to detangle knots. It has a strong body that lasts long. It is considered to be a natural remedy for treating headaches, baldness, itching, and hair loss. This ox horn comb can be used to massage the scalp to relieve tension, promote blood circulation, and evenly distribute the natural hair oils. This helps in improving the shine, texture, and softness of the hair. 
Pros
Massages the scalp
Anti-static
Relieves tension
Glides smoothly through the hair
100% handmade
Detangles knots
Prevents breakage, hair loss, and dandruff
Promotes blood circulation
Cons
Myhsmooth Handmade Black Buffalo Horn Comb is made with high-quality black buffalo horn that is good for your hair. Unlike plastic combs, it does not snag on your hair. Its natural material prevents static and helps in controlling frizz. It is considered to be beneficial in combating headaches, baldness, and loss of hair. It also helps in relieving tension. It has smooth rounded teeth that are gentle on the scalp. Regular use of this horn comb gives you soft and healthy hair.
Pros
Eliminates frizz
Anti-static
Reduces hair breakage and loss
Improves blood circulation
Detangles hair
Cons
The best horn combs facilitate and boost blood circulation on the scalp. They also promote hair growth, eliminate dryness, and help your gorgeous tresses shine naturally. These combs are handcrafted, 100% organic, anti-static, durable, and help reduce frizz. Handmade horn combs are better than the traditional plastic ones because they are gentle on your scalp and detangle your hair easily. In addition, regular use of a horn comb will give you smooth and silky hair.
Why Trust StyleCraze?
The author of this article, Shiboli Chakraborti, is a skilled skin care coach. She believes in good skin and hair care and has authored several articles to help her readers find safe and efficacious products. Here, she has compiled a list of the best horn combs for your gorgeous hair. Shiboli has compared and reviewed several products available in the market before coming up with this list. She has described the useful features of each comb and provided a buying guide to help you select the right product.
Recommended Articles
The following two tabs change content below.