11 Best Drugstore Dry Shampoos For Thin Hair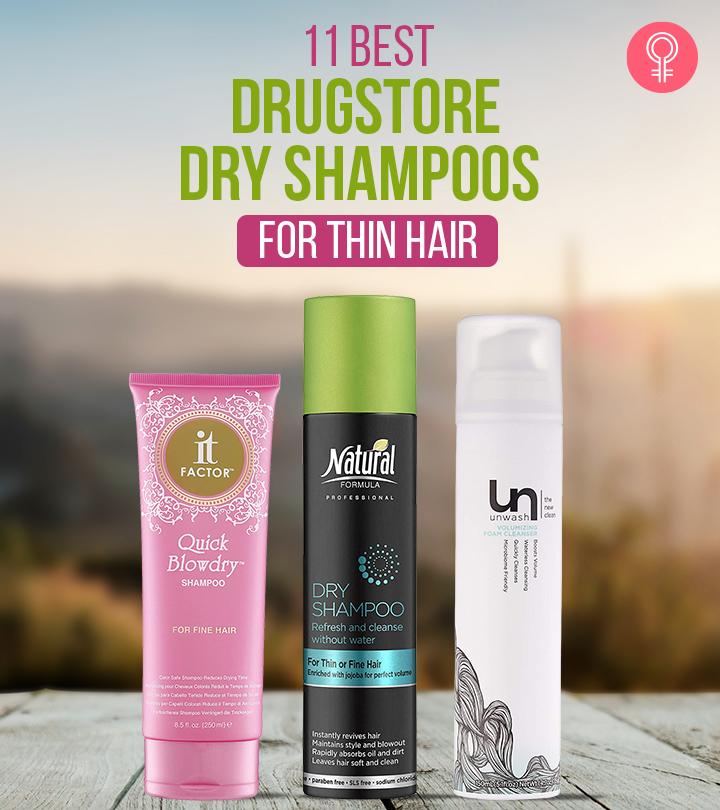 Don't have time to wash your hair every day? Invest in dry shampoos. Dry shampoos are lifesavers when you have a time crunch and need to give your hair an instant pick-me-up. They make your hair look and smell good without having to wash it. Just a few spritzes of dry shampoo and you are spared from a bad hair day. If you are looking to buy one, scroll down to check out the 11 best drugstore dry shampoos for thin hair.
What Is Dry Shampoo?
Dry shampoo is a hair product that helps reduce visible excess grease, sweat, dirt, and limp strands in your hair. It is usually alcohol- or starch-based formula with added fragrance. Dry shampoos can be applied to your dry hair directly and are not required to be washed off immediately, unlike wet shampoos or conditioners. You apply the dry shampoo on the areas of your head where the oil and shine are prominently visible.
Dry shampoos help you to retain the luminous, extended blow-dry look for the days when you are too lazy or short of time to have a head shower. However, while selecting a dry shampoo, you need to take your hair type into consideration. Let's now take a look at the 11 best drugstore dry shampoos for thin hair.
11 Best Drugstore Dry Shampoos For Thin Hair
This bodybuilding dry shampoo lifts lifeless hair in just a few minutes. It absorbs dirt and oil and adds volume to unwashed hair. Just spray it generously on the roots and throughout the hair and style it as you desire.
Pros
Smells good Paraben-free
Sulfate-free
Phthalate-free
Dye-free
Gluten-free
Nut-free
Soy-free
Cruelty-free
Cons
Does not absorb oil well.
This dry shampoo from Garnier is an immediate solution to revive and refresh fine hair. It instantly creates a visibly impressive volume that lasts for almost 24 hours and makes your hair soft. This dry shampoo is made with orange citrus and grape extract and has a fruity fragrance.
Pros
Non-greasy
Affordable
Great smell
Improves hair texture
Cons
Leaves a white powdery residue.
This dry shampoo contains jojoba extracts known to strengthen the hair naturally. It is a plant-based dry shampoo that nourishes your hair while volumizing it. The product helps lock in moisture, providing softness and vitality to the hair. It is expertly formulated to not let fine hair get weighed down upon application.
Pros
Contains natural extracts
Sulfate-free
Paraben-free
Talc-free
Cruelty-free
Cons
This foam cleanser contains prebiotics that helps balance the scalp microbiome by promoting good bacteria growth, leading to stronger, faster-growing, and healthier-looking hair. It is easy to apply and lasts long. The cationic cleansers in the formula work as magnets to remove dirt without disrupting the cuticles. This dry shampoo adds bounce and volume, making your hair look fresh and full of life.
Pros
Gentle
Smells good
Color-safe
Paraben-free
Sulfate-free
Cons
Not for extremely dry hair
Hollywood's favorite brand can be your go-to product for its extended hairstyling and unique composition. This lightweight, ultra-thin, rice starch-enriched formula from HASK will add life to your hair. It is infused with all the essential ingredients for hair health like biotin, collagen, and coffee that leave your hair voluminous and shiny in no time.
Pros
Lightweight
No residue
Paraben-free
Sulfate-free
Gluten-free
Phthalate-free
No artificial colors
Affordable
Cons
Laced with vitamin E, rice starch, and neroli oil, this revitalizing dry shampoo instantly absorbs excess oil and leaves your hair with a lightweight, clean feeling. Vitamin E reduces not just hair breakage but also helps fight against oxidative aggressors. The lightweight spray works for long hours, maintaining the hairstyle and freshness.
Pros
For all hair types
Lightweight
Silicone-free
Cons
With this blow-dry shampoo from It Factor, you can achieve professional-level, salon-quality hair care, and styling. It is fast-acting and infused with protective antioxidants, nourishing rose hip, and hydrating sea kelp for soft, healthy, and shiny hair. It also provides protection against UV rays and heat styling.
Pros
Paraben-free
Sulfate-free
Sodium chloride-free
Alcohol-free
Color-safe
Cons
This dry shampoo from MATRIX is rich in protein that helps volumize limp and fine hair and lends it more structure. Its clear, light weight formula with micro-fine starches derived from corn helps absorb oil and buildup. The product is great for styling your hair on a regular basis.
Pros
Lightweight
Suitable for color-treated hair
Value for money
Cons
None
This dry shampoo from Pantene offers styling with strength. It is boosted with the PRO-V formula to absorb excess oil instantly and add fullness to your hair with every application. The tapioca starch in it absorbs grease and clears out dirt from unwashed hair.
Pros
No flaking or residue
Great smell
For all hair types
Affordable
Cons
This dry shampoo refreshes limp and lifeless hair instantly, absorbs excess oil, and imparts visibly enhanced volume and freshness to your hair. The Cleanse Sensor Technology eliminates dirt without stripping the hair color. The formula works great to remove the styling residue that can make the hair look dull. It instantly hydrates the hair to make it softer and shinier and also fights split ends.
Pros
Color-safe
Lightweight
Smells good
Cons
This product from Helium promises to safeguard your hair from UV rays while giving it shine and texture. Its non-sticky formula helps you achieve clean, oil-free, odor-free hair upon application. It has 25 botanical ingredients that heal and nourish the scalp. This dry shampoo gives brilliant, 24-hour shine and volume.
Pros
Cruelty-free
Paraben-free
Sulfate-free
Keratin-safe
Color-safe
Cons
Not suitable for very dry hair.
Now that you know about the best dry shampoos for thin hair, here are a few tips to derive the maximum benefits from these products.
Tips To Use Dry Shampoo
Keep the spray or foam bottle at least 6-8 inches away from your hair. Read the instructions on the package carefully.
The hair roots are where the oil is generated. Hence, apply the dry shampoo to the roots and massage on the scalp for a few seconds (if instructed on the package).
Flip your hair from the nape to the crown and use your fingers to make sure an even distribution.
For extra volume, blow some cool air in your hair after applying the dry shampoo.
Do not overspray the product as it may make your hair look straw-like.
For a silky hair texture, try spraying a little before styling to get a better and longer grip on the hair.
Do not overuse dry shampoos. Limit yourself to using one for a maximum of two consecutive days.
As we have already mentioned, dry shampoos are the best alternative for those who do not have time for a wet hair wash. Now that we have listed the best ones, pick your favorite and have a good hair day.
Recommended Articles
The following two tabs change content below.