7 Best Japanese Lip Balms For Women – 2023
Japanese-made products that effectively soothe, moisturize and protect your lips.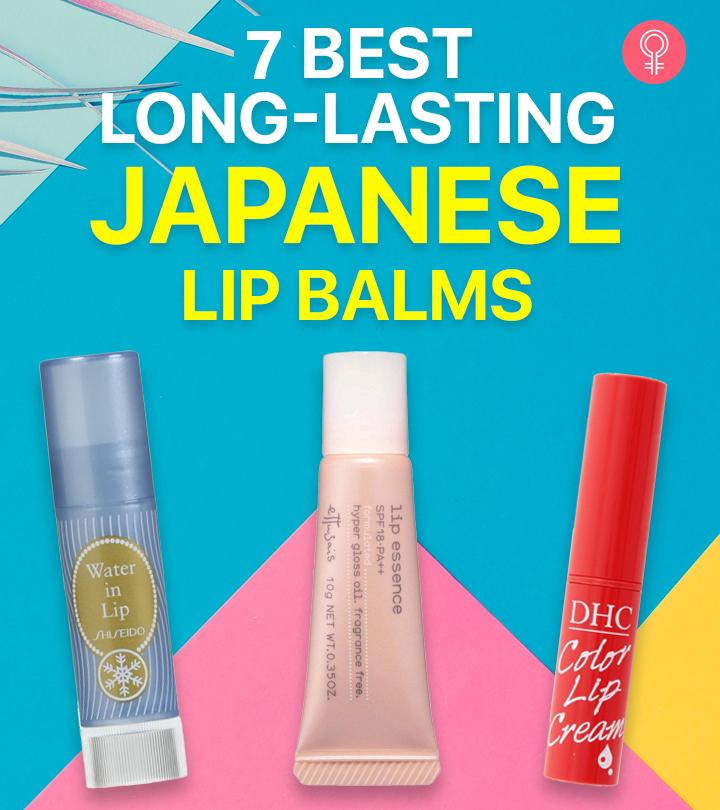 The dream is to have baby pink, plump lips. Try the best Japanese lip balm to accomplish this dream and more! Looking after your lips is a delicate affair. We develop chapped, dark, dry lips due to pollutants, makeup, stress, tobacco, hot drinks, and sun exposure. Unlike the skin, our lips lack oil glands. This means it does not have natural nourishing protection. Thus, they need special attention. Luckily, we have lip balms and medicated lip creams to come to our rescue!
Lip balms nourish damaged, chapped, hyperpigmented, tanned, and severely dry lips while healing them. They make your lips supple, glossy, and smooth. Natural ingredients in Japanese skin care products help you achieve the flawless look you have always dreamed of. Today, the market is flooded with Japanese lip balms, so we reviewed some of the best ones based on expert recommendations, features, reviews, and testers' experiences. Take a look at the 9 best Japanese lip balms listed below and choose your favorite! Check them out!
7 Best Japanese Lip Balms
The Beewax Lip Cream by Naiad works wonders on chapped and dry lips. It is infused with Nepali wild beeswax and sunflower oil. Beeswax is an intense moisturizing agent that also helps protect your lips from harmful UV rays. These natural ingredients help prevent dryness and further damage to your lips. The alpine rhododendron essential oil in the balm imparts a nice woody aroma. This Japanese lip balm has received positive reviews as it does not contain any harmful chemicals or harsh ingredients that damage or irritate your lips.
Pros
Natural ingredients
Preservative-free
Phthalate-free
Sulfate-free
Mineral oil-free
Petroleum-free
Artificial fragrance-free
Cons
The Zandra Beauty Lemon Tea Tree Big Balm contains cocoa and shea butters with soothing properties and offers a refreshing scent. These vitamin-rich ingredients treat chapped lips and soothe and moisturize the delicate mouth area. This lip balm contains natural moisturizing ingredients, such as virgin coconut oil, sunflower seed oil, avocado oil, and castor seed oil that help keep your lips hydrated. The all-natural formula is infused with vitamin E. The mix of lemongrass and tea tree invigorates and refreshes the senses. You can also use this big balm to moisturize your body.
Pros
Cruelty-free
All-natural formula
Vegan
Biodegradable
Gluten-free
Phthalate free
Sulfate-free
Mineral oil-free
Petroleum free
Cons
The Water In Lip Balm by Shiseido is ideal for harsh dry winters. It is infused with Italian natural spring water, hyaluronic acid, and cherry blossom powder. The hyaluronic acid locks in the moisture, and the cherry blossom helps nourish and heal your lips. This Japanese lip balm with moisture-locking formula prevents cracking, chapping, and dryness of lips. It can also be used as a base for lipstick, but its sheer finish is not ideal for matte ones.
Pros
Has SPF 12 PA+
Lightweight
Taste-free
Fragrance-free
Cons
Needs constant reapplication.
This Lip Essence by Ettusais is a great pick for chapped and dry lips. It is infused with hydrating ingredients like honey, glycerin, and hyaluronic acid. They provide intense moisturization for healthy and softer lips. Many skin care reviewers love the product for its super-rich and creamy texture that is gentle on the lips.
The hyper gloss oil in the lip balm locks in moisture and prevents the formation of vertical lines on your lips. The lip balm gives a sheer glossy finish, which makes your lips look dewy. It is a lip care product that also protects your lips from the harmful UV rays of the sun. This Japanese lip balm helps improve blood circulation, providing a pinkish tone to the lips.
Pros
Long-lasting
Has SPF 18 PA++
Non-sticky
Dye-free
Mineral oil-free
Fragrance-free
Taste-free
Paraben-free
Cons
This tinted lip balm has a light texture and is infused with natural ingredients like virgin olive oil, squalene, placenta extract, bean curd, and castor oil that work together to keep your lips smooth and prevent them from drying out. The placenta extracts nourish your lips, and the bean curd extracts firm your lips, making them plump. Olive oil and castor oil deeply hydrate your lips while imparting a natural luster. This lightweight lip plumping balm does not feel greasy or sticky post-application. It comes in two different colors for you to choose from – berry pink and brick red.
Pros
Long-lasting hydration
Lightweight
Easy application
Non-greasy
Sulfate-free
Mineral oil-free
Fragrance-free
Petroleum-free
Cons
None
This lip balm by Country & Stream is an ideal choice for dry and rough lips and has received many positive reviews. Its high moisturizing ability is owing to honey, royal jelly extract, olive oil, vegetable squalene, and rosehip oil. The balm has a creamy consistency that forms a shield over your lips. Its intense moisturizing agents hydrate and help in repairing your chapped lips.
Rosehip oil, as a softening agent, is a boon for cracked lips and prevents lip discoloration. The royal jelly extract in the formula helps keep your lips plump and supple. The lip balm also contains honey and olive oil that nourish the lips and provide long-lasting hydration. This moisturizing lip balm can also be used as a lipstick base and helps brighten and even out your lip color.
Pros
Long-lasting moisturization
Natural ingredients
Goes on smooth
Artificial fragrance-free
Cons
None
The Curel Japan Kao Lip Care Stick is a ceramide-enriched lip treatment that moisturizes the lips. It provides instant relief from dry, chapped lips. This Japanese lip care contains jojoba oil and chamomile extract that replenish the skin's natural ceramides to plump and moisturize it. You can also use it under your lipstick to nourish and protect sensitive lips. Overall, this tinted lip balm especially stands out for those who are looking for a moisturizing lip balm.
Pros
Unscented
Lightweight
Non-greasy
Value for money
Suitable for sensitive skin
Cons
None
*The prices provided in this article are based on the latest available information. However, they may vary due to changes in pricing by the seller and/or promotional offers.
Why Trust StyleCraze?
The author, Shiboli Chakraborti, is a certified skin care coach. She curated this list of the best Japanese lip balms for soft, supple lips after reading through thousands of user reviews and conducting extensive research. These balms are made with natural ingredients and do not contain any harmful chemicals or preservatives. The author recommends using Japanese lip balms as they hydrate and moisturize dry, sensitive, and chapped lips. The formulations also contain SPF to protect the lips from the harsh UV rays.
Frequently Asked Questions
Can I use Japanese lip balm at night?
Yes, you can use Japanese lip balm at night to moisturize your lips and keep them from becoming chapped or dry.
Does Japanese lip balm darken lips?
No, Japanese lip balms do not darken lips; instead, they remove dead skin, help lighten skin, and keep lips moisturized.
How many times should we apply lip balm in a day?
You can apply lip balm as often as your lips feel dry. It can be anywhere between 3 times a day to once every 2 hours.
Can dark lips turn pink by using Japanese lip balm?
Yes, Japanese lip balms are made with natural ingredients that cater to lightening your lip color. They also come with SPF that offers UV protection and prevents hyperpigmentation of the lips.
What is the wear time of a Japanese lip balm?
A good quality Japanese lip balm keeps your lips moisturized for 4-5 hours.
Recommended Articles