11 Best Packable Down Jackets For Women To Buy In 2022
Defeat the cold while looking stylish and bold with these affordable winter wear!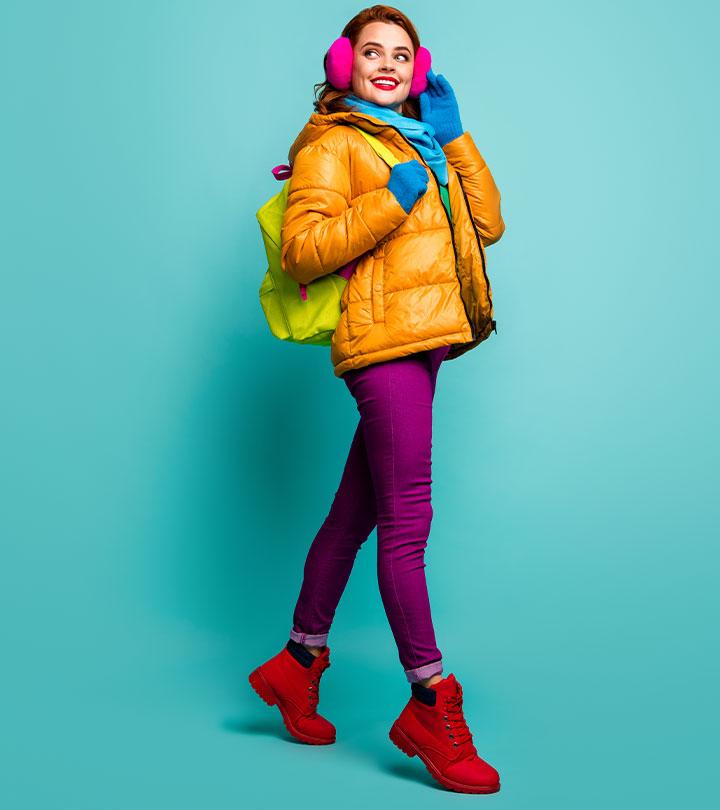 Winter is here! If you have a vacation planned to the mountains or the snow-white terrains of the world, you must have the best winter wear. The best packable down jackets for women ensure that you stay warm and also travel light. After all, you cannot let one jacket take up half your suitcase space. A good quality down jacket is durable and lightweight enough for travel.
To stay warm on your vacation or even in your hometown, you must invest in a good-quality down jacket. These jackets ensure that you stay insulated from wind, snow, and water while you enjoy the cold. These are also extremely stylish and versatile. But, even though they look bulky, a down jacket is compressible and does not take up too much space. The market has multiple brands that offer good-quality down jackets that are both stylish and do not take up much place. We have complied a list below. So, go ahead and check them out now!
What Is The Best Packable Down Jacket For Travel?
The right packable down jacket is ultralight and has a sturdy shell that keeps water and winds out. An insulated inner layer coupled with multiple pockets in the interior and exterior is ideal. Some pockets also have zippers, out of which a few might be hidden so valuables can be stored. Hoods with drawstrings keep your head, neck, and ears amply covered to protect you from the cold. Storage bags included with the warmest jacket are a good choice to keep your clothes from staining or ripping easily.
11 Best Packable Down Jackets To Carry Around The World
Wantdo's lightweight packable down jackets are made of 20D 400T nylon and come with a carrying pouch for your travels. This long packable down coat is windproof and keeps you warm and cozy no matter how cold it gets outside. Fully zippered and hooded with elastic sleeve cuffs, the construction keeps this garment waterproof. There are 2 zippered and interior pockets available to stash your belongings, while the duck down filling lends you a helping hand with an extra layer of insulation.
Pros
 Available in 8 colors
 Comes with a carrying pouch
 Wind and waterproof
 2 interior and zippered hand pockets•
 Media port for wires
Cons
 The zipper might stick a little sometimes.
With Calvin Klein's packable down jacket, women's luggage remains ultra-light wherever they choose to go. Made from 100% nylon with smooth zipper closures, the jacket also features a tough stand-up collar to keep your neck protected from the cold. The 2 side pockets make it super-easy for you to stash all of your on-the-go essentials. The best part, of course, is that this knee-length packable down women's jacket compresses easily into the pouch with a drawstring. Available in standard and plus sizes, it's suitable for anyone looking for functional yet aesthetic winter gear.
Pros
 Available in 13 colors
 Durable zipper closure
 Stand-up collar
 Knee-length jacket
 Easily compressible
 2 deep side pockets
Cons
 Might be slightly less warm for places with heavy snowfall
This packable down jacket for women is expertly crafted from sturdy nylon and is given a water-repellent finish that keeps you dry. The winter jacket is fitted with a stand collar and also features nylon-bound elastic sleeve cuffs that all combine to keep the wind far away from you. The 80% duck down filling is used for optimum insulation in the cold weather, which keeps this women's ultralight packable down jacket soft and fluffy. Fully front-zippered with 2 outside pockets and 2 inner ones, you will find many more compartments hidden inside so you can go totally hands-free.
Pros
 Available in 7 colors
 Water-repellent
 Warm and stylish collar
 Elasticated cuffs
 Windproof material
 Ultra-compressible
Cons
 The sleeves might be a bit baggy for some.
CIOR's packable down coat with hood stands out because it uses 80% duck and 20% feather down filling to keep you incredibly cozy and safe from the chill. The outer and inner zippered pockets aren't just good for stashing your belongings but also let you warm your hands when the cold is too much to handle. Made with nylon and finished with water-repellent material, this ladies' packable down jacket is also windproof. It packs neatly into the accompanying storage bag, making it even easier to stow in your luggage.
Pros
 Available in 12 colors
 Wind and waterproof
 Breathable materials
 Elasticated sleeve cuffs
 Comes with a hoodie
 Multiple inner and outer pockets
Cons
 The sleeves might be slightly short for some.
Tommy Hilfiger's long packable down coat boasts an extendable center zipper that goes all the way up to the stand collar and maximizes your warmth. The 2 invisible side zippered pockets are excellent additions for guarding valuables like cash and keys. The women's packable down jacket with hood also comes with a drawstring to tighten the fit, making it ideal for a wide range of sizes. Falling a few inches above the knees, this down-filled coat with chevron quilting keeps you safe and sound in harsh weather any time of the year without looking out of place no matter where you go.
Pros
 Available in 7 colors
 Front zipper closure
 Hood with adjustable drawstring
 2 invisible side zippered pockets
 Lightweight and easy to pack
Cons
 Slightly low on insulation
If you're on the prowl for a modern lightweight jacket that looks and feels amazing, this brand deserves a spot on your radar. With Lock And Love's lightweight packable down coat, your luggage remains airy and your body stays warm. Its shell and lining are crafted with 100% nylon, while a durable water-repellent (DWR) finish keeps you safe from drizzles. Masterful at retaining warmth, thanks to the 80% duck and 20% feather filling, the ultralight packable down jacket features reflective details to make hiking in the wee hours of dawn a safe experience. Being windproof, the elastic sleeve cuffs seal in the coziness so you can enjoy the chill without regretting your decision to go out.
Pros
 Water and windproof
 Elastic sleeve cuffs
 Removable hood
 2 inner and outer pockets
 Available in 8 colors
Cons
 The inner lining might bleed a little color at first.
Most people prefer their coats to be streamlined and not add unnecessary bulk to the silhouette, which is probably why this ladies' packable down jacket enjoys a high approval rating among reviewers. It comes with a shell and lining that are both made of 100% polyester. Packed with white duck down and 10% feather, it offers a mildly water-resistant and strongly windproof outer. Quilted with a hood, this is the warmest packable down jacket as it keeps you well and toasty in the coldest months. With 2 side pockets that double as hand-warmers when temperatures drop, the coat is meant for anyone who wants to save space without sacrificing comfort.
Pros
 Available in 7 colors
 Water-resistant
 Windproof outer
 2 deep side pockets
 Comes with a hood
 Double zipper closure
Cons
 Some may find the shoulder area slightly restrictive.
This packable down parka by 32 Degrees sure does live up to its name by wrapping you up in a cozy, comfy, and sufficiently warm environment that offsets the frigid exteriors. It is made from 100% nylon and 500 Fill Power, with a design and construction certification by the textile authority that ensures a Responsible Down Standard (RDS). Water-resistant with a detachable hood, this down backpacking jacket has 2 outer zippered pockets for convenience. Featuring a buttery-soft and smooth-to-the-touch texture, it is a mix of 60% down and 40% polyester filling, which makes it ideal for long-term insulation.
Pros
 2 outer zippered pockets
 Water-resistant and windproof
 Soft and smooth texture
 Easy-to-use zipper closure
 Convenient detachable hood
 Responsibly sourced down
Cons
 Might be slightly snug in the chest area for some
This ultralight packable down jacket by Rokka&Rolla is filled with 90% white duck down and 10% duck feather enclosed in a shell of polyester — a combination of fabrics and materials that provides you with the softest, finest filaments for warmth. Windproof with a high-tech workmanship, the puffer jacket has handwarmer pockets ending in elastic cuffs that trap in the heat. The adjustable hood of this women's black packable down jacket keeps you cozy, while the synthetic fiber yarn is skin-friendly.
Pros
 650 Fill Power Down
 Available in 8 colors
 YKK zip-up front closure
 Responsibly sourced materials
 Easy to fold, pack, and go
 High-density and skin-friendly fiber
Cons
With Camel Crown's lightweight packable down jacket, you can keep your luggage light and breezy. Made of soft and dense nylon taffeta, the outer shell blocks out wind and traps in your body heat. It uses 90% duck down to form an air insulation layer while still being compact and foldable. The stand collar keeps the neck area secure and 2 pockets on the outside and inside allow you to keep your essentials on hand. Overall, this packable women's down jacket has a sleek look that won't take up too much room in your winter wardrobe.
Pros
 Windproof exterior
 Traps in body heat
 Stand collar for extra warmth
 2 outer and inner pockets
 Available in 2 color options
 Stylish slant line stitching
Cons
One of the most popular ultralight down jackets among travelers, this one comes with 90% white duck down mixed with 10% feathers and has a 380T nylon outer shell. Compressing neatly into the provided pouch, the coat's invisible zippered pockets keep your hands safe and toasty through extreme weather conditions. With elastic sleeve cuffs that trap body heat and hems that drape comfortably just above the hips, this is the best packable down coat for those looking for something casual that doesn't hinder the hiking or biking experience.
Pros
 Invisible zippered pockets
 Casual and sleek design
 Elasticated sleeve cuffs
 Warm and windproof
 Water-repellent exterior
 Available in 3 colors
Cons
 Some might find the fit slightly boxy.
Now that we've looked at some of the best packable down jackets for women out there, let's see how you can pick the best one for your specific needs.
What To Look For In A Packable Down Jacket
Look for a jacket with a flattering cut that is sized according to your comfort. Based on your body shape and style preference, you can choose from short, medium, or long jackets. Since your primary purpose is to keep warm, a jacket that's roomy enough to fit layers underneath but not so much that it facilitates airflow would be the ideal choice.
Shell is what the jacket's exterior is made of and the majority are made of nylon as it remains resistant to both wind and water. The quality of this fabric depends on the denier, which means the weight of the thread used. The lower this number, the lighter the weight. So, while a higher number can keep the fabric from ripping or tearing, it also makes the jacket heavy.
Also known as 'fill power', this refers to how much down is actually present in the jacket, which can be made of ducks or geese. For medium warmth, you can choose something that has between 400 and 450 down fill power, whereas 750 to 900 is a good range for maximum warmth but it also occupies maximum space. What you choose will depend on how cold your destination is.
Lighter fabrics compress easily and pack so compactly that they are almost weightless. Look for jackets that come with their own storage pouches or bags so that staining or tearing can be prevented.
Hoods are a great feature for providing enough warmth with or without a beanie underneath. In some cases, you can even skip a beanie if you hate layering. A down-filled hood is a great catch if you're going to be frequenting places with harsh elements.
Look for durable and sturdy zippers that function smoothly. Toggles are something that can be used with gloves, whereas 2-way zippers on long or knee-length jackets will give you a secure and adjustable fit.
Elasticated cuffs at the ends of the sleeves trap body heat and prevent cold air from getting in. You can also look for those that use velcro or snap closures, which can be adjusted according to your preference.
Drawcords at the waist, around the hem, and in the hood allow you to tighten or loosen the fit to prevent warmth from escaping. You can customize how secure the jacket remains by pulling or releasing the strings.
Down jackets are generally lightweight but they have the potential to be lighter. If you want something super airy, look for something that has a high power fill with low fill weight so you can stay toasty without the bulk.
 Water-resistant or waterproof
Jackets that are repellent and resistant to water should be sought out because wetness can cause you discomfort. Fabrics that wick away moisture will keep you dry and warm in cases of snow, hail, or light drizzles.
Why Trust Stylecraze?
Priyam Gupta is a style and fashion enthusiast who can help you style your outfit as per your needs and fancies. After going through multiple site comparisons and customer testimonials, Priyam is here with her specially curated list of the best packable down jackets for you. These jackets are extremely lightweight and fold up easily to take up minimum space. These not only keep you cozy and comfortable but come in various style and color patterns to take up your style game a notch higher as well.
Frequently Asked Questions
Do packable jackets keep you warm?
Yes, packable jackets might be lightweight but they contain a filling of feathers or synthetic fill. Additionally, they can be worn over other warm garments as they are not bulky.
How should a packable down jacket fit?
A packable down jacket shouldn't be so roomy that air can come in easily or so restrictive that you can't wear any layers underneath.
Recommended Articles