7 Best Suede Jackets For Women – 2023 Update
Stay warm and fashionable this season with these premium and wear-resistant jackets.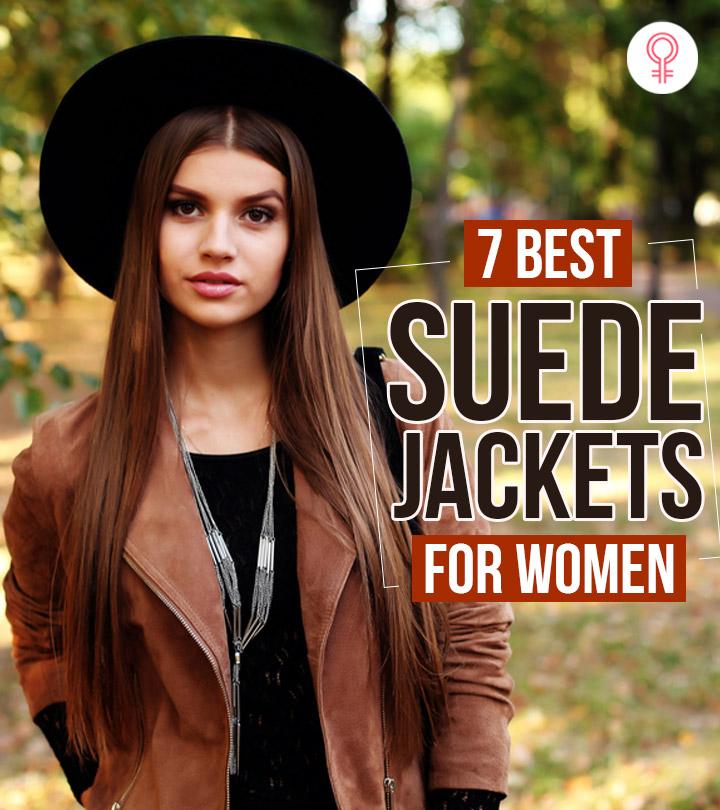 Suede jackets are lightweight, durable, soft, and luxurious. These jackets are considered more durable than fabric jackets. The best suede jackets for women are softer than leather and made out of animal hide. You can pair these jackets with any outfit and appear stylish. In addition, these jackets are available in multiple colors and styles. Suede is considered the most versatile material and can go well in any season.
It can be challenging to find the perfect suede jacket when we have many brands offering them. So, for your easy pick, we have researched and curated a list of the 7 best suede jackets crafted for women. Keep scrolling!
7 Best Suede Jackets For Women
This olive green suede jacket is made with 95% polyester and 5% spandex fabric. The lightweight faux leather jacket features a short-length design, big collars, and two side pockets to help you carry the essentials. This motorbike jacket is detailed with a zipper on sleeves to add a quirky look. The closure zipper is smothered with a shiny look and is durable. The versatile jacket has a very flattering cut to fit your body perfectly.
Specifications
 Color – Army green
 Material – Polyester and Spandex
Pros
 Soft fabric
 Comfortable
 Two attached pockets
 Stylish
Cons
Price at the time of publication: $54.99
The casual Cropped Suede Leather Jacket by Blanknyc has a timeless classic style ideal for all seasons. This biker jacket is made with premium-quality suede leather that lasts long even after regular use. It is tailored with snap tab belt loops and functional pockets, which do not feel bulky. Further, it is designed with zip sleeve detailing and an asymmetrical front zipper that makes it feminine. The jacket is available different colors that pair effortlessly with jeans, shirts, loungewear, tops, or a coat.
Specifications
 Color – Sand stoner
 Material – Leather
Pros
 Adjustable belted hem
 Lightweight
 Vegan leather
 Stretchable
 Stylish and chic
Cons
Price at the time of publication: $139.8
The Chartou Suede Jacket is designed with unique oblique zipper closure and long sleeves that keep you cosy. The coffee-colored jacket is tailored with slant pockets to hold your wallet and cards. It has an elegant notched lapel collar with four rivets that looks stylish. It's made with high-quality fabric and comes in several different colors. The lightweight jacket can be paired with a basic shirt, short tank, crop top, and skinny jeans effortlessly. Furthermore, it is embellished with straps on the waist and shoulder to give you a slim fit.
Specifications
 Color – Coffee
 Material – Leather
Pros
 Lightweight
 Easy to maintain
 Zipper closure
 Slant pocket
 Available in different colors
Cons
None
Price at the time of publication: $42.69
The Odcocd Faux Suede Jacket has a basic yet elegant design that looks gorgeous on everyone. It is made with incredibly soft material to keep you comfortable during cold seasons. This casual biker jacket is tailored with two zippers and flaunts smooth stitching. Additionally, this anti-pilling jacket is made with 90% polyester and 10% spandex faux suede that is stretchable and breathable.
Specifications
 Color – Grey
 Material – Faux suede fabric
Pros
 Stretchable
 Comfortable
 Affordable
 Easy to carry
 Available in various colors
 Suitable for every occasion
Cons
None
Price at the time of publication: $54.99
The Allegra K Zip Up Jacket is made with high-quality soft faux suede fabric. The jacket has a decorative button at the front and a convertible collar that adds a touch of elegance to it. It has two functional side pockets. The back features appealing details. The asymmetrical zip at the front offers a sassy look. The jacket pairs perfectly with skirts or jeans and never goes out of style.
Specifications
 Color – Khaki
 Material – Polyester
Pros
 Machine washable
 Lightweight
 Functional pockets
 Available in different colors
Cons
None
Price at the time of publication: $56.99
This Suede Jacket from Allegra K is comes with snap closure that makes it easy to wear and remove and fits perfectly. The lightweight jacket has two chest patch pockets that offer a sassy look. You can pair it with smart skinny jeans and a patterned top.
Specifications
 Color – Brown
 Material – Faux suede fabric
Pros
 Soft fabric
 Breathable
 Functional pockets
 Available in different colors
Cons
Price at the time of publication: $57.99
The Haute Monde Suede Jacket is made with 90% polyester & 10% spandex that wears beautifully over time. The soft faux-suede moto jacket has draping lapels for a unique look. The jacket features a zipper on the pockets and on the sleeves that look stylish. It is an unlined suede jacket that looks great with any casual outfit. The luxurious piece goes well for every occasion.
Specifications
 Colors – Camel
 Material – Polyester and spandex
Pros
 Lightweight
 Soft material
 Machine washable
 Front open
 Available in different colors
Cons
None
Price at the time of publication: $34.97
Suede Jackets are great for enhancing your overall look. But with so many suede jackets available in the market, you may find it hard to choose the suitable one for yourself. So, consider the following points to ensure best buy.
How To Choose The Best Suede Jacket For Women
 Comfort: You must always choose a lightweight suede jacket as it keeps your comfortable. These jackets are designed in various styles but not all design delivers the comfort required for your body. A simple yet stylish jacket is ideal for regular use.
 Types Of Suede: While choosing suede for yourself, look for durability since it offers a timeless style statement. Following are the types of suede to choose from –
 Faux Suede: It's not real suede but a synthetic version. It is ideal for people looking for vegan options. It looks like the real material and offers better water-resistance.
 Cowhide Suede: If you are looking for durability, then opt for cowhide suede. It is the roughest and sturdiest form of suede.
 Pigskin Suede: This one is thick, durable, and rough.
 Sheepskin Suede: It is the most popular version of suede. It is lightweight, delicate, and comparatively thinner than the other versions of suede. This type of suede offers excellent insulation and are ideal for winters.
 Size: The jacket should have some additional room so that you can add layers of clothing beneath it. It should also provide ample space for breathability.
 Color & Hardware: Look for a color that would complement all your outfits. You can take a black, brown, grey suede jacket as it complements most of the outfits. Do check the hardware like zippers and buttons. Make sure that they made of durable material and able to stand up the daily wear and tear.
Why Trust StyleCraze?
Baishali Bhattacharya is a certified image consultant and a fashion enthusiast who loves trying out various fashion goodies. She understands the appeal suede jackets enjoy and wanted to list the best ones for her readers. She tried a few herself and read several product reviews to create this comprehensive list of suede jackets available. This list consists of super versatile suede jackets that you can team up with different pieces of clothing.
Frequently Asked Questions
Is suede good for jackets?
Suede isn't as hard as leather. But it gives a matty, textured finish. It is ideal for daily wear.
How warm is a suede jacket?
Suede jackets are super warm and comfortable. But they will also not make you feel hot or sweat during summers.
Can suede be worn in the snow?
Suede is not water-resistant. It will be wise to not wear it while it's snowing.
Is a suede jacket good for summer?
Suede jackets are the go-to option for summers.
How long does a suede jacket last?
A suede jacket lasts for four to five years if worn occasionally. They last around two to three years if worn regularly.
Recommended Articles