The 19 Best Incredibly Long-lasting Perfumes For Women – 2022
Use alluring fragrances to smell sensual and intoxicating throughout the day!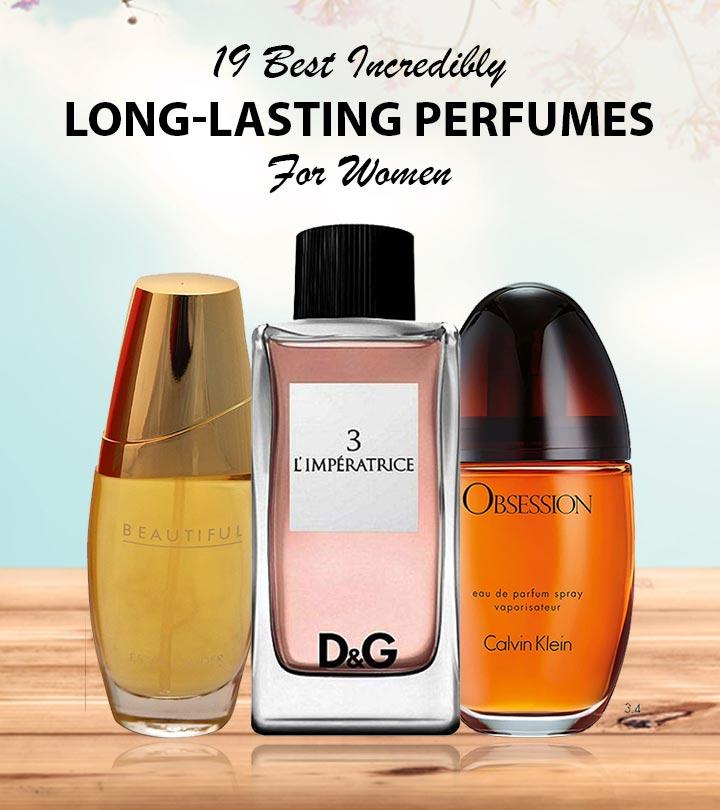 Admit it, ladies, one of the most annoying and irritating things is to keep reaching into your purse for a perfume touch-up. To combat this oh-so-pesky problem, you need to invest in the best long-lasting perfumes for women. Not only do they help you smell amazingly fragrant, but they save you from reaching into your handbag for another spritz. With so many options in the market claiming to be long-lasting, it is okay to get overwhelmed. To help you pick the best one that actually stays on, we've listed our top favorites. Just scroll down and pick and smell delicious all day and night long.
Top 19 Incredibly Long-lasting Perfumes For Women 2022
Review
Perfumes are meant to exude luxury, and what implies luxury better than diamonds? The White Diamonds Eau de Toilette from Elizabeth Taylor exudes that quality and makes sure that you turn heads wherever you go.
The perfume was created in 1991. It is an intoxicating blend of neroli, bergamot, and orange, complemented by lily, violet, jasmine, and rose. The dry-down of patchouli, amber, musk, and sandalwood leaves a lingering trail that continues to enthrall for a long time. The sublime fragrance pairs equally well with your favorite pair of jeans as it does with the most fabulous outfits. You can check out this YouTuber's review of the product if you require more convincing.
Pros
Long-lasting
Pleasant scent
Elegant packaging
Cons
None
Review
Calvin Klein Obsession Eau de Parfum was introduced in 1985, but it commands an irresistible appeal to this day. The perfume is best described as powerful, passionate, and intense.
The top notes of bergamot, mandarin, vanilla, basil, lemon, and peach set a sexy, provocative mood. The heart notes highlight a unique blend of exotic spices, jasmine, orange blossom, oakmoss, rose, coriander, sandalwood, and cedar. Musk, incense, civet, amber, vanilla, and vetiver give the deep, warm base notes a sophisticated finish. The feverish intensity of this oriental perfume creates a lasting impression with its distinctive signature aroma.
Pros
Affordable
Oriental fragrance
Irresistable aroma
Cons
Review
The Pheromone perfume from Raw Chemistry is empowering and youthful and just what you need to grab the attention of your SO on your next date night. The amazing scent is elegant and delicate, yet quite effective in appealing to his desires.
The composition uses human pheromones like Estratetraenol and Copulins that make this long-lasting perfume work for over 24 hours. The fragrance not only entices the senses but also strokes and boosts your confidence to help you exert charm and poise naturally. If you want to find out more about this product and its usage, make sure to check out this review on YouTube.
Pros
Silicone-free
BPA-free
Plastic-free
Luxury packaging
Cons
May cause allergic reactions for a few.
Review
L'eau D'Issey By Issey Miyake Eau De Toilette was created in 1992 by Jacques Cavallier. This was the first-ever fragrance from the design house of Issey Miyake. The fresh and feminine scent is ideal for daily wear.
The fragrance opens with aquatic and flowery top notes of lotus, cyclamen, freesia, rose water, peach, lemon, and orange blossom. This floral note continues in the heart notes with carnation, white lily, peony, jasmine, and orris. The base notes consist of musk, sandalwood, amber seed, tuberose, osmanthus, and cedarwood. The perfume takes inspiration from the vitality and purity of water – the noblest element of nature. If you need further convincing, check this YouTuber's review out.
Pros
Mild
Long-lasting
Woody sensual fragrance
Cons
Review
Chloe New Eau De Parfum Spray is a romantic yet versatile fragrance that you can wear every day with ease. It is light and fresh but also elegant and bold. The top notes consist of peony, lychee, and springtime freesia, while rose petals, lily of the valley, and magnolia constitute the heart. The base notes include cedarwood and warm ambergris.
This long-lasting perfume beautifully encapsulates the creative and confident individuality of the Chloé woman. Its fresh and feminine rose-scented fragrance is ideal for the free-spirited woman who owns an inherent sense of chic. Wear this any time you are in the mood to flaunt an intimate and sensual vibe.
Pros
Long-lasting
Signature fragrance
Adorable packaging
Cons
Might have an overpowering fragrance
Review
With a name like Decadence, you know exactly what to expect from this perfume by the house of Marc Jacobs. The bottle is inspired by the iconic handbags created by the designer. It features a gold chain and a black tassel, hinting at the sophistication the fragrance embodies.
The woody scent opens with sensual top notes of the iris flower, Italian plum, and saffron. At the heart lies luxuriant Bulgarian rose, orris, and jasmine sambac. The lingering base notes include papyrus woods, vetiver, and liquid amber. Check out this video on YouTube for a detailed understanding of the fragrance.
Pros
Woody fragrance
Ideal for night parties
Value for money
Cons
Review
L'Imperatrice 3 from Dolce & Gabbana is energetic and flamboyant. The perfume is designed to celebrate the charismatic and confident woman with a magnetic personality that is the center of attention in any room.
The fragrance is part of the Anthology collection from D&G, inspired by tarot cards. The joyful scent is clean, fruity, and perfect for spring and summer wear. The top notes of kiwi, red currant, and sour rhubarb give in to heart notes of watermelon and cyclamen. The base notes of musk, sandalwood, lemon tree, and grapefruit make sure to keep you bewitched.
Pros
Delicate floral note
Ideal for all occasions
Giftable
Cons
None
Review
Rihanna's Rogue is a feminine and flirtatious fragrance released in 2013 – the 4th perfume from the Grammy – award-winning pop star. It is the perfect accessory for the confident, sensual woman.
The long-lasting fragrance opens with top floral notes of jasmine, rose, and cyclamen, accompanied by fruity accords of plum and lemon blossom. At the heart, the fruity notes deepen with citrusy bergamot, along with pink peppercorn, lily of the valley, and soft leather suede. The sexy scent is beautifully rounded out by lingering base notes of amber, patchouli, musk, and vanilla.
Pros
Long-wearing
Affordable
Oriental fragrance
Cons
Review
For all you ladies who like strong, musky smells, Tom Ford's Black Orchid will be your holy grail scent. It is pure sex in a bottle, my friends. This one is a blend of black truffle and ylang mingled with a little bergamot and blackcurrant.
It is not for you if you like light, subtle smells. You only need to apply this sparingly as it goes a long way, even on a hot summer day. Be careful not to over-apply this. Since it is excellent for special evenings, you know what to wear on your next dinner date now!
Pros
Elegant bottle
Floral tone
Smells good
Cons
May cause allergic reactions in some
Review
Beautiful, from the design house of Estee Lauder, describes itself as 'the fragrance of a thousand flowers.' The sharp floral scent was launched in 1985 and is feminine, romantic, and memorable. The perfume is designed to make the wearer feel like the most beautiful woman in the room.
The top notes are reminiscent of blooming fresh-cut flowers like rose, lily, marigold, tuberose, and mandarin. At the heart lies a vibrant blend of orange blossom, jasmine, ylang-ylang, and Muguet. Vetiver, sandalwood, and amber in the base add warmth and sensuality to make Beautiful an unforgettable fragrance.
Pros
Unforgettable scent
Ideal for romantic dates
Long-lasting
Cons
None
Review
This is one of the sexiest fragrances out there. Yves Saint Laurent has done an outstanding job with this sweet coffee and vanilla blend that smells unique. This perfume is ideal for a girls' night out at the club or whenever you feel like you need something bold and different.
It is not meant for those who like light scents, as it is definitely on the stronger side. However, just a little spritz of this is enough to last you all night long. For more details, read YSL Black Opium Eau De Parfum Review. 
Pros
Asthetic bottle
Natural ingredients
Fruity smell
Cons
Review
Givenchy Ange ou Démon Le Secret Eau de Parfum exudes grace and elegance. It is a light fragrance filled with fruity and floral notes. It was launched in 2014 and is perfect for the mysterious woman with a dazzling personality.
The opening notes of lemon, tea leaf, and cranberry lure you in from the first whiff. Then fascination deepens with accords of sambac jasmine, adding sweetness in the heart notes. White musk at the base enhances the quality of the scent, adding balance and exuberance.
Pros
Cost-effective
Floral scent
Long-lasting
Cons
None
Review
Hats off to Gucci for this delightful fragrance! It is vibrant, yet so simple and classy. The scent has tuberose, jasmine, and honeysuckle aroma that is powerful but not overwhelming. It is ideal for women of all age groups and any season throughout the year. If you are looking for a feminine and delicate fragrance, this one's for you!
Pros
Rich fragrance
Vintage scent
Value for money
Cons
Review
Scandal from the design house of Jean Paul Gaultier piques your interest from the first glance. Both the name and the shape of the bottle stopper hint at the spicy, sexy, and fun quality of the scent hidden inside.
Scandal Eau De Parfum was launched in 2017. Just like its name, it is new, modern, and breaks all cliches. This is a perfume for elegant yet powerful women. Its dominant notes feature honey, blood orange, gardenia, and patchouli, blended and complemented by a warm, woody base. Daphne Bugey is the signature behind this long-lasting scent.
Pros
Exotic
Ideal for all weathers
Gentle
Long-lasting
Cons
None
Review
Do you enjoy unique scents? Lancome's La Vie Est Belle is a very bright, young, and floral perfume that is perfect for you. This perfume from the house of Lancome smells sweet with its iris, jasmine, orange blossom, and patchouli notes paired with hints of blackcurrant and pear.
This one lasts all day long and is excellent for both daywear and evening wear. It is ideal for younger women, and a tiny spritz of it goes a long way to make you smell like a sweet-smelling garden in full bloom. This is one of the popular perfumes for women.
Pros
Long-wearing
Travel-friendly
Ideal for special occasions
Attention-grabbing scent
Cons
None
Review
Opium By Yves Saint Laurent is the creation of Jean Amic and Jean-Louis Sieuzac. It was launched in 1977. The perfume exudes an overt sensuality that is opulent and decadent. It was reintroduced with new packaging in 2009.
The scent opens with top notes of plum, coriander, citruses, pepper, mandarin orange, clove, bergamot, and West Indian bay. It further deepens into alluring heart notes of myrrh, jasmine, carnation, lily-of-the-valley, peach, and rose. Sandalwood, patchouli, amber, and cinnamon in the base notes make the fragrance linger excitingly on your skin.
Pros
Intoxicating
Long-lasting
Affordable
Cons
Review
The Only One is a refreshing floral fragrance synonymous with sophistication and bewitching femininity. The alluring scent is a celebration of contrasts with an unexpected fusion of coffee and violet. Its main appeal lies in the long-lasting quality of the fragrance that continues to turn heads for a long time.
The top notes are floral accords of bergamot and violet in the form of a fresh and juicy bouquet. The heart notes carry forward the seduction with rich coffee and iris. The base notes of patchouli and vanilla add warmth and opulence, creating a sexy and glamorous drydown.
Pros
Sophisticated
Subtle notes
Vintage feel
Cons
None
Review
Angel Muse was launched in April 2016 as a new addition to the original 1992 Angel gourmand perfume. It is a tantalizing, addictive upgrade. The latest edition was announced as the first gourmand scent for vetiver.
The Quentin Bisch composition opens with top notes of pink pepper and grapefruit in a sensual, alluring blend. At the heart lies a sweet and enchanting whiff of hazelnut cocoa, while the lingering base notes of vetiver and patchouli add an earthy, woody quality to the drydown.
Pros
Fresh
Enchantic
Overwhelming
Value for money
Cons
None
Review
Le Labo Santal 33 Eau de Parfum is a woody aromatic fragrance that symbolizes the spirit of the American West and celebrates personal freedom. It was launched in 2011 and designed by Frank Voelkl. The scent is well-known for its heady blend of spicy, leathery, and musk notes.
The signature addictive allure of Santal 33 hits you from the first sniff. While it opens with intriguing accords of iris, cardamom, ambrox, and violet, the perfume deepens into the classic warmth of musk and leather. Overall, it has a rich, lightly spiced scent that lingers on the skin.
Pros
Cons
None
Have you ever gone perfume shopping and found yourself overwhelmed by the rush of aromas that hit you once you enter the store? Choosing the perfect scent can seem intimidating. Read on for some tips and tricks that will help you choose the perfect scent a little more easily 
Choosing The Best Fragrance – A Perfume Buying Guide
For starters, it helps to familiarize yourself with scent families. You may have come across buzzwords like fresh, floral, fruity, oriental, citrus, spicy, and woody. These words can act as a starting point for testing out fragrances from a particular family.
Citrus or floral fragrances will appeal more to you if you like light, fresh aromas. Oriental or spicy scents could be your choice when you are trying to make a bold statement.
Once you have found your preferred choice of scent type, you can find notes that appeal the most to you (such as rose, jasmine, vetiver, or bergamot).
There are three markers for a pleasant fragrance: it should match your personality, it should be long-lasting, and it should have a harmonious blend of complementary scents.
For balance and longevity, remember that essential oils perform better than synthetics. If you are looking for a long-lasting perfume, choose perfume oil and EDP over EDT and cologne. The higher concentration of the scent in the former products makes the fragrance lasts much longer.
Do not wear perfume or any other scented body product when you go perfume shopping as it will impact how your chosen scent develops after some time.
Try the fragrance on your skin and see how it develops and whether it matches your personality. But avoid testing more than 3 or 4 scents at a time.
If you are still confused, it is a safe bet to try perfumes that have stood the test of time and have been around for generations. After all, it is impossible to go wrong with a classic.
Why Trust Stylecraze?
Sakshi Bahal, the author of this article, is a makeup aficionado. She is fond of exotic fragrances and loves reviewing them for her readers. Here, she has curated a list of the best long-lasting perfumes for women. The products she chose have incredibly high user ratings. She has also considered the fragrance notes, price, and other factors to shortlist only the best ones for this list. All the products included in the list are best for daily use.
Frequently Asked Questions
Which perfume smell is long-lasting?
The fruity and woody aroma of Elizabeth Taylor White Diamonds Eau de Toilette is the most long-lasting. In general, perfumes with a high concentration of essential oils last the longest. These oils let the perfume evaporate slowly and allow the fragrance to linger for at least eight hours.
How can i make my perfume last all day?
Here are a few ways to make your perfume last longer:
• Apply after a shower- Showering will open your pores and help the fragrance linger on all day.
• Moisturize – Moisturized skin holds on the fragrance longer than dry skin.
• Pulse points- Spraying on areas like the wrists and nape of the neck allow the scent to last longer. Do not rub the wrists post spraying. The smashing action can diminish the fragrance.
• Spritz on the hair- Fragrances linger onto hair fibers more than on the skin.
• Storage – Store your perfume bottles in cool, dark spaces to avoid any changes in the frgarances.
Recommended Articles: