10 Best Narciso Rodriguez Perfumes For Her – 2023 Update
Earthy and musty, these hypnotic Narciso Rodriguez perfumes can linger on for hours.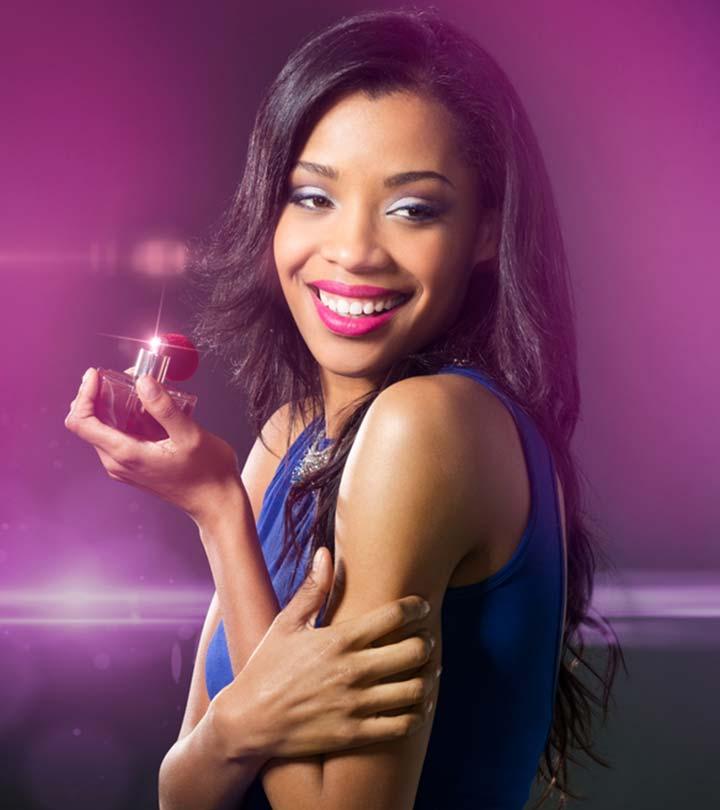 If you have heard of Narciso Rodriguez, you must certainly have heard of Narciso Rodriguez perfumes. An exceptional fashion designer of Cuban descent, Narciso worked under the likes of Calvin Klein and Donna Karan before moving into the world of perfume. Known for his searing attention to detail, he debuted his perfume range- For Her, in 2003. With a strong musk undertone, Narciso Rodriguez perfumes have become popular all over the world. If you love a nice musty and earthy fragrance, this perfume is the one for you. Be it a glamorous party or a nice evening out; these luxury perfumes offer a degree of versatility and freshness to your look. If you haven't bought one, check out our list of the best Narciso Rodriguez perfumes to pick from!
10 Best Narciso Rodriguez Perfumes In 2023
Narciso Rodriguez's original 'For Her' Eau de Toilette (EDT) is the ultimate timeless fragrance for floral and woody scent lovers. Spreading elegance since 2003, this black bottle is a rare musk that celebrates a modern woman. With osmanthus, African orange Flower, and bergamot as its top notes, this perfume delivers a sweet scent that turns gentle as the fragrance settles. The base notes are vanilla, vetiver, and patchouli while amber and musk are the middle notes. Its unique combination of floral and earthy notes lets you experience both lighter and stronger scents at once, making this product versatile for any occasion and mood. Check out this review for a closer look about the product
Pros
Value for money
The scent is not overpowering
A great blend of flowers and musk
Suitable for both daytime and evening
Cons
The scent may not last long
Price at the time of publication: $65
Known as the brand's signature musc, this perfume belongs to the floral woody musky fragrance family. The soothing smell of fresh sheets that your nose senses is due to its top fragrance notes with orange blossom and jasmine. It also gives you the olfactory pleasure of whipped meringue. Base notes amber and patchouli bring out the woody scent and cashmeran adds warmth as it beautifully blends with a heart of music that lends sensuality. The fragrance teases your senses, making this black and white bottle perfume super addictive. If you love trying new things, this review will help you understand more.
Pros
Long-wearing
Perfect daytime perfume
Suitable for all year round
Subtle yet fresh fragrance
Cons
May not be ideal for evenings
Price at the time of publication: $119.99
Another Narciso Rodriguez For Her perfume is this one that launched in 2006 and is the next fragrance after the original EDT. Packaged in a pink bottle, this EDP has an enchanting scent and has musk and amber at its heart. You will fall in love with this feminine fragrance as its smell lingers for a long time, giving you the sensation of freshness all day. With peach and rose as top notes, it offers a comforting scent while sandalwood and patchouli lend warmth and a hint of woody fragrance to it. To find out more about this Narciso Rodriguez perfume for women, check out this honest review.
Pros
Pleasant smell
Travel-friendly bottle
Ideal for casual wear
Suitable for all seasons
Cons
Some may not prefer it as an evening fragrance
Price at the time of publication: $49.99
Considered the epitome of femininity, Narciso Eau De Parfum Rouge represents mystery, seduction, and passion, all in one fiery red bottle. You'll find musk, orange blossom, and tuberose at its heart while a bouquet of iris and Bulgarian rose lend intensity and embody sensuality and warmth. Completed by the base notes are vanilla, tonka bean, cedar, vetiver, sandalwood, and white cedar extract, which lend this seductive perfume a bold touch.
Pros
Long-lasting scent
Travel-size bottle
Ideal winter and fall perfume
Suitable for daytime and night
Cons
May not be suitable for summer
Price at the time of publication: $66.74
Get a feel of walking across a garden filled with Jasmines and Bulgarian roses wearing the Narciso Rodriguez Narciso Poudree. If you love a floral and powdery scent, then this sensual and exquisite fragrance is perfect for your personality. It starts with an attractive floral medley and ends with sensual, woody notes. It captures the essence of femininity and grace.
Pros
Long-lasting
Reasonably priced
Fresh scent
Ideal for summers
Cons
None

Price at the time of publication: $69
Narciso Rodriguez For Her Intense Musc Eau De Parfum is the brand's limited edition perfume that launched in 2009.The intensity of this intoxicating fragrance comes with its heart notes of amber and musk, making it last all day long. Along with musky accords, this perfume is enhanced by jasmine, orange flower, and ylang-ylang that provide a wonderful feeling of freshness and rejuvenates your mood. With natural flavors in the composition such as white honey, vetiver, woodsy notes, and vanilla, this perfume leaves a powerful sensation and great sillage as the fragrance lingers for hours.
Pros
The scent is not overpowering
Suitable for most seasons
Sweet and woody smell
Appropriate for both daytime and night
Cons
Some may find it expensive
Price at the time of publication: $229.99
Planning a vacation? Traveling without your favorite perfume doesn't seem like a good option, but fitting a regular-size bottle in your bag can be inconvenient. If you are in love with Narciso Rodriquez perfumes, don't worry! The travel-size roll-on  is here to go on an adventure with you. Although it's the mini version, there will be no compromise in the desirable floral woody musky fragrance. The composition of this perfume contains white gardenia and rose on the top that offers a delightful feeling while its base notes consist of woody accords of vetiver, dark cedar, and white cedar. Musk at its heart, this perfume is what you need if you enjoy both bold and subtle fragrances at the same time.
Pros
Feminine fragrance
Casual wear during daytime
The scent lingers for hours
An appropriate option for fall and winter
Cons
It may not be a nighttime perfume
Price at the time of publication: $33.3
The sensation of freshness as well as pleasure, is what you will experience with the Narciso Rodriguez Essence Eau De Parfum. The goodness of rose combined with iris, amber, benzoin, and musk make this powdery-musky fragrance suitable for daily use. Also, your nose receptors will experience a hint of earthy and warm spicy scents, which is what you need to uplift your mood in the early morning or after a long day. Although the floral fragrance stays for hours, the scent is not overpowering but has a strong sillage — enough to capture people's attention for a long time.
Pros
High-quality perfume
Classy-looking bottle
Suitable for daytime
Ideal for summer and spring seasons
Cons
Price at the time of publication: $488.02
For the brand's signature musk fans, this perfume is worth pursuing to add to your collection. The smell of fresh flowers and the calmness that it brings with it is what the intense floral accords of jasmine and tuberose provide as the top notes of this perfume. The base notes including sandalwood, amber, and patchouli offer woody tones that instantly put you in a feel-good mode. Packaged in the originally designed 'For Her' bottle, the dark burgundy color on the outer glass gives the perfume an elegant look.
Pros
Casual daily use
Suitable for all skin types
Ideal for fall and winter seasons
A great perfume for daytime and nighttime
Cons
Some may experience an overwhelming smell during summertime
Price at the time of publication: $113
If you are looking for a floral fragrance, this one is worth trying. With more than musk as its heart note, this perfume also contains rose and peony to lend a warm and soft spicy floral scent. Pink pepper as the top notes and violet, patchouli, and amber as the base notes, you will experience a blend of woody musk and floral fragrances all at once. This Narciso Rodrigues cologne embodies passion and confidence with its scent enhancing the grace and charm of your personality.
Pros
Refreshing fragrance
Suitable for daytime
Ideal perfume for the spring season
Strong sillage but not overpowering
Cons
It may be slightly expensive
It may not be suitable for nighttime events
Price at the time of publication: $137.65
If you are still confused, our buying guide to pick the right perfume will help you make a wise decision.
How To Select The Right Narciso Rodriguez Perfume For Yourself
A perfume is composed of 3 notes — top, middle, and base. When sprayed, the first scent that hits your smell receptors is the top notes, which are mostly light florals, powdery scents, or citruses. Once the top notes begin to wear off, the next whiff that you get is the middle notes or the heart notes (mostly heavier florals) and in Narciso Rodriguez perfumes, the ingredient is musk. The lasting impression or sensation that a perfume leaves is of the composition in its base notes.
Choose the right concentration
Whether you want a powerful scent or a fragrance with a subtle side, choose a concentration accordingly. There are 4 levels of concentration. The one with the highest concentration (20-40%) and the intense scent is known as parfum, 10-20% concentration perfume is Eau de Parfum (EDP), 8-10% concentration formula is Eau de Toilette (EDT), and fragrances with 3-5% concentration are Eau de Cologne (EDC).
Not all perfumes are suitable for all seasons. Narciso Rodriguez has perfumes for everyday wear, romantic outings, daytime or nighttime, and the entire year. As per your purpose to wear a perfume, choose the right fragrance to suit the occasion or mood.
Try fragrances that have long-wearing bottom notes. However, be careful while choosing a long-lasting perfume as some of them may deliver an overwhelming smell in the end. To pick the right one, opt for the appropriate base notes that fit your personality.
If you are sensitive to smell, check the intensity of perfumes before buying. People with delicate olfactory receptors may experience headaches if the scent comes out to be strong and intense.
Why Trust StyleCraze?
Srijani Roy Chowdhury, the author, has a keen nose for picking exotic fragrances. She prides herself on selecting the best note blends, which is why she suggests using these intoxicating Narcisco Rodriguez perfumes. She went over many product reviews across multiple forums to curate this list. She recommends using these products based on price, staying power, and heavenly note blends.
Frequently Asked Questions
What does Narciso Rodriguez smell like?
Narciso Rodriguez has the warmth of musk at its heart, thus, the musky fragrance is common with most of its perfumes. Narciso Rodriguez also has a smell of floral woody notes.
Is Narciso Rodriguez perfume cruelty-free?
Narciso Rodriguez perfume may not be cruelty-free. It may have some ingredients that are tested on animals or have a third party perform the tests on their behalf.
Which Narciso Rodriguez perfume is a signature?
The Narciso Rouge Eau De Parfum is a signature perfume packaged in a fiery red bottle and releases a musky sensual aroma.
How do you apply Narciso Rodriguez perfumes to last long?
Follow the steps to make your Narciso Rodrigues perfumes last long:
• Take a shower
• Moisturize your skin
• Spray the fragrances on the pulse points of your skin.
• Do not rub the perfume in – let it linger.
• Spray a few times into your tresses.