11 Best Chi Hair Sprays To Hold Your Styled Hair For Longer – 2023
Worry no more about your hairstyle falling limp. Wear your hair in unique styles all day long!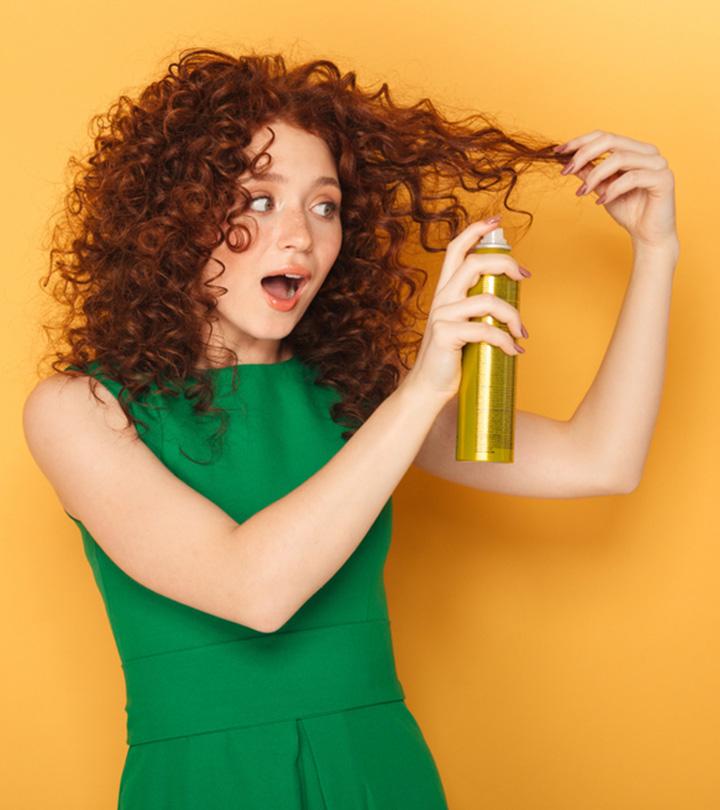 It's never too late to learn about CHI hair sprays if you are into hairstyling and setting high standards for style! You see, it is really sad if you get your hair set to perfection only to have it come undone; thanks to the sun and sweat. It would be an injustice to all the TLC that goes into a perfect hair-do and that's why a hair spray is essential . CHI hair spray products are well-reviewed and promise to hold up your styled hair in all its glory for long periods of time.
There is a wide variety of CHI sprays for hair and to make it easier for you to pick one, we have listed down the best 11 CHI hair sprays along with the necessary details. So read on and choose the one that suits your hairstyling needs perfectly.
Top 11 Best CHI Hair Sprays To Hold Your Curls For Longer
Pros
Easy-glide brush
Protects hair
Suitable for all hair types
Ideal for daily use
Offers heat protection
Cons
Price at the time of publication: $3.59
Pros
Weightless formula
Helps repair split ends
Works well on wet and dry hair
Makes hair soft
Has a pleasant and fresh scent
Protects hair from heat emitted from styling tools
Cons
Might make hair slightly greasy
Price at the time of publication: $7.99
Pros
Lightweight
Eliminates frizz
Lasts all-day
Reduces breakage
Doesn't make hair greasy
Cons
Might not work well on dry hair
Price at the time of publication: $10.75
Pros
Non-greasy
Lasts all-day
Hydrates hair
Has a fresh scent
Cruelty-free
Suitable for all hair types
Adds volume and shine
Cons
Price at the time of publication: $6.5
Pros
Adds shine
Humidity-resistant
Strengthens hair
Makes hair voluminous
Suitable for all hair types
Cons
Might be heavy on the hair
Price at the time of publication: $7.5
Pros
Lightweight
Paraben-free
Gluten-free
Prevents build-up
Infused with natural herbs and silk proteins
Cons
Price at the time of publication: $20.25
Pros
Adds shine
Makes hair silky
Crunch-free look
Provides light hold
Suitable for all hair types
Cons
Might have a strong scent
Price at the time of publication: $5.5
What properties do we look for in a hair spray when we want our styled hair to stay intact all day? We want a product that would protect our hair from heat and harsh chemicals. We don't want any build-up or oiliness on the scalp either. With CHI Miss Universe Style Illuminate Set The Stage Blow Dry Spray all this is possible. One of the best hair sprays, it dries your hair faster and makes it look silky by providing shine.
Pros
Makes hair soft
Lightweight
Anti-frizz formula
Heat-protective spray
Cons
Might have an off-putting smell once blow-dried
What does the application of CHI Spray Wax do to your hair? It not just performs one function but plays several roles in making your hair look healthy and fabulous. It helps strengthen your hair and holds the hairstyle in place all day. This product is ideal for all hair types, especially dry hair, and adds an excellent texture to your hair along with providing shine and silkiness. This product works well on color-treated hair as well and provides thermal protection to it.
Pros
Paraben-free
Gluten-free
Malleable wax
Prevents damage
Provides touchable finish
Has anti-aging properties
Cons
Might not have a pleasant smell
Price at the time of publication: $18.9
Pros
Adds shine
Lasts long
Makes hair healthy-looking
Does not leave any build-up
Cons
Might make hair slightly stiff
Price at the time of publication: $6.4
Pros
Makes hair soft
Sulfate-free
Paraben-free
Gluten-free
Weightless formula
Cons
Price at the time of publication: $12.5
Here are a few points that we must consider to buy the right hair spray.
Buying Guide
How To Choose The Right Hair Spray
1. Formula: You need to first determine the kind of formula that will be the most suitable for your hair. You must read the labels carefully and understand the formulation of ingredients used in the products. You can make an informed decision based on the sensitivity of your skin. The two main types of hair sprays are:
a) Aerosol hair spray: This hair spray releases mist of liquid particles that helps add volume to your hair. It is the ideal option for those with thin hair as this spray will make your hair look fuller and thicker.
b) Non-aerosol hair spray: This type comes in a liquid form and releases mist or liquid. . Non-aerosol spray is also known as pump spray and is suitable for naturally curly or thick hair types.
2. Hair type: Understand what your hair needs the most.
a) Volume: Look for a product that has volumizing properties if you want to add body and extra weight to your locks. However, you must not use this spray if you already have thick or curly hair as it might make it look frizzy and puffy.
b) Setting: We require a setting spray after our hair has been styled. It helps keep the hair smooth and removes flyways if any. It enables your hair to hold itself in place. It is the best option to use after straightening and curling hair.
c) Control spray: This type of spray is versatile in nature and can be used on all hair types.
d) Anti-frizz: As the name suggests, this spray type helps get rid of frizz and ensures your hair remains smooth all day.
How To Apply CHI Hair Spray
Step 1: Untangle your hair using a comb.
Step 2: Place a towel on the floor as the residue of the spray might make the floor slippery.
Step 3: Divide your hair into sections and spray the product on each section. But avoid applying on the roots.
Step 4: While spraying on dry hair, use a blow dryer to make it smooth and to reshape the hair.
Why Trust StyleCraze?
The author of this article, Kirtana Divakar, is a haircare expert. She loves experimenting with different hair styling products and personally loves CHI hair sprays that hold curls for longer. She also reviewed and browsed through multiple forums for user feedback to compile the best ones for her readers. These products can hold your hairstyle for long periods of time.
Is chi hair spray good for hair?
Yes. CHI hair sprays are great for holding curls and keeping your hair straightened after for long. These products protect your hair from heat and humidity. Plus, they do not contain any harsh chemicals.
Who makes Chi Hairspray?
Farouk Systems, Inc., a Houston-based company, makes Chi hairspray.
Does Chi hairspray have alcohol?
Yes, Chi hairspray has alcohol in its formula.
What is Chi texturizing spray used for?
Chi hairspray provides durable volume and density to hair while providing a flexible hold solution that won't weigh it down. It also offers volume for fine or thin hair.
Is Chi Hairspray safe?
Yes, Chi hairsprays are safe because they are free of allergens, gluten, and parabens. They also provide heat protection and leave your hair silky and lustrous.