These Are The 17 Best Hot Air Brushes For Fine Hair In 2023
Style and volumize your fine hair easily with these hot air brushes for a sleek look.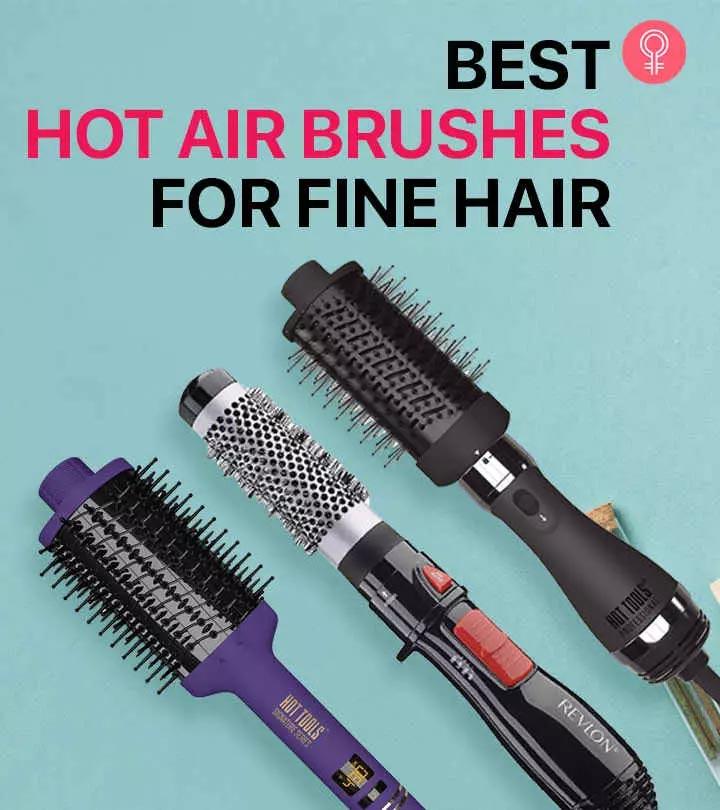 Fine hair does not usually motivate you to try new hair styles. But if you can get your hands on the best hot air brush for fine hair, you may become more inclined to style your hair, just like a professional hairstylist. Because this straightening hot air brush will not only dry your hair faster but also boost your hair volume. You will even be able to get some gorgeous curls, even if you don't have curly hair! In this article, you can learn about the 8 best hot air brushes for fine hair and pick the one you like the most! Read on!
Types Of Hot Air Brushes That You Can Find On The Market
Stationary Hot Air Brushes: Stationary brushes don't auto-rotate and need to be controlled manually. One needs to roll these brushes through the hair manually for proper styling. They are best suited for people with weak and thin hair. Compared to rotating hot air brushes, the stationary variants are less advanced but are available at a more affordable price.
Rotating Hot Air Brushes: Rotating hot air brushes are excellent hair styling tools that come with attached brush heads. They are suitable for people with finer hair, ensure better styling, and boost hair volume. However, you need to be careful while operating the rotating brush since it can't be manually controlled. If not done correctly, your hair may get messy and tangled. Rotating hot air brushes are in more demand due to their advanced features and better styling ability.
While hair styling tools allow you to experiment with different looks, they can also cause damage to your strands. The next section offers more insight into whether the hot air brushes are good for fine hair.
Are Hot Air Brushes Good For Fine Hair?
Hot air brushes are actually a good choice for people with thin hair. They get close to the scalp and lift the roots. These brushes rejuvenate your limp and fine hair by making it look voluminous. High-quality hot air brushes have soft bristles that provide hair straightening without any damage. Adjustable heat settings also provide better control while styling your hair. These heat protectant hot air brushes, in addition, ensure your hair doesn't remain dry and brittle, so it is less prone to damage. You can thus use hot air brushes on dry hair without any worries and style hair as per your choice.
Here are the best hot air brushes you can choose from for great results.
17 Best Hot Air Brushes For Fine Hair
The hot air brush from Hot Tools Professional is perfect for shoulder-length and short hair. It has a smaller detachable head, which makes it ideal for traveling. The brush head has an oval shape and adds volume. It is perfect for second- and third-day hairstyling. The hair tool helps you create effortless loose curls, wavy hair styles, and an easy, sleek blowout without tangling.
The bristles are uniquely designed for smooth airflow that ensures faster drying. It features charcoal-infused bristles that sweep the buildup, dirt, and oil from the scalp while brushing. This device is powered by Direct Ion Technology that aids in frizz reduction without creating cold or hot spots. YouTuber Maureen Moody, a hair care enthusiast, says, "Heat in this brush is dispersed more evenly and it did not burn my ear." The Micro-Shine finish helps reduce friction and damage for healthier-looking hair. It has a cool tip that provides hold to your strands. This portable hot air brush features variable heat settings with a rotating temperature dial that includes three heat/speed settings and a cool button. Watch this YouTuber's honest review to get a better idea about the versatile tool and its features.
Specifications
 Weight: 2.24 lbs
 Color: Black
 Wattage: 1100 W
 Heat Settings: 3
Pros
Ergonomic design
Detachable brush head
Portable
Universal dual plug
Activated charcoal and silk glide bristles
Cool tip
Lightweight
Cons
Try the 3-in-1 Hair Dryer Brush from Beautimeter. The round-barrel hot air styling brush has a rotating function that helps in styling hair and creating beautiful waves and curls. It comes with two detachable spin brushes of 1.5-inch and 2-inch diameters for short and long hair respectively. It creates loose soft curls as well as straight hairdos. This negative ion hot air brush cum hair comb cum dryer generates negative ions, which lock in moisture and keep the hair hydrated. This gives the hair a healthy and shiny look. The dryer is designed with three temperature settings of high and low heat and a cool air setting. It also supports two-directional rotations. This allows you to create different natural-looking curls on a variety of hair types. The bristles of the brush are a mix of tuft and nylon pins. A ceramic coating on the barrel creates even heat distribution throughout the barrel. The unique air vents flow directly to the roots, giving the hair volume and lift. You may test this brush to reduce frizz and flyaways. It also provides your hairstyle with a naturally nourished and attractive appearance.
Pros
Tangle-free
360° swivel cord
ALCI safety plug
Interchangeable barrels
Lightweight
Ergonomic handle
Non-slip surface
Cons
Not very good for thicker hair
The L'ange Hair 2-in-1 Titanium Brush Dryer is a volumizing hot air brush and styling tool for all types of hair. This gentle hot air brush has a blow dryer designed with an oval barrel offering 360° airflow. It is crafted with titanium plates which provide smoothness to the hair and give it the desired shape and bounce while drying. Youtuber Miss Moore Style, a fashion and beauty creator, says, "It is a great, affordable tool. The titanium barrel really is a nice element that really helped to keep my hair smooth. It helps the hair to heat up and to get nice and sleek." This ionic hot air brush minimizes heat damage and locks in moisture in the scalp and hair. It facilitates even heat distribution, avoiding hot spots and scalding. It has a nine feet long cord for easy maneuvering. The thermal brush also has three heat settings and a twist handle for easy use. While testing this compact hot air brush, many reviewers have applauded the cool shot button in the design that helps lock your hair style and moisture in.
Pros
Ergonomic twist handle
Three heat settings
LED indicator
Sleek design
Lightweight
Compact
Cons
The Infinitypro By Conair Hot Air Paddle Styler Dryer Brush has high-quality nylon and silicone bristles that style your hair without damaging its roots, making it a great fine hair styling tool. This anti-frizz hot air brush features a highly advanced ionic technology that adds shine to the strands and strengthens the roots. This anti-static hot air brush offers perfect blowouts in a short time and suits all hair types.
The bristles are detachable, which makes drying and cleaning easy. The two heat settings and one cool setting make this hot air dryer great for achieving the choicest hairstyles. It makes your fine hair look smooth and voluminous and offers a lasting hold. Kinadi Dill, a lifestyle creator on YouTuber, approves of this product saying, "This is a very good blow dryer and my hair feels very smooth." You can use this paddle styler brush and look your best in office, parties, picnics, etc. I like that this one is little bit smaller.
Specifications
 Weight: 1.2 lbs
 Color: Black/Blue
 Wattage: 600 W
 Heat Settings: 2
Pros
 Soft silicone bristles
 Easy to use
 Easy to hold
 Good drying power
 Value for money
Cons
Experience less frizz, better shine, and more volume come with the Revlon One-Step Hair Dryer. It offers efficient and faster drying power to ensure you can style your hair better and faster. Gabriella Nichole, a lifestyle, fashion, and beauty creator on YouTube, says, "It cuts down my hair styling time by 20 minutes. It is easy to use and it is not heavy." The air brush also decreases frizz by more than 30% while reducing hair damage. The oval brush glides perfectly through the hair strands, giving a smooth, shiny finish. The brush edges are round, which improves hair volume and texture.
The dryer comes with three advanced heat and speed settings. There is also a cool setting to offer more styling flexibility. The nylon pin and tufted bristles are soft on the hair roots and strands, ensuring less damage and improved texture. Many reviews on e-commerce platforms have praised the device for meeting the best safety standards. It comes with ETL safety certification and makes for a good travel-friendly hot air brush.
Specifications
 Weight: 1.57 lbs
 Color: Black
 Wattage: 1100 W
 Heat Settings: 3
Pros
 Ergonomic design
 Lightweight
 Good drying power
 Good temperature control
 Portable
 Easy to operate
Cons
None
Style your hair with confidence with the Dyson Airwrap Styler. This salon-quality hot air brush generates negative ions to moisturize the roots and help reduce frizz. The intelligent heat control system regulates temperature and prevents it from rising above 150°C to avoid hair damage. The dryer includes 30 mm airwrap barrels, a smoothing brush, a round volumizing brush, and a pre-styling dryer.
This professional hot air brush is efficiently designed to give you luscious curls and straight hair. It provides an illusion of density to make your hair appear voluminous. The product is suited for fine to dry and brittle hair. It comes in a smart storage bag partitioned with cushioned soft fabric to carry all attachments safely and is portable.
Specifications
 Weight: 7.89 lbs
 Color: Silver/Pink
 Wattage: 1200 W
 Heat Settings: 1
Pros
 Intelligent heat control system
 4 attachments
 Quick results
Cons
 Curls don't last long
 Expensive
This hot air spin brush by Conair gets rid of frizz and tangles in minutes. It generates concentrated ions to ensure shiny and smooth hair. The air spin brush rotates in clockwise and anti-clockwise directions, which helps in efficient styling to increase hair volume and achieve cute curls.
The ceramic hot air brush comes with two heat settings and one cool setting. It also has two 1-inch tourmaline ceramic airbrush attachments for small curls, while the 2-inch brush is for voluminous curls. This easy-to-use hot air brush gives you customized styles and healthy-looking hair. It is also low on maintenance and offers fantastic results. It features a highly advanced anti-frizz ionic technology that adds shine to the strands and strengthens the roots.
Specifications
 Weight: 0.07 lbs
 Color: Black
 Wattage: 500 W
 Heat Settings: 2
Pros
 Dual rotation brushes
 Customizable settings
 Easy to use
 Easy to clean
Cons
 Bristles may not last long
Improve and enhance your hairstyle and the appearance of your hair texture with the Infinitypro By Conair Titanium Ceramic Hot Air Brush. This detangling hot air brush generates 50% more ions to give your hair a luscious look. It also increases hair shine two times and controls frizz three times better than other airbrushes on the market. The titanium ceramic barrel provides better strength and volume to your strands while effectively managing heat to prevent minor damage.
The bristles of this lightweight hot air brush are ball-tipped and made from high-quality nylon. They are very soft on the scalp and suitable for styling fine and brittle hair with no damage to the roots. The brush has two heat settings and one cool setting to smoothen and style your hair. Get home this hot air brush and flaunt your curls, waves, or straight hair.
Specifications
 Weight: 0.99 lbs
 Colour: Platinum
 Wattage: 500 W
 Heat Settings: 2
Pros
 Easy to use
 Easy to hold
 Lightweight
Soft and ball-tipped bristles
Suitable for all hair types
Cons
 Durability issues
 Short cord
Grab the BaBylissPRO Nano Titanium Rotating Hot Air Brush for professional-grade results right at your fingertips! The advanced nano titanium technology in the hot air brush delivers consistent heat to your hair, allowing you to achieve perfectly styled, ultra-smooth, and frizz-free locks in no time. This brush creates voluminous curls, flips, and waves with ease, giving your hair the professional look you've always desired.
The 2-inch barrel instantly adds volume and shine at the roots while creating soft, bouncy curls. The simple forward/reverse spin controls make styling easy and suitable for all hair lengths. The ergonomic handle provides a secure grip, and the anti-static and tangle-free nylon and boar bristle mix glides through your hair smoothly, reducing snags and tangles. With this revolutionary hair styling tool, you can up your hair game and say hello to fabulous, salon-worthy hair at any time.
Specifications
Weight: 1 lbs
Color: Blue
Wattage: 500 W
Heat Settings: 3
Pros
Ergonomic design
Adds volume and shine
Reduces frizz
Easy to clean
360° swivel cord
Comes with a removable rear filter
Cons
Does not get heated quickly
Take your hair styling to the next level with the JINRI Hair Dryer Brush & Volumizer Hot Air Brush. This innovative 2-in-1 styling tool combines the power of a hair dryer and a volumizing brush to simplify your hair routine. The hair-friendly design with nylon pin and tufted bristles detangles, reduces frizz, and enhances shine, leaving your hair radiant and glamorous. The advanced high-power motor and ceramic coated bristles of this hot air brush ensures fast drying without causing any heat damage to your hair. The various heat and speed settings give you complete control over your styling preferences. This hot brush has a lightweight and ergonomic handle that provides a comfortable grip, allowing you to style your hair effortlessly.
Specifications
Weight: 1.52 lbs
Color: Black
Wattage: 1000 W
Heat Settings: 2
Pros
Lightweight
Ergonomic design
Adds volume and shine
Detangles the hair
Frizz-free
Cool touch tip
Easy maneuverability
ALCI safety plug
ETL-approved
Cons
Bid adieu to bad hair days with the ghd Glide Hot Brush! This hot brush is designed to tame and smoothen your hair, giving you a salon-finished look in just a few strokes. The brush eliminates frizz and leaves your hair sleek and shiny with the help of its ceramic technology and ionizers. The combination of high-density shorter and longer bristles ensures smooth gliding through your hair, detangling as it styles. The brush heats up quickly and maintains a constant temperature, making it ideal for rushed mornings or quick touch-ups throughout the day. This easy-to-use brush is all you need to transform your hair routine into a breeze.
Specifications
Weight: 1.28 lbs
Color: Black
Wattage: 1600 W
Heat Settings: 1
Pros
Lightweight
Eliminates frizzy hair
Fast heating
Detangles the hair
Easy maneuverability
Smooth glide
Travel-friendly
Cons
May not be suitable for short hair
With the Shark HD430 FlexStyle Air Styling & Drying System, you can embrace gorgeous, manageable hair. The hair styling tool provides the ideal balance of drying and styling, allowing you to effortlessly create a variety of hairstyles. This styling system with advanced and consistent airflow technology and two auto-wrap curlers can do it all: add volume, soft waves, or a sleek, straight look. It uses the coanda technology to add volume and bounce to the hair while automatically wrapping, curling, and setting. Hair care reviewers on e-commerce websites love this versatile hot air brush as it regulates temperatures to reduce heat exposure. Its cool shot function locks in your style for long-lasting results.
Specifications
Weight: 1.54 lbs
Color: Stone
Wattage: 1300 W
Heat Settings: 4
Pros
Lightweight
Smooths the hair
Adds volume
Anti-frizz
Reduces heat damage
Easy to carry
Cons
Takes time to dry the hair
Never compromise on good hair days while traveling because the Drybar The Baby Brush Crush Mini Size Travel Straightening Brush allows you to have smooth and sleek hair anywhere, at any time. This portable styling tool allows for quick touch-ups and effortless styling. It uses ceramic technology and ionic bristles to heat up quickly and deliver salon-quality results. While the negative ions help reduce frizz and add shine, the quick heat-up and multiple heat settings allow you to tailor the temperature to your hair type and styling preferences. This mini brush packs a punch with universal voltage that ensures you can use it anywhere around the globe. The lightweight design makes this hair straightener perfect for travel or to slip into your purse for quick fixes during the day.
Specifications
Weight: 0.73 lb.
Color: Yellow
Heat Settings: 1
Pros
Lightweight
Smoothens flyaways
Eliminates frizz
Universal voltage
Digital temperature control
60-minute automatic safety shut-off
Best suited for flyaways, bangs and shorter hairstyles
Cons
May not be suitable for thick hair
The T3 AireBrush Duo Interchangeable Hot Air Blow Dry Brush effortlessly creates voluminous curls, sleek straight locks, or bouncy waves by combining the power of a blow dryer with the precision of a styling brush. This small hair styling tool has two interchangeable brush attachments and adjustable heat settings for all hair types. It also has T3 IonFlow ionic technology, which reduces frizz and leaves your hair smooth and shiny. It provides a comfortable grip and easy handling, making styling a breeze. You can start with the paddle brush to smooth your strands before switching to the round brush for more in-depth styling.
Specifications
Weight: 1.46 lbs
Color: White/Rose Gold
Wattage: 900 W
Heat Settings: 15
Pros
Compact
Ergonomic design
Eliminates frizz
Quick-drying
Volume-enhancing
Interchangeable brush design
Comes with a round brush and a paddle brush
Cons
May not add shine to the hair
Elevate your everyday styling routine and achieve salon-quality, voluminous blowouts from the comfort of your home with the BondiBoost Blowout Brush Pro Hair Dryer & Hair Brush. This unique styling device combines a hair dryer and a brush in one unit to save your time while delivering gorgeous results in one easy step. It uses tourmaline technology to emit negative ions that help reduce frizz and enhance shine for smoother, shinier hair. The brush has three adjustable heat settings and suits most hair types, including fine hair. It has a cool tip for safe handling and a professional-length swivel cord for flexibility. This hair dryer and brush combo truly makes styling your hair a pleasant experience.
Specifications
Weight: 1.94 lbs
Color: White
Wattage: 1200 W
Heat Settings: 3
Pros
Lightweight
Adds volume
Reduces frizz
Dual tufted bristles
Cool tip function
Customizable heat settings
Works on both wet and dry hair
Cons
The CHI Volumizer 4-in-1 Blowout Brush features four interchangeable attachments for versatile styling and unparalleled shine. While the oval brush and the paddle brush add volume to the hair and create a smoother look, the nozzle concentrator provides a direct airflow, and the compact diffuser helps add bounce from the root to the tip. The brush has bristles spaced out evenly to prevent knots and tangles. It is fused with the renowned CHI technology to offer unlimited styling possibilities.
The brush has a built-in ion generator that emits an impressive amount of negative ions that reduce frizz, boost shine, and seal the cuticles to lock in natural moisture and minimize flyaways. This styler also features nylon tufted bristles that create tension at the root, giving your hair unmatched body and fullness.
Specifications
Weight: 1.9 lbs
Color: Rose Gold
Wattage: 1800 W
Heat Settings: 4
Pros
Lightweight and compact
Adds volume
Smoothes frizzy hair
Reduces static electricity
Protects against heat damage
Preserves natural moisture
Includes tangle-free cord
Cons
Unlock the secret to your hair's full potential and create stunning hairstyles with the Drybar Reserve Interchangeable Blow Dryer. Whether you're getting ready for a special occasion or want to feel fabulous everyday, this powerful tool is your savior. The blow dryer features three interchangeable attachments – a concentrator, a paddle brush, and an oval brush.
The oval brush creates volume and a smooth, sleek finish, the paddle brush offers a sleek, straight blowout, and the concentrator features precision airflow for an effective blowout. The brush utilizes ionic technology to reduce frizz and static, leaving your hair with a smooth, shiny finish that lasts all day. It also has a high-performance motor that delivers efficient drying while preventing heat damage to your precious tresses. This brush has a sleek build and an ergonomic design that looks chic on your vanity.
Specifications
Weight: 1 lb
Color: White
Wattage: 1875 W
Heat Settings: 4
Pros
Ultra-light
Ergonomic design
Cool-shot button
3 interchangeable attachments
Easy to handle
Cons
Takes time to dry the hair
*The prices provided in this article are based on the latest available information. However, they may vary due to changes in pricing by the seller and/or promotional offers.
Styling your hair perfectly can indeed amp up your confidence for the day. A high-quality hot air brush allows you to dry hair faster and make different styles in minutes. Here are a few things to consider before buying the best hot air brush for thin hair.
Things To Consider Before Buying Hot Air Brushes For Fine Hair
For heat styling fine hair, hot air brushes with lower heat settings are suitable. It is however recommended to go for bushes with multiple heat settings. This ensures you can use the dryer to create any hairstyle like stylish curls or make the hair strands appear more voluminous. Multiple heat settings prevent the brush from overheating and thus prevent damaging the hair cuticles while providing volume for fine hair. You can also opt for an auto shut-off mechanism that prevents overheating.
Opt for brushes with longer cords. This will make it easy to use in any direction. The flexibility factor comes in handy especially when you travel outdoors. Hot air brushes having cords of 6 to 8 feet are ideal to use at all corners of the room.
Good quality bristles are extremely important for the health of hair strands. These provide a body for fine hair, and better frizz control for fine hair. For fine hair care, one must go for hot air brushes with pin bristles. They release less pressure on your follicles while detangling your hair effectively. The bristles made of good quality material such as silicone or nylon are soft enough not to damage the hair strands or roots. Another important thing is to choose brushes with varying bristle lengths. Long bristles work deep into the tresses for easy styling in less time.
Convenience and ease of use are very important in every styling tool. Buy a hot air brush that provides gentle styling for fine hair and is easy to hold and rotate. Look for lightweight tools with detachable bristles which make drying and cleaning easy. A hot air brush with an auto-shutoff mechanism that shuts the device after an hour can prevent overheating and hair damage.
Don't go for over-expensive hot air brushes just for the sake of brand name or market hype. There are many options available both online and offline that have great features, durability, and ergonomic designs and give great shine for fine hair. To find the best hot air brush for frizzy hair, focus on the performance of the brush, look for excellent drying power, temperature control, and quick results.
What Styling Products Can I Use On Flat, Fine Hair?
a) Volumizing Shampoos And Conditioners
Dirt, impurities, and debris often get locked into your hair roots. This makes your natural hair weak and susceptible to falling out. A premium-quality volumizing shampoo coupled with a conditioner will clean your roots, scalp, and strands, making them healthier. You can then style your fine hair easily.
b) Mousses
Hair mousse can strengthen your strands and protect them from frizz. This hair product adds volume and thickness to your stands, making them look healthy.
c) Soft Hold Sprays
Fine hair is often associated with weak and thin locks. Soft hold sprays impart strength to the hair locks, making them less prone to damage. However, be careful about the quantity of spray you apply so that it does not lead to coarse hair or the hair doesn't look glossy or greasy.
d) Dry Shampoos
Fine hair gets messy and tangled easily. Dry shampoo is essential to give it a smooth texture and a clean look.
e) Fibers
Fibers give the much-needed potency to your hair roots, shafts, and strands. They are loaded with keratin protein, which is beneficial for your hair and skin. Fibers can also reduce tangles and frizz, making it easy to wash and maintain your hair.
f) Leave-In Conditioners
Moisturizing your scalp is essential to keep the roots hydrated and less prone to damage. Apply a small amount of leave-in conditioner to keep your hair roots moisturized. Opt for a formulation with nourishing ingredients for maximum protection without making the tresses appear dull.
When it comes to styling fine hair, we want products and tools that will get it done faster without damaging the strands. The hot air brushes listed in this article allow you to dry your hair and create smooth hairstyles in a matter of minutes. They also impart a glossy luster without frying your hair. Pick any of them and rock your hairstyle.
Why Trust StyleCraze?
The author of this article, Shiboli Chakraborti, is a hair care enthusiast who believes in using only the highest-quality products to style and maintain your hair. She spent hours researching multiple products and reviews to vet out the best ones and bring you this specially curated list of excellent hot air brushes to maintain fine hair. These brushes have been recommended for their benefits like drying the hair quickly and volume and bounce to it.
Frequently Asked Questions
How do you use a hot air brush on fine hair?
Here is the step-by-step procedure to use a hot air brush on fine hair:
• If you have fine hair, towel dry your hair until it is 80% dry before using a hot air brush. This step will ensure that you brush for less time.
• Apply a heat protectant spray generously to avoid hair breakage.
• Divide your hair into sections.
• Brush your hair from root to tip and curl ends if you like it.
• Set the look with a lightweight hair-setting spray.
Is a hot brush better than straighteners?
Unlike a hot brush, a flat iron heats up to higher temperatures that can damage the hair. Hot brushes have less direct contact with the scalp hence it is a great choice for reducing potential scalp damage as well.
Can hot airbrush effects hair growth?
No. A hot airbrush will not affect hair growth but the heat may cause breakage or hair fall-related issues. You can use a heat protectant formula to minimize heat damage.
Does a hot air brush curl fine hair?
Yes. You can use a hot air brush to get curls or waves. It is one of the fastest, healthiest, and least damaging ways to curl your hair. It not only adds curls to your straight hair but also transforms frizzy curls into silky waves.
Recommended Articles