The 21 Best Hair Brushes For Fine Hair (2022) + Buying Guide
Detangle your tresses peacefully without any excess tugging, pulling, or shedding.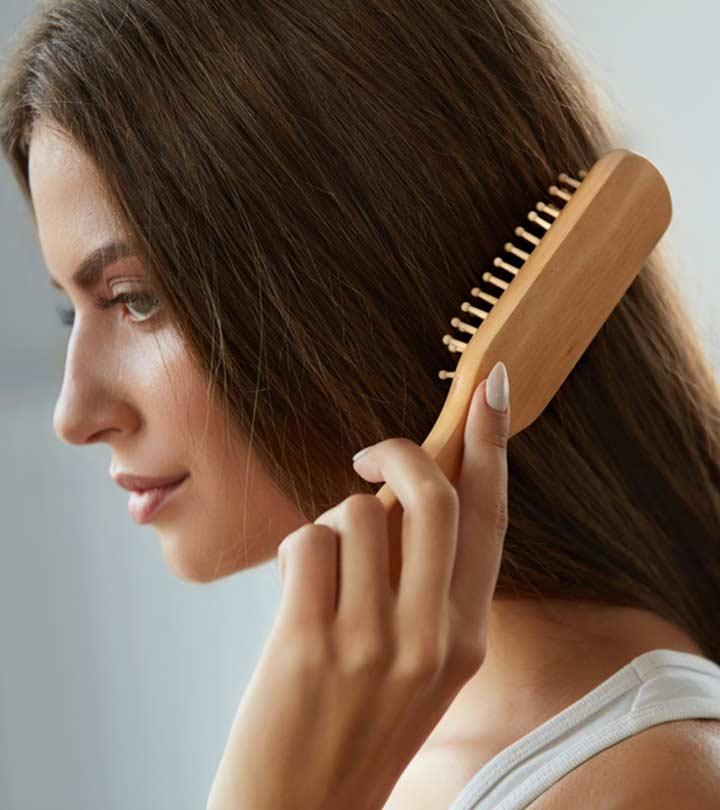 Fine hair might look perfect on the surface, but if you dig through the cover, maintaining it is a mammoth task. Need the best hair brushes for fine hair? We have it sorted for you. Combing fine hair is tricky as the wrong kind of brush can induce hair fall. One thing every person born with naturally fine hair fears is hair fall as fine hair is naturally thin. So after using all the volumizing shampoos, conditioners, and other multiple hair products, if you had to waste your hair on a hairbrush, it would be a shame. So, to catch hold of the real culprit, here are 21 hairbrushes to choose from that will increase blood flow in your scalp and make hair follicles active. These also help to detangle hair without pulling your hair out in clusters.
Top 21 Best Hair Brush For Fine And Thinning Hair
Made using uniquely sculpted pins, this hair brush from Denman offers great controlled styling and the ultimate natural curl definition. It suits all hair types including fine and thin hair and is eco-friendly. The hair brush features anti-static nylon pins and a natural rubber pad. The sturdy design of the brush offers optimum comfort while in use and is perfect for blow-drying and detangling strands. The round ended nylon pins can be used on wet hair to define curls and provide softer movement. It also works towards reducing frizz and gently detangling the strands while adding volume, making it one of the best brushes for fine hair. You may check this video for a better understanding of this product.
Pros
Suitable for all types of hair
Can be used on wet curls
Features anti-static nylon pins
Reduces frizz, detangles strands, and adds volume
Cons
Price at the time of publication: $18.83
:
The Glide Thru Detangling Brush gently separates hair strands while minimizing breakage. The cone-shaped bristles won't tug and pull on your hair and save you from the pain and discomfort. The soft bristles enable you to brush through wet or even dry hair without any worries of breakage. This brush for fine hair can work its magic on any hair type while adding shine by smoothening the cuticle layer for healthier hair growth. Made using flexible bristles of various lengths and ergonomic handle, it can be used by both adults and kids. This video review will help you learn more about the product.
Pros
Minimizes hair breakage
Detangles knots without pulling or yanking
Can be used on dry and wet strands
Ergonomic handle
Child-friendly
Cons
May be ideal for extremely thick hair due to its short bristles
Price at the time of publication: $11.99
If you've been struggling to blow dry fine hair, then this brush from Osensia might be the solution that you needed all along! Featuring tiny vents in the barrel, it speeds up hair drying while lessening the exposure of your hair to heat caused by blow-drying. The ionic minerals in the bristles add shine and detangle hair with reduced flyaways. The ergonomic handle provides a balanced grip and the built-in parting tool makes it easy for you to work on a particular section of your hair at a time. Made specifically for fine short hair, it can be used by both men and women to add volume and life to your limp hair while blow-drying.
Pros
The vents in the brush allow airflow and minimize heat damage
The ion-infused bristles add shine to your hair
Cushioned ergonomic handle for a secured grip
Anti-static bristles
Adds maximum volume to hair strands
Heat resistant for up to 450°F
Cons
Specifically designed for short, fine and thin hair
Price at the time of publication: $19.99
Next on our list of the best hair brush for fine hair is the boar bristle hair brush from Bsisme. It is a decent boar brush that you can use daily to improve the texture and health of your tresses. The hair brush evenly distributes natural oils from your scalp while reducing frizz and split ends. The scale design of the bristles removes excess oil from the strands that make your hair oily. Not just that, the natural boar bristles also removes dust, dirt, and dandruff from the hair to improve the overall look and feel of your hair. The innovative design also comes with nylon bristles that effortlessly detangle hair strands while stimulating blood flow through the scalp for healthier hair growth. Thanks to the customized brush cleaner, hair, dandruff, and fluff can be easily removed from the brush extending its longevity. What's more? It is suitable for all hair types including thick and curly hair. This video will help you make an informed decision about your purchase.
Pros
Suitable for all hair types
Comes with a tailor-made brush cleaner
The natural boar bristles and round tip nylon bristles provide multiple benefits
Conditions hair by evenly distributing natural oil throughout hair strands
Prevents hair breakage, anti-frizz, and reduce split ends
Cons
Doesn't come with an ergonomic handle
Price at the time of publication: $12.99
With this brush, you are one step closer to the perfect morning routine! Made with 100% bamboo and natural rubber, the pins won't cause hair damage, unlike a plastic pinned hair brush. The bamboo bristles add shine to your hair providing a sleek look. With less hair breakage and snagging, the rounded ends of the bristles also work towards distributing the natural oils throughout the hair. It also massages the scalp while stimulating blood flow for healthy scalp and hair. This hair brush comes with an additional tail comb that can be used as a cleaning tool, styling brush, detangling brush, and professional comb to part and section hair. The biodegradable brush works on all hair types including dry and wet hair.
Pros
Eco-friendly and 100% biodegradable
Comes with a tail comb
Can be used on dry and wet hair
Ergonomic design with anti-slip handle
Suitable for men, women, and children
Cons
May not be suitable for use on thick, wavy, and curly hair
Price at the time of publication: $11.99
Tired of looking for the best brush for fine hair? This hair brush is specially crafted for combing wet hair by gently loosening knots without causing breakage. Our hair is the weakest when it's wet and can snap like a rubber band if we're not careful. However, with this wet brush, your hair brush game will be a lot more fun and a lot less painful. Designed with unique IntelliFlex bristles, it detangles hair without tugging or pulling and the flexible head of the brush helps contour the scalp in every direction. Also, the bristles are heat resistant up to 450° F so you don't have to worry about blow-drying your hair.
Pros
The bristles are heat-resistant
Can be effortlessly used on wet hair as well
Affordably priced
Comes with a flexible head
Cons
You may find the bristles to be slightly stiffer when compared to other brushes
Price at the time of publication: $19.99
We certainly know the struggle of finding the best brush for fine hair. This wooden hair brush from Beauty by Earth can be your go-to brush for softer and healthier locks. Made using bamboo, the brush is not just eco-friendly but naturally conditions your hair. The boar bristles improve hair texture without causing hair damage making it easier for you to manage and style your mane. The combination of boar bristles and nylon pins can detangle the most stubborn of knots while spreading the nourishing natural oils throughout the lengths of your hair.
Pros
Eco-friendly
Improves the texture of your hair
Spreads nourishing oil throughout the lengths of each strand
Naturally conditions hair
Detangle hair strands and gives shinier and healthier hair
Cons
Doesn't have the most comfortable handle
Price at the time of publication: $30.99
This expertly designed brush with a wooden handle is suitable for straightening, detangling, styling, and combing hair. The brush works well with all hair types, but is designed with special focus on treated or coarse African hair. The oval cushioned brush is gentle on the scalp and does a great job of distributing natural oils from the root to tips without causing your hair to look greasy or sticky. 
Pros
Great for fine and fragile hair
Smoothly glides through knots and tangled hair
Also eliminates bacterial growth and build-up
Promotes shinier and healthy-looking hair 
Cons
The wooden veneer may peel off
Price at the time of publication: $24.97
Styling fine hair can be hard due to its fragile nature. With this coveted hair brush by Care Me, you can pull-off any voluminous hairstyles regardless of your hair type. This brush for fine hair comes in three different sizes of roller diameter for straight, wavy, thick; straight, wavy, normal, and curled, wavy, thin hair. Thanks to this innovative product, you can now cut down your blow-drying time by half with its advanced honeycomb structure. The boar bristles are 100% pure and do a great job of distributing sebum evenly throughout the hair. The vented ceramic design helps in evenly distributing heat for a salon-like blow-dry experience. The nano-ionic technology and anti-static bristles offer frizz-free and smooth hair from roots to tips.
Pros
This brush makes it easy to curl and blow dry hair
Lets you select the right kind of brush based on hair type
Cuts down the blowing time by half
Evenly distributes the hair sebum from the scalp
Anti-static bristles with nano-ionic technology
Cons
Could be better in terms of durability
Price at the time of publication: $13.99
Having fine hair presents itself with many challenges. To deal with it, you can't use any brush, but the best brush for fine hair. Instead of trying volumizing products, you can use this hair brush that adds volume to your hair by increasing tension at the hair roots. The nano ionic mineral-infused bristles conditions and adds shine to your hair while preventing flyaways and static. The blue wave brush creates soft curls while reducing tearing and split ends and the honeycomb vents allow better airflow while styling. This hair brush is suitable for all hair types and the soft, lightweight handle provides a secure grip.
Pros
Nano ionic minerals condition the strands while imparting shine
Suitable for every hair type
Honeycomb vented design allows airflow for better styling
Prevents static and flyaways
Cons
A little on the expensive side
Price at the time of publication: $35.0
Our next pick for the best brush for fine hair is brought to you by Tangle Teezer. The unique two-tiered teeth system makes it easy to detangle hair. With this brush, you won't have to spend much time worrying about breakage or hair damage while brushing your hair. This hair brush comes in a cute, travel-friendly design and is ideal for all hair types. The detangling brush easily glides through wet or dry hair leaving them shiny and soft.
Pros
Easy to detangle hair
Leaves your hair feeling soft and shiny
Cute design
Reduces breakage and damage of hair strands
Can be used on dry and wet hair
Cons
Design may not be ergonomic
Price at the time of publication: $18.77
Made using wild boar bristles, this PW1 hair brush is one of the best brushes for fine hair. The bristles are crafted at a shop in Germany's forests that have been making high-quality brushes for over a century. Specifically designed for hair with fine to a medium thickness, the soft bristles with precise spacing can glide through fine hair with ease. The handle of the brush is crafted with oiled pearwood with a butterfly image engraved on it. The boar bristles aren't anti-static and very similar to human hair. Applying a leave-in conditioner is recommended for static control before brushing. The bristles also work towards distributing the hair oil throughout the lengths of the hair for healthier hair growth.
Pros
Specifically crafted for fine to medium hair
Glides through hair strands with ease
Over 100 years of experience in brush making
Evenly distributes hair oil
Biodegradable
Cons
A little on the pricey side
Not suitable for people with sensitive scalp
Price at the time of publication: $34.49
Watching your precious strands in the shower drain is never easy, and to top it off, hair thinning and breakage makes matters even worse. This detangler with its 428 contact points reduces breakage and hair loss. This hair brush is structured in 16 varied widths and 32 different heights to disperse the pressure applied on your hair while combing. The well-rounded bristles pave way for a pleasant scalp massage. And the flexibility of the brush with extended cushion helps glide through the strands effortlessly. The spacing between the bristles allows for a pain-free detangling experience by reducing resistance. The hair brush comes in two other colors each for normal and thick hair type.
Pros
Specifically designed for fine hair
Pain-free detangling experience
Affordably priced
Reduces resistance in hair to prevent breakage
Conditions the scalp
Cons
Not Ideal for normal and thick hair types
Price at the time of publication: $28.12
This British brand of hair brushes has a cult following for its ultimate craftsmanship and quality. While it's normal to hesitate splurging on high-end brushes, your quest for the best hair brush for fine hair will end with this one! Made with the finest premium quality boar bristle, this functional high-end brush is gentle on your hair and scalp. It exfoliates the scalp while boosting hair circulation. It evenly distributes the natural oils from the hair roots and the patented flexible cushion offers a smooth brushing experience. Mason Pearson also provides a warranty of one year against manufacturing defects.
Pros
One year limited warranty
Made using the finest boar bristles
Even distribution of natural oils
Scalp exfoliation
Cons
Price at the time of publication: $375
Few products can transform your hair into a healthier and better version than before. Our next pick is the boar bristle paddle brush by GranNaturals if you are looking for the best hair brush for fine hair. Who would've thought that boar bristles would make for such great brushes? While hair sebum plays a role in the health and shine of your locks, too much of it can make your hair look greasy. This paddle brush is crafted focusing on equal distribution of hair sebum from hair roots while preventing oil build up. This, in turn, moisturizes and nourishes your hair to keep dryness and frizz at bay. The bristles actively massage the scalp to stimulate the hair follicles and boost blood circulation. The bristles also detangle knots without tugging or pulling on the hair and are suitable for all types of hair.
Pros
Works on all hair types
Even distribution of hair sebum
Wards off dryness and frizz
Detangles hair without tugging or pulling
Prevents hair from looking greasy
Cons
The brush isn't ergonomically designed
Price at the time of publication: $12.99
Our last pick is the MicroPure Enhanced Hair Straightener Brush. No points for guessing; this hair brush for fine hair offers multiple benefits and comes with a double ionic generator. The negative ions emitted from the tool gives your tresses a silky, smooth, and natural look. It also allows you to adjust the heat setting to 16 temperatures specific to your hair type — thick, thin, curled, or wavy. The electric brush also helps diminish frizz and prevent flyaways and turns your curls to sleek straight hair within minutes. The power cord operates with a 360-degree swivel allowing you to turn at any angle with ease.
Pros
Has 16 heat setting for every hair type
Straightens your curls in a short amount of time
Reduces static and flyaways
Can turn the power cord at any angle with ease
Auto shut-down feature
Cons
Price at the time of publication: $33.59
This professional-grade brush with pure soft boar bristles is sure to enhance the texture of thin hair, making it easy for you to maintain. Its sturdy, anti-slip handle helps you comb your hair down the length. It also comes with a mini detangling wooden comb to remove knots and tangles without hurting your scalp. It comes in an attractive package and makes for a great gift. 
Pros 
Original and anti-slip beech wood handle
Designed for fine and thin hair
Comes with a soft rubber pad for an enhanced brushing experience
Gentle brush that smoothes the hair follicles
Cons
Not suitable for thick and long hair
Price at the time of publication: $5.98
If you frequently straighten your hair, this sleek and stylish brush with an oval paddle and natural boar bristles will clean, condition, and nourish them. It doubles as a dandruff brush as it redistributes natural oil throughout the hair and scalp and prevents build-up that may cause dandruff. The detangling brush is ideal for short to medium-length, thin hair and is also recommended for sensitive scalp. 
Pros
Distributes natural oils through the scalp and stimulates growth
Prevents split-ends
Sleek and stylish design
Strong and high-impact bristles to massage the scalp
Cons
Price at the time of publication: $96.0
For ladies with thinning locks, this professional hair brush works incredibly well. The brush features 6-row styling partitions that cleanse the hair and remove excess dirt and build-up from your scalp. It distributes natural oils from the roots to tips, making your hair look healthy in minutes! Great for daily use, this brush helps improve blood flow in the scalp, making your hair grow thicker and longer. 
Pros
Its sharp natural bristles add shine to your locks
High-performance and sturdy brush
Features a thin plastic handle that is easy to hold
Works on curly and frizzy hair
Cons
Does not work on extremely thick hair
Here's another easy-to-use rattail, backcombing brush that will allow you to detangle your hair effortlessly! The 3-tier stagger length combing teeth are great for removing knots without breakage or hair fall. Its smart design and soft bristles work on all hair types and help create the desired volume and bounce. With the rattail, you can easily partition your hair and can gently detangle and brush your hair. 
Pros
Perfect for everyday combing
Works effortlessly on wet and dry hair
Ergonomic design with vivid bristles
Multi-function hair brush suitable for long and thin hair 
Cons
Does not work on curly or thick hair 
Price at the time of publication: $13.99
Say goodbye to thinning and frizzy hair as this brush set is designed to reduce hair fall and improve texture naturally. This brush features natural bristles that don't scrape your scalp and evenly distribute the natural oils of your scalp for added shine. If you are apprehensive about combing your thin and weak hair, this is a detangling brush you can consider getting right away. 
Pros
Comes with wide teeth for detangling hair
Features patented scalp hugging shape
Removable cushion makes it easy to clean
Can be used on dry and wet hair
Ballpoint tips for gentle massaging
Cons
Hair may get tucked in the bristles
Price at the time of publication: $12.95
Now that you are familiar with the various hair brushes for fine hair, let us brief you through some important tips and suggestions that will help you make an informed decision. 
Buying Guide: Best Hair Brush For Fine Hair
What Type Of Hair Brush Is Best For Fine Hair? 
For fine hair, it is best to go for a hair brush that has medium or preferably soft bristles. They should be gentle on the scalp and effective in detangling the hair knots without tugging or causing breakage. Brushes made using boar bristles are also a great pick as they feature soft bristles and are gentle on your scalp and hair. You might also want to consider brushes with a cushioned and flexible head as they help you detangle and style your hair with little effort.
Which Type Of Brushes Should You Choose From 
There are different types of hair brushes available for fine hair. Detangling brushes are great to smoothen wet or dry hair without causing any breakage. Round brushes with boar bristles are used to add volume and for everyday use, while paddle brushes are ideal for a quick blowout. In contrast, straightening or styling brushes are used for styling hair.
What Are My Options For Hair Brushes 
You can choose the right brush for your hair after analyzing your requirements. Firstly, know why you need a brush, and what is the purpose you need it to serve. If you need a brush that can easily get through the length of your hair and detangle it without breakage, choose a wide-tooth detangling brush.
If you are looking for a brush that can help with your bangs and can tame the frizz, choose a paddle brush with boar bristles to enhance volume and add shine. To style your hair or for a blow drying session, choose a round brush with boar bristles that can hold your hair while you style it.
How Are Brushes For Fine Hair Different From Generic Brushes? 
Fine hair is more susceptible to damage and breakage caused by brushing. But the right kind of brush can help condition your hair while providing a pain-free detangling experience at the same time. It is important to look for brushes that are suitable for fine hair that helps detangle your strands without tugging. Such brushes would nourish your hair by evenly distributing natural hair oils down the hair shaft while controlling static and reducing frizz to give smoother and softer locks.
How Do You Brush Fine (Thin) Hair? 
You can brush your hair starting with the hair roots and slowly working your way downwards. This way, the brush bristles will help in evenly distributing the hair sebum giving your hair its natural shine.
Though some people aim for a hundred strokes a day, we believe that it's a bit too much.
Brush enough to detangle all your knots and to ensure that the hair oils have been distributed evenly to each hair strand.
We hope that our post has enlightened you on the benefits of having a great hair brush by your side. Granted, these brushes will cost a few more dollars than your average hair brush. But having struggled with lifeless strands prone to breakage, these 21 best hair brushes for fine hair will be more of a necessity than a luxury you need to have. Do you have any queries regarding this post? Do let us know in the comments below!
Why Trust StyleCraze?
The author of this article, Kirtana Divakar, is a hair care enthusiast, and she loves to learn about different hair care products. She has gone through hundreds of reviews and browsed the official sites to research the products in detail to curate this list of the best hair brushes for fine hair. These brushes minimize the frizz, add volume to your hair, and detangle your hair strands.
Recommended Articles