11 Best Color Changing Nail Polishes For Your Changing Moods
Vibrant, fun, and long-lasting color-changing nail polishes suitable for every mood.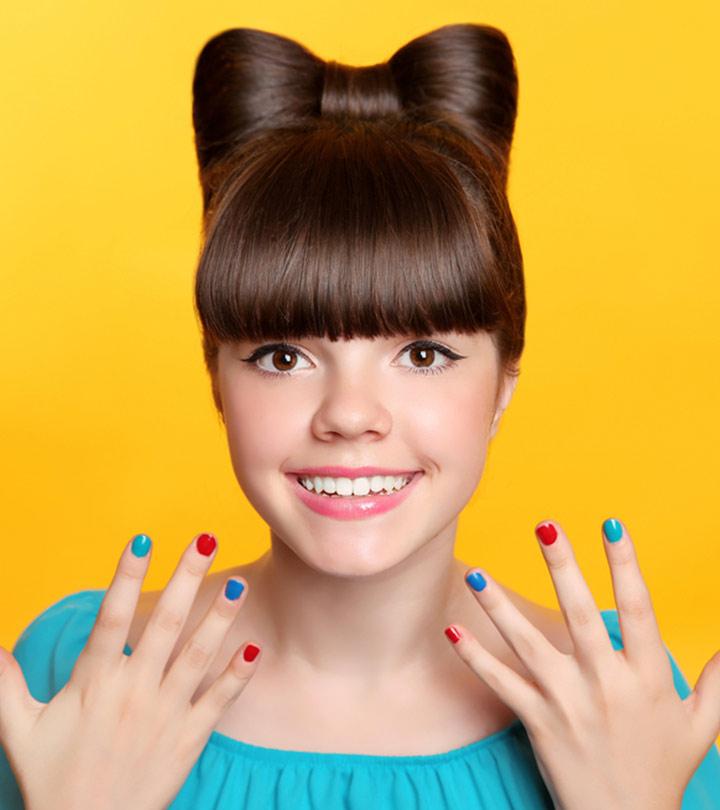 Wearing the same nail polish color for a long time can be boring. Instead, you should incorporate one of the best color-changing nail polishes to spice up your monotonous at-home manicures effortlessly. Color-changing nail polishes are those that offer you different colors due to temperature change or when your nails are exposed to sunlight. These nail polishes are infused with colorful pigments with an array of transitions. Who knows, they may also change your mood due to their shifting hues!
Also, color-changing nail paints are sensitive to heat, and you will find a color change when exposed to different temperatures. They come in various formulas, finishes, and shades to suit everyone. In this article, let us explore the best color-changing nail polishes that will help you achieve salon-quality manicure and will be chip-resistant, long-lasting, and shine-boosting. Check out the list now and take your pick! Scroll on.
11 Best Color Changing Nail Polishes – Our Top Picks
Be it any occasion — halloween, Christmas, or birthday, this can be a great gift for your loved ones as this set of color changing nails polishes comes in a beautiful gift pack. They can try it on with a base and top coat, and by curing it under a lamp. These nail colors change their hue either from body temperature or from a change in environmental temperature. The Modelones mood gel nail comes in glitter finish and exciting colors that are worth falling in love with. It gives a matte finish that can last for as long as 2 weeks. The set comes with 6 nail colors at an affordable price and leaves no chips or smudges on your nails. But apply a thin layer of gel as it may cause slight burning sensation while it cures under the UV nail lamp. You can also check this YouTube video for a complete idea about the product.
Pros
Shiny gel
Long-lasting
Easy to use
No scuffing
Covers nail evenly
Comes with 6 color variants
Cons
Price at the time of publication: $9.99
Your colleagues' jaws will drop open when they see your beautiful nails. Thanks to this nail polish that changes color as and when your body or external temperatures change. The non-toxic gel looks like polish and can be applied in a matter of a few minutes. Though it looks great on long nails, it also looks just as amazing on short nails as the royal blue/turquoise shade is a subtle hue that suits every nail type, shape, and occasion. Suitable for false nails as well, the gel can be a perfect three-week-long wear. It has a faint scent and pretty colors that stay on giving a mirror-finish. It sure is to blow your mind!
Pros
Mirror finish
No smudges, nicks, or chips
Long-lasting
Non-toxic
Good tenacity
Suitable for false nails too
Cons
Some may find the consistency too thick.
Price at the time of publication: $4.99
Experience the magic of colors with this color changing nail polish. The salon-quality formula of this gel offers you vibrant colors that change as per the temperature. The high-gloss wear can last for 21 days without causing chipped or smudged nails. The color changes to white when your nails are hot and hot pink when they are cold. It can sometimes have an ombre effect with the tips being pink and nails white depending on the temperature. All you need to do is ensure that your nails are clean, dry, and oil-free before you apply the nail polish.
Pros
Easy to use
Long-lasting
Thicker consistency
Vibrant colors
Mirror shine finish
Cons
You may have to warm it for better consistency.
Price at the time of publication: $6.99
With the Makartt Marble Nail Polish Kit, you can create a nail art design that looks like a magic bloom. The nail polish comes in a variety of shades, including orange, blue, yellow, black, and pink. You can make a wonderful nail art design with marble ink by doing some casual painting and adding some easy accessories, such as manicure foil and nail glitter. The watercolor nail polish will create a look that is similar to a natural gradient as it blends out. This formula is mostly composed of natural resin and contains other non-toxic healthy ingredients. It has a minimal odor. It features a fast-drying technology so that you don't have to worry about curing it or smudging it.
Pros
Cruelty-free
Non-toxic
Does not peel off easily
Non-smudging
Non-chipping
Low odor
Last for more than 2 weeks
Comes with 6 color shades
Environmental-friendly
Cons
Price at the time of publication: $16.99
Now forget about using a nail polish remover and applying different nail colors again and again. This easy-to-use mood color changing nail polish will help save a lot of your time as you just need to apply one gel for different colors. You need not worry about reapplying it for weeks as it lasts quite long. Its high-quality formula is not runny and does not shrink. It goes on to give you flawless colors to try on with dramatic changes according to the body temperature. It naturally creates an ombre effect as the temperature of your finger changes. The product comes in 42 shades, giving you a wide collection to choose from. You will never run out of beautiful shades or get bored when you invest in these amazing color changing gels. If you want to know more about the results, take a look at this review on YouTube.
Pros
Wide color selection
Not runny
Long-lasting
Easy application
Creates ombre effect naturally
Cons
Some may find it slightly expensive.
Price at the time of publication: $14.1
This nail polish that changes color comes in a pack of 6 trendy shades. So,there will always be a color for each of your moods. The non-toxic color changing nail polish is made with safe ingredients, these pretty colors can give you a great three-week-long wear. The temperature changing nail polish gives different shades according to the temperature of your nails and has a faint scent. Just cure it under the LED light for 90 to 120 seconds and apply a base and top coat for a flawless finish so that you can flaunt the beautiful colors of your nails in front of the world. You can check this YouTube video for more information about the product.
Pros
Non-toxic and safe
Low odor
6 shades in a set
Lasts for longer than 3 weeks
Cons
It is not suitable for use by pregnant women.
Price at the time of publication: $16.99
As you walk into a room, let your 'nail' language do the talking. These modern shades can make a bold statement as the colors definitely open a window into the endless possibilities of the color spectrum. This handmade thermal nail polish is made by blending color pigments with raw materials that are cruelty-free and vegan. It changes its color to violet in the cold temperature and turquoise in the hot temperature. Richly pigmented, the gel also delivers holographic finishes and a teal green shimmer with a smooth finish. The non-toxic formula gives long-lasting results, and when applied with top and base coats, the dazzling manicure would look like it was done professionally in a salon.
Pros
Handmade
Cruelty-free and vegan
Non-toxic
Paraben and fragrance-free
Has holographic sparkle
Smooth finish
Cons
Price at the time of publication: $16.5
The colors of this thermal nail polish are vivid and are suitable for the hot as well as the cold seasons. Hence, you can use it throughout the year. The eco-friendly and non-toxic color changing nail polish is made with harmless resin and is easy to apply. It can be used at your home or a professional salon for any occasion, be it a casual day at work or a special event like weddings or birthday parties. It comes in a pack of 6 popular and trendy shades and offers you a wide range of 72 bright and shiny colors that change from one to another based on varying temperatures.
Pros
Glossy, matte-finish
Easy application
Non-toxic formula
Lasts for 3 weeks
Bright and shiny colors
Comes with 6 color shades
Healthy and eco-friendly
Cons
The white nail color may peel away after a while.
Price at the time of publication: $9.99
The Born Pretty Jelly Pink Color Changing Gel Nail Polish has a jelly translucent crystal look as well as a color change effect that causes the polish to become a lighter color when exposed to warm temperatures and a darker color when exposed to cold temperatures. It has a wear time of more than 21 days and a beautiful shine. Because of its high durability and deep pigmentation, it keeps its shine for a longer period of time and delivers a magnificent finish. You can cure it under any UV light. The formula is easy to apply and remove as well.
Pros
Non-toxic
Fragrance-free
Long-lasting
Does not peel off easily
No smudges or chips
Low odor
Lasts for a minimum of 21 days
High gloss shine
Easy to apply
Cons
Not suitable for use by pregnant women
Price at the time of publication: $5.99
With this color changing nail polish that gives you a striking manicure, you can finally start your first self-manicure session right at the comfort of your home. This nail polish changes color when exposed to the ultraviolet light. This glitter color changing nail polish can change color from metallic pink to dark lavender even in cloudy weather as 80% of the sun rays still pass through the clouds to make its way to your nails. Its formula is cruelty free and non-toxic. Made in the USA, its chemically-engineered spectrachrome crystals have an energy shift when exposed to sun's rays to reveal hidden colors, making it a fun experience for you. After all, the mission of the product is to create fun and joyous memories for its customers since 1994.
Pros
Cruelty-free
Non-toxic
Offers both glittery and matte finish
Changes color even in cloudy weather
Cons
Some may find the consistency thin.
Price at the time of publication: $10
This mood changing nail polish enhances your mood and gets you to burst into a great big grin. Try some DIY and experiment at home with the 7 trendy colors that come in a set. It is made with natural raw materials and is hence, safe and eco-friendly too. Watching it change colors so quick and bright can be super fun, especially if you're the kind who gets bored of the same color on the nails for days. The glitter color changing nail polish shines like no other. It changes its color with temperature, without causing any damage to your nails. Easy to use, it is the best catch out there if you are just beginning to get into nail polishes and want to try something unique.
Pros
Easy to DIY at home
Trendy colors
Comes in glittery and shiny finish
Lasts for over 21 days
Suitable for beginners
Cons
Some may find the consistency to be slightly watery.
Price at the time of publication: $12.99
How To Choose The Best Colour Changing Nail Polish
There are thermal nail polishes which change colors according to the change in body or outside temperature. You get transparent colors at warm temperatures and opaque during the cold weather. You can try solar reactive ones too, which change colors only when exposed to the ultraviolet light. When you are away from the sun, the color turns back to normal or becomes colorless. You may choose to also go for a rainbow like effect on your nails with the holographic finishes. These work based on the principle of refraction.
You can choose a combination of colors according to the occasion. For a daily wear, you can go for some neutral shades like gold with a bit of shimmer. For a formal occasion like work or a meeting, you can wear light peachy shades or whites and beiges. And if you are getting dressed for a special party like halloween or a birthday party, you can go all out with brighter shades.
The shades of the nail polish should complement your skin tone. If you have wheatish skin tone, you can try something with a pinkish undertone. And if you have dark skin tones, pastels can be a good option.If you have pale skin tone, you can try nudes, silver, lilac, deep blues, and greys. Pinks and purples will also look great on your hands. You may opt for a bright pink or red with bluish undertones. It is recommended to avoid gold and any dark polish as they may over-emphasize the natural paleness of your skin.
Color changing nail polishes offer shiny, matte, and glittery finish. You can pick a combination of these and wear them as per occasion or your mood. And if you have a preference for only one among these finishes, don't shy away from picking a set or a nail polish that specifically suits your preference.
Now that you have understood what you need to look for while choosing a color changing nail polish, here are some tips on how to apply it.
How To Apply Color Changing Nail Polish
Clear any colors left on your nails as you need to start with clean nails.
Apply a base coat on your nails and let it dry completely.
Now, apply your choice of color changing nail polish. You can apply 2 coats so that you get the results that you expect.
However, let the first coat dry completely before you apply the second coat.
Get a nail polish remover on a cotton swab and clean the color on the corners of your nails.
You can then apply a top coat for a smooth finish. The top coat also helps prevent chipping.
If you're curious as to how color changing nail polishes work, here's the science behind how the colors change.
How Does Colour Changing Nail Polish Work
These nail polish change color due to the presence of an element called leuco dye which comes in 2 forms— colored and colorless. It allows the color to change at desired temperature from heat and light. When it is cool, it dye becomes colored and in hot temperature, it turns colorless. However, it is also possible for it to change colors with a chemical redox reaction.
With these color changing nail polishes, you no more have to be confused about picking a color to get ready for a day out, an official lunch, tours, or any special occasions like birthdays or weddings. Color changing nail polishes are an innovation that every person with a liking for beautifully done nails would absolutely love. If you belong to that league, you can now create a signature fashion statement with these innovative polishes and your color preferences. You can go both contemporary or classic without having to wipe the color off your nails and applying a different color every other day.
Why Trust StyleCraze?
The author, Chaitra Krishnan, is a makeup enthusiast and loves to review different makeup products. After thorough research, she has provided a detailed list of the best color-changing nail polishes in this post. She went through numerous reviews and feedback on multiple forums and brand websites to help you pick the best color-changing nail polish. The products in this post come in various formulas, finishes, and shades to suit everyone.
Frequently Asked Questions
Is color changing nail polish safe?
Yes, it is safe as most brands these days create nail paints that are free of chemicals like toluene, formaldehyde, dibutyl phthalate, and camphor.
Does color changing nail polish work with a top coat?
Top coat does not affect the color of these nail polish. However, they help give that finishing touch to your nail colors, thus giving you the best outcomes.
How long does color-changing nail polish last?
Color-changing nail polishes can last anywhere from six months to 12 months after opening the package. Keep it in a cool and dark place to extend its life. The premium formulas have a wear time of 3 weeks.
How do you remove color-changing nail polish?
Remove color-changing nail polish just like any regular nail polish. Use a cotton pad and some nail polish remover to wipe away the color until you have clean nails..
Do you need a UV light for color-changing nail polish?
No. You don't need a UV light necessarily for color-changing nail polish. Color-changing nail polish uses leuco dyes which can air dry or cure under UV light or LED light. They change color based on your body's temperature and pH value.
Recommended Articles