11 Best Glow In The Dark Paints To Create Magical Art – 2023
Enhance your creative skills and glow up in the themed parties to look gorgeous.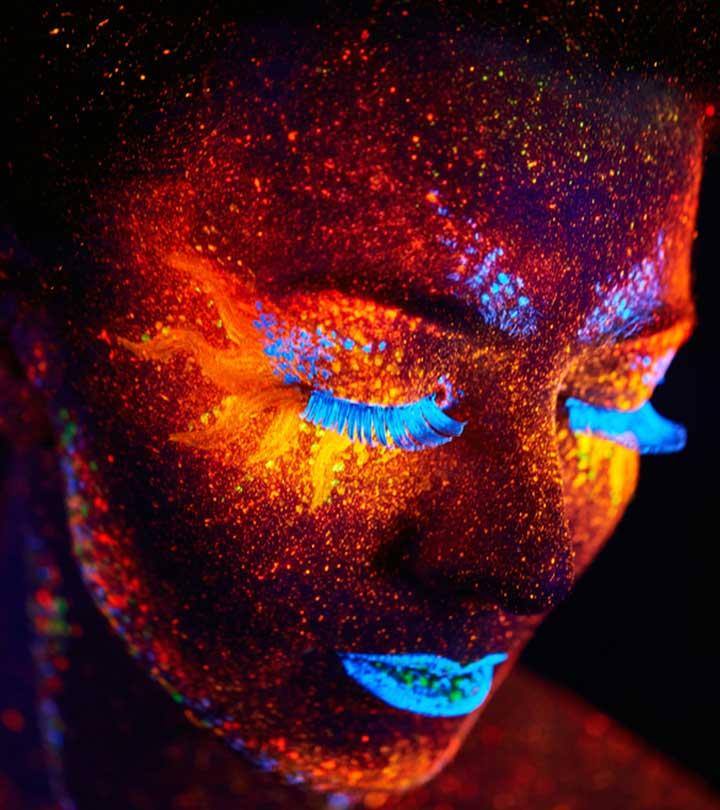 If you are crafty, there is no end to what you can create with the help of your imagination and supplies. To give a little boost, here are the best glow-in-the-dark paint to make your room look like the den of art once the light goes out! You must have seen how the glowing effect of neon paintings appear in a dark room and make it look eerie yet gorgeous in movies. It is something that the rave crowd can't go without, and if you want to add more than just a night lamp to your room, here are some colors that will sharpen your DIY arts and crafts skills and help you explore a new hobby!
The 11 Best Glow in the Dark Paints Of 2023
The Art 'N Glow is here with their Glow In The Dark Paint is made by combining acrylic paint with a type of glow powder called strontium aluminate. This technology produces a long-lasting and bright glow. The paint dries clear for the first few coats and is suitable for custom designs or traditional paintings. Do not expose it to freezing temperatures, as this can damage the product. Reviewers from ecommerce websites have acclaimed the paint product for its outstanding performance and easy application.
Pros
Non-toxic
Non-radioactive
Eco-friendly
Water-resistant
Clear application
Suitable for fabric use
Cons
Not to be used on fabrics or skin.
Are you prepared to hit the town and a few exotic clubs with your friends? If yes, you'll need some self-illuminating visible-in-the-dark paint to make the night memorable. The UV Glow paint set comes with 6 glow in the dark body paints, which are easy to apply, and easy to wash off. They are long-lasting, so you can party on without worrying about your designs fading away. If you're always running out of time, don't worry, these paints dry faster than you can say glow in the dark. Many reviewers have attested to the same after testing it. Glow at night with these body paints and set the mood of the party right.
Pros
Easy application
Easy to wash off
Long-lasting
Dries quickly
Safe for the body and face.
Cons
Some may find the gel-like consistency slightly thin.
Got a craft project that requires coloring? Why don't you use neon paints to add some vivid details? FolkArt Neon Paint is an acrylic glow in the dark paint set which comes with 8 different colors. With the option of neon and glow in the dark colors, you can let your imagination run wild and express itself on any surface such as wood, fabric, plastic, and many more. Use the paint to spice up your kid's room decor or as vivid night party decorations. The colors are water-based and non-toxic and offer a vivid glow. Reviewers have noticed that the paints recharge with light and provide superior coverage with a matte finish.
Pros
Non-toxic
Ultra-blendable
Creamy texture
Water-based
Cons
It may appear as a pastel shade on fabric.
Festivals and parties with black lights always make for memorable experiences. The addition of a good glow in the dark paint makes it better. Midnight Glo offers a range of face and body paints for parties and similar activities. These blacklight reactive paints provide the brightest glow, making you stand out with your intricately painted patterns and designs. The set comes with 6 vibrant paints and is safe for application on the face and the body. Mix and match to fulfill your heart's desires to achieve a unique look for any festival or a party with UV lights. Reviewers who tried and tested the product couldn't help but applaud its exceptional results, and effortless application.
Pros
Thick yet smooth consistency
Non-toxic
Premium quality
Does not need a long time to recharge.
Cons
Some customers found the smell of the paint to be fishy and unpleasant.
Nothing shines as bright as creative designs with glow in the dark paints. Bright, colorful, glow in the dark paints can drastically change the way your indoors and outdoors look and also give better nighttime visibility. Aurora Bright by SpaceBeams is the go-to acrylic glow in the dark paint for all your creative lighting needs. This green color paint can be used on various surfaces such as fabric, metal, and plastic, and it glows all night after a 10-second light charge. They are non-flammable, non-toxic, and water-based, and emanate a vibrant green glow in dark environments. This paint also comes with Lifetime Access to Exclusive VIP Stencils Membership for you to easily create professional-looking wall art in a range of designs from cosmic themes to Halloween effects.
Pros
Easy to apply
Non-toxic
Water-based
Non-flammable
Cons
It may not be safe for your face and body.
Loved by children and adults alike, this fabric paint goes above and beyond to glow like the sun. It is safe to use on T-shirts, fabric posters, and backpacks for an added burst of color. It is widely used on stage props and parties to create an eerie, vibrant atmosphere. This fabric glow in the dark paint is non-toxic and machine-washable. It comes in an easy-to-use squeezy tube. You can express your creativity and the paint glows with a UV flashlight and black light. According to online reviews, it is a fun and creative way to revamp some old clothes as it dries quickly and doesn't crack or peel.
Pros
Machine-washable
Quick-drying
Multiple uses
Non-toxic
Squeeze-tube
Cons
Needs frequent charging in the light for the glow to last a long time.
Add some color to your life with these washable glow in the dark paints. Arteza Tempera comes in 32 colors! That's more than enough for the Picasso in you to run wild with creativity, isn't it? The kit includes 8 vibrant, 7 metallic, 6 neon, 5 glitter, 4 laser glitter and 2 glow in the dark shades. The colors are easy to wash off and don't exude a pungent smell. The paints adhere to the highest safety standard and comply with US and European health standards. These high-quality glow paints can also be used on toys, art projects, or Halloween and Christmas decorations.
Pros
Washable
Safe for kids
Easy to use
Choice of 32 colors
Cons
Thin consistency requires multiple coats for a good base color
Want to be the light at the next black light party? If you're nodding, the ILC Blacklight body paint won't let you down. This body paint kit comes with vibrant fluorescent colors, each more dazzling than the next. It is free of any harmful chemicals and can be applied to the body without worries of rashes or allergies. The body paint kit comes with a black light flashlight to check the detailing of your designs. This colored glow in the dark paint is an ideal accessory for all your clubbing events and parties with UV and black lights.
Pros
Non-toxic
Includes a black light
Value for money
Long-lasting
Vibrant glow
Cons
It may take a lot of time to dry.
Need some extra glow to light up your dull and empty rooms? The DecoArt glow paint is just the thing for you. It adds a luminescent effect to any surface. It can be used across different surfaces such as ceramic, styrofoam, and wood. The glow in the dark paint is non-toxic and requires a simple one-step application for great results. The strong glow paint charges quickly and can be used for decorative gifts and starry sky effects.
Pros
Easy to clean
Bright luminescence
Smooth
Easy to apply
Cons
It may require several layers of coating to appear bright.
Decors in your house need a bit of a revamp? Why don't you give these neon colors a shot to spice up old furniture and add new life to it? These acrylic glow in the dark paints are all-purpose and can be used on various surfaces such as ceramic, wood, glass, and paper. The set comes with 6 different colors, which are water-based and dries quickly. These high-quality glow paints are non-toxic and conform to the highest safety standards.
Pros
Water-based
Safe
Non-toxic
Bright colors glow well
Cons
Some may find the paint slightly chalky.
It is a set of 10 bright, semi-translucent, and fluorescent colors that provide a vivid glow under a black light. The paint is smooth and easy to work with, making it ideal for artists, professionals, or just someone who wishes to add a pop of color to their room. The set is long-lasting and can be used both indoors and outdoors, over different surfaces, such as fabric, paper, and glass. Use it to get your anime cosplay colors right or your room rave party-ready.
Pros
Semi-translucent
Bright fluorescence
Smooth application
Easy to use
Cons
It may get clumpy as it dries quickly.
*The prices provided in this article are based on the latest available information. However, they may vary due to changes in pricing by the seller and/or promotional offers.
Glow in the dark paint comes in many colors and sizes. Here are some important factors to consider before buying one.
Glow In The Dark Paint Buyer's Guide
Choosing the pack or the container's size depends on the needs and for which the colors will be used. If the use is for festivals or clubbing nights, a small-sized, 1-2 ounces of face or body paint should suffice. However, if you plan to use the colors for 2 people or more, larger quantities would be required. To redecorate walls and rooms, a larger bottle of 4 ounces and more would be best-suited.
The choice of colors available in fluorescent and glow in the dark paint can be limited. If a specific color is important to your project, do check the label of the paint or the product description. Some colors shine brighter than others and glow better, such as orange, white, and yellow. Darker colors such as blue and different shades of blue may need thicker and double coats with extra UV flashlight to shine brighter. With one coat, these colors impart a soft glow that you may not like.
Glow in the dark paints come in 2 types — acrylic and water-based.
Acrylic paints are thick and used over surfaces such as wood, metal, and ceramic. It has better adhesion and is difficult to remove once the paint dries. They are generally not used over the face or body due to its adhesive properties.
Water-based paints are designed for use on the face and body. Since they are easy to wash off, water-based paints are also used in crafts, fabric, and furniture. Acrylic colors are preferred if the paint is required for long-term use. If the need for paint is temporary or short-term, water-based colors are a better fit.
Glow in the dark paints are a great way to revitalize and bring out some creative happiness into your life. Whether you apply it to your face, body, or decor, glow in the dark paint livens up anything it is used on.
Uses Of Glow In The Dark Paint
Painting T-shirts and posters
Redecorating old furniture
Painting walls to enhance a party/clubbing experience
Adding some creative and reflective effects on automobiles
To redecorate old toys and to use in craft projects
Face and body painting to create dramatic celebrity-inspired makeup looks.
How Can I Apply Glow In The Dark Paint To My Skin?
For best results, follow these steps:
Find a black light lit area: If you want to see how good your designs will look in a party, ensure you can access a black light to help in the best application.
Clean the area for application: It helps to have a clean, even surface on which the paint is applied.
Apply the paint: Use an expertly crafted brush if available or use your fingers. The thicker the layer of paint, the better and the brighter the glow will be.
Drying: It takes around 10 minutes for any glow in the dark paint to dry. Some paints need to be charged to glow, so use some light after the paint is dried for the best results.
Why Trust StyleCraze?
The author of this article, Srijita De, is an avid art enthusiast who loves portraits and paintings. She has curated a list of the best glow-in-the-dark paints for her readers after researching and reading hundreds of online reviews. Chaitra's list has products that ensure the colors are long-lasting and glow for hours. These glow-in-the-dark colors dry quickly, are easy to wash off, and safe for your body.
Frequently Asked Questions
Is glow in the dark paint harmful?
It depends on the paint. Water-based paints are safe for the face and body, however, it should be kept away from the eyes. Acrylic paints are used for surfaces and can be hazardous if applied on the skin.
Does glow in the dark paint work outside?
Yes. They work just fine outdoors. Do remember to apply a thick layer for the best results.
How long does the glow in the dark paint last outside?
If you use a good quality paint, it can last for months. Apply a coat of quality weather-proof coating for the paint to last for years.
Do you need UV light for glow-in-the-dark paint?
No, only black-light products need UV light to glow, but glow-in-the-dark paint doesn't need to be exposed to UV light.
What's the longest-lasting glow-in-the-dark paint?
ILC Fluorescent Glow Paint is the best long-lasting glow-in-the-dark paint which comes in vibrant colors made from non-toxic substances.
What does glow-in-the-dark paint look like during the day?
Glow-in-the-dark paint looks dull or faded during the day or in the sunlight.
Can you use a clear coat over glow-in-the-dark paint?
You can use a clear gloss coat over glow-in-the-dark paint to maintain longevity.
Recommended Articles