9 Best TokyoMilk Perfumes For Women That You Should Try In 2022
Delightful fragrances that cater to your whims with their woody and floral notes.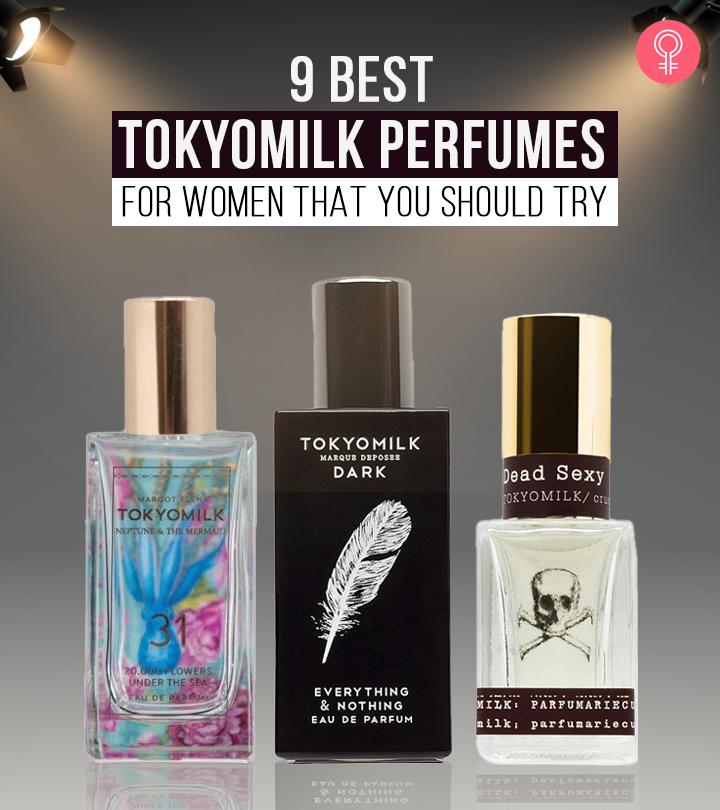 TokyoMilk offers a wide range of unique fragrances that feel personalized for every occasion and mood. This signature brand was created by Margot Elena, which never fails to receive compliments for its magical scents. We have got you the best TokyoMilk perfumes, ranging from seductive, to woody, to floral. If you are tempted already, given below is a list of the 9 best TokyoMilk perfumes. Keep scrolling to explore!
9 Best TokyoMilk Perfumes For Women
The Dark Everything & Nothing Perfume from TokyoMilk offers an irresistible fragrance that pleases the senses. It gets its smoky texture from warm coconut and sultry teas. It is enriched with the scents of ebony woods that add a touch of sophistication to it. Its top notes include jasmine and coconut, while the middle notes are made of tonka and cinnamon. The bottom notes have cedar, patchouli, and clove. The perfume is phthalate-free, making it an ideal choice for people with sensitive skin. Go through this video review for a detailed understanding of the product.
Pros
Mild fragrance
Classic packaging
Travel-friendly
Leak-proof
Cons
The Gin & Rosewater perfume was launched in the 2000s is made with an alluring blend of aromatic botanicals and sweet florals. The major accords of this perfume are citrus, rosewood, mimosa, and mandarin. This TokyoMilk perfume is best for the summer and spring seasons as it represents them beautifully. It is an ideal choice for daytime use. Check out this video for a detailed review of the product.
Pros
Alluring glass bottle
Refreshing fragrance
Great gift
Cons
Not a leak-resistant bottle
The TokyoMilk Dark Tainted Love Rollerball has a citrus essence that is balanced out with soothing heart notes of vanilla. It embraces all the complexities of love along with warmth. This warmth is given by the notes of dark vanilla bean and sandalwood essence. One cannot forget the slight element of spice that makes this complex perfume unique. It is perfect to wear through the day and night. The hints of warmth and spice make it ideal for the winter and fall seasons. This perfume features middle notes of white tea and orchid and bottom notes of tonka beans and sandalwood.
Pros
Exquisite bottle design
Refreshing smells
Leak-resistant bottle
Ideal for nighttime wear
Cons
Might trigger allergies in some
[Related: 13 Best Vanilla Perfumes And Fragrance Mists That You Should Try ]
The Light And Soul Eau De Parfum is a marvelous creation of Margot Elena. It has layers of floral notes that embody the blossom spirits, making the fragrance a perfect partner for the spring season. It is an unconventional blend that celebrates women who challenge stereotypes daily. Its top notes include mandarin orange, while the middle notes have tuberose. The base notes consist of white clay, amber, and earthy scents. This perfume shows an outstanding balance of beauty with power as it has accords of flora with amber and earthy notes.
Pros
Fresh smell
Large quantity
Ideal for the summers
Great packaging
Long-lasting
Cons
Honey & The Moon is a magnificent creation with a bold yet mild fragrance that boosts the sweetness of honey. It gets its sweet scents from ingredients that are complex yet bonded strangely. The sweetness is wonderfully balanced with bold sandalwood, jasmine, and sugared violet. This easily distinguishable fragrance comes in an alluring glass bottle that is beautiful and suitable for use all around the year.
Pros
Alluring glass bottle
Not too sweet
Large quantity
Cons
This perfume has a beautiful fragrance of vanilla and major woody accords. It is perfect for women who love fall and winter. Since the woody scent synchronizes with these seasons perfectly, it is an excellent accessory for any night event. The ethereal and romantic fragrance with its notes of deep vanilla, exotic wood, white orchid, and ebony is excellent for someone who wishes to spend a romantic evening in the winter season. This perfume comes in a statement-making glass bottle with an engraving of a skull, representing the top-notch dead sexy theme of the fragrance.
Pros
Refreshing fragrance
Great gift
Long-wearing
Cons
None
Neptune & The Mermaid is a spray perfume packed in a beautiful bottle representing the Neptune flowers. The top notes of the fragrance have a fruity scent derived from ylang-ylang extracts. The theme of underwater is felt in the notes of white lily infused in the aroma. This aquatic fragrance showers positivity and freshness on the ambiance surrounding the wearer. The fragrance notes include white lily, mineral salt, sun-kissed coral, and ylang-ylang.
Pros
Calming fragrance
Interesting packaging
Floral scent
Cons
Dark Excess exudes a mysterious fragrance and feels beyond supernatural. It represents nature with its woody accords. The fragrance notes include oak bark, blood orange, amber, and patchouli. The perfume comes in an extravagant black bottle that makes it look even sexier and nearer to its theme of being dark and supernatural. It gives out vibes of the forest and has a hint of sharpness with its spices. This scent was launched in 2011 and has been a favorite of women ever since.
Pros
Spicy fragrance
Long-lasting
Leak-proof
Cons
Smells differently on different persons
[Related: 35 Best Perfumes For Women That Will Make Heads Turn Wherever You Go]
Dark La Vie La Mort is a blend of floral and spice and is perfect for any occasion. The perfume comes in a sophisticated cylindrical-shaped bottle. The petite size of the bottle makes it easy to carry in your purse. You can use it by applying to the pressure points of your choice, including the neck, wrists, and so on. The romantic floral scents from tuberose and jasmine and the warm notes from cardamom and hibiscus leaves make this perfume a must-have.
TokyoMilk has gained popularity with its best quality perfumes for women. Be it work or a party, day or night, fall or winter, there's a TokyoMilk perfume for every mood and occasion. These perfumes have a long-lasting impact and come in various fragrances to suit your needs. Go ahead and pick your favorite!
Why Trust Stylecraze?
The author Baishali Bhattacharya is certified in makeup artistry and has a keen interest in various products used in makeup. She is esepcially fond of TokyoMilk perfurmes as they are cruelty-free and smell heavenly. After thorough research, she has compiled a list of the best TokyoMilk perfumes. The shortlisted products have high user ratings and have great staying power.
Recommended Articles