13 Best Vanilla Perfumes & Fragrance Mists That Smell Divine
Smell amazing with long-lasting fragrances that keep you refreshed all day.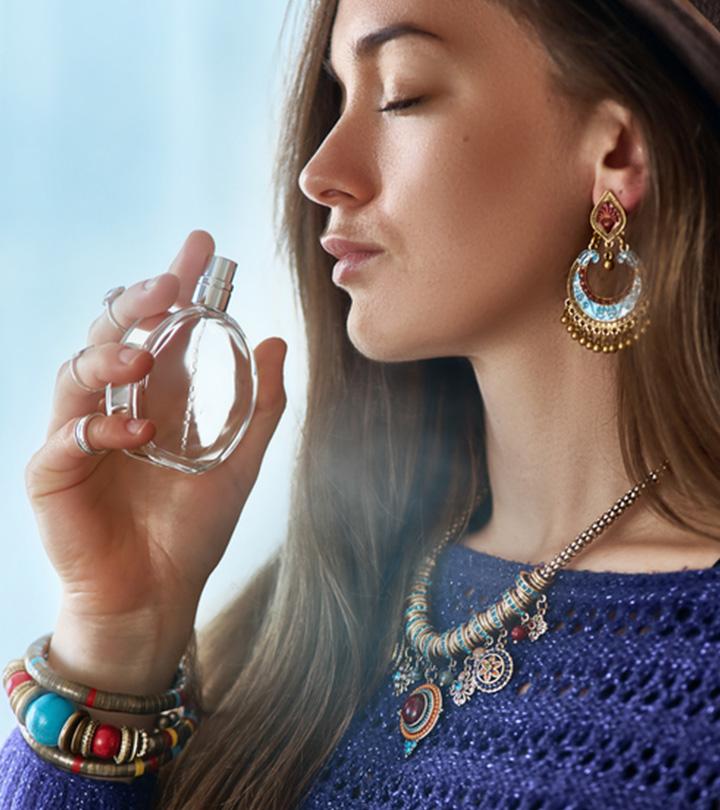 If you are looking for a warm and delicious scent for a romantic date night or brunch with your friends, try the best vanilla perfume. People have a long history of smelling good, and we often associate people with their scent subconsciously. Imagine getting your first impression wrong just for the way you smell! Thanks to perfumes and deodorants, you do not have to worry about sweat and external scents affecting you. If you have something for the fruity smell of vanilla, we have something that will intrigue you.
Even though vanilla is mainly associated with cakes and pastries, wearing the scent will help bring out your exotic and charming side. It was earlier considered to be an aphrodisiac. Also, it is one of the most versatile scents that will surely make your heads turn to you once you wear it. This cozy and refreshing scent blends well with musk and sandalwood and makes it smell more irresistible than ever. If you are not sure which perfume will provide you with a long-lasting and original smell, we are here to help. Here are the 13 highest-rated perfumes that everyone needs to try!
13 Best Vanilla Perfumes And Fragrance Mists In 2023
Kickstarting this list is one of the most popular vanilla-based perfumes in the market — the Vera Wang Embrace in Rose Buds & Vanilla. Created by Natasha Cote, it was launched in 2015. A floral oriental vanilla fragrance inspired by the modern concept of intimacy and emotion, this is one of those scents that you want to be wearing when you are with your special someone. It's all things feminine and romantic. The floral and fruity blend of beautiful rosebuds and fresh mandarin orange is the top note that lingers on. At its heart is a combination of blue iris, cyclamen, and magnolia that offers a sweet, powdery scent, which is held together with the base notes of creamy vanilla, sandalwood, and musk. It is best to spritz a bit of the perfume over your wrist to test the fragrance and the formula to know if it suits your taste.
Pros
Gentle fragrance
Ideal for daily wear
Can be worn all year round
Also available as fragrance mist
Works well for both day and evening wear
Cons
The scent might wear off quickly.
Price at the time of publication: $28.07
A scent that transports you to the heavenly island paradise in Tahiti, the Pacifica Island Vanilla Perfume is a rich, sophisticated fragrance created by Brook Harvey-Taylor in 2012. One whiff of this fragrance will have you daydreaming of this calm and serene island. In this perfume, the fruity and slightly floral scent of Tahitian vanilla combines with creamy bourbon vanilla to make a first and lasting impression on you, which intertwines with the heart notes of sweet and floral honey-jasmine. Lastly, tea acts as a base note to create a deep, beautiful finish. This sweet and exotic vanilla extract perfume is hand-poured in small batches using non-GMO corn grain alcohol and comes packed in a recyclable glass bottle. Watch this YouTuber's honest review to get a better idea about the perfume and get an insight into the tester's experience.
Pros
Gluten-free
Vegan and cruelty-free
Infused with natural and essential oils
Free from parabens, phthalates, and propylene glycol
Cons
May not have good staying power
Price at the time of publication: $21.99
The Franck Olivier's Oud Vanille screams sophistication and opulence. This unisex fragrance combines rich and creamy vanilla with oud, a highly-prized resin derived from the agarwood tree. You will also find fruity notes of orange and raspberry, a floral heart of rose, jasmine, and violet, and a spicy and woody base of patchouli, musk, and spices. According to Amazon reviews, this perfume lasts long and can be easily layered with other fragrances to create your unique scent.
Pros
Long-lasting
Floral vanilla scent
Best for gifting
Value for money
Soft scent
Can be worn in any season
Cons
None
Price at the time of publication: $26
If a strong, flowery scent is not your style, reach for this dermatologist-tested Warm Vanilla Sugar Fine Fragrance Mist from Bath & Body Works. Loaded with vanilla, it smells exactly like a decadent dessert. It includes notes of heady vanilla and white orchid that blend into vanilla tonka, fresh coconut, and sparkling sugar to create a refreshing and irresistible fragrance that can elevate your mood instantly. When this vanilla orchid perfume dries down, the vanilla bean, sandalwood, and cocoa bean reveal a warm, dark, and musky aroma that lasts all day. Despite having a sugary-sweet fragrance, it's not too overwhelming, thanks to the addition of sheer florals that balances it out. Watch this video review for a thorough understanding of the product.
Pros
Available in Japanese cherry blossom
Contains vanilla bean scent
Mild yet lasting fragrance
Dermatologist-tested
Contains aloe that nourishes the skin
Cons
May not be best suited for summer
Price at the time of publication: $16.74
The Juliette Has A Gun Vanilla Vibes Eau De Parfum Spray is a modern blend that includes notes of vanilla and orchid. The perfume is recommended for casual wear and has been appreciated by women of all ages. The best part about this perfume is that it lasts long on the skin without causing any irritations or dryness. It comes in a good-sized 3.3-ounce bottle that is easy to carry and travel with. It is made from rare and luxurious ingredients making it high-quality. The top note of the perfume includes fleur de sel, while the heart notes include natural vanilla absolute and orchid absolute. The bottom notes comprise sandalwood, tonka bean, brown musk, and benzoin. Reviewers praised the product for its luxurious vanilla scent, ideal for daily wear, and it also makes the perfect gift!
Pros
Skin-friendly formula
Premium-quality ingredients
Vanilla musk scent
Lightweight
Travel-friendly
Long-lasting
Great sillage
Cons
Price at the time of publication: $140
The Illicit is a floral scent created by Jimmy Choo for women who exude temptation and seduction. This tempting fragrance was launched in 2015 and captures the spirit of the daring woman through its bitter orange, jasmine sambac, caramel, and cashmere wood notes. The face of the perfume is singer Sky Ferreira and was designed for women who are confident, daring, and living life to the fullest. The reviews on Amazon suggest that this fragrance lasts all throughout the day.
Pros
Soft, floral scent
Well-priced
Works for everyone
Long-lasting
Suitable for daily use
Cons
None
Price at the time of publication: $65
The Bare Vanilla by Victoria's Secret is an amber vanilla fragrance launched in 2018 that is seriously sweet, warm, and feminine. The warm and true vanilla scent is perfect for cold or rainy days, providing a comforting and happy feeling. The unique and desirable fragrance is lighter than traditional women's perfume. This vanilla amber body mist with notes of whipped vanilla and soft cashmere is the perfect gift idea for date nights. There are multiple reviews on Amazon vouching for its fragrance.
Pros
Giftable
Comforting scent
Value for money
Suitable for daily use
Cons
Price at the time of publication: $18.88
The scent of vanilla can sometimes be too sweet and rich that it can leave you with a headache. But this Vanilla Eau de Toilette is anything but that. Featuring warm and sweet notes of vanilla, it is light, comforting, and smells like delicious cookies or pure vanilla ice cream. While taking a whiff of this sweet vanilla perfume, you will also notice a fruity fragrance along with subtle woody and powdery notes, which make it a great winter scent. Furthermore, it's safe to use as it is formulated without parabens and silicone.
Pros
100% vegan
Gluten-free
Captivating aroma
Long-lasting vanilla perfume
Cons
Price at the time of publication: $26.45
Your first foray into vanilla perfume should be nothing short of amazing in terms of the way it smells and feels on your skin, and what better introduction to vanilla than the Lavanila pure vanilla fragrance. We love the fact that it's a gentle, all-natural, vegan, and non-toxic (paraben, petrochemicals, and phthalate-free) formula made with organic sugar cane alcohol and pure essential oils. Soft, comforting, and creamy, this scent uses notes of Madagascar vanilla, heliotrope, and tonka bean. These elements perfectly blend to create a lush, smoldering scent that's sure to garner a lot of attention. This 100% natural vanilla perfume effortlessly works with your body chemistry to create a smell that is uniquely yours and you could also layer it with other fragrances to create a customized signature scent.
Pros
Cruelty-free
Handcrafted
Antioxidant-rich
Recyclable packaging
Infused with goji berries that protect and nourish the skin
Cons
Price at the time of publication: $48
The Yves Saint Laurent Mon Paris Eau de Parfum Spray is enriched with notes of red berries and pear. The formula also comprises madagascar vanilla, mandarin orange, cedar, black currant, lavender, ambergris, and musk. It is a modern and floral fragrance inspired by Paris, the city of intense love. This elegant perfume is recommended for daily use as the scent stays for a long time on the skin without having to retouch. It has a good smell without being overbearing. It comes in a 3-ounce bottle which makes it ideal for travel.
Pros
Skin-friendly formula
Travel-friendly
Ideal for daily wear
Affordable
Dermatologist-tested
Cons
None
Price at the time of publication: $106.99
The TokyoMilk Dead Sexy Eau de Parfum is an out-and-out romantic and ethereal fragrance. With a mix of warm, spicy, and smokey notes, the scent is mysteriously attractive. It is infused with the notes of deep vanilla, orchid, wood, and ebony, which creates an irresistible fragrance that's sure to make heads turn. It's great for a night out and pairs well with your favorite LBD or floral gown. Best of all, this exotic concoction comes housed in an edgy bottle featuring an image of a skull and crossbones on the back, which looks great on your dressing table.
Pros
Lasts all-day
Alluring scent
Perfectly balanced notes
Beautifully crafted bottle
Cons
May have a musty undertone
Price at the time of publication: $48
Inspired by the Polynesian islands of the South Pacific, this eau de toilette was launched in 1993. It features a mouthwatering blend of juicy gourmand fruits and tropical flowers that conjures images of the warm beige sand and azure blue ocean glistening in the sun. This gourmand perfume opens with a top note of sweet jackfruit and sun-kissed apricot, followed by a fragrant fruity heart of delicate and juicy papaya. A creamy caramel-y Tahitian vanilla and sugary candy tones complete the fragrance.
Pros
Great staying power
A little goes a long way
Suitable for any occasion
High-quality luxury ingredients
Cons
Price at the time of publication: $42
This vanilla-overloaded perfume is just pure indulgence! The top, middle, and background notes are predominated by vanilla, creating a delicate, warm, and woody scent, which is contrasted by the subtle floral and spicy accords. Besides vanilla, this oriental sensual fragrance includes keynotes of white flowers, tonka beans, and white spices that will keep you smelling rich and sumptuous all day, every day. The best part about this spicy vanilla perfume is that it is formulated with clean ingredients such as natural origin alcohol, perfume, and water.
Pros
Vegan
Cruelty-free
Versatile fragrance
Sustainable packaging
Cons
Price at the time of publication: $20
Now that you are all caught up with the best vanilla-smelling perfumes and mists, you might feel like you are spoiled with choice. So, here are a few points that will help you pick a fragrance that best suits you.
How To Choose The Best Vanilla-scented Perfumes And Fragrances?
Most vanilla perfumes and mists have a pleasant scent, but the fragrance can become intense depending on the other elements used. Firstly, you need to figure out what scent you feel most connected to or attracts you the most. While some perfumes will have a noticeable vanilla scent that could be warm, sweet, creamy, and sensual, the others might include a combination of vanilla with floral, fruity, or woodsy tones. The more you are aware of your preferences, the easier it is to choose a fragrance.
All scents have 3 notes — top, heart, and base. To find out if a particular fragrance interests you, you need to spray a little of the scent on your wrist. Try to figure out whether you like the top fragrance note, how it intertwines with the middle accords and dries down to create different base notes. See how it reacts with your body chemistry. Do you like all the 3 notes? Does it go with your personality? If yes, you have got yourself your new signature vanilla perfume.
You could choose a fragrance depending on the occasion and when you want to use it. For instance, you might want to use a light scent for everyday wear and wear your signature scent for special occasions.
Lastly, pick a perfume depending on the format. The potency and bottle size varies based on the format of the perfume. Lighter fragrances such as body mists come in large formats, whereas potent scents come housed in small bottles.
Why Trust StyleCraze?
The author, Kirtana Divakar, is passionate about perfumes and loves to experiment with different brands and fragrances and review them for users. To help you choose the best among the numerous options available, she came up with the above list of vanilla perfumes after thorough research and an in-depth review of user feedback. These perfumes have a pleasant aroma that lasts long and makes you feel confident and uplifted.
Frequently Asked Questions
What does vanilla smell like?
Vanilla has a sweet and syrupy scent that is filled with warmth and softness. Vanilla perfumes help reduce stress and anxiety.
Is vanilla perfume attractive?
Due to their sweet notes, vanilla perfumes are termed attractive. These perfumes are versatile and not overpowering at all. Wearing vanilla perfume can make your appearance bright, cheerful, and fresh.
How long does vanilla perfume last?
While a perfume's sillage depends on the brand, vanilla perfumes can typically last for up to a day if used generously. Make sure you rub the scent at your pulse points including your wrists and the side of your neck.
Is vanilla a good summer scent?
Yes, vanilla is a good summer scent. Its aroma can be calming and rejuvenating during extremely hot days. It also helps you cover the smell of sweat with its cheerful notes.
Which vanilla perfume is good for a teenage girl?
The Bath & Body Works Warm Vanilla Sugar Fine Fragrance Mist is good for a teenage girl as it is made with skin-friendly ingredients that offer nourishment. It has a sugary-sweet fragrance that is not too overwhelming yet keeps you smelling fresh. Lastly, the fragrance is dermatologist-tested and not harmful to delicate skin.