13 Best Givenchy Perfumes For Women Of 2023
Symbolize elegance and femininity with fragrances with these Givenchy perfumes.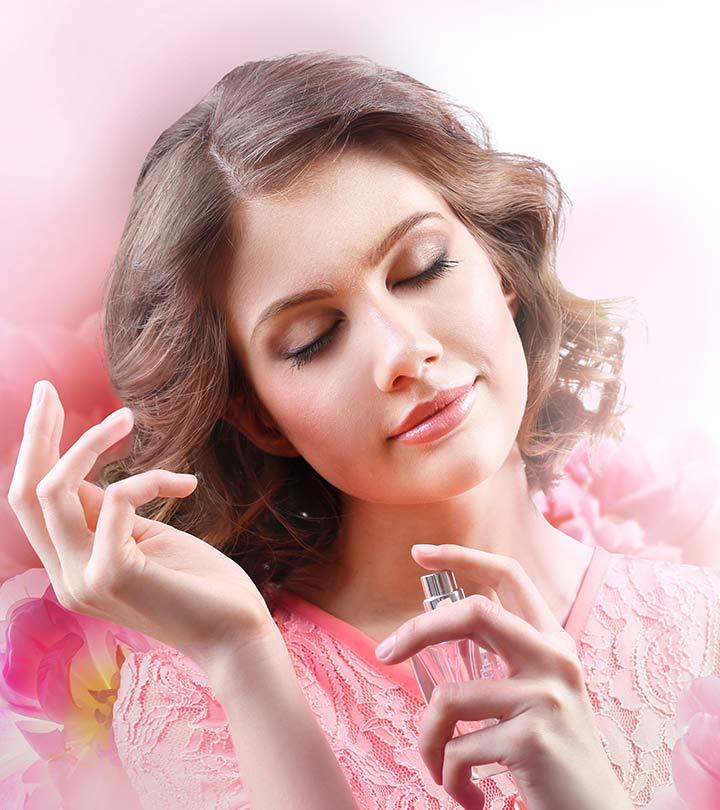 Have you made up your mind about buying the best perfume? If not, go for the best Givenchy perfume. Even though Givenchy is known for being one of the top fashion houses in the world, it is pretty famous for its perfume range. The first perfume launched in the late 50s was an ode to famous actress Audrey Hepburn. It's no wonder that their perfumes have come to symbolize elegance and femininity. They have a wide range of perfumes that cater to each person. Be it bold, sweet, or spicy, easily find the perfume of your choice in Givenchy. To help you out, we have compiled a list of the top famous Givenchy perfumes available that will take everyone's breath away!
Top 13 Best Givenchy Perfumes That Smell Good
The word Amarige is derived from the French term 'Marige'. As the name suggests, the perfume is a marriage of intense fragrances with a mix of fruity, floral, and spicy notes. Amarige Givenchy perfume has a multi-layered characteristic that opens with an amalgamation of fruity flavors and a citrusy blend of mandarin and orange before transitioning to a floral fragrance. At the core is a floral body that gives the true essence of black currant, acacia, tuberose, neroli, mimosa, and gardenia. The endnotes settle gently into a musky tone. Amarige permeates the ambiance with a complex character, which makes the perfume especially ideal for mature women. Know more about this product in this video.
Pros
Not overpowering
Suitable throughout the year
Great value for money
Floral undertones
Cons
It may not offer long-lasting wear.
Price at the time of publication: $50.4
Organza by Givenchy comes in a sophisticated container designed by Serge Manseau. This women's Givenchy perfume comes in a curved bottle rendering seductive charms, signifying the true virtues of the perfume. Upon exposing the fragrance, you will find a mystical weave of emotions, warmth, and fragility — a tribute to every woman's timeless beauty. Organza Givenchy perfume is a floral-toned fragrance composed of deeper scents of sophisticated flowers. The body consists of gardenia, tuberose, and jasmine. The combined floral characteristics end with a gentle note and a soft base with a hearty vanilla fragrance.
Pros
Long-lasting fragrance
Not overpowering
Great value for money
Suitable for all skin types
Cons
It may not be the ideal choice for formal functions.
Price at the time of publication: $63.61
Givenchy Very Irresistible perfumes have definitive fresh floral-fruity traits with a soft yet spicy essence and hints of aromatics and citrus elements. Very Irresistible is an extravagant Givenchy perfume that unveils its true nature in 3 folds. The top notes open with the delicate zest of cassia, star anise, and lemon verbena. The heart has floral characteristics represented by rose, magnolia, and peony. Finally, the bottom note accentuates a sweet alliance of Taif rose. The perfume has a substantial sillage and gives all-day freshness. It is an excellent choice to wear all year round. Learn more about this product in this video.
Pros
Long-lasting
Versatile
Ideal for all seasons
Formulated with star anise
Floral and fruity undertones.
Cons
The perfume may be overpowering in closed spaces.
Price at the time of publication: $95.0
Ysatis by parfums Givenchy emits a feminine floral trait. It is a blend of gentle flowers highlighted by powdery, woody, and fruity subtleties. The perfume comes in a regal purple bottle giving off elegant violet notes, with a mix of blackcurrants and mandarin. It transitions into rose, tuberose, and jasmine with a patchouli and vanilla finish, completing the equation of glamorous and an opulent fragrance. As a result, the fragrance is soft and subtle. Ysatis By Givenchy has prolonged longevity with a lasting sillage. The floral notes in the fragrance make the perfume ideal for a bright spring day. However, we see no reason to exclude the perfume at night or the rest of the year.
Pros
Value for money
Suitable throughout the year
Includes floral aromas of rose, ylang-ylang, and tuberose
Long-lasting fragrance with a heavy sillage
Cons
It may turn rancid with time.
Price at the time of publication: $56.86
Very Irresistible Eau De Parfum is a women's Givenchy perfume first introduced in 2005 and a relaunch of the Very Irresistible Sensual perfume. The current version is said to have better aroma with hearty floral tones. The top notes of the rose are adorned with star anise, exotic patchouli, and soft vanilla powder. It empowers women to embrace life with a bold yet sophisticated acquisition of aromas. The sleek and twisted bottle houses a powerful and charming perfume that brings out the seductive auras of women with daring elegance.
Pros
Reasonably priced
Suitable for all seasons
Dominating vanilla scent
Renewed formula
Cons
It may wear off quicker than expected.
Price at the time of publication: $73.93
Ange Ou Démon Le Secret Elixir is a ladies' Givenchy perfume and has an influential fragrance with an unbeatable aroma. Introduced in 2011, the characteristics of this perfume are represented with a blend of white flowers. Additionally, the citrus and vanilla notch-up the fresh distinctions of this fragrance. The top notes of Ange Ou Démon Le Secret Elixir originate from the Cyprus-floral family with the integration of Amalfi lemon and tea, white jasmine heart, African orange blossoms, and frangipani. The end tone has a musky aroma that caresses the essence of vanilla, patchouli, and cedar of Virginia.
Pros
A delicate yet powerful fragrant aroma
Suitable for both day time or evening usage
Attractive packaging
Suitable for most skin types
Cons
It may be overpowering during the early hours and summertime.
Price at the time of publication: $79.99
The iconic design of L'Interdit fragrance is a tribute to Hubert de Givenchy's first perfume from 1957. Today, the elixir represents modern femininity, expressed with a sequence of striking tones. The top notes give off the aromatic goodness of orange blossoms combined with the complex undertones of galbanum, pepper, clove, and strawberry. Aldehydes, rose, jasmine, jonquil, and violet perch in the mid-layer, leaving a hint of a unique bouquet. The base notes are of sandalwood, amber, musk iris, patchouli, and vetiver that provide a rich outcome and a prolonged sillage.
Pros
Has a peculiar woody and sweet smell
Perfect size to take on the go
Suitable for everyday use
Long-lasting but not overpowering
Cons
It may not be suitable as an evening fragrance.
Price at the time of publication: $73.85
Now here's a comparatively new fragrance in our lineup of the best Givenchy perfumes. Live Irrésistible is a 2015 perfume, which comes in a tall and textured bottle. The aromas give off floral and fruity notes dominated by sweet, tropical, and citrus accords. The perfume has a top layer comprising pineapple, rose petals, grapefruit, and tangerine tones. As the first layer shifts gear, we encounter rose, pepper, and passionfruit aromas spewing across the heart. The background has a savory tone comprising praline and vanilla, engulfed by the robust deep notes of amber, musk, orris, and patchouli.
Pros
Subdued fragrance
Casual fragrance suitable for daytime
The scent lingers for hours
The perfume has the right balance of fruity and floral tone.
Cons
It may not be the ideal choice for evenings.
Price at the time of publication: $68.59
Hot Couture Eau De Parfum by Givenchy is an elegant perfume with floral hints. The brand intends to honor the beauty that a woman's body flaunts. Its chief accord is a comprehensive amalgamation of sweet, floral, and fruity to fresh citrus tones to a signature scent of wood and spice blend. Its top notes present vigorous notes of orange, bergamot, and raspberry nectar, which gives the wearer a fresh feel. Likewise, the heart of the perfume offers an opposing influence with fragrances of vetiver, magnolia, and pepper. The background has a musky aroma of sandalwood and amber, which adds up the wearer's glamor.
Pros
Provides a fresh sensation throughout the day
Suitable for both daytime and evening
Has a moderate sillage but long-lasting longevity
Ideal for the entire year
Cons
Can give off overwhelming tones in summer and early mornings
Price at the time of publication: $60.5
Jardin d'Interdit is a vintage Givenchy perfume with tonality that you would most likely associate with elegant women of the yesteryears. The perfume comes in a sophisticated bottle with decorative floral imprints. Its accord is fruity-floral with a subtle and nostalgic aroma. The fragrance opens with a hint of sharpness and a linear and sweet smell. It transitions to a fresh floral scent and remains the same.
Pros
Does not have an overpowering smell
Suitable for most skin types
Has long-lasting sillage and fragrance longevity
Vintage bottle associated with sophisticated class
Cons
May not be appropriate for all seasons
Price at the time of publication: $85.0
Dahila Divin by Givenchy exudes elegance and provides a delightful sensory experience for people who wear it and those around them. A gentle spray of this fragrance can fill the ambiance with a sensational aura through its main accord. This classic Givenchy perfume comes in a transparent bottle encasing the aromas of woody, floral, spicy, and fruity elements. As you pass by a crowd, you emanate a pleasant unforgettable scent drawing people towards you. Dahila Divin has a moderate sillage, but is a long-lasting fragrance. The perfume is ideal during any time of the day. However, do remember to spray sparsely in the early hours and during hot summer days.
Pros
A voluptuous and elegant scent with additional oomph
Suitable for both daytime and evening usage
Good value for money
A gentle spray can last throughout the day.
Cons
May give off an overwhelming smell in the morning and hot summer.womens givenchy perfume
Price at the time of publication: $51.93
Prepare to be transported into a different realm with the floral mysticisms of Eaudemoiselle De Givenchy. The elixir is concealed in a crystalline and carved bottle but allows a sneak-peak of the content inside. Its accord is composed of floral and musky zests that blend in harmony with other sweet tones. The perfume has simple and classic characters. It is an irresistible Givenchy perfume for women of age and class, but mind you, we encourage you all to take the bold move and try it out. The fragrance lasts long on the wearer, but the sillage is moderate.
Pros
Captivating fragrance
Applicable during the day or the evening
Suitable for users with a taste for sweeter tones
Lasts long on the wearer's skin
Cons
Branded to be more suitable for mature women
Price at the time of publication: $41.99
The Play Intense fragrances come in 2 variances — for men and women. Today, we will be looking at the 2010 version that has been specially made for all the ladies. Play is an elegant perfume. It is ideal during the cold winters as it captures intense warmth from the spicy blend of fragrances. The balsamic quality of benzoin and tonka bean is a beautiful marriage with pink pepper and patchouli with sweet honey-scented heart. Play Intense has a subtle tone that suggests luxury and ageless panache. It has an addictive aroma that creates a captivating aura around the wearer.
Pros
Has captivating aromas
Induces warm tone during the winter
Influences positive vibes
A quality party wear
Cons
Not a year-round perfume
It might not have long-lasting wear.
Price at the time of publication: $126.55
Givenchy perfumes for women come in a variety of ranges and fragrances. The right one can become your signature scent as it creates a first impression of you when you meet someone. However, due to the wide variety of perfumes available, it can be a little tricky to choose the best Givenchy perfume for you. Therefore, here is a buying guide that will help you pick the best Givenchy perfume.
How To Choose The Best Givenchy Perfume
Consider the notes in your perfume. There are three types of fragrance notes found in every perfume. Firstly, the top or opening notes are the first impressions of the fragrances. It is the fragrance you smell immediately after spraying. Then, the middle or heart notes are the core fragrances. It lasts longer than the top note and is known as the main body of the perfume. Finally, the base notes are the most long-lasting fragrances you have remembered for quite some time. Choose your notes carefully.
Strength and Lasting Power
Perfumes contain perfume oil and alcohol in different quantities that determine the strengths of the fragrance. Perfumes that last longer hold more amount of perfume oil than alcohol in them. If you are looking for a light, fresh scent, opt for an Eau de parfum. It will last on the skin for 4-5 hours easily. However, if you are looking for a longer-lasting perfume, then eau de toilette is ideal. It lasts for up to 8 hours.
Make sure to choose a perfume according to your personal preference. Perfumes have various fragrances ranging from energizing fragrances like citrus, lemon, and zesty orange to woody and oriental fragrances. Choose an evocative scent that you'll love wearing. For instance, you can wear floral or citrus aromas in the daytime and keep woody fragrances for a night out.
Why Trust StyleCraze?
Srijani Roy Chowdhury, the author of this article, is a makeup enthusiast with a special love for perfumes. She conducted in-depth research about various perfumes and analyzed much user feedback to narrow down the list of the best Givenchy perfumes. These perfumes lift your mood, make you feel confident, and keep you feeling great all day! They are available in fruity, citrus, and woody fragrances.
Frequently Asked Questions
Are Givenchy perfumes cruelty-free?
According to PETA, Givenchy tests their fragrances on animals. The perfume is sold in mainland China, where brands are law-bound to conduct post-market animal testing.
How long does a extravagance Givenchy perfume last?
Givenchy perfumes, like most others, don't have a set shelf life. However, they can last anywhere between 3 to 5 years from the date of manufacture.
Is Givenchy perfume long-lasting?
Yes, Givenchy perfumes are very long-lasting. The luxurious aroma stays for a while. The staying power of the perfumes is around 10 hours or more. Although the fresh fragrance may start to fade after 3-4 hours, they still linger on you for up to 10 hours.
When should you wear Givenchy perfume?
You can wear Givenchy perfume anytime. They are perfect for a casual day out with your friends, a brunch, a night out, and even an entire day trip with someone special.
What is the difference between a spray bottle and a roller-ball bottle?
The manner of application techniques differs significantly between the roller-ball bottle and the spray bottle. To use the roller-ball bottle, turn it upside down and slide the moist section onto your skin. On the other hand, spray perfume directly on the desired part from a distance.
Where is Givenchy perfume made?
Givenchy perfumes are made in Paris, the city of love.
Recommended Articles