13 Best 90s Perfumes That You Must Try In 2022 (Reviews)
Bring back that nostalgic vibe with these supreme fragrances that'll get you grooving.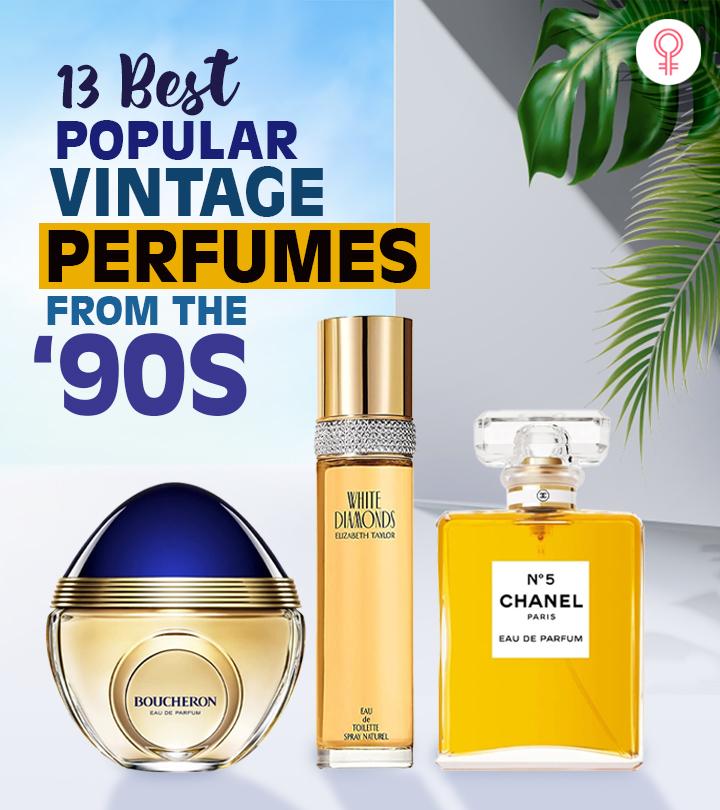 Fashion, beauty, and makeup ideas of the '90s are unbeatable. From flaunting brown lipstick, and glittery shadows to blessing the era with high-end brands and celebrities reinvented oriental, floral, and woody fragrances, the '90s has done it all. To this end, we have made a list of the best 90s perfumes that will take you back to those times and mesmerize you with their unmatched dreamy scents. These vintage perfumes from the beautiful time of the '90s with their timeless charm and lush sensuality will assure you that you are investing in the right on-trend accessory. So, what are you waiting for? Go ahead and check it out ASAP!
13 Best Popular Vintage Perfumes From The '90s That You Must Try In 2022
The irresistible harmony of the fresh morning and exotic florals comes together in the Clinique Happy by Clinique for Women perfume. It combines the top notes of orange, blood grapefruit, bergamot, Indian mandarin, apple, and plum with the fusion of Freesia, orchid, rose, and lily. This intoxicating fragrance is soft, charming, and well-balanced. It is perfect for a day of corporate meetings with its understated elegance.
Pros
Skin-friendly
High quality
Ideal for daily wear
Long-lasting fragrance
Suitable for formal wear
Cons
Price at the time of publication: $44.13
The Perry Ellis 360 For Women Perfume is a timeless classic. It beautifully combines the top notes of tangerine, melon, and amazon lily, as they sensually evolve into the middle notes of sage, muguet, and lavender. The base notes are made of amber, musk, and vetiver for a contemporary twist on this classic piece. The scent can be worn for any occasion and suits everyone because of its simple yet opulent fragrance.
Pros
Flowery scent
Vegan
Invigorating fragrance
Long-lasting
Good for everyday use
Cons
None
Price at the time of publication: $58.1
Amarige by Givenchy For Women is a veritable masterpiece – a fragrance that stood the test of time and remains a favorite amongst the ladies. The scent lasts a long time and hits you with a lush blend of mimosa, tuberose, neroli, violet, and gardenia. The top notes of peach, plum, orange, and mandarin linger with their rare essence. Finally, the deep wood notes of cedar, amber, musk, and sandalwood lend the blend an exotic spicy edge.
Pros
Attraction-grabbing scent
Travel-friendly
Ideal for regular use
Long-lasting fragrance
Cons
Price at the time of publication: $50.4
Add a new dimension to your personality with the Amber Musk by Shiara. This scent is a sensual embodiment of the modern woman and her intrigue. The warm and sensual amber blends with the long-lasting musk for a scent that soothes you with its lovely silage.
Pros
Intriguing
High-quality
Ideal for all occations
Uniquely seductive
Cons
None
Price at the time of publication: $15.99
Florals scents are always irresistible and Spelling Enterprise Beverly Hills captures the aroma of a bouquet in a bottle. This vintage fragrance is like living a teenage dream over the shores in the warm summer sun. The floral sweetness of the scent is met halfway by the citrus notes that are soft, smooth, and delicate. This scent can be worn any time of the day, whether you step out for work or for a casual midday brunch with friends.
Pros
Strong
Great packaging
Ideal for gifting
Long-lasting
Cons
Might be overwhermling for a few
Price at the time of publication: $19.68
The Elizabeth Taylor White Diamonds perfume has a sheer floral blend of lily, tuberose, jasmine, and rose. They come together with the sensual sharpness of oakmoss, amber, musk, and sandalwood to create a divine fragrance. White Diamonds is truly vintage right from its sparkling scent to its bling-y gold packaging. The aldehydes and citrus top notes have brilliance, the floral heart is enchanting, and the base encases you in its tender warmth. This piece is a must-have for all women who can't keep their hands off a timeless scent.
Pros
Sensual
Luxurious and sophisticated
Ideal for day-to-night
Long-lasting
Cons
None
Price at the time of publication: $15.95
The Boucheron Floral Oriental perfume is a symbol of tradition and splendor. It lures you in with a fragrance that is crafted to perfection. It is a classic floral oriental fragrance with creamy and zesty notes that are balanced by a soft woody scent. The floral notes receive intensity with tuberose, orange blossom, ylang-ylang, daffodil, and jasmine. It has a clean vibe that dries down to a cozy powder scent. The whole blend is our favorite and totally unputdownable once you get a spritz of this enticing scent.
Pros
Feminine
Floral and oriental fragrance
Enchanting
Long-lasting
Cons
None
Price at the time of publication: $140
California For Women by Dana evokes a strong imagery of summer breeze and has us mesmerized with its soft dewy beach vibe. Put this on for a romantic date with your partner. Its fresh mandarin, bergamot, lemon, and lavender build into a more warm musky undertone. The scent is soft feminine. Pick this up for a lightly spiced floral aroma that will leave you smelling and feeling like the goddess that you are.
Pros
Skin-friendly
High-quality
Ideal for romantic wear
Long-lasting
Suitable for casual outfits
Cons
Price at the time of publication: $249.99
The Casmir by Chopard is a beautiful gourmand that is a classic to have in your perfume cabinet. Its top notes are made of peach, apricot, raspberry, coconut, mango, and bergamot that go on to meet the middle notes of geranium, jasmine, cinnamon, carnation, mandarin, orange, and lily. It is a comforting scent that is balanced by the base notes of musk, vanilla, sandalwood, patchouli, opoponax, amber, and tonka bean. It wears well for most seasons and leaves you feeling exotic all day long.
Pros
Classic
Premium ingredients
Affordable
Lasts all day long
Cons
Price at the time of publication: $30.5
The Catalyst by Halston is exquisitely chic without being overpowering. A whiff of this intoxicating fragrance hits one with greens and spices that slowly turn into softer sweet floral scents with hints of soapy undertones. The vanilla and musk give this fragrance the body it needs and make it a signature scent that is unforgettable.
Pros
Affordable
Smells exotic
Ideal for dattime wear
Mild
Long-lasting
Cons
None
Price at the time of publication: $50.04
The No. 5 by Chanel For Women is a majestic scent that was created to hold the essence of feminity. It encompasses an aroma that is elegant and tasteful and lingers onto your senses with its delicate notes. The top notes consist of sparkly citrus, aldehydes, lemon, neroli, and ylang-ylang. The middle notes of lily, rose, orris root, iris, and jasmine build into the luxurious and bold sandalwood, musk, amber, vanilla, patchouli, and vetiver base. The classic bottle spells luxury and true vintage.
Pros
Ideal for gifting
Premium ingredients
Ideal for romantic wear
Long-lasting
Cons
May cause allergic reactions
Price at the time of publication: $108
The vintage version of Charlie blends contemporary boldness with timeless elegance. The perfume is a signature scent for many collector's cabinets. It hits you with a scent of lovely hyacinth and the freshness of aldehydes. The heart notes comprise lily of the valley, jasmine, coriander, geranium, and violet. The vanilla and sandalwood base is smooth with oakmoss and musk adding body to this floral bouquet. The perufume dries down like a long, lingering embrace after application.
Price at the time of publication: $87.99
13. Ciara By Revlon
Ciara by Revlon is a fragrance that lifts your senses with a breezy scent of bergamot, lemon, and neroli before evolving into a floral wave of jasmine, rosewood, iris, ylang ylang, and palmarosa. The base encases the scent with incense, leather, opponax, sandalwood, vanilla, musk, and cedar. This retro fragrance comes on a bit too strong, but evolves into a lovely hypnotic blend that is loved by every woman for how voluptuous and bold it is.
Pros
Feminine
Classic scent
Ideal for gifting
Long-lasting
Cons
Price at the time of publication: $12.72
The timeless fragrances from the 90s bring a sense of nostalgia and are considered great for aromatherapy. Before you go ahead and choose the ideal 90s perfume you want to try out this season, here are a few features to look for in any fragrance.
How To Choose The Best 90s Perfumes That You Must Try In 2022
Every perfume in the market comes with three basic notes – the top note, middle note and the base note. The concentration in the mixture of these three notes is what makes the fragrance unique. They are perfectly curated to match one another and evaporate at the right time to create a magical medley of scents. The top knot is the very first whiff of scent that you get immediately after you spray the perfume. This note mostly consists of floral, citrus and crisp notes that are refreshing. The middle note lasts for at least 60 minutes and is the main character in your perfume! Fragrances like rose, lavender, and spicy scents make up the middle note. The base note introduces depth to your perfume, and is the most long-lasting and lingering. Choose scents with notes that you prefer while also considering the occasion and the season.
Make sure to choose the right type of scent that is suitable for your personality and the season. For spring and summer, go for citrus scent, whereas when it comes to date night in an autumn evening, go for floral or deep notes. Vanilla, cloves, cinnamon, and leather gives a warm personality and is great for the winter season. Woody notes like patchouli and sandalwood give a sophisticated and sensual outlook. These notes work for every season.
The longevity of any perfume depends on the concentration of the perfume oil. Based on this, fragrances can be characterized in the following segregations:
Parfum has the highest concentration of up to 20% to 30% and can stay put for eight hours.
Eau De Parfum stays for five hours and has a concentration of 15%-20%. This is ideal for special occasions.
Eau De Toilette is the most common concentration in perfume, and lasts for up to 2 to 3 hours. It has a concentration of 5% to 15% of perfume oil.
Eau De Cologne lasts for just two hours, and has the shortest stay. It has a concentration of 2% to 4% of perfume oil, and is perfect for shorter periods of time like when you are hitting the gym.
Choose long-lasting perfumes to go without having to reapply the scent throughout the day. Long-lasting perfumes also save your time and energy while you take up important chores in the day.
Why Trust StyleCraze?
Baishali Bhattacharya, the author, is certified in makeup artistry and she has a passion for discovering the world's finest fragrance notes. If you are looking for lasting, luxurious scents, she recommends using these '90s perfumes. She assembled a comprehensive and detailed list of the best products after conducting a thorough research of the user feedback. These timeless scents will transport you back to the '90s and mesmerize you with their unforgettable dreamy scents.
Frequently Asked Questions
What was the smell of the 90s?
Cucumber Melon, Plumeria, and Pearberry were the smell of the 90s.
What perfume was popular in 1998?
Clinique Happy was one of the most popular perfumes of 1998.
What perfume was popular in 1999?
Dune by Christian Dior was one of the popular perfumes of 1999.
What perfume was popular in 1994?
One by Calvin Klein was one of the popular perfumes of 1994.
Does perfume expire?
Yes, perfumes expire after 1-3 years a
What are vintage perfumes?
A perfume that is more than ten years old is considered vintage. This applies to both discontinued and presently available perfumes.
Are old perfumes worth anything?
Yes, old perfume bottles are pretty precious. An antique perfume bottle can cost anywhere from a few hundred dollars to tens of thousands or more, depending on the maker, intricacy, age, exclusivity, and quality.
Recommended Articles