11 Best False Eyelashes For Asian Eyes
Create a dramatic look with these natural-looking, light, and reusable eyelashes.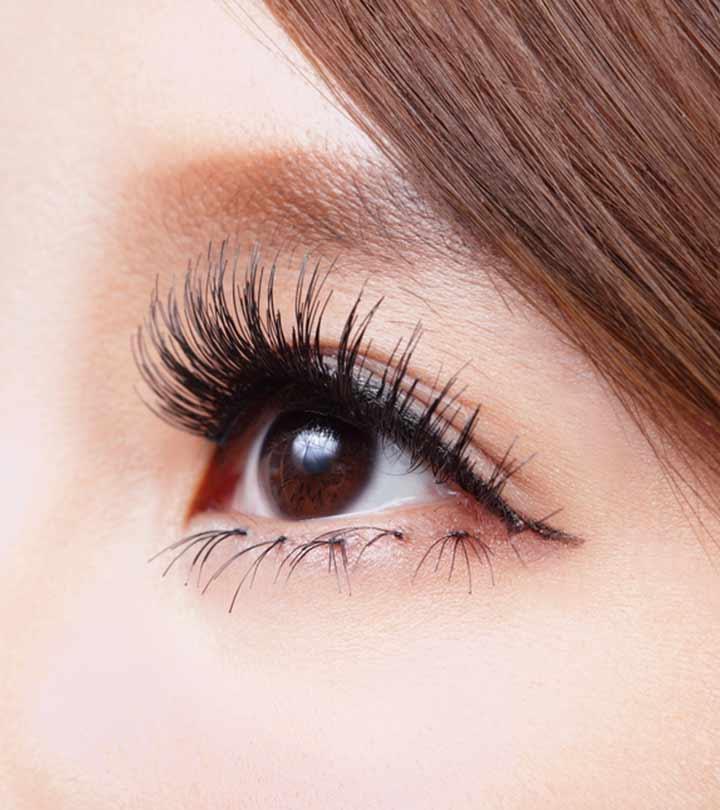 Here is some good news for all you women out there with hooded eyelids. The best false eyelashes for Asian eyes fit perfectly on your lash lines. These lash extensions or false eyelashes do not come off easily and stay intact for longer hours. If you are an Asian woman, you know the troubles of one-size-fits-all falsies that are available on the market. But these top false eyelashes could be your saviors. Go ahead and check them out!
11 Best False Eyelashes For Asian Eyes
Want to give your lashes a fuller yet natural appearance without looking like you have used faux lashes? Then give these Ardell False Eyelashes a try. One of the best false lashes for Asian eyes; they fit perfectly and blend seamlessly with your lashes to provide you with a soft and natural lash effect. They are lightweight, handcrafted, and designed using 100% sterile hair, which makes them ideal for everyday wear. Rest assured, you won't have to worry about these falsies irritating your eyes. These are so natural looking, they can work for any eye shape, even hooded! This pack contains 5 pairs of strip lash extensions that are comfortable to wear, easy to clean, and reusable. Check out this review on YouTube if you require more details about the product!
Pros
Suitable for any occasion
Vegan and 100% cruelty-free
Reusable falsies
Lightweight and durable
Made from 100% sterile hair
Free from harmful ingredients
You get 5pairs of false lashes in a pack.
Cons
Price at the time of publication: $9.89
:
If you have always dreamed of having lush and beautiful lashes, consider investing in these great pairs of false lashes by Kiss Products. As the name suggests, these false lashes look natural which help make your eyelashes appear longer and fuller. Each pack includes 5 pairs of reusable false eyelashes and an easy-angle applicator that makes it easy to apply and remove. Created with innovative Tapered End Technology, these lashes blend well with your own. Plus, they are incredibly lightweight and feature lengthy lash strands that are slightly flared to lend a subtle yet polished look.
Pros
Slightly flared and long lashes
Soft and lightweight
Cruelty-free
Reusable
Designed with Tapered End Technology
Includes 5 pairs of false eyelashes
Suitable for contact lens wearers
Cons
Price at the time of publication: $7.99
:
If you are new to the concept of false eyelashes and are all set to try a pair, Arimika False Eyelashes is the right choice as they are easy to use. Not only are these lashes lightweight, but they also feature a sturdy and durable black cotton band, making it comfortable to wear. They blend in so well with your natural lashes that nobody would know you are using falsies. Handcrafted from 100% real Mink hair, they can be reused as long as you maintain them well. This pack includes two pairs of natural-looking eyelashes that come enclosed in a chic pink box.
Pros
Includes 2 pairs of falsies
Handmade and cruelty-free
Hypoallergenic
Ideal for beginners
Lightweight, sturdy, and durable
Easy to clean and reusable
The pink box is integrated with a mirror.
Cons
These lashes may not stay on for long.
Price at the time of publication: $9.49
:
One of the best-selling false eyelash styles by Red Cherry are these demi wispy lashes. These falsies feature softly tapered ends that criss-cross over each other to create a natural appearance. They add length and thickness to your eyelashes and give your eyes an elongated appearance, which makes them the perfect false lashes for small eyes. Lightweight and easy to apply, these lashes are made of 100% human hair and hand-tied to create a natural texture. Though they work well to create a subtle look, alternatively, you could add a bit of mascara for a glamorous style.
Pros
Handmade false eyelashes
Tied using human hair
Lightweight and softly tapered
Ideal for both simple and glamorous look
Each pack includes three pairs of #DW style lashes.
Cons
Price at the time of publication: $11.99
:
Muselash False Eyelashes Set is the perfect one to create multiple looks of your choice- whether you want natural-looking lashes, dramatic, bold ones, or demi wispies. The kit includes 50 pairs of lashes in 5 different styles, a lash applicator, and an eyelash glue. These fake eyelashes are made of super-thin and comfy synthetic fiber connected to a flexible band that fits every eye shape easily. If you are beginning to use fake eyelashes, these are great for starters.
Pros
 50 pairs of lashes in a pack
 5 different styles of lashes
 Vegan
 Cruelty-free
 Handmade
 Flexible
 Lightweight
 Easy to wear and remove
Cons
Glue might not offer a strong hold
Price at the time of publication: $9.99
Want lashes that look natural on your small or hooded Asian eyes? The 01 Dolly Sweet style false eyelashes by Dolly Wink are your best bet. These false eyelashes are made to be a little more elongated to make your eyes appear wider and more open. They also feature long lash strands that add length to your lashes. Each pack contains 2 pairs of false lashes made of good-quality gluten-free feathery-soft fiber that is easy to use and can be worn multiple times.
Pros
Soft
Lightweight
Natural-looking
Comfortable to use
Can be reused
Cons
Price at the time of publication: $14.8
This set of 20 eyelashes in 5 different styles makes up your natural look, causal moods, or glam nights. These medium-length lashes add the perfect tinge of drama while making your eyes look voluminous. These soft and feather-light lashes are made of synthetic fiber that is knotted with a flexible cotton band. These lashes are comfortable for all-day wear and are also reusable and easy to care for. You can also check this honest YouTube review to know more about the final results after using this product from Alphonse.
Pros
 Soft
 Flexible
 Lightweight
 Strong adhesion
 Easy to use
 Reusable
 Cruelty-free
Cons
Price at the time of publication: $12.99
Give your natural lashes some much needed length and volume with LANKIZ False Eyelashes. This pack comes with 5 pairs of lashes, all of which are soft, lightweight, and are as natural as your own lashes. These falsies are handmade using premium synthetic material and come attached to a flexible band that conforms to the eyelids with ease. They are durable, and each pair can be worn up to 10 times, given that you do not wash them (to prevent deformation). Pro-tip: For days when you want to add more drama, you can stack two lashes on each eyelid.
Pros
Suitable for daily wear
Lightweight
Natural-looking lashes
Super soft, flexible band
Durable and reusable
Handmade using synthetic fiber
They make your eyes look bigger and brighter.
Cons
May not be resistant to water and heat
Price at the time of publication: $7.99
Veleasha 5D Faux Mink Lashes come in handy when you want to create a bold, dramatic look without piling on mascara. These false eyelashes are long and thick and have a layered criss-cross pattern, which gives your lashes an added flare. Plus, the lashes alternate in length to provide a fuller, dramatic look. These lashes are handmade and are made of high-quality fiber to provide you with the softest and comfortable wear that looks glam and shiny at the same time. Each pack comes with a set of 7 false eyelashes.
Pros
 Lightweight
 Reusable upto 3-10 times
 Cruelty-free
 High-quality fiber
 Crisscross design
Cons
 Not meant for everyday use
Price at the time of publication: $8.88
True to its name, these lashes are sure to make your eyes look doe-like, besides lengthening your lashes. These natural-looking lashes are handcrafted and made from sustainably-sourced, ultra-fine Korean silk, and feature soft organic cotton bands. This ensures that the lashes snugly fit along your lash line. They are lightweight, durable, and can be reused for up to 15 times if they are cleaned regularly and stored properly. If you are still not convinced, know that this is one of the favorite lash styles of many Asian beauty experts.
Pros
Wearable for over 15 times
Gentle and lightweight
Durable
Easy to apply and remove
Does not irritate your eyes
Handcrafted and ethically sourced material
Cons
The band may be a little stiff.
Price at the time of publication: $14.95
Elevate your look to the next level with Icona Lashes False Eyelashes! Popular among many professional makeup artists, these false lashes add the right length and volume to your lashes. These lashes feature criss-cross design and tapered ends that give it a natural-looking appearance. With these lashes, it would be hard to tell where your real lashes end and fake ones begin! They are made of 100% cruelty-free synthetic fibers that are attached to a flexible cotton band. Also, they are lightweight and comfortable, which makes these lashes ideal for prolonged wear.
Pros
100% handmade
Non-irritant
Vegan and cruelty-free
Creates fuller and natural-looking lashes
They seamlessly blend with your natural lashes.
Reusable up to 8 times with proper maintenance.
Cons
The lashes may be fragile.
Price at the time of publication: $11.95
It's essential to consider these factors before you buy a pair or 2 of false eyelashes.
A Helpful Buying Guide To Choose The Best False Eyelashes For Asian Eyes
What Are The Most Common Asian Eyes Shapes
An Asian person's eyes are usually smaller, and are not only defined by their shape but also by their eyelids. However, the most common eye shapes among Asians are almond, round, deep-set, triangular, and narrow, while the eyelids vary from monolids, hooded, or tapered eyelids.
How To Choose The Right False Eyelashes For Asian Eyes
Lash Type: False eyelashes made of natural hair works well for Asian eyes. They blend with your real lashes to give you a more natural appearance. Plus, they are soft, lightweight, and comfortable to wear.
Length and volume: Whether you want short of long false lashes depends on your preference and the look you want to create. If you're going to add more fullness to your lashes, opt for ones that are dark and thick.
Complement your eye shape: Choose false lashes that enhance your eye shape. For instance, thin and slightly fluffy lashes with softly tapered ends work well for Asian eyes.
Easy to use: No matter what type you choose, false lashes should be easy to apply with the help of lash glue and applicator.
Reusable: Look for high-quality products such as false lashes that are made of sturdy and durable material. This will ensure they last for a long time and can also be reused multiple times.
How To Apply Fake Eyelashes For Asian Eyes
Most strip lashes that we have mentioned in the list are perfect for Asian eyes. However, if you think they are big for your eyes, you can carefully trim the excess from the outer corners. Now take a look at these steps for a seamless lash application.
Firstly, identify the left and right lashes correctly as most packages don't have them labeled.
While removing the lashes from the pack, peel them from the outer edge.
Place the strip along your natural lash line to check whether it is the right size for your eyes. If it's long for you, trim it accordingly.
Apply a thin layer of glue across the band of the lash. Wait for a few seconds for the adhesive to get tacky.
Place the strip lash against your lash line, starting from the center, and gently move towards the inner and outer corners.
Apply slight pressure to secure the band in place.
Coat the lashes with mascara to help your false lashes set well and align with your natural lashes.
Why Trust Stylecraze?
Chaitra Krishnan, the author of this article, is a makeup enthusiast who likes to experiment with the latest beauty fads on the market. Her strong knowledge of makeup trends and products help her provide a well-researched article on the best false eyelashes for Asian eyes. She has checked user feedback and reviews to shortlist the best products for this list.
Frequently Asked Questions
How do we put on Asian eye false eyelashes?
To put on Asian eye false eyelashes, pull them along the lash line. This will allow you to lift and fold them upwards properly.
Can you reuse false eyelashes on Asian eyes?
Yes. You can reuse false eyelashes on Asian eyes as long as they are in good condition.
Can you wear false eyelashes without eyeliner on Asian Eyes?
Yes, you can wear false eyelashes without eyeliner on Asian Eyes. However, you may need some form of glue towards the end to keep the eyelashes in place.
Which brand of false eyelashes looks the most natural on Asian Eyes?
The Ardell Natural Multipack False Lashes are known to suit Asian eyes for a natural look.
Recommended Articles