15 Best Drugstore False Eyelashes Of 2022 Reviews
Enhance your eyes and volumize your lashes without spending too much in the parlor!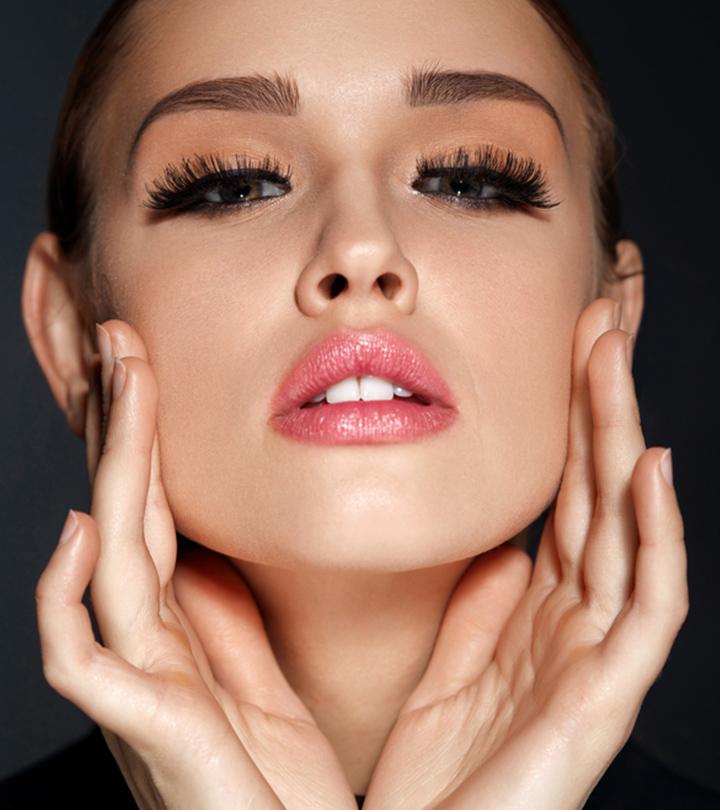 False eyelashes are your quick answer and alternative to curlers and mascaras. The best drugstore false eyelashes are affordable and can stick on for as long as you need. The transformation is intense as they give the natural volume that your regular mascara cannot give. However, make sure you get something that fits your eye shape perfectly and does not feel uncomfortable. Moreover, drugstore false eyelashes have great quality and look natural. If you are confused about the best options for your eyes, we can help you pick a perfect pair of false eyelashes. Scroll down to check out our collection of the 15 best drugstore false eyelashes and take your pick.
15 Best Drugstore False Eyelashes That Looks Natural
These handmade eyelashes are natural, soft, and comfortable to wear. The set includes 5 different styles of lashes that are suitable for various occasions. Made of ultra-thin fiber material, these durable lashes help your eyes look big, bright, and beautiful; something that even your best mascara falls short of. The lashes are flexible, allowing you to curl or cut them to suit your style. For your next use, simply clean these lashes and apply them to your lash line using a good pair of tweezers and some glue. To understand the nuances of the product in detail, you can check out this review.
Pros
50 pairs of lashes in 5 different styles
Easy to use
Long-lasting and durable
Allows you to cut and curl them as you please
Includes an eyelash tweezer
Cons
Can get slightly tricky to bend and adjust to your eye shape
With three different pairs to choose from, you will never have to worry about finding the right pair of false lashes. Whether you are going to a party, work, or a casual outing with your friends, these lashes are perfect for every occasion. The set includes 3 styles of lashes, eyeliner, and a tweezer so you have everything you need to make your eyes pop. Covering just two-thirds of the outer corners of your lashes, they instantly offer a 3D glamorous look. The 5 strong magnetic points in the lashes stick to the ultra-fine magnetic particles in the eyeliner formula to quickly attach on top of the eyeliner. Check out this YouTuber's review of this product.
Pros
No need of any glue
Easy to use and remove
Ideal for every eye shape
Lasts all day long
Light and comfortable lashes
Includes a waterproof and smudge-proof eyeliner and tweezer.
Cons
Need to apply eyeliner to make it stick
Vassoul brings you 4 pairs of 3D magnetic lashes crafted using premium synthetic fibers. The dual magnetic forces of the lashes help secure it in the right place eliminating the need for glue or other adhesives. It also comes with an eyelash applicator that is made from special alloy material. The false lashes can be used repeatedly if used in the right way and by making sure to clean them from any residues or makeup using a moist towel. These  eyelashes are a perfect pick as they suit all eye shapes, give a natural look, and are comfortable to wear.
Pros
Glue-free design
Reusable
Anti-sweat and waterproof lashes
Includes an eyelash applicator
Cons
Does not include multiple styles of lashes
Next on our list of the best drugstore false eyelashes is the 5D Faux Mink Lashes from  Veleasha. The 7 pack eyelashes are made of ultra-thin imported fiber with a length of 15-18mm. The handmade eyelashes are soft, lightweight, and natural-looking. Great for any occasion, these false lashes can be reused around 3 to 10 times. They are available in 4 different styles for you to choose from. You can also check this video out for a brief review of the product.
Pros
Meticulously crafted with imported fiber
Cleanable and reusable
Soft and natural
Durable
Cons
The lashes might be too long for an everyday natural look.
These fake eyelashes bring something different to the table that your fancy mascara can't achieve. One of the best drugstore lashes, DYSILK's false lashes come in exquisite packaging. They are made using high-quality ultra-thin synthetic fibers which can be reused up to 15 times. The lashes are available in 9 different styles or you can choose a mixed pack for your varying needs. Very soft and lightweight, they are comfortable to wear and easy to apply. Featuring tapered ends, these multi-layered lashes blend in easily with your natural eyelashes to give a 6D effect.
Pros
Can be easily glued
Reusable
Broad range of styles to choose from
Thick and fluffy
Cons
Doesn't include tweezers or glue
Make heads turn with Wleec's handmade dramatic false eyelashes. The box includes 15 pairs of eyelashes made of high quality silky synthetic fiber. The lashes are available in 10 different styles and sizes and offer comfortable wear. The faux mink lashes can be worn 4 to 8 times when handled with proper care. The eyelash band is crafted using imported glue and soft cotton to give you a perfect fit.
Pros
Lightweight and comfortable
100% cruelty-free
15 pairs
Perfect for a dramatic look
Cons
The band is slightly tricky to bend.
Thick and long lashes are all the rage and with this pack of false eyelashes, you get to recreate the perfect dramatic eye makeup look. Made of soft material, the eyelashes look naturally wispy and are extremely durable. Each pack includes three pairs of 3D eyelashes for gorgeous and attractive eyes. Whether you are going for a subtle, casual look or leaning towards bold, these eyelashes will effortlessly complement both looks. They are also reusable and allow you to adjust and trim according to your preferences.
Pros
Handmade
Lightweight and soft
Looks natural
100% cruelty-free
Cons
Get professional-looking lashes that are made using 100% human hair to give your lashes the most natural look. This pack from Kiss Products includes 5 pairs of false lashes and an easy angle applicator. We honestly think it's an absolute steal as you get to enjoy top quality stuff for half the price. The lashes are lightweight, natural, and are easy to apply with an eyelash adhesive by your side. Ideal for contact lens wearers, they would perfectly go with a wide range of eye makeup looks.
Pros
Easy to use
Reusable
Silicon tool for easy application
Made of natural hair
Cons
Best if used with kiss strip eyelash adhesive
Looking for the best drugstore fake lashes? You might want to check out these mink eyelashes from Alicrown Hair. Featuring three different styles of eyelashes, the pack also comes with a tweezer in an elegant design. The lashes come in the right length and volume to take your makeup up a notch higher. The high-quality mink lashes are handpicked for the finest quality and are lightweight and comfortable.
Pros
Can be reused up to 15 times
Easy to apply
Cruelty-free
Non-irritant
Cons
Next on our list of the best drugstore lashes are the false eyelashes from Newcally. Featuring a 20mm hair length, they are made of the finest quality synthetic fibers. The cruelty-free lashes are durable, super soft, and have a reusability rate of up to 15 times. They are available in 2 sizes whether you are opting for a dramatic look or a natural one. The pack features 10 pairs of false lashes and is easy to use if you have some glue and a pair of tweezers.
Pros
Easy to use
Hypoallergenic
Cruelty-free
Made of high-quality material
Cons
Make a statement with one of the best drugstore eyelashes available in the market. HICOCU's false eyelashes are crafted from Siberian mink and crafted in thick V-styles. Hundred percent handmade, they are durable, lightweight, and soft. A great pick for a vivid and glamorous look, the 3 pairs of lashes feature a thick flexible band making it easy to use. These lashes have a length of 20mm and are thick, fluffy, and multi-layered.
Pros
Available in 8 different styles
Hypoallergenic
Reusable
Superior quality
Cons
One pack includes just 3 pairs
Vegas Nay lashes are light, long, fluffy, and fabulous. If you are a beginner and would like to find out if false lashes are indeed your thing, then these are the right pair of false lashes to go for. The pack also includes the adhesive, eliminating the need to look around for an eyelash glue. These lengthy lashes would easily fit along your lash line to create stunning eye makeup looks. They are available in 6 styles with different lengths, texture, and thickness.
Pros
Easy to apply
Adhesive included
Choose from 6 different styles
Lightweight
Cons
Pack includes one pair of lashes
If you have ever envied the long lashes of your favorite beauty blogger, now you can get the same look with Alice's false lashes. The wispy lashes look pleasingly natural; thanks to the right volume it features. With each set featuring 5 pairs of lashes, you get a total of 10 pairs with tweezers included. The lashes are lightweight and designed with an invisible band. They are easy to apply and take off.
Pros
Reusable
Includes 10 pairs
Comes with a tweezer
Lightweight with natural volume
Cons
Doesn't have multiple styles to choose from
Next on our list of the best drugstore fake lashes are the mink lashes from DAODER. Featuring a unique V-cross design, these multi-layered lashes can be your perfect pick for glamorous eye makeup. Made from 9 clusters of ultra-thin synthetic fibers, they have a length of 10 to 25mm. These lashes are soft and lightweight, making it comfortable to wear all day. If dealt with proper care, they can be reused as well.
Pros
Easy to apply and remove
Easy to bend and adjust to fit your eyes
Perfect for a dramatic look
Includes 7 pairs
Cons
May not be ideal for a natural look
Saving one of the best for the last, Ardell's false lashes is a favorite among many reviewers. Made using 100% human hair, these feathery lashes are as natural as they come. The lightweight, crisscrossed lashes are waterproof, comfortable, and easy to apply. Whether you are going for a winked eye look or smoky eyes, they can be the perfect addition you need to make your eyes stand out. Available in a variety of other styles, you get four-packs, each one carrying a pair of eyelashes.
Pros
Made using 100% sterilized hair
Super-soft and lightweight
Easy to apply and remove
Cruelty-free
Cons
No tweezer or adhesive included
How To Choose The Best Drugstore False Eyelashes?
Picking the perfect false eyelashes that suit you can sometimes be a little puzzling. Below we give you a list of factors to consider while getting false eyelashes.
1. Shape of your eye:
It is best to consider the shape of your eye while you purchase false eyelashes.
If you have almond-shaped eyes, then most lashes would suit you. However, make sure to look for lashes that are evenly distributed.
Choose curly eyelashes if you have round eyes as they help in defining your eyes. Remember to stay away from heavy eyelashes.
Choosing lashes for hooded eyes might seem a little confusing. However, it's best to look for eyelashes that are longer at the center and shorter at the end.
Go for individual eyelashes if you have a closed set of eyes. This helps in enhancing the size of the eyes.
Wear a half lash on the outer corner of your eyes if you have upturned eyes.
2. Material:
False eyelashes are mainly designed using two types of materials:
Lashes that are made with Faux mink material would give you a natural look. Also, these lashes do not lose their shape after getting wet. These lashes are often priced lower and are cruelty-free.
If you are going for a bold and dramatic look then lashes made using synthetic fiber are the ones you need to look for. If you are using synthetic lashes then you need not follow it up with mascara.
3. Cost:
There is a wide and diverse range of drugstore eyelashes available in the market. And some of them do come at pretty affordable prices. However, it is important to make sure that the lashes you get also have the features that you are looking for. And yes you should find the one that fits your budget. 
How Long Do Drugstore Individual Lashes Last?
Drugstore lashes can stay on for all day long if they are properly attached along your lash line with some adhesive or eyeliner.
Why Trust StyleCraze?
The author, Chaitra Krishnan, has a deep interest in makeup. She has provided this detailed list of the best drugstore false eyelashes after thorough research on the formulation and ingredients of the products. She also went through numerous user reviews and feedback on multiple forums and brand websites to help you pick a perfect pair of false eyelashes that can be a good alternative to curlers and mascaras. The products in this post fit every eye shape and look natural.
Frequently Asked Questions
Can I wear false lashes every day?
Yes, they can be worn every day as long as you're being gentle while taking them off.
Is it possible to create false lashes look with just mascara?
Yes, you can create the look of false eyelashes if you are blessed with naturally voluminous lashes. Just applying a few thin coats of a good mascara can do the trick.
Are false eyelashes reusable?
Most false eyelashes are reusable anywhere between 3 to 10 times if you take proper care and are gentle while removing them.
Is it safe to put false lashes underneath?
Yes, it is safe to apply false lashes underneath but choose a good glue that would not cause irritation or corneal abrasion or ulcerations.
Can you wear false eyelashes without eyeliner?
Yes, definitely. Wear false lashes close to your eye line to get a fuller lash look. You can skip using the eyeliner if that's what you desire.
Can a mature woman wear false eyelashes?
Yes, false eyelashes with natural styles look great on mature women. They create a volumizing effect on the lashes without looking too dramatic.
What should you not do with fake eyelashes?
Avoid twisting, tugging, or pulling your fake eyelashes. If you constantly do so, your natural lashes can also experience damage.
Do eyelashes grow back naturally after using fake eyelashes?
Yes, if your natural eyelashes are affected or damaged due to the false lashes, they grow back within a few months.
Recommended Articles