15 Best Mink Eyelashes For Eyelash Extensions Of 2023
Add length and boldness to your lashes and keep being the talk of the town!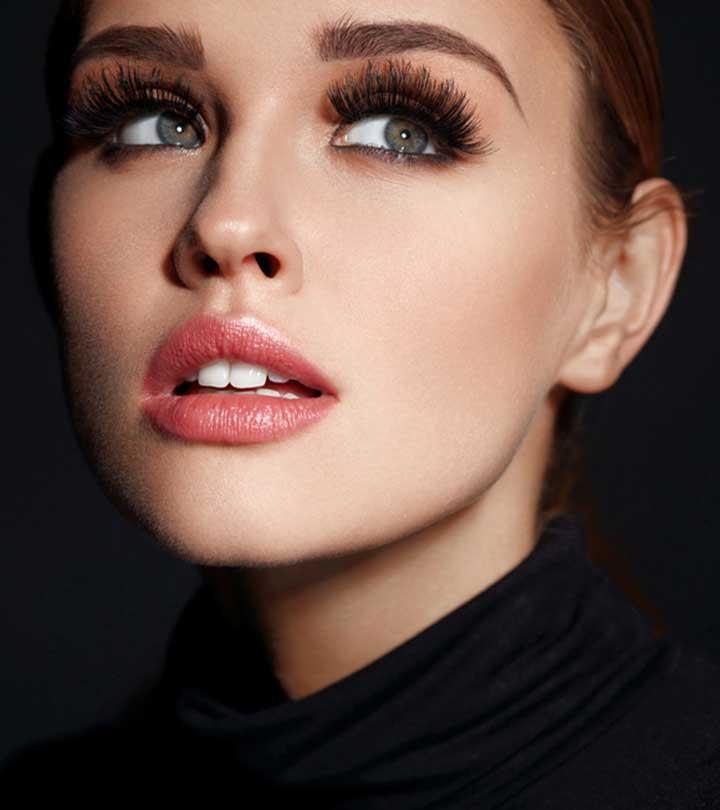 If you want your falsies to appear more natural, go for eyelashes made of mink fur. The best mink eyelashes are soft and resemble human eyelashes, and they last longer as they are extremely lightweight. Most celebrity makeup artists, celebrities and red-carpet A-listers go for mink fur falsies, and they are also popular among makeup artists.
Eye makeup holds immense significance in enhancing your overall appearance and natural style, and the type of falsies you use can make all the difference. And mink eyelashes have a separate craze and fanbase in the beauty industry. They also last longer if you know how to care for them. However, choosing real mink eyelashes can be difficult if you do not know how to tell them apart from a fake one. Don't worry. We can help you pick the best product. Here, we have made a list of the 15 best mink eyelashes you can purchase online. Scroll down and take a look.
15 Best Mink Eyelashes That Make For A Luxurious Look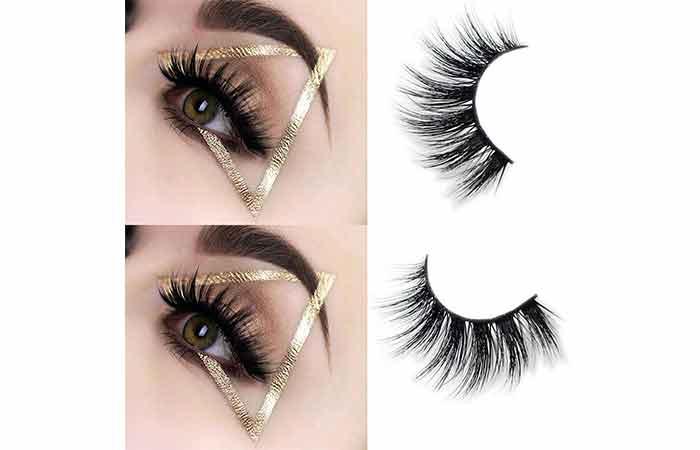 Veleasha 5D Faux Mink Lashes are handcrafted lashes that come in different lengths. If you want a bold and assertive look for the next work meeting or look ravishing on a party night, these faux mink, fluttery lashes are your best friend. These faux lashes are made of soft fiber and are comfortable to wear for a long period of time. Whether you are looking for something loud or a subtle charm, you can choose your style from the variety that Veleasha offers. Simply stick them on with some lash glue and you are good to go!. If you want to find out more about this product and its usage, make sure to check out this review on YouTube.
Pros 
Long-lasting
Reusable
Handmade
Gives a natural look
Lightweight lashes
Cons
May not offer a comfortable fit to small eyes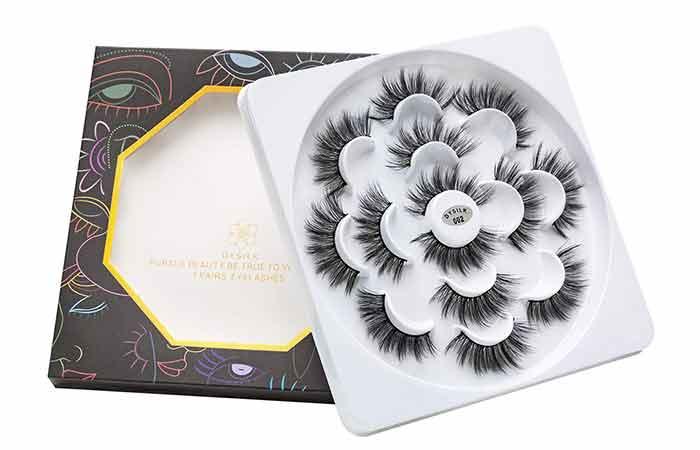 Made of ultra-light synthetic fibers, the eyelashes from DYSILK are easy to wear and give your eyes a fuller, dramatic look. These cheap mink eyelashes come in different sizes, each for different occasions. They are flexible and sturdy, so you can freely curl these long mink lashes to suit the natural shape of your eyes. They provide exceptional results by making your lashes more dimensional. Apart from being light and supple, these faux lashes are specially designed to prevent the band from poking the inner corners of your eyes. You can wing your eyeliner over these lashes to create a perfect cat eye effect. A huge number of positive feedbacks on Amazon indicate that people experience good results with this product.
Pros
Soft and light
Inexpensive
Cruelty-free
Hand-made and hygienic
Can be reused up to 15 times
Cons 
Could be too dramatic for an everyday look
Bepholan mink false eyelashes come in a pack of three. These everyday lashes are super light, easy to use and feel as natural as real eyelashes. This mink lashes set is ideal for those who prefer wearing them on special occasions such as a wedding, party, dates, and so on. The best feature of these affordable mink lashes is that they make your eyes look attractive without appearing artificial. With tapering ends on the outer corner that grow fuller towards the edge, they add to the appeal of your eyes and enhance eye shape naturally. Check this YouTuber's review and discover details about the product based on the reviewer's experience.
Pros
100% Cruelty-free
Easy to apply
Superior quality band
Pliable
Suitable for all eye shapes
Cons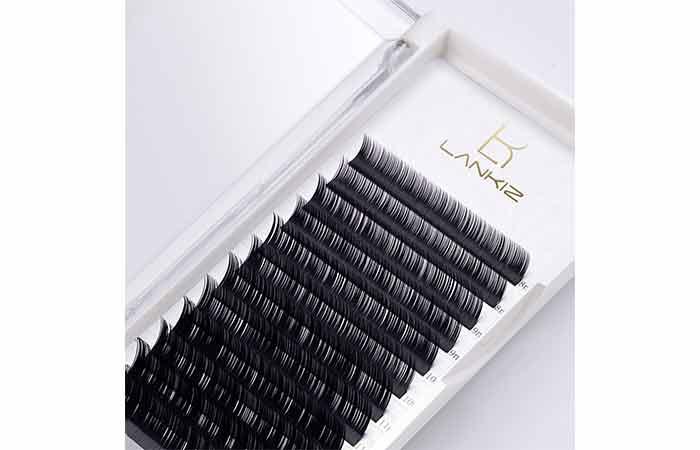 A great product for beginners, Lankiz Eyelash extensions are a good place to start if you are new to the game of eyelash extensions. With over nine different sizes to choose from, these give you much leeway to wear it the way you want with an easy application process. These lashes take your eye makeup artistry to the next level – they are soft and lightweight, easy to apply and remove, and you can choose the length you want. In addition to that, these strip lashes have been double-heated during manufacturing to hold a steady curl, therefore, you can curl them as you please. They are also waterproof.
Pros
Affordable
Good for at-home applications
Natural look
Stable curl
Long retention
Cons
May feel rigid against eyes
Take it up a notch and try these layered, fluffy mink eyelashes. They make your eyes look distinct and vividly glamorous. It comes with a durable lash strip which makes it unlikely to come off. These are real mink eyelashes made from Siberian mink fur. These natural-looking mink lashes are 25 mm thick. You can also trim the edges easily to fit the shape of your eyes. With good care, these can be reused several times.
Pros
Premium mink fur
Soft, lightweight, and layered
Cruelty-free
Easy to apply
Suitable for all occasions
Cons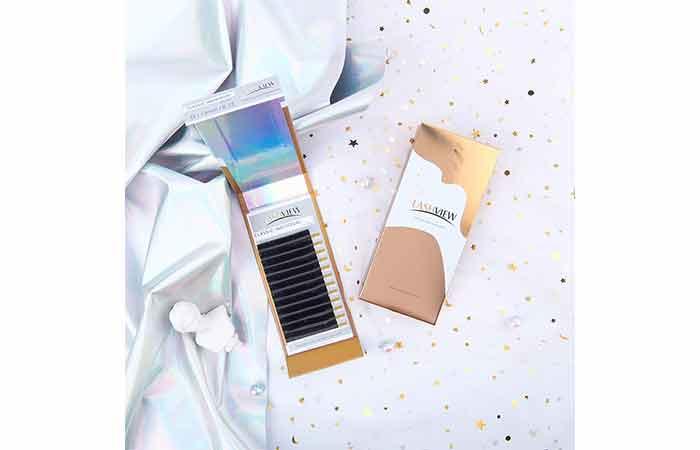 Handmade in Korea, these strip lashes are without a doubt among the top mink lashes you can get your hands on. These lashes are soft and light and therefore, can be worn without any discomfort. It comes in a tray of the most preferred and natural-looking C curl lashes of different lengths. They last long and are also waterproof. Once you master the trick to wearing them with eye makeup, you can frame the hood of your eyelids to achieve the perfect cat eye effect. These faux mink lashes are bound to make your eyes pop effortlessly.
Pros
No artificial shine
Different lengths to choose from
15 mm thickness
Long-lasting
Rimless packaging
Cons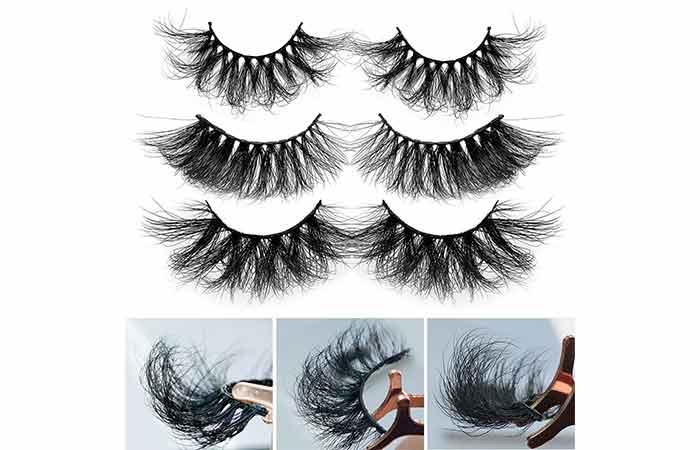 If you are all set to go big, then these 25 mm luxury mink eyelashes are the best choice for you! Made of Siberian mink fur, this product will offer seamless blending with your natural eyelashes without standing out. They are handmade with care and are easy and comfortable to wear. With Acrown 5D Mink Eyelashes, you can elevate your style and look more glamorous instantly. These super long lash extensions make the dramatic and eye-catching look you are longing for very easy.
Pros
100% Natural
Lightweight
Long and curly
Durable
Handpicked materials
Cons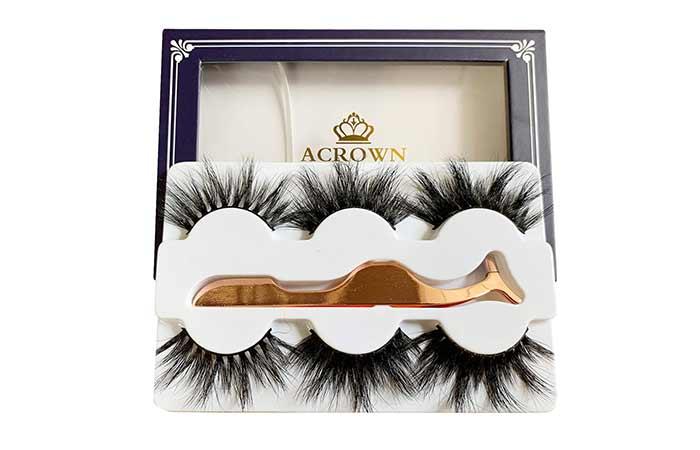 Shorter, but no less dramatic, these lashes could add a vivacious appeal to your eyes. These are three best mink eyelash strips for different makeup effects. Handmade from Siberian mink fur, these lashes make comfortable additions to your attire. They are naturally smooth and shiny and can be reused up to 15 times. If you are looking for an animated glam makeup look but prefer something more mellow than 25 mm lashes, then these will be a perfect fit.
Pros
Soft and light lashes
Reusable
Premium quality
Handmade
Real mink lashes
Cons
Might be too dramatic for beginners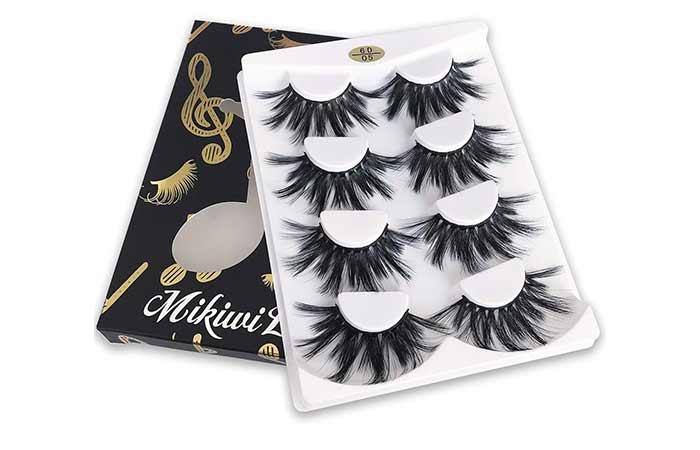 Nothing makes a better statement than long, fluffy lashes. If you are not afraid to live it up, these full mink lashes could be your all-time favorite. 25 mm long and handmade lashes from Mikivi could add drama and allure to your everyday look, that too without much effort. Be advised, these are not your everyday lashes but are extra long and full and hence, are not for those who prefer simplicity. On the other hand, if you want to be loud, you may easily play it up with these inexpensive mink lashes.
Pros
Easy, dramatic look
25 mm lashes
Affordable
Handcrafted
Easy to apply
Cons 
Length could cause inconvenience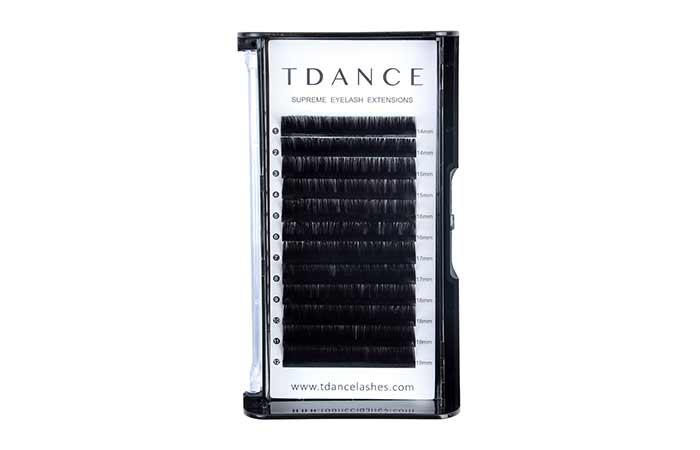 TDANCE Supreme Eyelash extensions are one among the best mink false eyelashes available today. They come with 12 rows of mixed length lash strips in one tray and are worth the price. Made of Korean false mink, they come in different curls such as C/CC/D/DD and offer amazing curl retention. They are designed to imitate real lashes and look natural with full volume and good shine. With a thickness of 0.18 mm, they could be a fantastic addition to your makeup accessories.
Pros
Comes in different curls and lengths
Improves volume and appeal of eyelashes
Superior quality material
Semi-matte finish
Inexpensive
Cons
May not be as soft as natural mink fur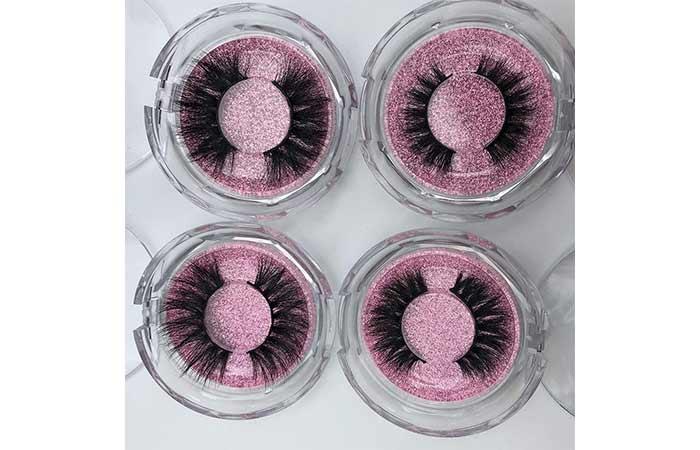 Suitable for all occasions, Lass Eyelashes 3D Mink Eyelashes are multi-layered and handmade. They are 100% Siberian Mink fur, with natural curl and shine, designed to blend smoothly with your natural lashes. The package contains 10 different pairs of reusable mink eyelashes to suit different styles and occasions. With these long mink lashes, you can have a bold and sassy look in no time.
Pros
Fully natural
Suitable for multiple occasions
Can be used repeatedly
Thin, light, and comfortable
Long and striking
Cons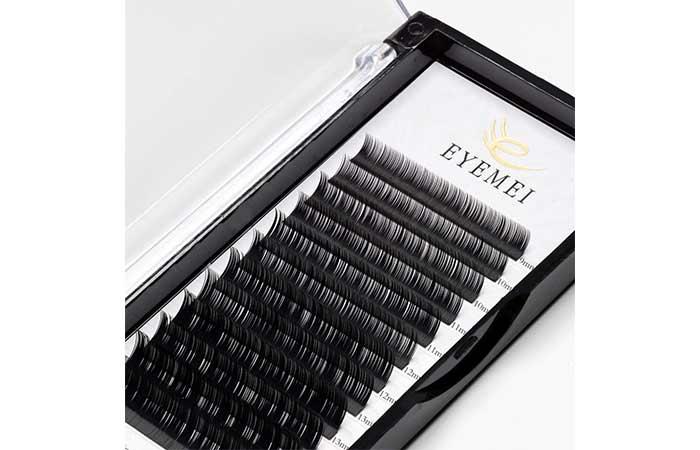 These eyelash extensions from EYEMEI are simple and easy to use, yet very vibrant in effect. In addition to being soft and comfortable, they are durable and super light. Made of black PBT in Korea, these are known for their natural curl and ease of use. A product mostly preferred by professionals, it can also be applied at home on your own. A single pack contains lashes of different lengths. This pair of lashes are also waterproof and can even be used while swimming.
Pros
Effective and natural-looking curl
Superior quality
Handmade lashes
Individual lashes
Lasts several applications
Cons 
Beginners may find it difficult to handle.
Your long search for affordable mink lashes ends right here. Emeda Mink Eyelash Extensions are made from real mink fur to give you the most natural look. It comes in a pack of varying lengths of 8mm-14mm. Since it is made from high-quality real mink fur, it has no specific thickness. These soft lashes are hypoallergenic and cruelty-free. Moreover, these 3D C-curl lashes are comfortable to wear and are also available in D-curl in varying sizes.
Pros
Made from high-quality real mink fur
100% cruelty-free
Handmade
Gives natural look
Cons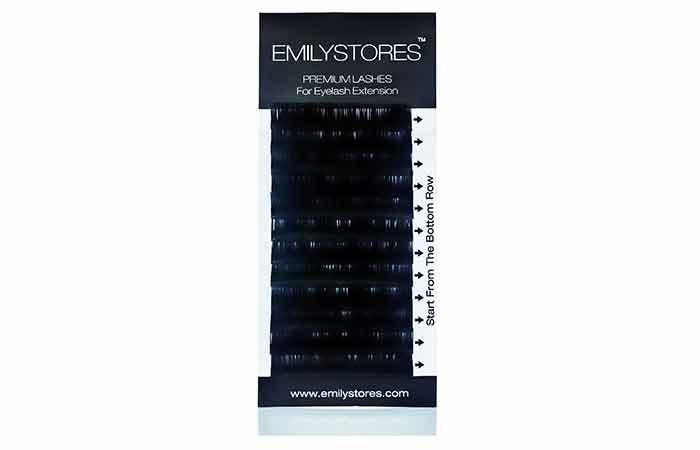 EMILYSTORES offers eyelashes with five different length options of 0.15 mm thickness. Since they weigh as light as a feather, these affordable mink lashes are for everyone. If you are fairly new to the game, this pair of lashes might be a good place to start. They are of the right thickness and can be applied with relative ease. With care, the lash extensions could last long for multiple uses and offer the best lash lift for every wear. The only disadvantage for novices out there is that they do not come with glue or any instructions on the label.
Pros
Easy to use
Natural look
Thin
Blends well with makeup
Good quality
Cons
May not last long
These might be tricky for beginners as they do not come with glue or instructions on how to use them.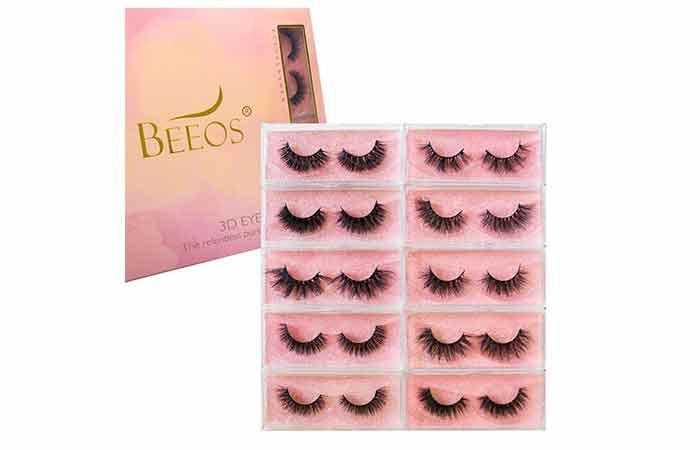 The best mink lashes are easy to maintain, extremely light, and look as natural as real eyelashes. BEEOS 3D Mink Lashes fits this description perfectly. The high-density, layered lashes give you a bold and luxurious look. It is 100% handmade with better curl retention. The package offers customizable styles and comprises nine pairs for daily wear and one pair for special events when you want to look absolutely ravishing. As they look more real than synthetic fiber, they meld seamlessly with your natural lashes.
Pros
Superior quality real mink lashes
Different lengths for different styles
Reusable and durable
Ultra-light and thin
Maximum comfort
Cons
*The prices provided in this article are based on the latest available information. However, they may vary due to changes in pricing by the seller and/or promotional offers.
The Bottom Line
Guide To Choosing The Best Mink Lashes For Eyelash Extensions
Choosing mink eyelashes need not be a daunting task. Make sure that the ones you choose suit your eyes well. Here are a few factors that you should keep in mind while picking out lash extensions:
1. Curl
Lash extensions come in different types of curls. Choosing your preferred curl type is the first step in the process. While C type curl is the most popular, you might even pull off a D or others if you have determined what suits you best.
2. Thickness
The thickness of the lashes should be the choice of the individual. If you are going for a loud look, extra thick lashes might be wonderful additions. On the other hand, if you want a more mellowed style, choose finer or wispy lashes.
3. Length
Length is a matter of convenience as it is of style. It also depends on the shape of your eyes. Research well before you buy long lashes because they might not fit your eyes as you would please.
Now that you have an idea about what set of eyelash extensions to buy, here's how to look pretty in mink lashes.
How To Apply Mink Lashes
Use tweezers to carefully remove the eyelashes from the case.
Compare the eyelash extension with the length of your lash line. Trim to a suitable length, if necessary.
Use a cotton bud to add glue along the root of the false eyelash, and allow it to dry for 30 seconds.
Hold steady the extension on the root of your natural lashes, and press gently.
How Long Do Mink Lashes Last?
Eyelash extensions last up to six to eight weeks, depending on your lash growth. They typically last through the natural lash growth of a person, which varies from person to person. Professionals recommend a touch-up every three to four weeks. This will help you maintain the full look on them for an extended period of time.
How to clean Mink Lashes?
Scrape off residual lash glue using tweezers after removal.
Wash the lash band with clean water, leaving out the lash tips.
Allow them to dry.
Place them back in the original box to prevent dust and other particles from settling on them.
Mink Lashes: Side Effects 
Mink lashes are generally safe to use. However, there are some possible side effects of wearing mink lash extensions. They include itching, rashes, pain, burning sensation, redness, and inflammation around the eyes. Be sure to use only high-quality lashes and a high-quality lash adhesive that is also dermatologist-tested. Also, be very mindful of eyelash care too!
Long, full eyelashes are definitely an asset. Lash extensions are a brilliant and rather cheap way to enhance your natural beauty. If you were forced to watch the smokey, lush eyes of a diva from afar until now, it's time to change things up. Get your hands on one of these beautiful lashes before you go out this summer. They are ideal for adding enhanced beauty to your natural lashes. Which one of these are you impatient to try out? Let us know how it goes!
Why Trust StyleCraze?
Mink fur eyelashes will help you make your extensions appear more natural and flawless. Our writer Srijani Roy Chowdhury is a makeup and hair enthusiast who has put together this list of the best Mink eyelashes for you. These lashes were carefully handpicked after a thorough scrutiny of many products, and only the ones with the best reviews were chosen for you. A buying guide is also provided to help you choose the right product.
Frequently Asked Questions
Are mink lashes better than synthetic?
Mink lashes could be considered better than synthetic lashes. Real mink eyelashes last longer and are lighter than synthetic ones. They also have better curl retention and are finer and more flexible.
Do silk or mink lashes last longer?
Silk lashes have more durability than natural mink lashes. They can withstand careless handling, which makes them less likely to break apart during application or while cleaning.
Are minks killed for eyelashes?
Most brands obtain mink fur from the tails of breeding minks. The fur used for lash extensions are collected from naturally falling hair, and hence, no animals are harmed. However, be sure to make sure that the product is cruelty-free before buying.
Do mink eyelashes ruin your lashes?
There is no evidence so far that using lash extensions could damage your natural lashes. However, use your discretion and take precautions so as to protect your lashes and eyelids.
What type of lashes is the most natural looking?
Lashes with nude or transparent band colors are the most natural-looking. The ones with a black band color add more definition to your eyes.
How many times can I wear a single pair of mink lashes?
You can wear and reuse a pair of mink lashes up to 20 times. You may be able to wear them longer with proper care.
How do you clean mink lashes?
Lay the lashes on a paper towel and roll a q-tip with warm water all over them. Avoid soaking the lashes directly in water. Let the lashes become dry and carefully store them inside your makeup box.
Recommended Articles