7 Best Rimmel Mascaras Of 2021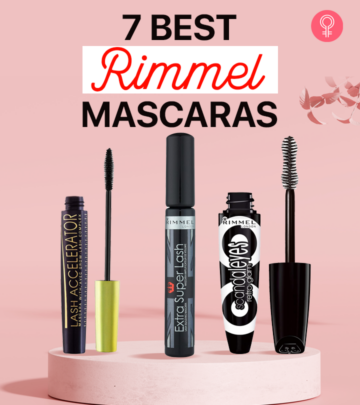 If you are a makeup junkie, Rimmel is a brand that needs no introduction. This innovating beauty line is eclectic, trend-setting, and edgy. When it comes to enhancing your eye lashes, invest in mascaras that come with easy-to-use wands that separate the thinnest of lashes and reach from corner to corner and root to tip for a perfect look. Scroll down to check out the 7 best Rimmel mascaras and pick your favorites.
7 Bestselling Rimmel Mascaras
The long-wearing Rimmel Scandal Eyes Retroglam Mascara accentuates the lash line by pushing the lashes out to create a wide-eyed look. The innovatively shaped brush coats each lash individually to plump them and deliver curvy volume. The simple one-stroke application offers a clump-free smooth finish on upper and lower lashes and helps you achieve a bold look.
Pros
Long-lasting
Clump-free
Waterproof
Contoured brush
Non-toxic
Cons
The lash-boosting micro-fibers in the Rimmel Lash Accelerator Mascara instantly lengthen and condition the eyelashes. It is formulated with their signature Grow-Lash Complex that contains Procapil to strengthen and extend the lashes by up to 117% in 30 days. The lash-catching brush reaches every lash from root to tip to deliver perfect separation while making them look lush and thick.
Pros
Clump-free
Goes on smooth
Dries quickly
Non-irritating
Easy to remove
Value for money
Cons
The patented plumping formula of the Rimmel Extra Super Lash Mascara adds length, volume, and curl to the lashes without any clumping or stickiness. Its high-definition angled brush with extra dense bristles separates the lashes to coat each one individually, even the small ones at the corners of the eyes. This mascara can create a bold, voluminous look or a naturally fresh finish.
Pros
Ophthalmologist-tested
Clump-free
Buildable volume
Goes on smooth
Suitable for sensitive eyes
Cons
Tends to flake and smudge
The innovative, patented, and multi-tasking Rimmel Volume Colourist Mascara delivers a gradual lash-tinting effect over time while instantly volumizing and lengthening the lashes. The natural colorant works from roots to tips to darken the lashes and give a semi-permanent effect with every application. The creamy formula and the tapered lash-separating brush offer a clump-free, smooth application and bold definition.
Pros
Lightweight
Smudge-proof
Clump-free
Buildable
Cons
The luxurious Rimmel Wonder'Luxe Volume Mascara is infused with camellia, marula, argan, and maracuja oils to nourish the lashes while keeping them soft and smooth. It has a clump-free formula that glides on easily to give full-bodied volume. This smudge-proof mascara lifts and curls the lashes for a long-lasting, wide-eyed look. The lash-separating brush that detangles and coats lashes for long-lasting definition.
Pros
Smudge-proof
Long-lasting
Flake-proof
Dermatologist-tested
Ophthalmologist-tested
Cons
The Rimmel Shake It Fresh Mascara is constructed with shaker technology to refresh its original smoothness and prevent drying. The lash-separating brush fans out the lashes from corner to corner to deliver a volumized and well-defined look. It is easy to remove and has a long-lasting, smudge-proof finish.
Pros
Clump-free
Smudge-proof
Long-lasting
Cons
The lash extension effect of the Rimmel Wonder'Extension Mascara provides long, well-defined lashes. Its stretchy texture extends beyond the tips of your lashes. The smudge-proof and the flake-proof formula are long-wearing and easy to remove. It has buildable coverage and can be layered with numerous coats. This mascara comes with an easy-to-use lash-grabbing brush that delivers clump-free application.
Pros
Clump-free
Long-lasting
Smudge-proof
Flake-proof
Easy to remove
Dermatologist-tested
Ophthalmologist-tested
Cons
Whether you are looking for length, volume, lift, or definition for your lashes, we have all of these covered and more with our listing of Rimmel mascaras. Go ahead and choose from our list and give your eyes an instant wide-eyed look.
Recommended Articles