10 Best Vanilla Body Scrubs To Exfoliate And Soothe Skin In 2023
Remove the dead cells and fill your tender skin with the magical properties of vanilla.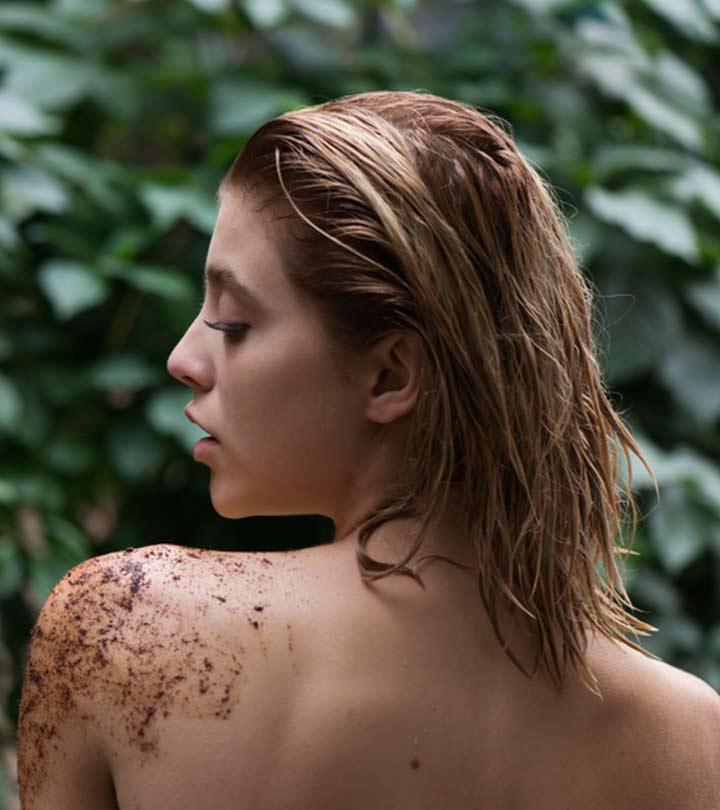 Apart from its sweet fragrance, vanilla has many skin care benefits. Did you know that vanilla granules can be used to exfoliate and moisturize your skin? This is why we are discussing the best vanilla body scrubs today! If your skin tends to feel dry often, you need the magic of vanilla beans. Vanilla contains rich nutrients like vitamins and antioxidants that have anti-aging merits and keep the skin young, hydrated and healthy. Its sweet and calming fragrance soothes the body and mind, relieving you of any tension, stress, and fatigue. And it soothes inflamed skin!
Using a vanilla body scrub also helps you in cleansing your body and removing any dead skin or dead from clogged pores. And because of its moisturizing properties, it cleanses the skin without drying it out! To help you pick the best vanilla scrub for your skin, we've made a list of the best ones adding all their pros and cons! So, scroll down, choose a vanilla scrub and watch your skin transform!
Top 10 Vanilla Body Scrubs For Soft And Smooth Skin (With Buying Guide!)
Pros
Suitable for all skin types
Eliminates dead skin cells
Powerful and gentle exfoliating grains
All-natural, handcrafted formula
Cruelty-free, chemical-free, and artificial fragrance-free
The set includes a loofah, a wooden spoon, and exfoliating oatmeal soap.
Cons
The shower floor may turn greasy.
Not just dead skin cells, this one targets ingrown hair corns, acne, blackheads, and aging signs too! Say hello to younger-looking, soft, and glowing skin with this ultra-nourishing and all-natural formula. Infused with grapefruit oil to reduce cellulite and acne, the vanilla extract in this body scrub fights aging signs, controls excess sebum production, and moisturizes skin with argan oil and vitamin B. And as far as exfoliating is concerned, you can trust the Dead Sea salt and its 21 mineral powers to eliminate the dead skin cells and leave a stunning glow. And it doesn't end there; the hydrating scrub has sweet almond oil and avocado oil, too. Scrub and indulge, already!
Pros
Hydrates intensely
Improves skin tone
Stimulates blood circulation
Diminishes appearance of wrinkles
Protects, conditions, and calms skin
Reduces stress, fatigue, and inflammation
Suitable to use as a foot scrub too
Cons
May leave a greasy film on the skin
Pros
Exfoliates gently
Leaves skin baby soft
Non-greasy formula
Plant-based moisturizers and nutrients
Handcrafted, vegan
No animal testing
Free from nuts, oils, synthetic fragrances, dyes, and more
Suitable for dry, normal, and combination skin
Cons
Not suitable for oily or sensitive skin
Is stress or troubled sleep making your skin look dull and dreadful? Try this lavender and vanilla bliss now for radiant skin! Just the aromatherapy your skin deserves after a long and tiring week, the infused lavender and vanilla essential oils in this smoothness restorative scrub will calm your mind and mood. It will leave your skin feeling fresh and radiant. Moreover, this vanilla Bath and Body Works scrub has fine and gentle sugar granules that'll exfoliate your skin without disturbing the natural oils or the skin barrier. Simply put, it's a great combo to restore your glowing skin and peaceful slumber. It is one of the must-have self-care products.
Pros
Non-irritating formula
Light fragrance
Cruelty-free
Dermatologist-tested
Leaves skin soft and smooth
Suitable for sensitive skin
Cons
Some may find the consistency to be a bit watered-down.
Pros
Mild fragrance
Organic and natural formula
Reduces blackheads and acne
Prevents chapped and dry skin
Repairs skin and restores suppleness
Includes a patented finger exfoliating device
Suitable for all skin types
Cons
Pros
All-natural and vegan formula
Fine and gentle sugar granules
Ensures soft and nourished skin
Hydrates, conditions, and repairs intensely
Suitable for dry and sensitive skin
Clinically-tested for sensitivity and allergies
Free from mineral oil, phthalates, sulfates, caffeine, paraben, and more
Cons
Granules may be too gentle for some
Pros
Soothes inflamed skin
Protects skin and locks in moisture
Eliminates old and dead skin cells
Cruelty-free and THC-free
Free from paraben and gluten
Cons
Not suitable for dry skin
Pros
Suitable for sensitive skin
USDA-certified organic formula
Fast-absorbing and non-greasy
Vegan, cruelty-free, and pH-balanced
Eliminates chapped, flaky, and dry skin
Free from gluten, phthalates, parabens, sulfates, SLS, alcohol, and more
Cons
May not be suitable for oily skin
Pros
Natural formula
Moisturizes intensely
Leaves skin smooth and ultra-soft
Free from parabens and formaldehyde
Suitable for dry, normal, and sensitive skin
Cons
Might turn oily skin greasy
Pros
Non-greasy formula
Vegan and cruelty-free
Extra-fine and soft granules
Suitable to use from neck to toe
Disinfectant and natural antiseptic
Includes a wooden serving spoon
Non-staining, sink, and shower-friendly formula
Cons
The scent maybe overpowering for some.
*The prices provided in this article are based on the latest available information. However, they may vary due to changes in pricing by the seller and/or promotional offers.
Scrubbing can't get sweeter than this! There you go, those were the 10 best vanilla body scrubs you must try in 2023. Do you still need assistance with choosing the best vanilla body scrub? If yes, then scroll on to our buying guide for some exclusive tips!
How To Select The Best Vanilla Body Scrub?
Given there are umpteen options on the market, finding the right one for your skin can be tricky. However, the following tips can help:
Not many are aware that salt and sugar granules provide different scrubbing benefits. Salt scrubs are suitable for intense exfoliation and ideal for dealing with excess sebum, dirt, dead or old skin cells. However, salt scrubs can be tough on sensitive skin, which is why there are sugar scrubs! Sugar granules are milder and less abrasive, thus preventing rashes or redness while scrubbing.
Before you pick a scrub, check what kind of exfoliation it offers and if it is suitable for your skin. Scrubs with salt or chunky granules can be harsh on sensitive skin, whereas those with extra-fine or soft textured granules can be too gentle for intense exfoliation. So choose accordingly.
Inspect if the moisturizing ingredients are suitable for your skin type too. Scrubs loaded with essential oils can be greasy for oily skin but great for dry skin. Coconut oil, on the other hand, is comedogenic and not advisable if you have open pores. However, for oily and acne-prone skin, scrubs with jojoba and argan oil are ideal.
Yep, you get variety in vanilla too! Vanilla patchouli has a musky-sweet scent; Tahitian vanilla beans have a floral sweet and cherry-like smell, whereas pure vanilla extract can exude traces of alcohol and vanilla. So, which one will yours be?
Lastly, why pick an option that will expose your newly-scrubbed skin to harsh chemicals? Choose a scrub free from toxic ingredients such as parabens, phthalates, sulfates, alcohol, and more for the best experience.
Ensure that you perform a patch test to avoid any potential allergic reactions or skin irritation. Plus, go through several customer reviews and testers' experiences to understand which vanilla body scrub will suit you.
Why Trust Stylecraze?
The author of this article, Kirtana Divakar, is a skin care enthusiast who loves trying out different beauty products. She has curated this list of the best vanilla body scrubs after conducting thorough research. The list comprises products that help eliminate dead skin cells and are suitable for every skin type. These vanilla body scrubs are gentle on your skin and help stimulate blood circulation.
Frequently Asked Questions
Is Vanilla Extract Good For The Skin?
Absolutely! Vanilla extract has umpteen benefits for the skin. It helps reverse skin damage and has anti-aging benefits too. So, if you are dealing with early signs of aging, fine lines, age spots, and discoloration, products with vanilla extract would be great for you.
Can I Put Vanilla Extract In My Body Scrub?
Yes, you can. Besides smelling divine, vanilla extract has multiple benefits for dry and aging skin. From repairing and healing dry skin to reducing wrinkles, fine lines, and age spots, vanilla extract will make a great addition to your body scrub.
What Is The Difference Between Pure Vanilla Extract And Vanilla Extract?
Pure vanilla extract is naturally-derived from vanilla beans using alcohol and water. Vanilla extract is either a diluted version of pure vanilla extract or is artificially-derived in labs.
Can I put vanilla extract in my body scrub?
Yes. Vanilla exacts help reduce aging signs, fine lines, age spots, and discoloration, keeping your skin nourished and hydrated.
How long do you leave the body scrub on?
Gently massage the scrub on your body for 5-10 minutes before washing it off.
Do I scrub before or after bathing?
Use a scrub after washing your body with soap or body wash to ensure that your skin is clean and ready for exfoliation.
Can you use a body scrub on your face?
No. The skin on your face is more delicate from the rest of your body, so do not use a body scrub on your face.
Recommended Articles: